You've got a little more than a week left to find all the poems scattered across Charleston's upper peninsula.
The poems, which have showed up on storefront windows and in public parks, are mostly the work of grade-school students. The nonprofit arts group Enough Pie placed them at sites around the northern stretches of downtown as part of its Free Verse poetry festival, which ran from Sept. 29 through Oct. 31.
Enough Pie Executive Director Cathryn Zommer said most of the pieces will remain until Nov. 15. She said the point was to create connections through art.
"This is a very rapidly changing area of Charleston, and we want to make sure people know one another," Zommer said. "We find that creativity is a way to bring people together to create something meaningful."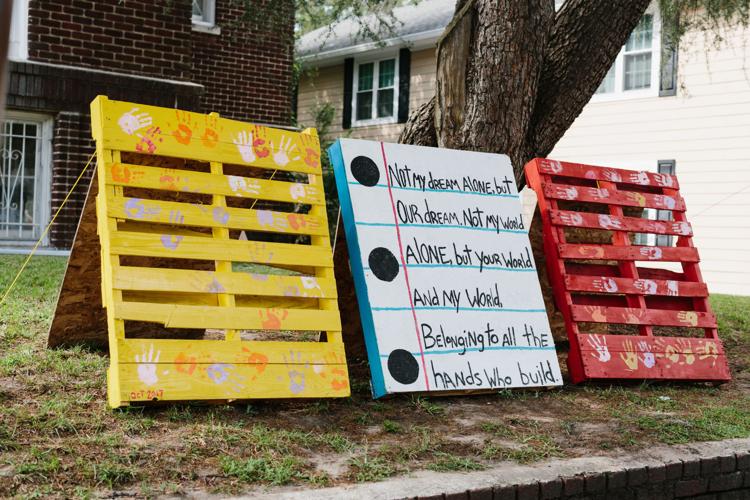 Charleston Poet Laureate Marcus Amaker said many of the snippets of poetry come from workshops he has led in schools all over the Charleston area. One that caught his attention was by a fourth-grader named Claire: "I used to believe I was nothing but dust / But now I believe I can save the world."
"The work that they were writing within an hour workshop was pretty profound. Some of it was pretty funny. But it was just real, and I wanted to highlight those voices in a public place," Amaker said.
Enough Pie chose to highlight the work of a few adult poets, as well. In one installation, homeowner Susan Gregory offered the brick wall in front of her house at King and Maple streets, which is covered in creeping fig vines.
She started talking to her neighbor, Rachel Stubbs, who contributed a poem that starts with the line, "We are all kings here among these trees." It's a play on the names of streets that cross King in her neighborhood: Maple, Poplar, Cypress and Peachtree. Now it's written in cursive letters made of pipe cleaners all along the wall, with the full poem available inside a mailbox atop the wall.
"It's a fun way to get to know your neighbors," Gregory said.