At 11:33 p.m. on May 4, a nurse in Colleton County Medical Center's emergency room dialed 911. In somber tones, she reported receiving a gunshot wound patient.
"Where are they coming from?" a dispatcher asked.
The nurse had no idea. The patient had arrived in someone's personal vehicle.
"And I don't think we're going to get much information out of the father of the 3-year-old," she added.
"A 3-year-old?"
"Yes, ma'am."
A hint of anger crept into the dispatcher's voice as she asked where the child was shot.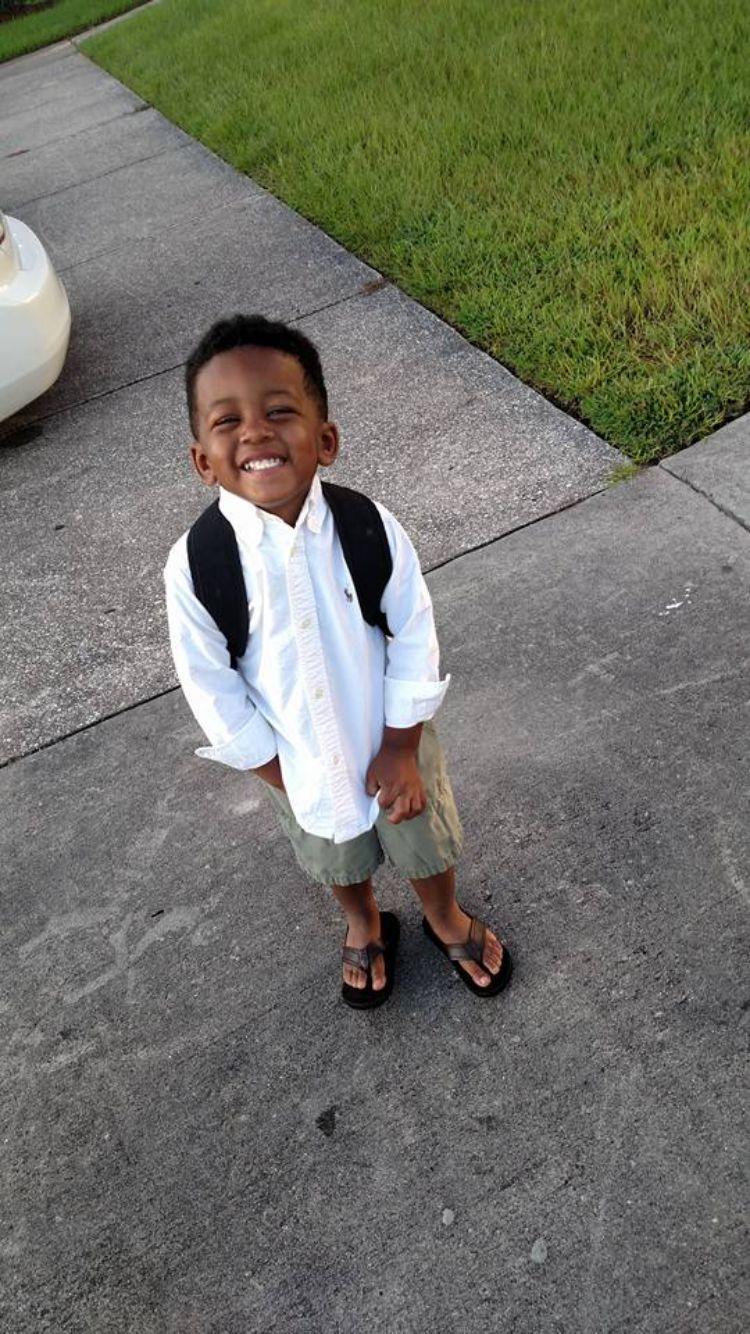 The nurse replied: "In the head."
Typing clattered in the background of a pause between the two women.
"Is it a graze or …"
"No."
In search of a gun
Sgt. Edward Marcurella, a Colleton County Sheriff's detective, was at home when he got a call about a 3-year-old shot in the head. The child had arrived at the hospital in cardiac arrest.
Marcurella hurried to Colleton Medical Center and found 28-year-old Allen Martin sitting on the floor in the emergency department. Blood drenched his white T-shirt. 
The sergeant smelled alcohol, he later wrote in a report. When he asked Martin what happened, the man stood and began to yell, waving his arms and disrupting the emergency room. He was too belligerent to tell the police how his son became the 10th child in South Carolina over just 12 months to unintentionally shoot himself or someone else with a gun left within reach.
It made the state the among deadliest in the nation for these preventable deaths. 
In the span of two years from May 2016 to May 2018, a dozen children under 12 and one adult died in unintentional shootings that involved children in South Carolina. Only two states — Texas with 15 and Missouri with 14, both with larger populations — surpassed it during that time, according to the nonpartisan Gun Violence Archives, which aggregates the incidents.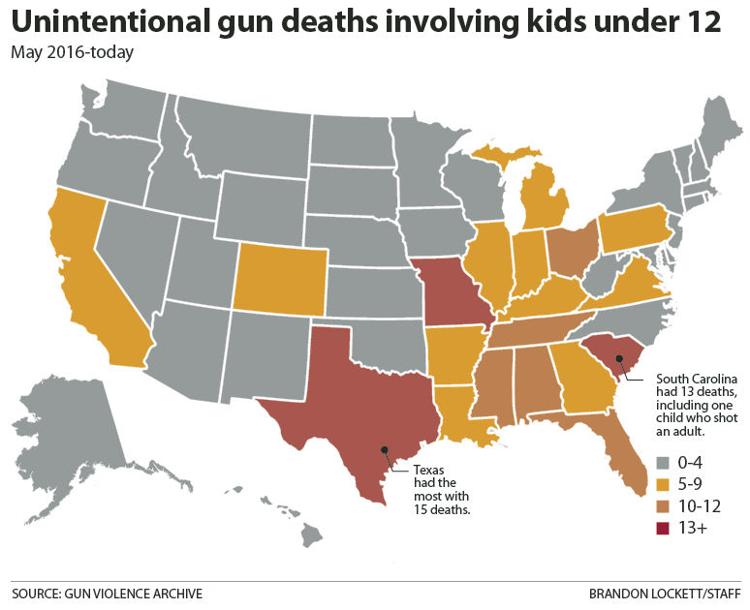 In the emergency room, deputies cuffed Martin for impeding their investigation and took him outside to calm down. Finally, he offered a few clues: A group of guys had come, throwing dice and drinking beer. When he went to the kitchen, he heard a "pop" not a dozen feet away.
Aiden lay on the floor. He scooped him up and ran outside to find someone to drive them up the road to the hospital.
But of the six or seven people he had over, he only knew one guy's name, Ken. And he only knew Ken's first name.
He could not, or would not, tell the police who drove them to the hospital.
And he didn't know whose gun it was.
When Marcurella asked where the weapon was now, according to a report, Martin said he didn't know that either.
But he was pretty sure it wasn't in the trailer anymore.
Time with Daddy
Just after midnight, Arika Williams' cell phone rang beside her. Less than two hours earlier, she had dropped off her sons — Akai, who was 7, and Aiden, 3 — as well as a young cousin at the Walterboro trailer where her ex stayed with his girlfriend.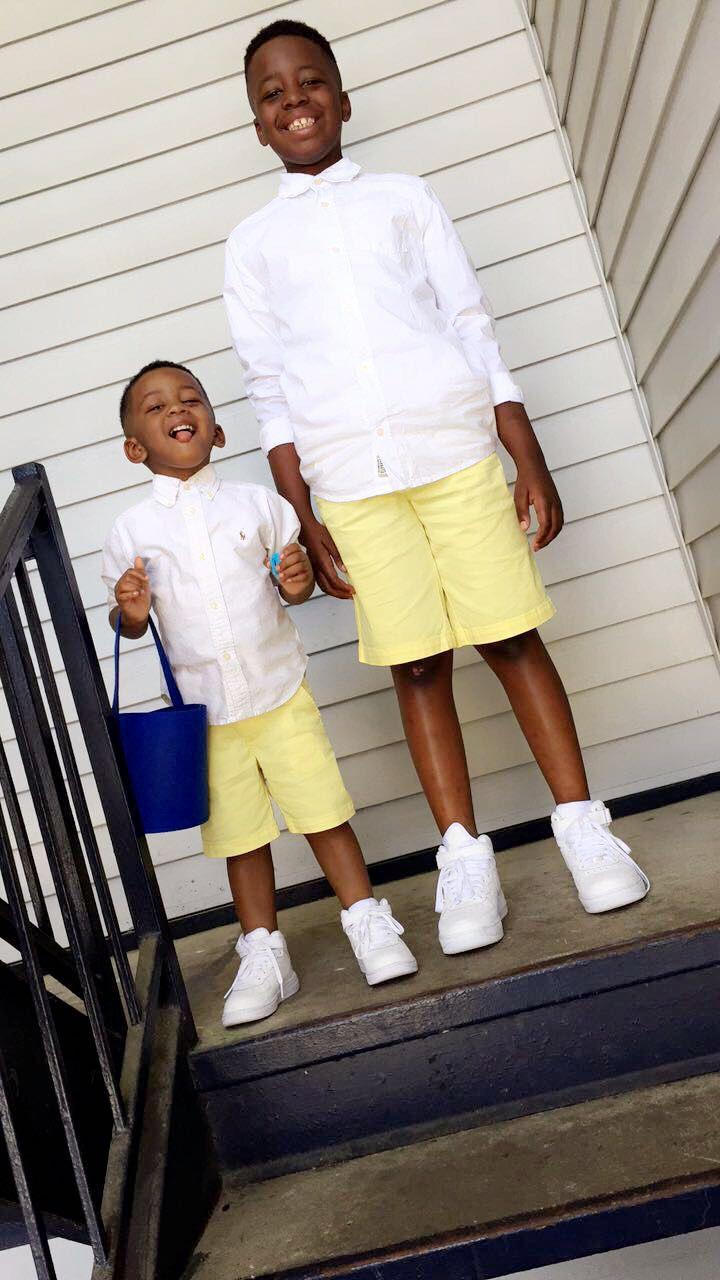 Akai had asked to spend the night at his dad's house. Williams wasn't thrilled. She'd taken the weekend off to spend time with the boys.
But they also didn't spend much time with their father.
She let him call.
When Allen Martin said it was OK, she headed his way.
First, she stopped at Taco Bell. It was getting late, around 10:45 p.m. Williams figured the boys could eat, wash, and go to bed.
Given she and Martin rarely spoke much anymore, Williams blew her horn when she arrived. She noticed one other car parked outside. Nothing unusual, nothing alarming.
Martin emerged to greet the boys. Akai and his 12-year-old cousin hopped out into the chilly air. 
Aiden jumped out last and followed them inside. His brother's shadow.
Now, the voice on the telephone said there had been a shooting at the trailer. Within minutes, Williams and her boyfriend sped down a two-lane country road and spotted a horde of blue lights piercing the dark night ahead. Alarmed, she hurried to an officer.
"I'm here to pick up my sons."
He asked their names.
"Akai is at his grandmother's house," he said.
Pause.
"Aiden is being flown to MUSC."
March of deaths
Williams didn't know it at the time, but the terrifying news came after a particularly deadly march for South Carolina's children — notably toddlers like Aiden.
In 2016, four children shot people with guns left unsecured. Two people died, both children.
But in 2017, that leaped to 17 shootings by children.
Seven people died, six of them children. Three were toddlers.
Among them:
An 8-year-old in Orangeburg County who shot himself with a pistol his father kept in their car.
A 3-year-old who shot himself with a gun he found in his Anderson County family's sport utility vehicle.
A 6-year-old in Spartanburg who shot and killed his 4-year-old sister with a gun he found in their house.
A 2-year-old in Columbia who shot himself with a gun he found in his home. His devastated father took his own life, too.
'Hold on, Aiden'
Williams and her boyfriend, Marvin Brown Jr., sped from Walterboro to Charleston praying harder than she imagined she could.
"Hold on, Aiden. Mama's coming."
She had faith in MUSC. Five years earlier, its medical staff had repaired her broken body after her car veered off the road, flipped three times, then threw her out like an old cigarette butt. She remained hospitalized at MUSC for an entire month.
Despite losing use of her left arm, Aiden's birth gave her new reason to work hard to stay independent. She learned to change his diapers with one hand, cook dinner with one hand, carry him with one hand.
"Just hold on. Mama's coming."
When she arrived at MUSC's emergency department, a priest greeted her. Someone led them to the pediatric ICU's waiting room.
"They're working on him."
But Williams couldn't wait. She rushed up and down a hallway looking for him, then knocked on a random patient's door, until a nurse ushered her back.
When a doctor came, he gave Aiden a less than 1 percent chance of surviving.
"He's lost a lot of blood."
She prayed harder.
"Mama's coming."
Around 3:30 a.m., they let her enter his room.
As she stepped forward toward his naked body, she hardly recognized him. His face had swollen. A tube snaked down his throat.
Beneath his left eye, a tear had dried.
He was alive, though. He had waited for her. 
She touched his feet, rubbed his soft legs. "Come on, Aiden. Come on, Aiden!" She sobbed harder until his head bled again, and they ushered her out.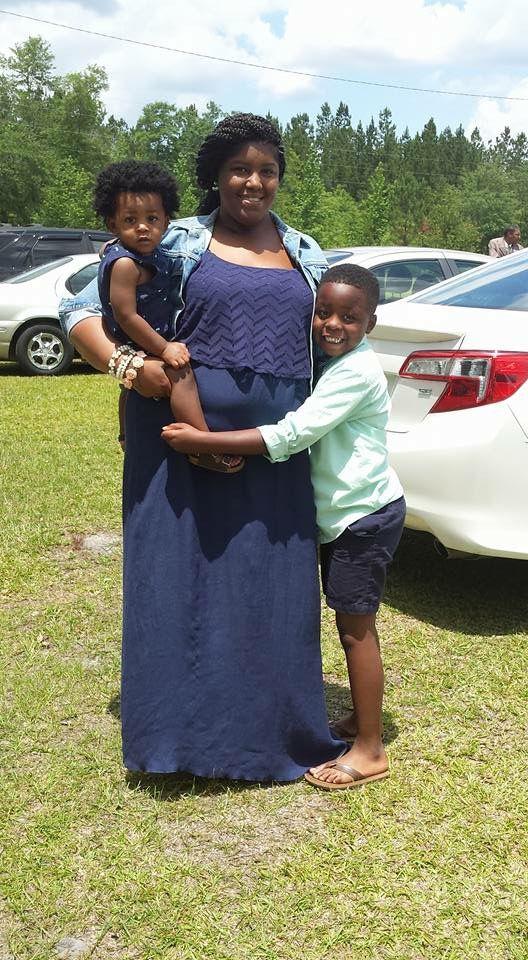 As medical staff swarmed into the space around him, her world stopped. It was like a nightmare, the kind when you can't make your feet move or your mouth scream.
Aiden died at 4:48 a.m.
Haunting images 
Given Martin had indicated a general location of the trailer, Sgt. Dathan Varnadoe drove through the area checking houses for signs of a tragedy.
He pulled up to a white single-wide trailer that sat up near the road, partially hidden by a magnolia tree. Blood drops led him across muddy grass to the back door.
No one answered.
When another detective arrived, they opened the door. The place was small, the kitchen and living room really a single open space. Beyond a short counter, two couches and a table crowded the living room. Everywhere, signs of a scramble — chairs, beer bottles, a garbage can, a vacuum, all toppled over.
And in the center of the open space, at the end of a dark gold-colored couch, blood pooled. Beside it was a container of Play-Doh. Above it, a bullet pierced the ceiling.
On the table, a bag of Taco Bell.
But perhaps the most disturbing site was the refrigerator, one of those older model white ones. Blood splayed across the front of it, over a child's colorful magnetic letters.
A numbers game
Several states away, Beth Joslin Roth added Aiden's name to a database.
Roth had co-founded the national Children's Firearm Safety Alliance in 2016 when she became haunted by a realization: The vast majority of unintentional shootings of children occur when adults leave loaded guns where they can get them. Children like Aiden.
"Some people treat guns like they treat cell phones — they leave them lying around," Roth said. "We see story after story where they leave them on kitchen counters, on a coffee table, and then are shocked when a 2-year-old picks it up and shoots himself."
Roth, policy director for the nonprofit Safe Tennessee Project, created the national alliance by partnering with Missouri state Rep. Stacey Newman. When the two women couldn't find a group that specifically tracked those deaths and injuries in a consistent way, they began doing it themselves. 
They used the Gun Violence Archives, law enforcement records and media accounts to gather information.
In 2017, Tennessee topped their list. Thirteen children there were killed when children got their hands on loaded guns. In Texas, 12 died. In Florida, nine did. In Mississippi, eight.
South Carolina, Georgia, and Missouri each lost seven children.
Yet, South Carolina's health agency doesn't track these deaths. It records children who die in unintentional shootings but not data about the shooters, making it difficult to parse out how many of those deaths involve children who get their hands on guns. 
"Those are states where firearms ownership is prevalent," Roth said. "And any place where there are more guns, obviously there will be more shootings. It's just a basic numbers game."
Silence of the streets
A game. That's how Colleton County Sheriff's investigators felt the adults in the trailer that night treated guns and the death of a child.
Given they still hadn't found the gun that killed his son, they tried to get Martin to come give a statement. They knew him from previous arrests and a felony drug conviction.
Finally, 11 days after Aiden died, he showed up.
He could remember a few more names now, but only first names and street names, he insisted. He recalled seeing a small black semi-automatic handgun beside Aiden after the shooting.
Martin insisted he hadn't seen any guns in the trailer until then and didn't know whose gun it was.
Capt. Jason Chapman didn't believe him.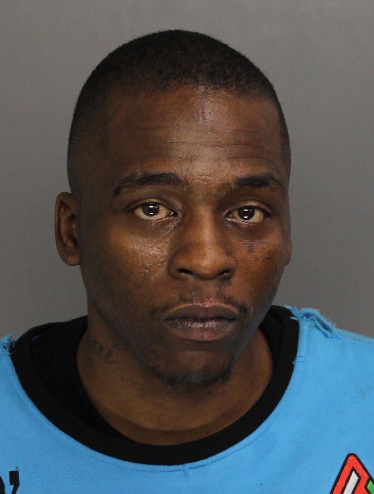 "He knows exactly who they are," Chapman said. "There's no way in the world you're sitting at a table gambling or playing cards at your house with a group of people you don't know."
Investigators arrested Martin on two counts of unlawful neglect of a child, a felony punishable with up to 10 years in prison.
Chapman has heard on the streets who was in the trailer that night. But knowing and proving are two different things.
And so far nobody has come forward — except for the two traumatized children.
Akai and his cousin told police what they remembered: Six to eight adults gambled, throwing dice and drinking beer. The older children watched basketball. Aiden wandered around eating his cinnamon twists from Taco Bell, then eating his brother's.
Their 12-year-old cousin saw Aiden pick up a gun lying near the couch and shoot himself. Akai was across the room when he heard a boom, then saw his little brother laying on the floor. 
Someone screamed: "Get down! Get down!"
Then the adults scattered, taking the gun, leaving Akai and his cousin inside with the blood.
'Protect our kids'
Williams sees two critical flaws that cost hundreds of children their lives each year: A lack of personal responsibility in handling firearms and lax gun laws that don't punish people enough for failure to keep kids safe from them.
She also wants harsher penalties for people who possess guns but aren't supposed to have them, namely felons.
"We as parents, we're supposed to protect our kids," Williams said.
The Children's Firearm Safety Alliance co-founded by Roth, the Tennessee woman, advocates for two key changes in every state. Its members want laws that mandate how to store guns safely and create more criminal penalties for leaving loaded firearms where kids can get hold of them.
"I really think a lot of people don't think about it," Roth said. "They have a toddler in the house now, and maybe the night stand isn't a safe area anymore." It's why she wants big box stores to sell gun locks on shelves alongside outlet covers and cabinet locks.
But states like South Carolina have resisted these laws due to concerns of infringing on Second Amendments rights and a preference for teaching safe gun handling instead of new rules.
Yet, even Capt. Chapman, a firearms trainer from a military family, thinks a state law punishing adults who leave guns in reach of small children would help motivate adults to keep their weapons safe and give police more teeth for enforcement.
"I'm the largest gun advocate you'll find," Chapman said. "But as an adult, if you own that gun, it's your responsibility."
Your best friend
A poster-sized photograph of Aiden now greets all comers to their apartment. It was taken after church on Easter, a month before he died.
Over their couch, Williams hung a picture of his first Easter.
Bookends of a brief life.
"He will be forever 3 years old," she sighed.
Akai, however, celebrated his 8th birthday a week ago. He started third grade and joined a football team.
At home, four months after his little brother's death, he rarely ventures back into the room they shared. Aiden's clothes still fill the drawers. His toys, including his bicycle, still crowd the closet.
Their bunk beds sit there, too.
Akai refuses to sleep in the room, instead camping out on the couch most nights.
Williams can't bear to go back into the room either. She can still hear the boys squabbling in there at bedtime.
"Mama, Aiden won't let me sleep!"
"Mama, 'Kai being mean!"
She'd scold them to be nice: "That will be your best friend until the day you die."
Then they'd wind up sleeping together in the same bed anyway.
At first, when the void of Aiden's loss engulfed her, Williams went to visit his grave every day.
Then an older woman at church warned her that Aiden needed time to rest between visits. He needed time to be with God.
So she forced herself to go every other day, then once a week. It's been almost three weeks now, the longest stretch yet, and she can't endure his absence anymore.
The sun dips into the evening sky this Sunday in late August as she drives to see him with Akai and her boyfriend, Marvin Brown.
Aiden is buried behind her father's white country church near the graves of a dozen other people, most of them family members, in a wide green field encircled by majestic pine trees. Peace settles there, beneath they sky's blue dome and a white steeple with a cross.
Given that Williams no longer lets Akai play outside their apartment much anymore, to protect him, the field provides a place where he can run and catch bugs and sweat in the summer heat.
The buzz song of a chickadee welcomes them.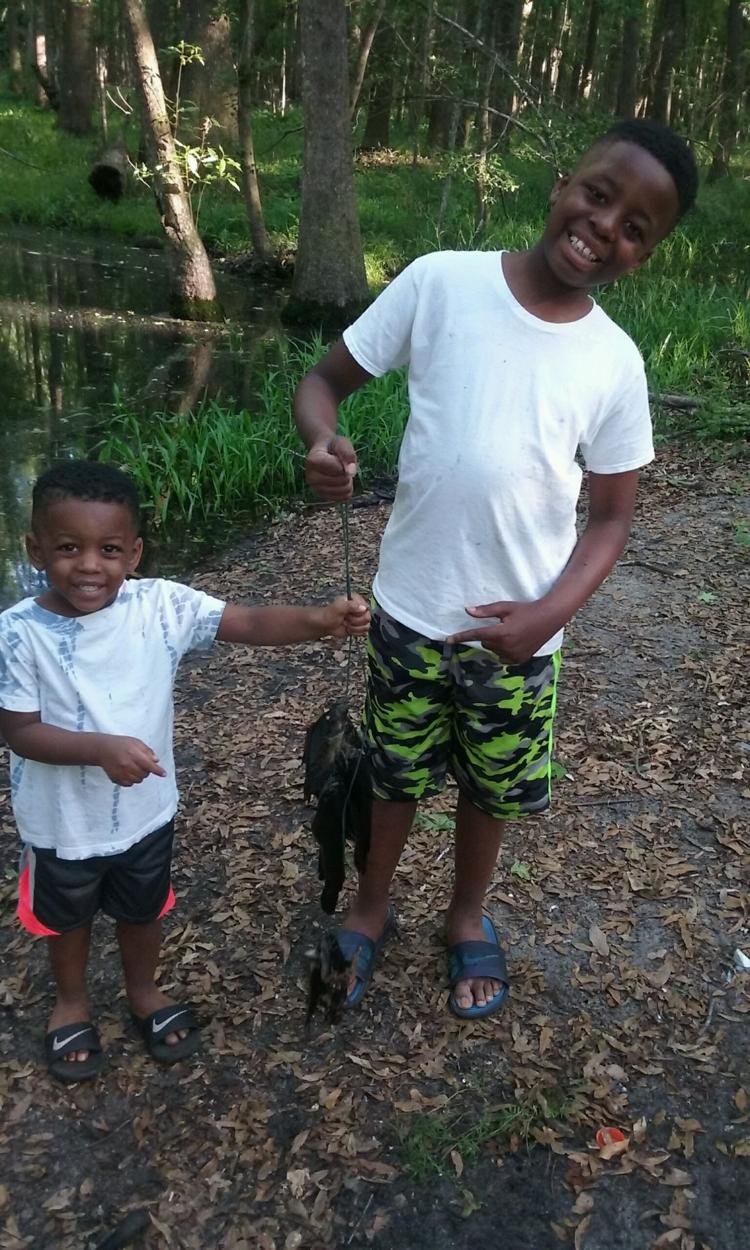 Brown carries a bouquet of flowers, white and yellow, Aiden's favorite color. Williams settles on the bench they installed for these visits. It faces an image of Aiden, his Easter picture, forever etched into his tombstone. Grass reaches back over the churned-up dirt between them.
Akai sets out, alone, to hunt for grasshoppers. Brown sits beside her.
"It still doesn't feel real," she murmurs. 
Recently, she had a dream of Aiden running barefoot in a grassy field. Her mom had the same dream. Maybe he's trying to tell her that he's playing and happy.
Just weeks before his death, Williams and Brown shared their happy news. She is pregnant. The baby, a girl, is due Dec. 11. They plan to name her Adrien.
As sweat tickles down their backs, they sit quietly until Akai returns with a grasshopper he's named Larry. Brown gathers an old bouquet of flowers on Aiden's grave and carries it back to their car, wiping his eyes with a forearm while his back is to Williams.
The march continues
A week later, just after 7 p.m. on Aug. 27, Capt. Chapman received an alert on his phone. Colleton County Medical Center had received another gunshot wound patient. This one came from the tiny town of Ehrhardt in neighboring Bamberg County.
Medical crews were preparing to airlift her to MUSC.
The girl was 5 years old, shot in the face.