The city of North Charleston will open one of its two new senior centers this week, moving the west side center timing up by two months.
The center is located at 6255 Dorchester Road and includes a cardio room, a gym, a cafe, an ADA-accessible pool and locker room, an outdoor pickle ball court and meeting rooms. 
Mayor Keith Summey and City Council members will informally open the center alongside Lt. Gov. Kevin Bryant during a ribbon cutting ceremony at 10 a.m. Wednesday.
The public is invited to join and participate in an open house following the ribbon cutting, which will end at 2 p.m. The center will officially open for use at 7 a.m. Thursday. 
"Through the many offerings and inviting atmosphere and staff, I envision this center as a focal point of the community to bring our residents even closer together," Summey said in a news release. 
Anybody who is 50 or older may join. Roughly a quarter of the population in the tri-county area is nearing or beyond retirement.
In Berkeley and Dorchester counties, about 25 percent of the population is older than 55, according to the Census Bureau. In Charleston County, that demographic is 28 percent.
Data indicates some 28,400 people older than 55 live in North Charleston.
The senior centers are one of Summey's long-envisioned ideas that became a reality after a 2014 bond sale. The Dorchester Road site cost $5.5 million, $350,000 of which came from the lieutenant governor's Permanent Improvement Project Grant Program.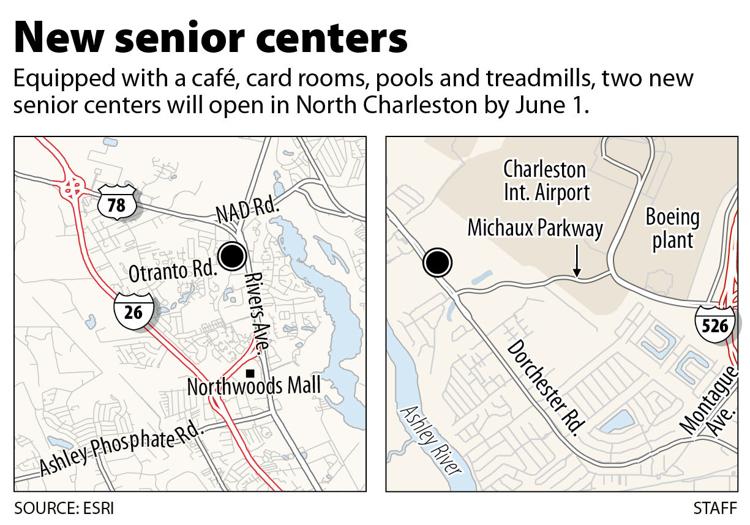 The second site is on the city's northern edge, along Otranto Road, at 8717 S. Antler Drive. The $8.4 million project included the construction of a new fire station. The senior center is still set to open in the early summer. 
The centers will be open from 7 a.m. to 7 p.m. Monday through Thursday, and from 7 a.m. to 5 p.m. Fridays. 
Membership will cost $10 per month or $100 per year for city residents, and $20 per month or $200 per year for non-residents.