Easter is a celebration of resurrection and new life, and that's what is expected to happen to one of Christianity's oldest and most significant homes.
As flames dramatically consumed the roof of the Notre Dame Cathedral in Paris on Monday, only six days before Easter, people across the globe watched with a powerful sense of grief.
Katherine Pemberton of the Historic Charleston Foundation was among them.
"I've never been to Notre Dame, and I was in tears," she said. "It's not just that building. It's not just one thing. It's not just architecture. It's cultural identity. It's history. It's engineering. It's the wonder of a place. It's aesthetics. It's all those things."
But new life doesn't necessarily mean the same life, and those rebuilding will face challenges — challenges very familiar to many in a preservation-minded community like Charleston. 
This is an area of expertise for many here, and while they may not have a hand in rebuilding, they know the challenges that lie ahead. Local experts include structural engineer Craig Bennett, who was interviewed by the BBC hours after the flames were out. 
Bennett spent hours sketching Notre Dame while he lived in Paris and was among the millions saddened to see it on fire.
"The thing is, this church can rise again," he said. "There's no doubt in my mind."
'You can come back'
After the smoke cleared, the shell of Notre Dame actually looked much like Charleston's St. Matthew's Lutheran Church did after it burned in 1965. St. Matthew's lost its spire, the city's tallest, and its nave lay open to the elements.
Along King Street and in Marion Square, a crowd gathered to watch the spire fall with such force its tip was buried 18 feet in the ground, a dramatic end not unlike Notre Dame's spire toppling over. 
Ted Mappus, a lifelong member, was among them.
"It was spectacular," he said in a 2015 interview, "and it was horrible."
Mappus looked on this week as Notre Dame burned, and it brought back memories. Like Notre Dame, St. Matthew's was undergoing renovations when its blaze began. A drop cloth apparently landed over a light scheduled to come on automatically at dusk.
"The police station was around the corner, and we held a church council meeting and decided then that we would rebuild," he said. "And we did, thank goodness."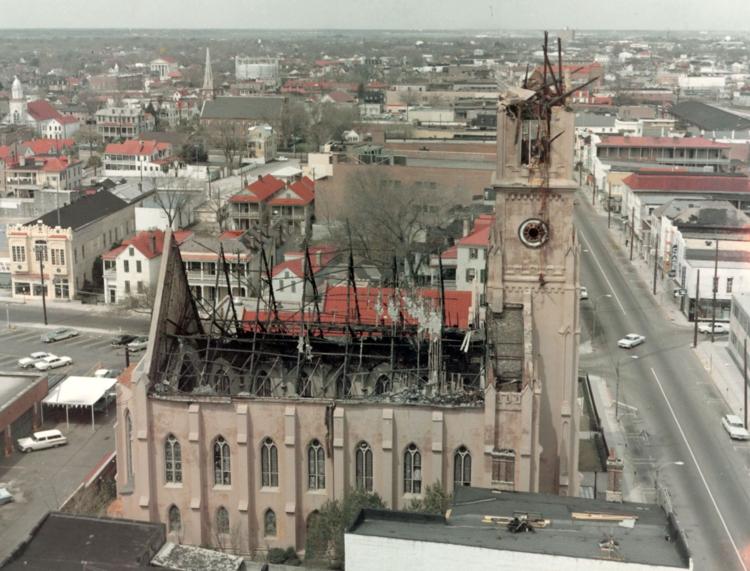 The rebuilding of St. Matthew's took only about 18 months, but the event was memorable enough that the church marked the 50th anniversary of the tragedy four years ago.
But it was far from the only instance. In 1835, the Mercury newspaper covered the burning of St. Philip's Church by noting "such deep and general regret as prevails among our citizens. Its 19th century reconstruction mirrored the triple portico of the early 18th century original.
And Charleston's St. John's and St. Finbar's Cathedral was among the structures claimed by the city's devastating 1861 fire, and it eventually was rebuilt (without the St. Finbar name) in a similar Gothic style. The Circular Congregational Church, a victim of the same fire, also was rebuilt but in a different style.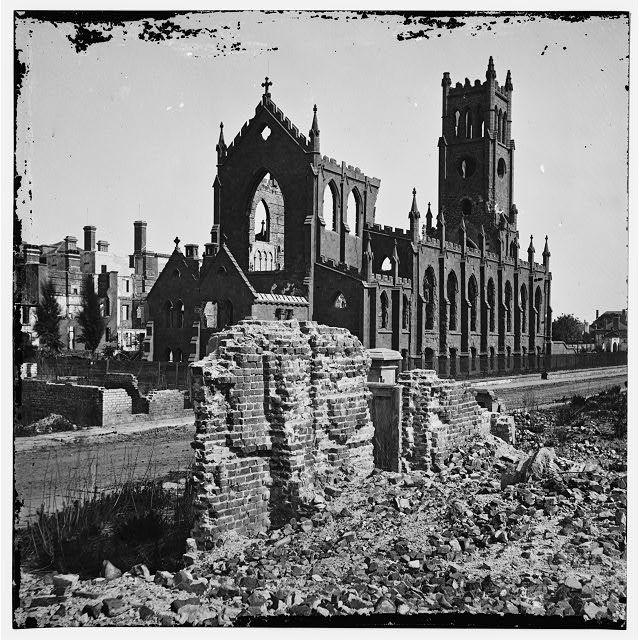 "Charleston is a great example of how you can have fire, war, hurricanes, and come back," Pemberton said. "There are a lot of examples locally on how people can take these buildings out of the ashes and move forward. But it takes a long time. It's not something that can be rushed, and it's very expensive."
'That would be difficult' 
While French President Emmanuel Macron has vowed to rebuild Notre Dame in five years, that's an ambitious schedule.
Bennett said the road is long and will involve a lot of work, beginning with an assessment of the surviving structure, an effort to stabilize its most vulnerable parts, then designing a plan for repairing the damage and possibly other work and, finally, the construction work itself.
Some intriguing questions will be answered along the way, such as whether to rebuild it as it was or to make changes.
French Prime Minister Édouard Philippe already announced an international competition to replace the iconic spire that collapsed, a sign that its new look might be different. Other changes might be made in far less visible areas to make the building more fireproof.
"I don't think most people care necessarily about the framing they don't see, but there are a lot of purists who would say they have to put it back exactly," Pemberton said. "That would be difficult."
Bruno Sutter, a Charleston timber framer and instructor at the American College of the Building Arts, agreed. "I highly doubt you will see the same type of timberwork done for the roof that was there originally.
"If you put back the exact same structure, it can burn again," he added. "The idea is to create something less likely to burn. There are a few options out there."
Sutter, who went to school less than a mile from Notre Dame, said France is blessed with a number of craftsman, but this disaster — like Hurricane Hugo's hit in Charleston in 1989 — shows the importance of training new generations of craftsmen.
Mappus agreed, remembering that one of the greatest challenges in rebuilding St. Matthew's was finding skilled plaster workers. 
And Bennett said they also will decide whether to leave any trace of the fire, which ultimately will serve as an important chapter in the building's long history.
"While you could hide it completely, I doubt there will be an effort to do that," he said. "I hope not."
The good news is that Notre Dame was well documented. Andrew Tallon, a Vassar College professor of art, used a laser scanner to record every interior and exterior detail down to the millimeter. That record will give the rebuilding team more options.
"It's kind of tenant of historic preservation, to measure and draw buildings ... it also helps you understand the buildings better," Pemberton said. "Laser scanning takes it to a whole new level of accuracy, to the sub millimeter."
A call to really reflect
But Notre Dame is first and foremost a church, and religious leaders across Charleston also sought to draw meaning from the blaze.
Skip Adams, bishop of The Episcopal Church in South Carolina, wondered why people show great unity and commonality in response to tragedy.
"We have been looking at the images of Notre Dame Cathedral in Paris after the horrific fire there, and I think of other times, like 9/11 for us in the United States and around the world, and reflecting on the way we tend to come together, how the good part of the human spirit comes out in such circumstances," he said.
"And then I think of the tragedy of Good Friday: the execution of an innocent man, Jesus of Nazareth, and the way that that tragedy united God's people," he added, "And when the promise of new life came in his Resurrection, and the promise of the possibility of hope in the face of death, we discover there a way of moving into a future that bids possibility, bids new life."
Monday's fire hit even closer to home for Deacon Andre Guillet of the Catholic Diocese of Charleston.
He grew up in France "and I have lots of love for the church in France."
Guillet hoped the Notre Dame's destruction would lead not only to the rebuilding of a landmark but also to the rebuilding of France's community of faith. The French, like many others in Europe, have largely stopped attending church.
"Maybe it's a wake-up call for everyone to a certain extent, in this sacred week," he said. "We think of Easter as a time when we have great meals and the kitchens are going to smell good, but as Christians we should remember Easter is our salvation."
One of Charleston's main preservation lessons is that finding a meaningful use for a building is crucial to preserving it. Without anyone willing and even eager to work, sleep or play inside, it's harder to find the motivation to fix the roof or to paint.
"They're being called to really reflect on what is happening," Guillet said of the French. "Giving money is OK, but it's not the whole thing."