Decades after the Charleston Naval Base closed, efforts to redevelop the area have included a new diving school, apartments for low-income families and planned renovation for dozens of historic cottages.
But in the middle are stacks of cargo containers resting on a piece of property that officials say doesn't quite fit the neighborhood.
The city is working with Carver Maritime to relocate containers at 2457 Noisette Blvd., an industrial tract of land on the base where several dozen government agencies, nonprofits, academic institutions and private companies have taken residence since the federal government shuttered military activity in 1996.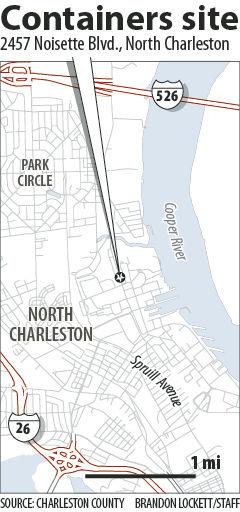 The property was rezoned heavy industrial years ago for a manufacturing company to use the site for warehousing, but the plan fell through, North Charleston Mayor Keith Summey said. 
Currently, the shipping company leases the property from Palmetto Railways, a subsidiary of S.C. Department of Commerce. Stacks of containers sit adjacent to West Yard Lofts, and near the International Diving Institute, residences and historic cottages left behind.
North Charleston also plans to revitalize the former Admiral's House nearby into a bed and breakfast and develop new houses. Summey doesn't want those plans to be hindered by industrial activity.
"We don't want what goes on on the other side of Noisette Boulevard to be a negative impact to that happening," he said. "We want (Carver Maritime) to be successful, but not at our cost."
The Planning Commission denied a variance request to permit Carver Maritime to stack containers on the property earlier this month. This followed city staff's recommendation to deny the proposal, based on the project's close proximity to a school and apartment building. 
Commission members said property owners and developers have made considerable investments in the area and the site should fit in with what's happening around it.
"In addition to hoping for denial of this request, I'm also hoping for rezoning of the property based on the adjacent properties that are already existing, thriving and growing," said commission member Suzanne Thigpen.
While the site doesn't permit container stacking, the rules haven't stopped Carver Maritime. The company has been cited several times for illegal containers, city spokesman Ryan Johnson said.
Sally Andrews, who lives on St. Johns Avenue, expressed frustration that Carver employees are violating city ordinances. But she said efforts to get the company to remove the containers near her home could be a losing battle.
"I've come to the realization that I'm not going to be able to stop industry," she said. "We're going to be one giant port."
A spokesman with Carver said company officials are working with Summey to address the issue. Summey said he'd like for the containers to be relocated to the south end of the base, home to industrial activity such as Carver Maritime's terminal and the Port of Charleston's new Leatherman Terminal scheduled to open in 2021.
Some said residents might as well get use to cargo containers, trucks and trains on the base.
"They're not going to stop building the port," said Jerry Lahm, president of the Olde North Charleston neighborhood. "We'll just have to make do the best we can."