North Charleston plans to take the next step in its westward expansion Thursday, and it seems certain to trigger a legal fight with the city of Charleston.
City Council is expected to vote to annex 1-acre of land west of S.C. Highway 61 in the Ashley River Historic District, a move that would open the door for North Charleston to annex much more West Ashley territory. 
Councilman Ron Brinson said he recently attended a meeting between Charleston Mayor John Tecklenburg and North Charleston Mayor Keith Summey where this annexation was discussed. Their meeting was cordial, but the two city leaders didn't exactly see eye to eye.
"This will be tested in court," Brinson said. "We'll see how the lawyers handle it. If we succeed, then the real issues start."
North Charleston spokesman Ryan Johnson said the mayor's office expects the annexation to be successful.
"The annexation fits squarely within what is allowed by statute and thus doesn't seem surprising in that regard," Johnson said. "In the past, North Charleston has respected other cities' right to annex property, and we would hope this respect would be returned."
Tecklenburg could not be reached for comment, but Charleston City Attorney Frances Cantwell said Tuesday only that the city will wait to see what North Charleston does before making any moves. 
"We're aware of the attempted annexation, and will be keeping a close eye on the process as it moves forward," she said. City Council received a legal briefing on the issue in a closed session last month.
The acre in question Thursday would become part of the city's 9th District and would be zoned as agricultural land. A final vote could be taken as early as Dec. 21.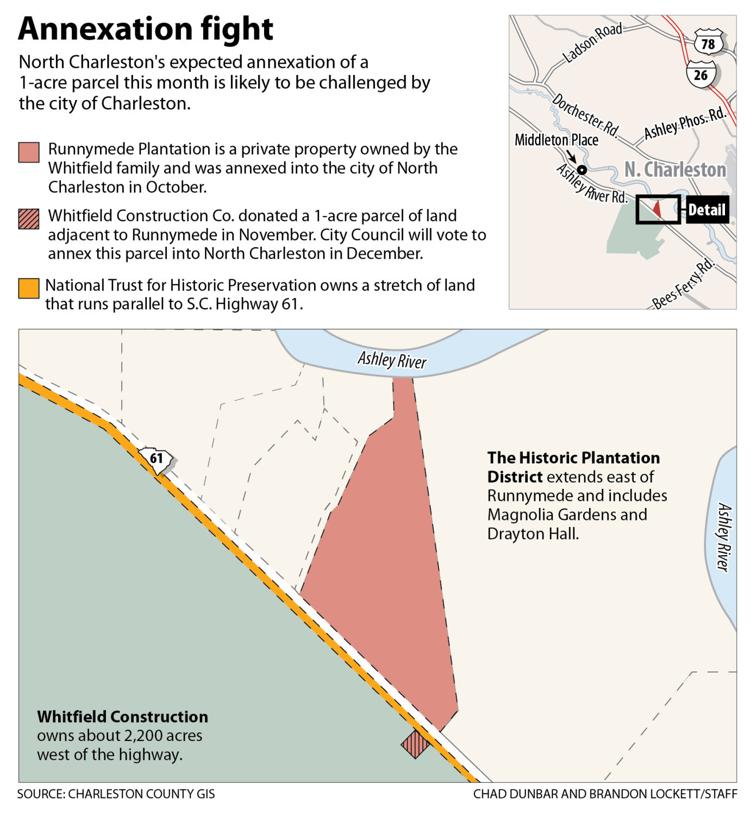 Adjacent, contiguous, legal?
The acre was donated to the city last month by Whitfield Construction Co., which also owns the river-bordering land known as the Runnymede Plantation. Runnymede was annexed into North Charleston in October. 
This annexation process has worried neighbors and conservationists as the land lies within the region's historic plantation district.
If the annexation does trigger a lawsuit, a key issue could be whether the acre is adjoining North Charleston's city limits. South Carolina's annexation law allows cities to jump rivers so long as the annexed land touches the river's edge — for example, Runnymede borders the Ashley River. 
Beyond that, land can only be annexed if it is contiguous or adjacent. In the past, cities such as Charleston have only successfully annexed land that is contiguous to previously annexed land. The acre that North Charleston will vote to annex this week does not border Runnymede, and is not contiguous. It is, however, adjacent to Runnymede in that it sits opposite the plantation, on the other side of the highway. 
This reading of the law is disputed between the two cities' mayors, Brinson said. 
A narrow strip of land owned by the National Trust for Historic Preservation runs alongside the highway's western edge.
This strip was created as a blockade on North Charleston annexing land beyond the highway in the wake of the city's 2004 annexation of the 6,600-acre Watson Hill property, an undeveloped tract that many wanted to see remain rural.
What followed was a legal tug of war between Charleston, North Charleston, Summerville and Dorchester County when North Charleston tried to develop the land.
The city was forced into accepting a conservation easement, which meant the city could keep the land but was barred from allowing new development such as restaurants or apartments.
Annex now, develop later?
The upcoming annexation battle might give some a sense of deja vu, except there may be fewer players this time.
Summerville Mayor Wiley Johnson said Tuesday that no one has mentioned anything about North Charleston's latest annexation plans to him.
"I don't think it really affects us, so I don't think we will get involved in it," he said.
If North Charleston can successfully annex the acre by claiming it is adjacent to Runnymede, then the surrounding 2,200 acres of land west of the highway, also owned by the Whitfields, are up for grabs. In theory, there is nothing stopping the city from allowing the Whitfield family to alter its zoning from agricultural to commercial or residential and developing that land.
Many North Charleston leaders bristle at the notion that their annexation would lead to any irresponsible development, and Summey has said the city's future health hinges on its ability to expand its limits. He declined a request for an interview for this story.
Councilman Kenny Skipper, who represents the 9th District, said there are no pending plans to develop the acre of land once it's in the city.
"It will be part of the city just like any other part of the city," he said. 
Councilman Bob King, the lone opponent of the city's annexation of Runnymede, said he plans to vote no to the annexation Thursday. If it passes, he said he wouldn't be surprised if more development is, indeed, on the horizon. 
"Usually people come into the city of North Charleston from an area like that because they want to do something they're not allowed to do over there," King said. "If we can't develop it, why do we want to annex it?" 
Brenda Rindge contributed to this report.