Maria Douglas Reeve knew she wanted to be a reporter since she was a student at Gordon H. Garrett High School in the early '80s.
Reeve, who was just Maria Douglas at the time, called The Post and Courier's offices and asked if there were any opportunities for a budding journalist.
The receptionist who answered the phone promptly replied "no." The newspaper didn't offer positions to people in high school.
It didn't stop Reeve. On July 20, the Houston Chronicle named the North Charleston native its new editor, replacing Steve Riley, who announced his retirement in March.
Reeve, who is Black, is the first person of color named editor in the paper's 120-year history. She is also among a small but growing number of people of color to lead newsrooms across the country.
Reeve is coming into the role after serving as the Chronicle's managing editor for nearly two years. Before that, she worked in various news management roles at the Star-Tribune and the St. Paul Pioneer Press, both in the Twin Cities, and at The Bradenton Herald in Bradenton, Fla.
Her career and success are the result of an early education at Burns Elementary, now called Meeting Street Elementary @ Burns, and Garrett High School, which closed in 1994, both in North Charleston.
As she was growing up along Dorchester Road, Reeve's childhood was littered with books and newspapers. Education was a foundation in her family, established by her parents Yvette and Hillery Douglas, a longtime Charleston County teacher and chair of the district's school board in the mid-'80s to early '90s and early 2000s.
Throughout her time at Burns and Garrett, teachers would notice that Reeve would take every opportunity to read — between activities, after she finished tests and while waiting for class to start.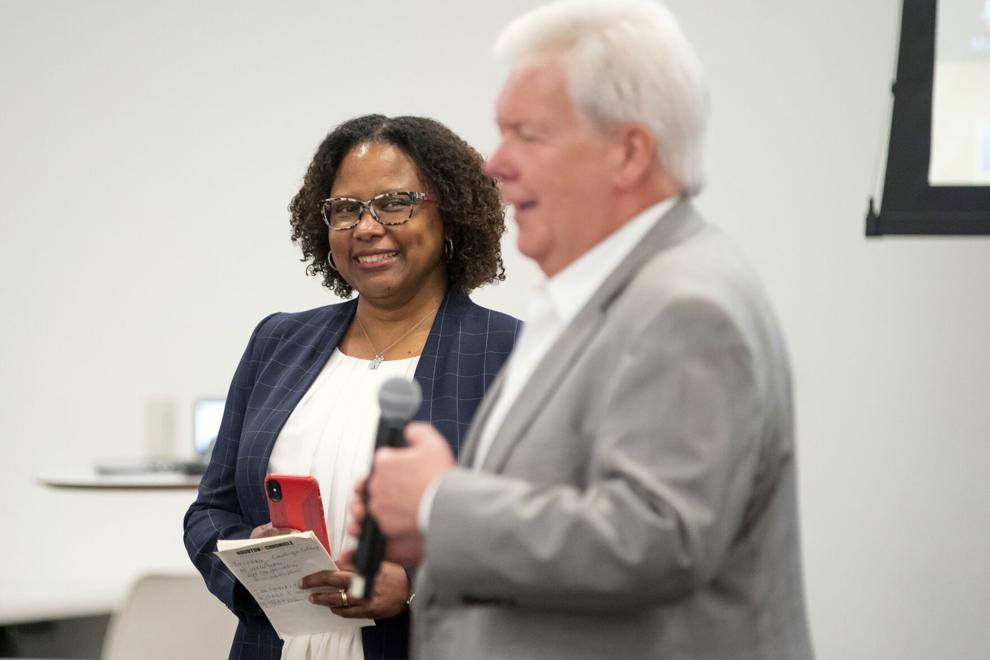 "I remember in seventh grade my teacher told my mom, 'She's just so quiet. She finishes her work and she whips out a book to read,'" Reeve said.
She flourished in high school English classes, where she found writing was her passion and she wanted to have an impact on the world. When she told her father that she intended to major in English at Davidson College in North Carolina, an expensive school even in the mid-'80s, he was apprehensive to say the least.
"I'm just an old country boy, I figured majoring in English, the best you could do was being a teacher," Douglas said. "But she said she was going to become a newspaper reporter. My goodness. From Davidson to a newspaper reporter, it was hard for me to really figure that out."
Douglas eventually came around to the idea and couldn't be prouder of his daughter's accomplishments today.
When he found out Hearst Corp., the owner of the Chronicle, named Reeve as editor, he knew her years of dedication played a part.
"I just thought to myself, 'This group recognized who she really is, a hard worker and a person who gets results,'" Douglas said.
Reeve is in the minority as a Black, female editor of a major newspaper. According to a survey by the News Leaders Association, just 19 percent of newsroom managers were minorities and 41.8 percent were women in 2018. Overall, minorities make up 22.6 percent of all newsrooms that responded to the survey.
Those numbers have grown in recent years and announcements of people of color being placed into management roles have increased in frequency. On July 21, the Dallas Morning News announced Katrice Hardy, a Black woman who previously worked as executive editor of the Greenville News, will take over as executive editor in August.
Hardy and Reeve are two of 12 women and people of color who now sit at the highest positions in the 20 largest newspapers in the country, according to a Neiman Lab report. In 2020, 13 of the top editor jobs at those 20 newspapers were held by White men.
The growing diversity doesn't mean newsrooms are where they should be or there isn't still work to be done, Reeve said.
"When you look at communities and if you say that your goal is to cover those communities, it becomes necessary to have people that can relate," she said. "There is some nuance and texture and background that people of different backgrounds bring to their reporting."
She said that newsroom diversity is especially important in Houston, the fourth-largest city in the country and where minorities make up most of the population, adding it can only help with the business of the paper.
"If we are attracting those audience members, they need to be able to see themselves in our pages," she said. "You do that with a staff that has a variety of life experience and a variety of backgrounds."
Reeve has already started transitioning into her new role and looks forward to its possibilities while she maintains her connection to her Charleston roots.