In a city that markets itself as a great place to do business, three North Charleston homeowners are struggling to do just that. 
Barbara Davis, Peggy Hutson and Bettie Evitts all own land on Dantzler Drive, a quiet street that backs up to University Boulevard's bustling strip that is home to Charleston Southern University, Trident Medical Center and several smaller businesses and medical offices.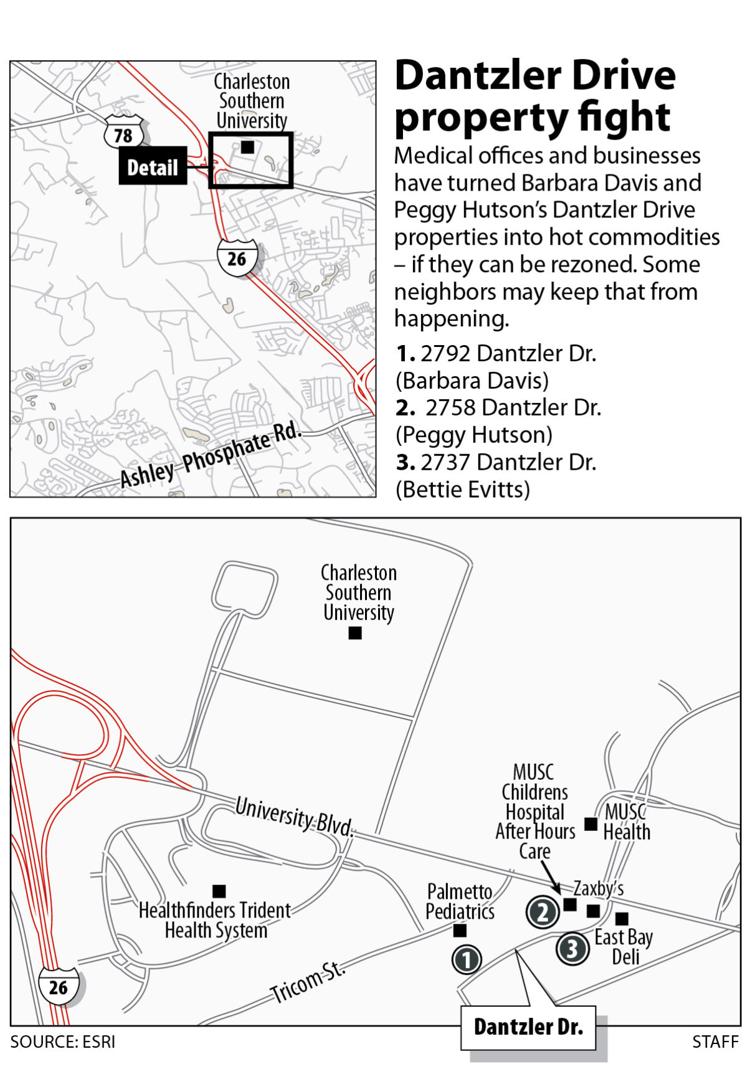 Both widows, Hutson and Davis neighbor a Medical University of South Carolina children's care facility and Palmetto Pediatrics, respectively, and have had their homes on the market for nearly a year. No takers. 
Evitts, whose late mother lived across the street and closest to University Boulevard. After being unable to rent her mother's home, her family tore it down and the lot sits vacant. 
All three women hope the city will allow them to rezone their properties from residential to neighborhood office so  they can sell and move on. But the neighborhood's mostly elderly residents are fighting them. They say businesses have encroached far enough.
"My husband and I are up in age, and we want to live there the rest of our lives," Mary Hutson, who is Peggy Hutson's sister-in-law, said at a Feb. 12 city Planning Commission meeting. "I prayed a long time for this home that I live in."
The Planning Commission sided with the neighbors and struck down Evitts' formal application to rezone her late mother's property at 2737 Dantzler Drive. Davis and Peggy Hutson sat quietly in the audience and worried the decision would affect their applications, which will be reviewed in the coming months. 
Ultimately, the final decision regarding the rezoning of Evitts' property will be up to City Council members who will discuss the application at their March 8 council meeting and their  March 15 committee meeting. The public will be invited to weigh in. 
"Maybe I'm crazy, but I don't understand why people can't see this full picture," Peggy Hutson said. "Nobody is going to buy my place as residential. Everything behind me and around me is already business." 
While this particular battle has pitted neighbor against neighbor, zoning wars are nothing new to the residents of Dantzler Drive. 
In 2013, when Sunoco attempted to construct a 10-pump gas station and convenience store on University Boulevard, Joanne Crosby was one of about 20 Deer Park residents who addressed City Council. 
"I've been there for 55 years," she said. "It's time this stops." 
Dantzler Drive is in the Deer Park neighborhood which is bordered by U.S. Highways 78 and 52 — University Boulevard and Rivers Avenue — and by Interstate 26.  
Sunoco ultimately won the fight.
Councilman Todd Olds, who is in the real estate business, told the Dantzler Drive residents at the 2013 meeting that "sometimes you have to look at the big picture." 
Evitts said she's hopeful council will take her side, whether in March or some other time in the future. 
"If it sells now, that's OK," she said. "If it waits until my kids can use it, that's OK."
Evitts and her sister Dottie Weaver questioned why Councilman Olds' 2013 logic had not been applied to their case in 2018. 
Lou Baker, president of the Deer Park Neighborhood Council, said the proposed rezoning of Evitts' property isn't comparable to the Sunoco file. 
Unlike the gas station, which sits on University Boulevard, the three Dantzler Drive properties are actually inside the neighborhood. Neighborhood bylaws state that all properties must remain zoned as residential. 
"Can you imagine living somewhere in a community, getting to know everybody, and all of a sudden, because people's family members passed ... they want to sell the property?" Baker said.
In recent years, Davis and Peggy Hutson both lost their husbands and watched as medical offices moved into their side and back yards. The women say they can't keep up with the maintenance of their homes by themselves. Hutson, who is scared to live alone, has asked her son to move in with her. 
Both women put their homes on the market nearly a year ago, and have had no luck selling them. 
They have, however, received interest from the neighboring businesses.
Christopher Best, a real estate agent with Coldwell Banker, represented Davis and Peggy Hutson at the Feb. 12 meeting. Though his clients' applications were not before commission on that night, he emphasized the interest he's received from businesses eager to expand their footprint in North Charleston. 
For example, MUSC had reached out to him about putting a parking lot at Hutson's property. 
"There's nowhere else open 24-7 that can even cater to this in the area," Best said. 
Evitts, who does not live in North Charleston but is 79 years old, said she is sympathetic to the elderly neighbors. She can't, however, understand why they oppose the property rights of their neighbors who are struggling to sell their lots.  
"They want to keep their neighborhood like it is and it's impossible," she said. "You can't stop progress."