A new venue for throwing axes and sipping craft beer is slated to open in North Charleston in March, but its owner is hitting one snag with city officials: He has to change the name.
Tentatively dubbed "The Ax Hole," the venue would be the first of its kind in the Charleston area, but not the first in the state. Greenville's Craft Axe Throwing opened in March in an old warehouse facility next door to the popular Birds Fly South brewery. Meanwhile, in Myrtle Beach, business owners have been struggling to get a similar venue approved by city officials.
For the uninitiated: The basic setup is like a bowling alley, where guests reserve a lane for a set period of time. After signing a waiver, they'll get axes, a target, and a coach to guide them through the mechanics and basic safety.
Ax throwing is a growing trend across the U.S., spreading from hipster locales in Denver and Brooklyn, N.Y. Folks go in groups, book bachelorette parties and even do gender reveal parties where expectant parents hurl hatchets at a series of balloons filled with colored paint corresponding with their baby's sex.
"It's like you're playing darts but you're in a batting cage for safety," said Ian Smith, owner of The Ax Hole LLC. Children as young as 12 will be allowed to participate if a parent or guardian is there to sign for them, he said.
About that name, though: According to Smith, city officials told him they would only zone his business as an entertainment venue if he picked a more family-friendly name. They also raised concerns that the "Hole" part of the name implies a watering hole, rather than an entertainment venue that also serves alcohol. He currently has a contest going on Facebook to suggest a replacement.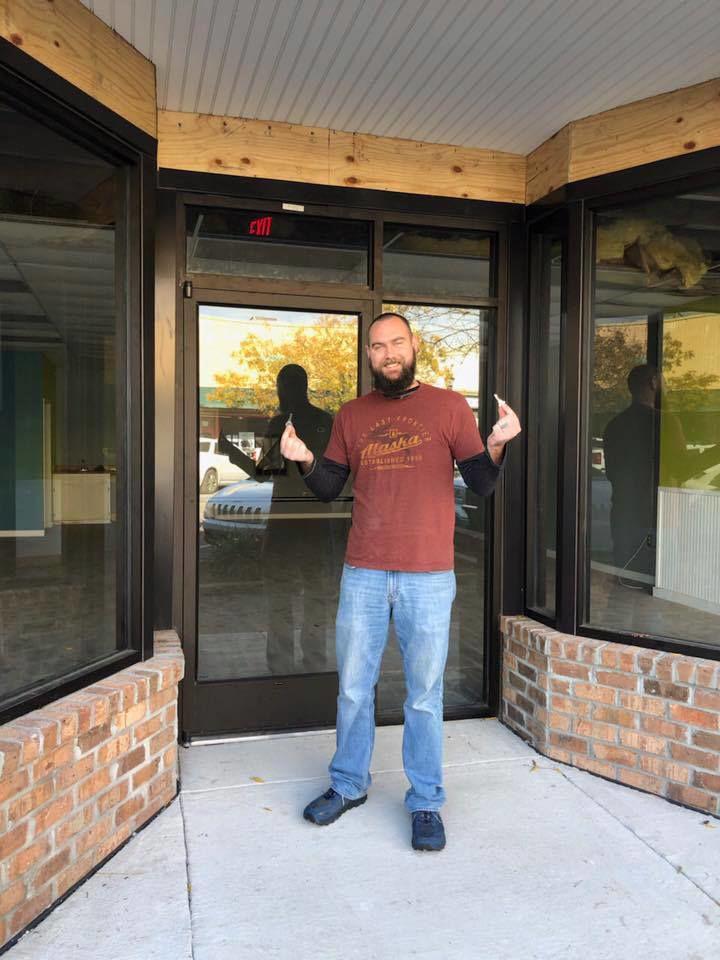 Smith recently signed a lease for an empty storefront at 1077 E. Montague Ave. amid the Park Circle neighborhood's main strip of bars and restaurants. He said he bought insurance — "It's costing me a fortune" — and is in the process of applying for a beer and wine license, which would allow him to serve wine, beer and mead. He's not set on a theme for the venue yet, but he did recently try out some rather medieval-looking drinking horns for the mead.
An Air Force veteran, Smith said he first came across the idea of ax-throwing six months ago when he was moving his family to Charleston from their last assignment in Alaska. While staying with friends in Denver en route, they tried out a venue there and thought the time was ripe to open a similar business in Charleston.
As far as ax-throwing venues go, a simple name change is a minor snag. In Myrtle Beach in July, city officials put the kibosh on some entrepreneurs' plans to open an outdoor ax-throwing venue on Ocean Boulevard. Council members raised concerns about the image of the tourist strip, which has been living down a bad reputation after a streak of violent incidents in recent years, according to the Myrtle Beach Sun News.
Myrtle Beach's government wasn't the only one that buried a hatchet bar's plans this year. In early December in Brooklyn, a community board for the Greenpoint neighborhood denied a liquor license to an ax-throwing bar citing safety concerns.
The venue's owners, who run a nationwide chain, said their only injury to date happened when a guest dropped an ax on their own foot, according to a report in the Greenpoint Post.
In Lincoln, Neb., city officials recently proposed a two-beer limit for patrons at two ax-throwing venues, Tomahawks and Craft Axe Throwing, according to the Lincoln Journal Star.