For years, Mayor Keith Summey and Santa ceremoniously lit the lights on an impressive evergreen in Park Circle.
That tree is gone now, set to be replaced by a 40-foot-tall cone structure adorned by multi-colored Christmas lights. 
The evergreen was damaged in Hurricane Matthew last year and Tropical Storm Irma this year and had to be taken down.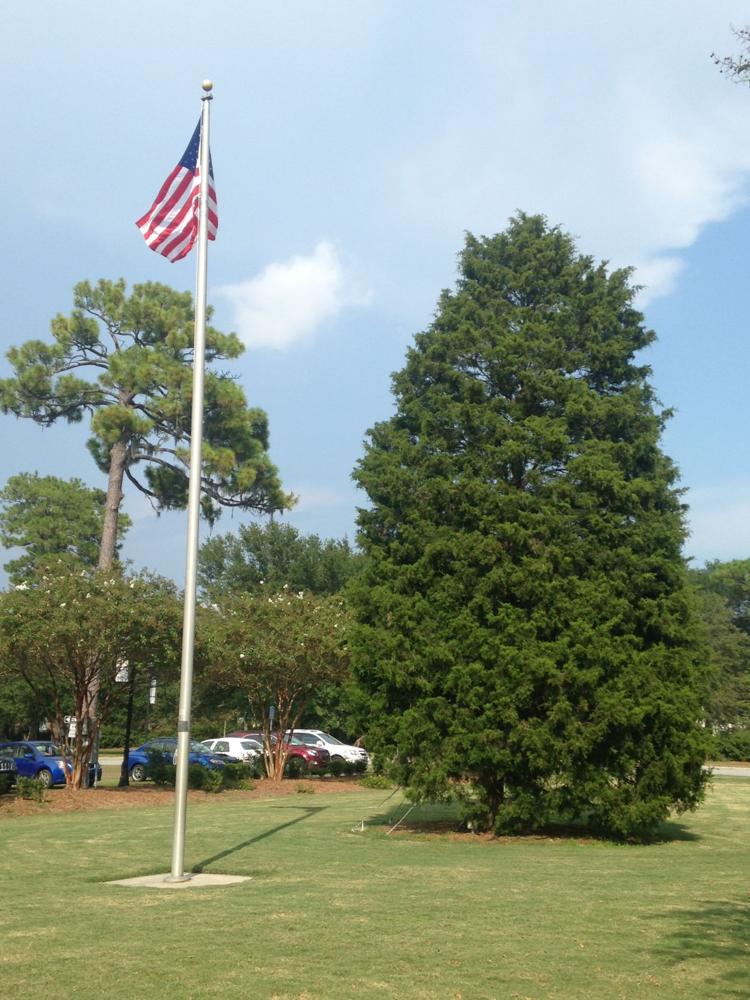 Summey will light the holiday structure at 6:30 p.m. Friday on the lawn of the Felix C. Davis Community Center, in the middle of Park Circle. He will also attend the following day's Christmas Festival and Parade.
Park Circle resident Cindy Bohn Coats, however, was wistful in a Facebook post she made in September, when the city announced its decision to replace the live tree with a cone-shaped structure. 
"While I'm sad to see the tree go, it does appear the city has done all possible to salvage it," she wrote. "I would prefer to see the tree replaced with another one. That tree has-for better or worse-become part of Park Circle. Please plant another tree in its place!"
On Wednesday, as the city has prepared the structure, Coats said her opinion has not changed. 
"It's North Charleston, it's Park Circle, how do you have Christmas without the big tree in the front lawn?" she said. "I still hold out hope that we've got a whole year to get a tree there for 2018. I've seen the structure. It's colorful. It's not a North Charleston Christmas tree in Park Circle."
On Wednesday, city spokespeople did not respond to questions regarding the decision to replace the tree with a conical light structure. The mayor did, however, comment on the annual affair's ability to bring people together.
"These events are wonderful for everyone," Summey said. "It gives folks living in North Charleston, and throughout the Lowcountry, an opportunity to come together during the holiday season for a wholesome time celebrating family, friends and the community."
The city's new "tree" might look a tad familiar. When the city of Charleston moved its Christmas celebration from King Street to the newly renovated Marion Square years ago, it opted to replace a real tree with a tall cone of multi-colored lights. 
Following North Charleston's lighting, the Military Magnet Academy Sounds of Eagles Choir will sing Christmas carols. Roti Rolls and Charleston Festival Foods will offer food in addition to a marshmallow roasting pit. More than 70 live Christmas trees decorated by local businesses and community groups will line the park's perimeter. 
The city's annual Christmas Festival and Parade will follow the next day. The festival will last from 3 p.m. to 8 p.m. on Saturday. The parade will begin at 5 p.m.
"After the festival, I encourage Lowcountry residents to come take in the Christmas lights, which will be on display around Park Circle until New Year's Day," Summey said.