Residents in the Neck Area of Charleston and North Charleston are bracing themselves for three years of noise and traffic diversions as the state Department of Transportation begins work to improve and reconfigure two Interstate 26 interchanges. 
And the DOT has announced that traffic passing through the area will occasionally be rerouted and delayed.
The DOT has hired a public relations consultant and community liaison to get construction updates to the surrounding communities.
But Omar Muhammad, president of the Lowcountry Alliance for Model Communities, said "the noise is one our greatest concerns, along with the vibration and particulate."
He thinks the DOT could do a better job at getting the word out about what's happening on the project. LAMC is connected to community groups and can get information out to those who can, in turn, get it to residents. "But we're lucky to get two weeks notice," he said, adding it would be helpful if they got information a little earlier.
Nancy Button, president of the Rosemont Neighborhood Association, said DOT representatives said they will attend association meetings, and that's a good thing. And a sound wall is planned along I-26 to protect the neighborhood from some of the noise. 
But, a large project such as the one along I-26 will have a big impact on the neighborhood. The first one was the closing of exit 217 in November, which many residents used to get to the neighborhood.
"That was a shocker," she said. "It's going to take a while to get used to it."
One of the first phases of work will run through Jan. 15 along I-26, between exits 216 and 219. Drivers traveling that stretch of the road at night will experience lane closures marked by barricades, cones, signs and flashing arrows. The public is asked to exercise caution while driving through the area.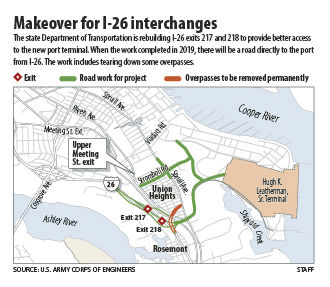 And on occasion, the entire roadway could be shut down as workers remove massive girders or large pieces of concrete from overpasses that are being torn down, DOT officials said. Full road closures, however, last only about five minutes.
The work on exits 217 and 218, which is being done largely to improve the flow of traffic to the new Hugh K. Leatherman Sr. Terminal, will take place at night, between 7 p.m. and 6 a.m., they said, but most of it will take place after 9 p.m. 
The new port terminal is expected to open in December 2019.
"For a project this size, it's going to happen pretty fast," said DOT project manager Daniel Burton. All of the overpasses that need to come down likely will be dismantled in the next 10 weeks. 
When the $320 million project that is being managed by the DOT is complete:
The ramps on exit 217, which connects I-26 to North Meeting Street, will be torn down and replaced. The improved exit will continue to serve traffic heading east toward downtown Charleston.
Exit 218, which now serves only traffic heading west on I-26, away from downtown Charleston, will be rebuilt to serve traffic traveling in both directions. The main part of the exit ramp will serve as a road providing direct access to the new port terminal. A minor exit off the port access road will allow traffic to access the new extension of Stromboli Avenue, Spruill Avenue and Viaduct Road. 
The ramps connecting Spruill Avenue to I-26 will be permanently removed. Drivers will be able to access Spruill from a minor exit ramp off the port access road at exit 218. 
Exits 217 and 218 were closed in November. While more than 90,000 vehicles drive along that part of I-26 daily, according to DOT figures, the ramp closings will impact far fewer motorists. DOT statistics show an average of 7,600 vehicles used the North Meeting Street ramps at exit 217 each day while 5,400 vehicles traveled on the Spruill ramps at exit 218.
Joel Smith, the DOT's assistant project manager, said the public will be alerted before each phase of work that will affect traffic. In the future, there could be more nighttime lane closures along I-26, as well as the King Street Extension, Spruill Avenue and Meeting Street.
"The roads we're going over are primary routes, so much of the work and impact will be at night. You can't close down Meeting Street" during the day, he said. 
He also said that much of the work goes through or over green space, and it can be done during the day.