A Statehouse bill that would let local governments use hospitality taxes to pay for flooding and drainage projects in tourist areas is headed to Gov. Henry McMaster's desk for approval.
The House and Senate passed legislation this week that expands local governments' spending options to pay for such items as removal, repair and construction of drains in flood-prone tourist areas — legislation  that was crafted to help Charleston.
It was a yearslong effort that state Sen. Marlon Kimpson, D-Charleston, called a "huge victory" on Thursday. 
"Flooding is a critical issue across the state, particularly nuisance flooding or sunny day flooding," Kimpson said.
Kimpson, who authored the original bill in December 2018, called it a "major win" for Charleston.  
At present, restaurant-goers are taxed 2 percent on their bills as a "hospitality" tax that is collected by local governments. Those jurisdictions can use hospitality taxes to pay for buildings like civic centers and aquariums, beach access or bridges to tourist destinations, advertising and water-and-sewer infrastructure. 
Charleston Mayor John Tecklenburg approached Kimpson with the idea three or four years ago to add flooding and drainage improvements to the list.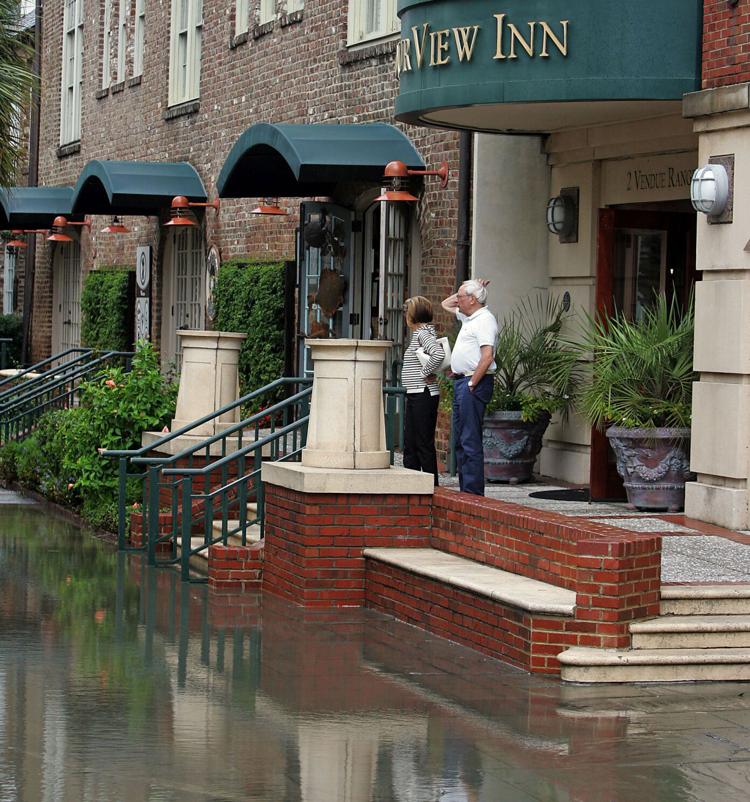 "We've been looking at all possible sources of funding for drainage and sea-level rise needs, so it's great to have the flexibility to be able to utilize tourism taxes," Tecklenburg said. "This gives us a powerful tool, a long-term tool."
Tecklenburg said some could argue the whole city is a tourist destination, but the new funding option opens up additional dollars for projects like the rehabilitation of old archways under peninsula streets and another round of drainage improvements near Charles Towne Landing.
Going into the 2020 calendar year, the city of Charleston was expected to receive about $22 million in hospitality taxes.
But that was before the global coronavirus pandemic. In the spring, the city halted collection of hospitality and accommodations taxes as a means of helping businesses forced to close because of the pandemic.
Kimpson's bill evolved over the years. It initially would have given coastal communities the option to use hospitality and accommodations taxes to pay for flooding fixes related to sea-level rise. Language was added so inland communities could spend money on nuisance flooding, too.
Organizations that receive grants from local governments through accommodations tax funding for marketing raised concerns that their funding would be wiped out. Language was changed so local governments could only use hospitality tax funding for flooding and drainage improvements. 
Kimpson said he felt it was "short-sighted" of tourist-centric businesses to argue over losing advertising money.
"If we don't have passable roadways then we don't have tourist traffic," Kimpson said.
State Rep. Leon Stavrinakis, D-Charleston, negotiated the changes to the bill so it would be approved in the House this week. He said discussions almost derailed when beach town parking bans crept into the conversation. 
Stavrinakis said the final language of the bill opens up a "bigger pool of money" to most municipalities, particularly Charleston, North Charleston and Mount Pleasant, which see millions in hospitality taxes each year.
State Sen. Chip Campsen, R-Isle of Palms, co-sponsored the measure. He negotiated language into the bill that allows local governments, like Charleston and Beaufort, who have 10-year plans due in December, the option to file their plans next December so they can do adequate public outreach.
Campsen said he is "confident" McMaster will sign the bill into law, which would go into place immediately after he applies his signature. 
Governor spokesman Brian Symmes said in an email Thursday evening that McMaster has "every intention" of signing the bill into law  when it gets to his desk.