New Orleans police have arrested a suspect in the fatal shooting of Charleston-area Black Lives Matter activist Muhiyidin Moye.
Moye, known widely as Muhiyidin d'Baha, rose to prominence as an advocate for change in police practices after the 2015 shooting of Walter Scott by a North Charleston officer.
The 32-year-old was staying in New Orleans in February when he was gunned down on the street, possibly in a robbery, authorities said at the time. Little was known about the identity of his killer.
That changed when homicide detectives got a tip through Crime Stoppers, helping to break open the investigation. A $5,000 reward had been offered.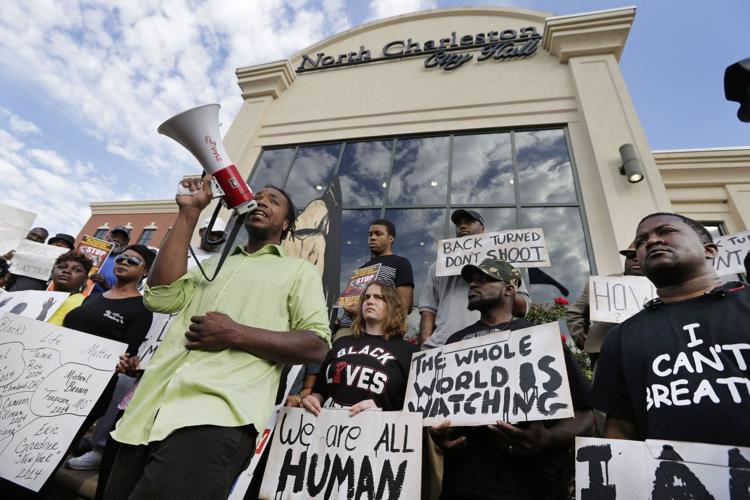 The investigators identified 26-year-old Roosevelt Iglus "as the perpetrator," the New Orleans Police Department said Wednesday in a statement.
Officers arrested the suspect Tuesday on Iberville Street. Iglus faces a count of second-degree murder, as well as possession of heroin and amphetamine charges, court records showed.
After an initial court appearance, he was held in jail Wednesday without bail.
Iglus has past arrests in New Orleans on drug charges, as well as a 2016 charge of illegally carrying a weapon, records state.
Moye's sister, Kimberli Duncan of Summerville, said the arrest came as a surprise to loved ones who heard little about detectives' progress in the probe.
"I was totally in shock," she said. "It came out of nowhere because the last time I talked to (police) it was, 'We've got nothing unless someone comes forward.'"
Camille Weaver of Tennessee, his niece, also worried that the case would go unsolved.
"So I'm really happy we're getting answers," she said. "I know this is going to give those who knew and loved (Moye) some much-needed peace of mind."
In April 2015, Moye helped arrange the first meeting between Scott's family and Feidin Santana, the bystander who filmed the killing with a cellphone. He made headlines again last year when he grabbed a protester's Confederate battle flag on live television, prompting his arrest.
Moye's shooting, about 1:30 a.m. Feb. 6, was captured on surveillance video, The Times-Picayune in New Orleans reported, citing arrest documents. He was riding a bicycle on Bienville Street when someone tried to knock him down, the report states.
As Moye tried to ride away, the man shot at him several times, the documents said, according to the newspaper.
Moye was hit in the thigh. Officers found him bleeding on the ground near the mountain bike. He later died at a hospital.
The witness whose information led to Ignus' arrest told police the suspect had a 9 mm handgun that night but it wasn't clear if the person saw the shooting, The Time-Picayune reported.
In North Charleston, Pastor Thomas Ravenell of Empowerment Baptist Church had befriended Moye amid the rallying that followed Scott's slaying. The void left by his death has become apparent in the area, Ravenell said.
"He is greatly missed," the pastor added. "To get this type of news, it starts the healing process. But it's only a start."