MOUNT PLEASANT — A new proposal to address construction-related flooding in the Old Village would not focus on small secondary dwellings, as first proposed, but on how much of a property is covered by any surface that water can't pass through.
It's part of an ongoing effort to address drainage problems and flooding in the oldest part of town where leaders are planning $9 million in drainage improvements that could require raising the town-wide stormwater fee.
Residents of the area blame increased development for some of the flooding problems.
A new Old Village development-related moratorium making its way through the Town Council approval process initially targeted the small homes known as accessory dwelling units, or ADUs, as well as the subdivision of properties into multiple building lots.
"The moratorium is great, but there's so much (construction) in the pipeline already," said resident Ed Cox, of Indian Street. "The damage is already done."
The new 90-day moratorium is scheduled for a final vote Tuesday just after an existing moratorium in the same area expires. But now, proposed changes would focus on a permanent change to zoning regulations, limiting anything that could increase stormwater runoff in the Old Village area, such as paved driveways. 
"With the (proposed) moratorium the way it is now, you could build a really big house but not a small ADU," Councilman Will Haynie said at a committee meeting Tuesday. "We want to address that."
The proposed way to address that is to take a regulation that exists now in the Old Village Historic District, requiring that impervious surfaces cover no more than 40 percent of a property, and extend that standard across the area between Charleston Harbor and Coleman and Ben Sawyer boulevards.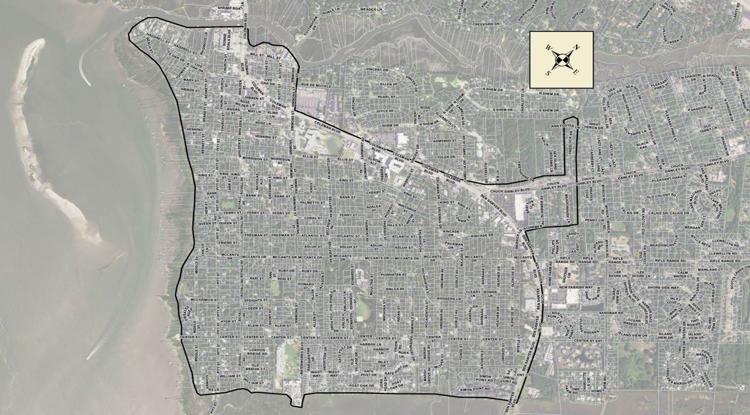 If council approves that proposed change to zoning regulations, "it will have to go back to the Planning Commission because they are required to have a public hearing for a change in the zoning code," Assistant Administrator Christiane Farrell said Wednesday.
Currently, most residential areas in Mount Pleasant have requirements about how much of a property can be covered with buildings but no restrictions on covering up rain-soaking ground with driveways, walks and patios.
Town Administrator Eric DeMoura suggested that business properties along Coleman Boulevard should be exempt from the proposed zoning change because it would be impractical, and businesses are already required to address any stormwater runoff.
The Public Service Committee accepted that recommendation and also Councilman Joe Bustos' suggestion that there should also be a temporary moratorium on subdividing Old Village properties to create additional building lots.
Add it all up and what's expected to happen at the next Town Council meeting is this: A 90-day moratorium that the council already initially approved could be amended so that lot subdivisions would be prevented, but the restriction on ADUs would be eliminated.
At the same time a new ordinance would be introduced — and could take effect immediately as a pending ordinance — to restrict property owners throughout the Old Village area from covering more than 40 percent of a property with impervious surfaces.
The meeting is scheduled at 6 p.m. Tuesday in Town Hall, weather permitting.