When students enroll for certain courses this fall at Trident Technical College, they won't have to shop for textbooks.
Following a growing trend in the textbook industry, Trident will tack an automatic fee onto students' tuition bills for 22 classes for access to digital textbooks and online course materials.
"Rather than making a list of books for the student to obtain and selling those in the bookstore — that tend to be very expensive — we are charging the student a much more modest course fee," said Catharine Almquist, vice president of academic affairs at Trident Tech. "And when the student logs in to their online course shell on the very first day of class, as soon as they can get into the course, all of their materials will be there for them."
The term for what Trident is doing is "inclusive access," and textbook publishers have been promoting the model since the U.S. Department of Education created a regulation in 2015 allowing schools to include book and supply costs in their tuition bills.
This year in South Carolina, at least five public technical colleges have signed contracts to provide a similar service for a limited number of courses. Trident, Tri-County Technical College, Technical College of the Lowcountry, Greenville Technical College and Orangeburg-Calhoun Technical College have all signed contracts with RedShelf, a Chicago-based company that offers web-based textbook access. 
At Trident, which has its main campus in North Charleston, the administration has dubbed its new pilot program the Textbook Affordability Project. For 22 courses starting in the fall term, students will see a new fee on their tuition bill, ranging from $43 to $122, that pays for a digital access code for textbooks and online classroom tools like MyLab Math. The class materials are being purchased from the textbook publisher Pearson.
In exchange for discounted rates for access codes, the school has committed to providing 6,760 enrollments by the end of the 2018 calendar year, according to the five-year contract Trident signed with Pearson. Next year, that number jumps to 12,291. If the usage rate falls short, Pearson reserves the right to charge the college full price for class materials.
In accordance with federal law, Almquist said students can opt out of the inclusive access fee via their Desire2Learn web portal. But she said some courses will require students to complete assignments via web-based platforms that are included in the new fee. ISBN codes for comparable textbooks for the pilot courses are not yet available on the Trident bookstore website.
How inclusive is it?
Skeptics worry that the emerging textbook business model is designed to eliminate competition with used textbook stores and online sellers, allowing a handful of powerful publishing houses to control the market and set prices with impunity.
Gary West Jr. has a dog in that fight. As manager of the Textbook Brokers store, across Rivers Avenue from Trident's main campus, he said he's been largely left in the dark about the new changes. He doesn't know what textbooks, if any, students will be allowed to buy used in lieu of paying the inclusive access fee.
He said he contacted representatives from Pearson, the publisher behind Trident's pilot program, and had no luck getting ISBN codes so he could start stocking his store.
"Pearson was like, 'Well, there's nothing to sell you,'" West said. He now keeps a petition on the counter at the shop for students who want to protest the move to inclusive access.
The rising cost of textbooks has left a mark on higher education in America. A 2011 survey published in the Chronicle of Higher Education found that seven in 10 college students had skipped buying a textbook because the price was too high.
That's a big concern for Almquist, who said Trident wants to ensure students from low-income homes have the same opportunities as middle-class students.
But from West's perch behind the counter at Textbook Brokers, he sees the soaring costs of textbooks being driven by artificial scarcity that the textbook publishers created.
First came the constant issuing of new editions, then the "custom editions" of textbooks just for Trident Tech students, cutting off competition with the global marketplace.
Then came the rise of digital access codes, which can't be reused. He said unscrupulous Craigslist sellers have scammed a few students by selling them used access codes that no longer work.
"Right now, publishers are saying this is going to save people money, but all I can think is if you become the only show in town, what's going to stop you from charging whatever you want?" West said.
West isn't the only one concerned about the rise of inclusive access. In a 2017 Inside Higher Ed article on the new business model, Nicole Allen of the Scholarly Publishing and Academic Resources Coalition said the term for the practice is a misnomer.
"It's the opposite of inclusive, because it is premised on publishers controlling when, where and for how long students have access to their materials, and denying access unless they pay for it," Allen said.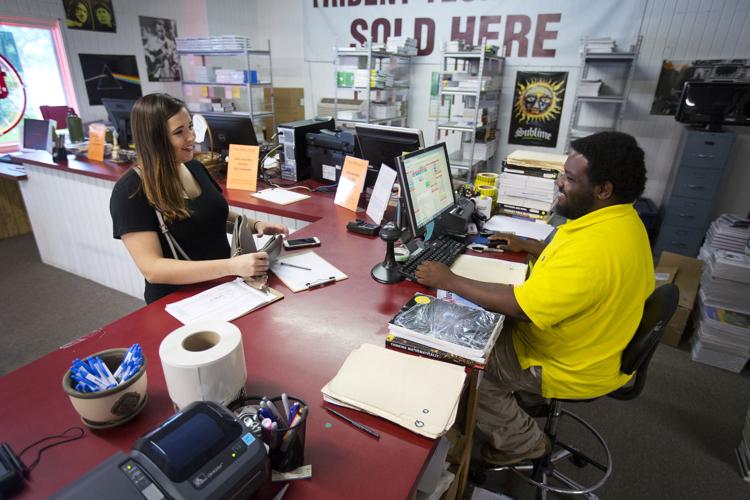 Textbook trends 
Initial pricing data provided by Trident Tech indicate that digital copies are cheaper than new hard-copy editions for all of the courses included in the inclusive-access pilot program. The digital access code for an Art 101 class this fall, for example, will cost $66, compared with the $223.25 that a student would spend on a hard copy of a full-color textbook.
But the prices it used were for brand-new copies and did not factor in the costs that students can recoup by selling books back to a bookstore.
Almquist said Trident is launching the pilot program with students in mind. The contract that the school signed with Pearson this year sets a cap on the markup that the school's on-campus bookstore can charge for inclusive-access materials: Either 9 or 15 percent, depending on the type of product. That's "substantially less" than what the bookstore currently makes on print copies, Almquist said, although it does eliminate the costs of shipping and inventory.
"This is where the textbook industry is going to move. We're in the education business; we rely on textbooks, so if the industry is going to move, we need to move with them," Almquist said. "This is a way for us to get our feet a little wet and see what the future holds."
The future is coming soon to Greenville Tech, too. The college bookstore began a pilot inclusive-access program over the summer with another major publisher, McGraw-Hill. The pilot included just two courses, Business 250 and Physical Geology, and college officials said very few students opted out.
Nationwide, about 3 to 5 percent of students in inclusive-access classes opt out of paying the automatic access fees, according to Jon Poole, Pearson's vice president for strategic partnerships in the east region. That's partly because the ebooks often come bundled with online programs that students need to complete class assignments.
"Most students want access to the digital content so that they can do their homework, so that they can communicate with the instructor," Poole said. "The ones who don't often come back and opt back in after the evaluation period because they realize it's hard to participate in the course without it."