An attendance line plan to curb overcrowding in one of Berkeley County's fastest growing schools was approved Tuesday, meaning nearly 200 rising ninth-graders will not be able to attend Cane Bay High.
Members of the Berkeley County School Board were ready to approve a plan on Tuesday evening but unanimously chose another option that would increase the geographic area where students would be required to attend Stratford High School in Goose Creek next academic year instead of Cane Bay.
The district calculates that 197 rising ninth-graders will attend Stratford next school year under the plan, according to Berkeley County School District Spokeswoman Katie Tanner.
Rising 10th- through 12th-grade students will have the option to remain at Cane Bay or transfer to Stratford. 
Now, accounting for all rising ninth- through 12th-graders, an estimated 798 students could either be moved or choose to attend Stratford for the 2019-20 year. The newly approved plan will affect about 100 more students versus the previous plan.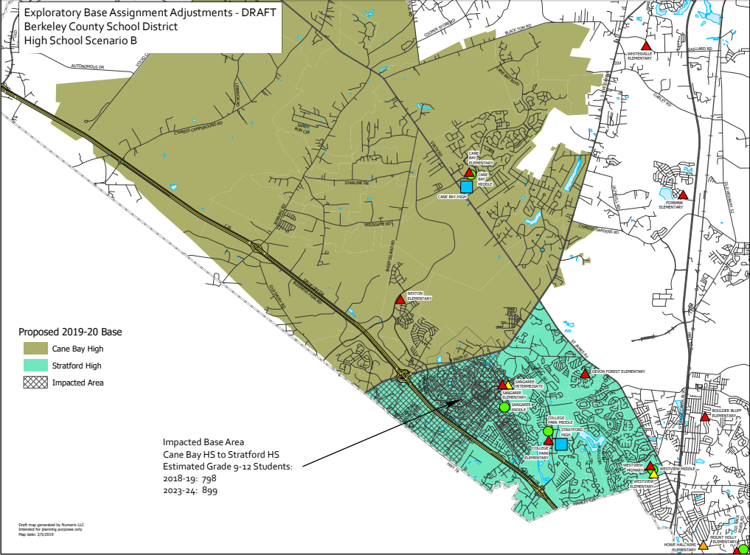 The new plan still means that students who want to remain at Cane Bay are in a bind for finding a ride to school. The district is still short an estimated 35 bus drivers. 
Some board members, such as David Barrow, are more optimistic about the transportation issue. He said if the school makes a priority of adding drivers, it could provide for remaining Cane Bay students.
"The issue is the shortage of bus drivers," Barrow said. "If we could work on that, then we could provide transportation for students at Cane Bay for a year. It's unresolved but it's not dead in the water." 
The attendance line approval is an immediate way of addressing rapid growth and overcrowding in county schools, but it is not a solution. 
Cane Bay has a current student count of 2,130, about 400 students over capacity. Stratford, by comparison, has a maximum capacity of 2,200 students but is currently at 1,750. 
In four years, Stratford is expected to be at or over capacity. Barrow said the solution is to build a high school. Financial woes have faced the district in the past couple of years. Former BCSD chief financial officer Brantley Thomas stole $1.2 million from the district, including the capital projects fund. 
School district spokeswoman Katie Tanner said there isn't a plan to build a new high school for at least the next 10 years because there are still schools in the district, like Stratford, that are under capacity. 
Barrow said there isn't a target number of students they are hoping attend will Stratford, but he hopes it will alleviate some of the overcrowding until a permanent solution is found. 
"There isn't a definitive number we're looking at," Barrow said. "It's a short-term to mid-range fix. We're going to have to build a high school, but it's not in the mid-range plan."