Five years after the Navy overcame concerns about right whales and dolphins to win an environmental permit for sonar and explosives training off South Carolina, the permit is about to be renewed.
The Navy doesn't propose to be more cautious in its training. Conservationists say that's not good enough.
In those five years, so few critically endangered right whales have been born that some conservationists say the animal is almost doomed to extinction. Meanwhile a virus outbreak considered to be one of the worst on record ended up killing about 1,600 bottlenose dolphins, including some 300 that washed up dead along the South Carolina coast.
Conservationists have raised concerns that noise disruptions by fishing, shipping, military and other interests might be interfering with breeding. Seismic blast surveys and other fossil fuel work proposed by the Trump administration would exacerbate that, they say.
The Natural Resources Defense Council is weighing its legal options as the permit works through the final approvals by the Navy and National Oceanic and Atmospheric Administration.
A new permit is expected to be issued by December.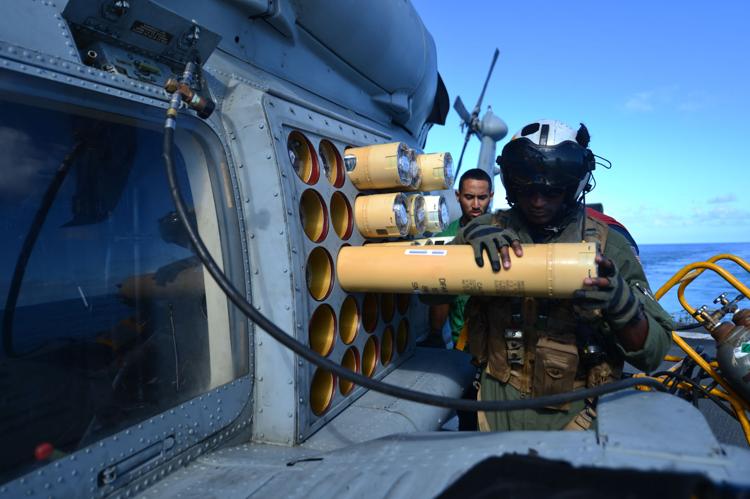 The Navy warfare training includes repeated sonar pinging from an array of submarine, ship and aircraft equipment, as well as ship "shock trials" — detonating loud explosions just off the hull to gauge whether it can handle the strain of bombardment.
Research has shown that sonar and explosion noises affect whales' hearing at longer distances, and that the deep-diving whales are detected only about 10 percent of the time. Whales and dolphin communicate and navigate by echolocation, a type of sonar.
"According to the Navy's own estimates, its Atlantic activities will harm whales and other marine mammals close to 3 million times each year, for the next five years," said Michael Jasny, the marine animal protection director for the Natural Resources Defense Council. "Harm of this magnitude is not sustainable."
A Navy official who worked on the environmental studies needed for the permit renewal said the number is a worst-case possibility and that most disruptions to the whales and dolphins are only temporary.
"Yes, an animal can react and sometimes does react to activities. But the activities do not affect their ability to do what they do," said Jene Nissen, Atlantic Fleet Training and Testing project manager for the Navy. "Especially in the world we're living in today, it's critical to get these sailors trained." 
The five-year permit allows a sea and air warfare-training range along 50,000 square miles off the East Coast, starting 12 miles out — including much of the same waters the Trump administration is poised to open to oil and natural gas exploration and drilling.
In seismic testing, powerfully loud air guns are fired underwater every 16 seconds or so to read "echoes" from the bottom geology.
Navy officials say the service has conducted training offshore for 65 years now with little environmental impact, and has made changes when problems emerged.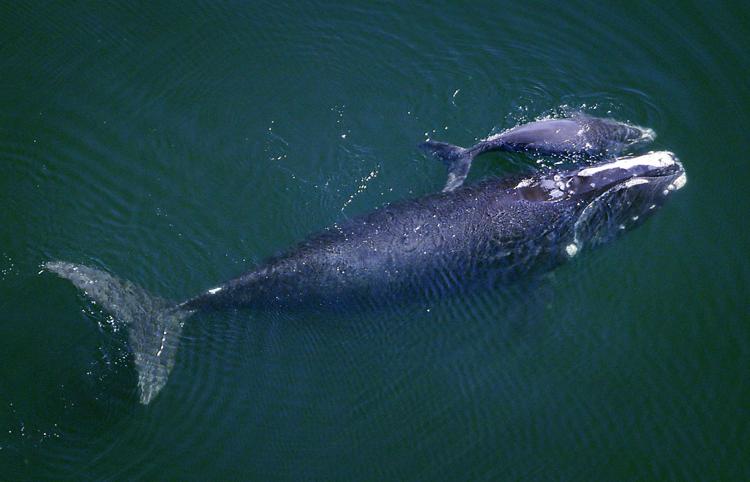 Right whales are the rarest of the large whales, with fewer than 500 known to be alive, including only about 100 mature females.
They are massive 40-ton creatures. Their two-plume breathing spray and the lack of a dorsal fin distinguish them from other whales.
They migrate south to calve each winter, so close to the East Coast that a mother and calf pair was spotted in 2005 in the breakers off Pawleys Island near Georgetown. The proximity to boating, fishing and shipping has become deadly.
Last year, 17 washed up dead in the U.S. and Canada.
The apparent absence of right whale calves over the 2017-18 winter followed the 2016-17 winter during which only three female and calf pairs were spotted — in contrast to 39 pairs in the peak year of 2009. Numbers have declined now for five years in a row. 
The Navy plans to not conduct explosive training and limit its sonar training during the winter months when right whales move to Southeast waters, Nissen said. When a sighting of a right whale is reported, training is adjusted to keep away from the animal, something that happens only 10 times per year or less, he said.
"In most of these areas, few if any restrictions are placed are placed on sonar or explosive activities, and the Navy is relying once again on the woefully inadequate measure of looking for whales in the water," Jasny said.
"We'll consider our options going forward," Jasny said. "We're extremely concerned about the cumulative assault that seismic blasting, on top of all this other activity, will have on ocean life."