NORTH CHARLESTON — U.S. Rep. Nancy Mace became the highest ranking official to publicly support a federal investigation of possible civil rights violations at the Charleston County jail, where seven people have died in the past year.
Mace toured the state's largest jail one week after Charleston County's coroner ruled the December death of a 28-year-old Black man with mental illness a homicide due to "gross medical neglect."
The congresswoman used her visit to advocate for greater funding to allocate resources to people with mental illness who make up a disproportionate percentage of people who die in county jails across the country.
Seven people died in custody at the Sheriff Al Cannon Detention Center in the last 12 months, according to data provided by the S.C. Department of Mental Health.
The trend is significant, according to Mace, who said only five people died in the jail's custody in the decade before 2021.
Mace, who represents the coastal 1st Congressional District, said her March 27 visit was part of a fact-gathering expedition to understand the root causes of the increase in deaths. A Department of Justice investigation would also help dig up answers, the Republican said.
"I don't want to jump to conclusions," Mace said. "I also think it will be healthy and important to have a third-party take a look at what's going on so we can make sure that they have the resources that they need."
An investigation could recommend changes to process, policy or vendors.
Mace's visit took place amid a chorus of calls for the federal government to investigate a potential pattern of civil rights violations at the Lowcountry jail. Also on the tour were County Council Chair Herbert Sass and Council member Teddie Pryor, who has spearheaded an effort in the council to bring federal attention to conditions at the jail.
State Rep. Marvin Pendarvis has also asked for a federal investigation to determine whether the sheriff's office or its medical provider at the jail has "engaged in a pattern or practice of violations of civil rights by failing to provide reasonable and adequate medical services to the inmate population."
The North Charleston Democrat is representing the family of Julian Lamont Jenkins, a 50-year-old man with numerous health issues who died earlier this month in the jail's medical unit days after he was arrested in connection to an old shoplifting charge. 
Mace said she too will write to the Justice Department. She also pledged to draft proposals to help the detention center obtain grant funding to improve its ability to provide mental health resources.
Absent from Mace's visit was County Sheriff Kristin Graziano, who oversees the detention center. Sheriff's Office spokesman Andrew Knapp said Graziano is attending an out-of-state conference sponsored by the National Institute of Corrections, which includes training on diversion programs for people with mental illness.
In a provided statement, Knapp thanked Mace and County Council members for touring the jail.
"I want to be sure that the sheriff — Sheriff Graziano — is going to address these issues because at the end of the day the buck stops with her," Mace said.
Graziano maintains she has been raising concerns about the provision of health care at the facility for at least a year. Charleston County contracts with Wellpath, a for-profit health care company, to provide medical and mental health care at the jail.
Communications between county officials and Wellpath show that shortages in deputies and medical staff are causing delays in care. The documents were obtained through a public records request.
In October, Wellpath did not have the required number of nurses on site as mandated by its contract with the county, according to a letter written by Barrett J. Tolbert, the county's Director of Contracts and Procurement.
The same month, at least half a dozen people detained at the facility did not receive their daily prescribed psychiatric medications, the letter contends. As a result, one inmate was placed in an isolation cell in the jail on "suicide precaution."
Wellpath President Kip Hallman wrote in a Jan. 27 letter that a dearth of deputies at the facility hinders medical staff's ability to safely provide care. The letter alleged that detention center deputies are no longer screening inmates for medical and mental health conditions upon intake. Deputies have also failed to notify medical staff about conditions relevant to inmates' health, including their refusal to eat meals and residents whose water was shut off in their cells.
Knapp refuted the contents of the letter and said that deputies continue to screen inmates for health conditions and make medical referrals.
The sheriff, who has acknowledged her agency is understaffed, boosted deputies' starting pay from $39,832 to $49,400 this winter to attract more employees.
The staffing shortages come as people across the country are contending with mental health issues exacerbated by the coronavirus pandemic.
The number of defendants in South Carolina declared by a circuit judge incompetent to stand trial due to mental illness skyrocketed 41 percent last year from the previous year, according to data provided by the S.C. Department of Mental Health. The state's psychiatric facility in Columbia, which staffs 213 beds for forensic admission, is struggling to keep up with demand.
D'Angelo Dontrel Brown, whose death in the custody of the detention center was ruled a homicide, was one of more than 300 defendants in the state under a judge's order for inpatient psychiatric treatment last year. Five days after he was declared not competent to stand trial and put on a waitlist for an available bed, Brown was found unconscious Dec. 21 in his cell. He never regained consciousness.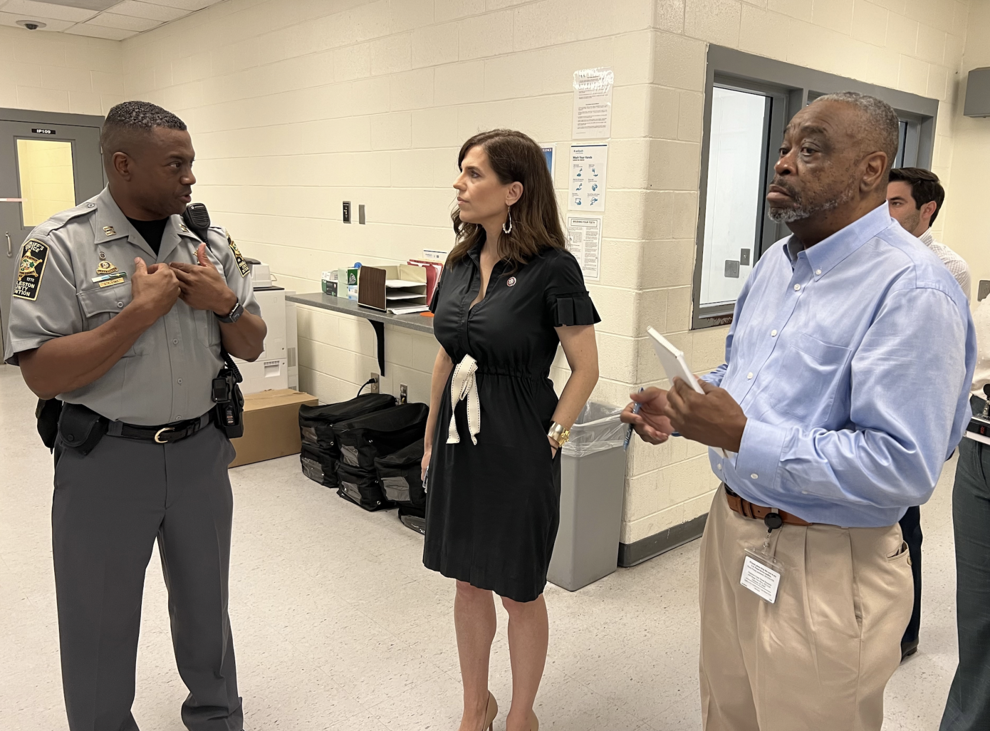 Mace's tour included the Behavioral Management Unit, where Brown was housed in an isolation cell shortly after he was detained at the facility on Aug. 10 on charges including assault and battery, burglary and weapons offenses.
Brown, who was diagnosed with schizophrenia, bipolar disorder and post-traumatic stress disorder, was observed non-communicative, growling, refusing to eat or shower and eating his own feces, The Post and Courier previously reported. His mother has filed a wrongful death lawsuit against the county and its sheriff's office.
"There are some people in this facility that cannot physically take care of themselves," Mace said. "They shouldn't be in the jail. They should be where they're getting better care for the mental health issues they're facing."
This was not the first time the congresswoman has spoken publicly about a death at the Charleston County jail.
After the death in 2021 of Jamal Sutherland, a Black man with mental illness who was tased and pepper sprayed by detention center deputies trying to take him to his bond hearing, Mace criticized Graziano, who ran as a Democrat, for waiting four months to release body camera footage of the fatal encounter.