MYRTLE BEACH — The Grand Strand continues to dominate in East Coast population growth; for the third year in a row, it's the second-fastest growing metropolitan area in the country, according to new census estimates. 
There was a 3.7 percent population increase in the Conway-Myrtle Beach-North Myrtle Beach metro area from July 2016 to the same time in 2017, the Census Bureau estimated. Only one of the nation's 382 metro areas, St. George, Utah, grew more rapidly.
The Myrtle Beach area gained 16,372 residents, almost 45 a day. 
"That means that people love God's country, you know? This is it. Everybody wants to be here," Horry County Council Chairman Mark Lazarus said.
The long march of people moving to the Myrtle Beach area — mostly retirees from the Northeast — shows no signs of letting up in the near future, analysts in the area said. The region's large inventory of undeveloped land, low cost of living and favorable climate are attractive, even as the pace of growth in South Carolina's other main coastal destinations, Charleston and Hilton Head, has slowed.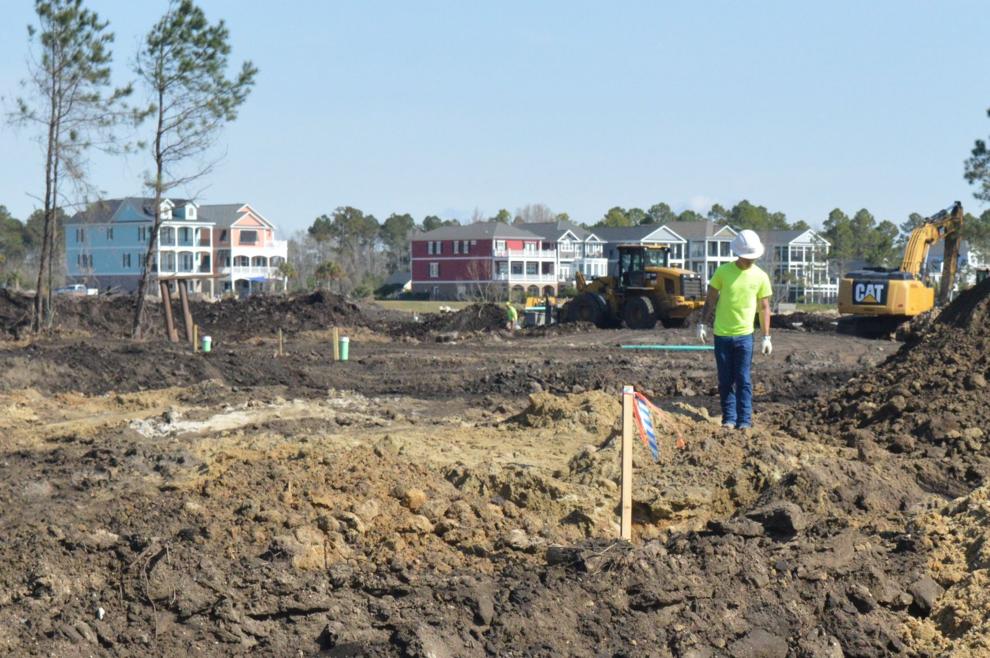 Just a few years ago, South Carolina was home to the three fastest-growing metro areas on the Atlantic coast. While the Myrtle Beach area has stayed near the top of the list nationally, the Charleston metro area ranked 47th for 2017 and the Hilton Head area was No. 52, just ahead of Des Moines, Iowa.
"You're a tourist first, wherever you move," said Mary Graham, chief strategy officer for the Charleston Metro Chamber of Commerce. "Myrtle Beach still has a lot of people who go there on vacation."
It also has substantially lower home prices than other coastal destinations in South Carolina. According to Realtor.com, median listing prices in March for homes in Horry, Charleston and Beaufort counties were:
Horry — $208,900
Charleston — $384,900
Beaufort — $339,000
The seemingly endless stream of new arrivals in Myrtle Beach has exacerbated tensions with those already living there. Some worry the region isn't keeping up as the demand for infrastructure and public services increases.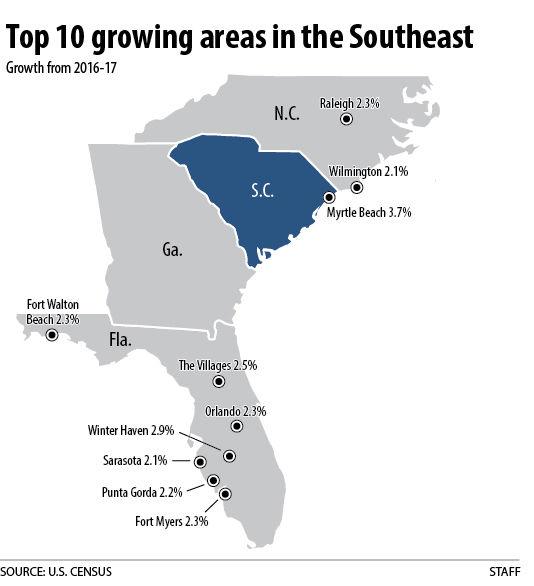 Al Jacobs, who lives in the fast-growing Market Common section of Myrtle Beach, said the growth is most evident in the traffic, which already was a challenge during the Grand Strand's busy tourism season. Jacobs said that in the busiest times, it can take an hour to reach his church in Garden City, about 10 miles away.
Still, he said, "It's invigorating to see that people are still coming in here and making this their home."
Rob Salvino, an economist at Coastal Carolina University, said abundant, raw land and relatively cheap construction prices are a draw for people from up north, who are often able to buy their new homes with cash. 
He said the flow of retirees is likely to stay strong for another decade, barring another financial downturn. Horry County builders are responding, clear-cutting large pine forests to put up single-family homes.
"We sell more homes per month than we were selling in 2005 and 2006, (during the housing bubble)," Salvino said.
The sight of a new housing development can quickly whip up anti-development fervor among locals, particularly in the Carolina Forest area. The unincorporated portion of Horry County was largely uninhabited only a few decades ago.
New houses are currently going up so fast that the Carolina Forest Civic Association encourages its members to keep an eye out for signs indicating a rezoning request or a new building project. Members then rush to Horry County Council meetings to try to delay the projects while they're still in the pipeline for approval. Residents worry that new developments, which are often put on elevated land, could cause problems as the area fills in. 
"I'm concerned about future flooding for the older developments that were there first," said Carole VanSickler, president of the civic association.
Carolina Forest residents have also been vocal about building more roads in the area and expanding the police force. 
On top of the millions of tourists who visit every year, the residential growth "obviously provides its challenges for us," Lazarus said, but he added that the county's RIDE sales tax initiatives have helped make headway on some road projects.
"We're probably doing better than most communities," Lazarus said. "We have so many tourists that help foot the bill."
Elsewhere in South Carolina, most metropolitan areas have seen above-average growth. Florence and Sumter are the exceptions, as both populations essentially remained flat.
The Charleston and Hilton Head areas, while no longer among the top-growing metro areas, still grew faster than 86 percent of the nation's metropolitan areas.
Bob Joseph, 64, moved to the Charleston metro area last year, to a home in one of South Carolina fastest-growing counties, Dorchester County. His brother also moved to South Carolina, to Myrtle Beach, where Joseph said he finds the traffic hard to bear.
"Have you been up there recently?" he said. "You can't move."
According to the Census Bureau, people relocating within the U.S. was the driving factor that pushed metro areas up the fastest-growing list. 
"There are so many people (in the Charleston area) from the Northeast, the Midwest, and even the West Coast," Joseph said.
In South Carolina, people moving from other states have been the primary reason for the state's growth since 1970, exceeding gains from the birth rate by almost 5-to-1.
The Myrtle Beach area is an even more extreme case. Horry County has a negative birth rate — there are more deaths than births — so migration from other states has accounted for roughly 90 percent of population growth there since 2010. Migration from other South Carolina counties and other nations accounted for the rest.