Jennifer Gossett picked up her guitar and played, but she could not say for sure if her music was getting through to the little boy hunched in his seat.
His face and body language showed no response to the gentle songs she sang during music therapy sessions in a Hursey Elementary special education classroom.
That was two years ago. On a recent Wednesday afternoon, the boy's eyes widen when she pulls out her guitar. The students are fanned out in a semicircle, and when the boy's turn comes, he grabs a teacher's hand to strum the strings. His rhythm is perfect.
"The goal is not necessarily a musical performance or a product," Gossett said. "Our goal is right in the moment."
Therapists such as Gossett are rarely found in South Carolina public schools. The two music therapy programs in the state, at Charleston Southern University and Converse College, turn out a small number of graduates every year, and many have to leave the state if they want to work in schools.
Unlike what is taught in a traditional music classroom, the point of music therapy isn't to teach students to read musical notes or play an instrument. Gossett works with students on social skills, self-control, emotional regulation and overcoming sensitivities to sound and touch. The boy with the guitar, for example, still hasn't overcome his sensitivity to the feeling of the steel guitar strings. That's a work in progress.
Some teachers and parents at Hursey, a public Montessori school in North Charleston, say other schools should consider hiring a music therapist.
"We've seen a lot of breakthroughs," said Juliet Moulet, the lead teacher for a low-incidence special education classroom at Hursey.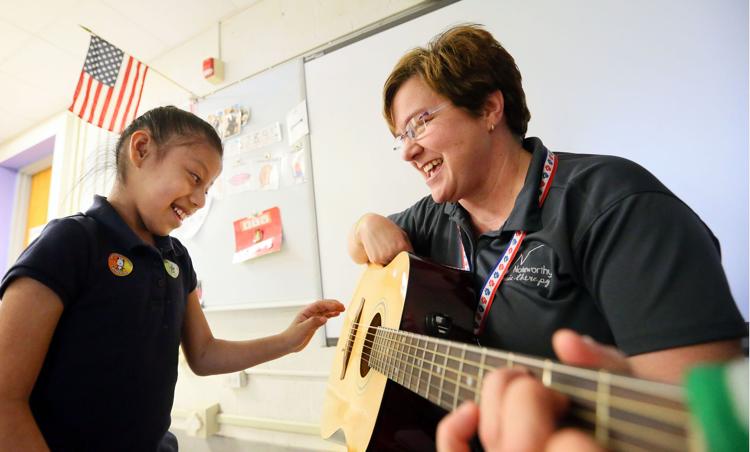 Moulet said she has seen students coming out of their shells, particularly students with autism and communication deficiencies. Students who used to jump up and grab instruments from Gossett's bag now patiently wait their turn.
Gossett's work at Hursey is funded entirely through donations. Susie Ash, a parent at the school and president of the PTA, met Gossett years ago at a camp for kids with special needs and was struck by how Gossett connected with children. Ash started asking around the Park Circle neighborhood, looking for donors willing to help hire Gossett to work part time at the school.
Now in her third year at Hursey, Gossett visits three classrooms 20 times a year. The PTA pays $2,100 for her services with donations from the owner of a local bar called The Mill; a neighbor who asked to remain anonymous; and Ash's husband, who co-owns Artis Construction.
"It's one of the most fascinating things I've ever had the pleasure to watch," Ash said. "When Jennifer comes in, they have a completely different reaction to her, and they light up and they move."
"They don't ever want it to end," she added. "I don't ever want it to end."
Music therapy is not a new idea in South Carolina. CSU's music therapy program, where Gossett completed her postgraduate education, has existed since the 1970s.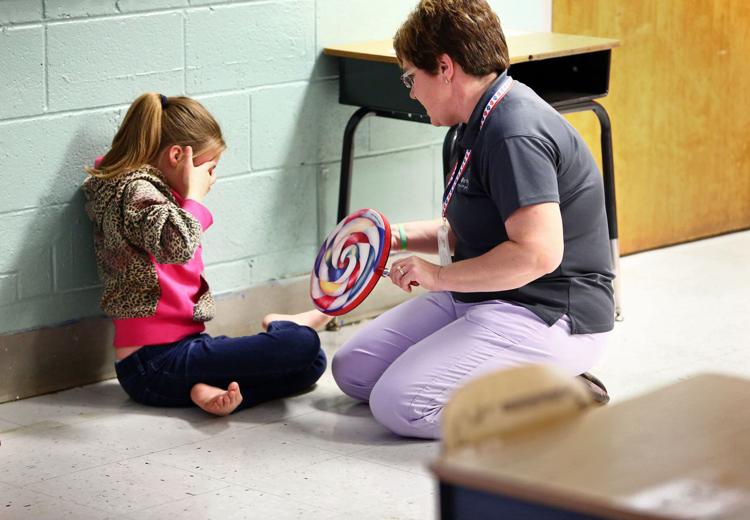 But while some research has shown music therapy is effective for students with special needs, public school systems have been slow to pursue it.
In Georgia, Fulton County Schools had the largest music therapy program in the nation as of 2017, according to the Atlanta Journal-Constitution. The Atlanta school district had 15 music therapists and four interns serving 1,500 students at 73 schools.
In the Charleston area, Gossett mostly works one-on-one with private clients. She previously worked with students at Morningside Middle, another North Charleston public school, although now the funding only exists for Hursey.
Jennifer Whipple, a professor and director of the music therapy program at CSU, said it is rare to find someone working a role like Gossett's in Charleston-area public schools. CSU does send undergraduate students to do clinical work in tri-county schools, but few if any schools have a dedicated music therapist.
The program at CSU has 52 undergraduate students right now. To graduate, they will need to complete coursework in music, music therapy and behavioral science. Many students finish the program with a minor in psychology. And they have to complete 1,200 hours of clinical work to earn board certification.
At Hursey, Gossett is still adapting to new students' needs. One girl in class on Wednesday sat with her back to the far wall, separated from her classmates and visibly overwhelmed by the sound of music. Pausing from her time with the other students in the semicircle, Gossett crossed the room with a brightly colored hand-drum and sat beside her on the floor.
The girl was still moaning and curling her hands inward at the wrists. Gossett whispered something and held out the drum for her to touch.
The girl brushed the coarse drum head with her fingertips. She tapped it a few times.
Then for a moment, no one made a sound.