MOUNT PLEASANT — Rector Steve Wood looked toward his sanctuary, eyeing the charred roof of the ravaged ministry center that now opened to the heavens.
A large early morning blaze at St. Andrew's Church in the Old Village consumed significant portions of the worship space and offices Sunday.
"The Lord promises to bring beauty out of ashes," Wood said Sunday, surveying the remains of the ministry center, "and we're taking him at his word."
Wood received a call from a parishioner at 4:25 a.m. and hurried over to find the church he leads ablaze.
Authorities who responded to the scene, including the Mount Pleasant Fire Department and the U.S. Bureau of Alcohol, Tobacco, Firearms and Explosives, have not publicly stated a cause for the fire. There were no reported injuries.
Much to the relief of Wood and his congregation, however, Mount Pleasant authorities contained the fire before it could spread to the adjoining historic chapel.
The ministry center, a large contemporary-style worship space, was built right behind it in 1996.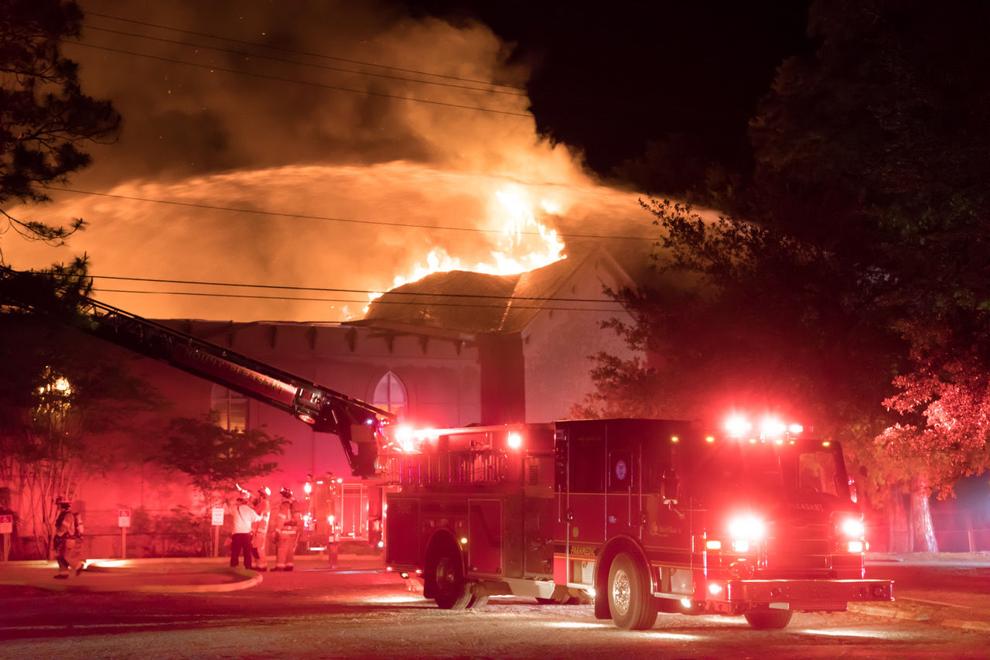 The chapel, a revered structure in the booming town that dates back to 1857, appeared mostly unharmed, although firefighters did have to pump water over it, said Greg Shore, a church spokesman.
With its iconic dark salmon-color paneling, the chapel is situated on Whilden Street and is draped in live oak trees. It was designed by famed architect E.B. White, who also designed the French Huguenot Church in downtown Charleston.
Hundreds of worshipers congregated outside St. Andrews on Sunday morning, many of them arriving for early morning services to find their church in flames and firefighters working to extinguish the blaze. Many covered their mouths with disbelief after seeing the ministry center roof engulfed in fire, then cave in.
Rebecca Ranucci and her family were driving to one of the services when she got word of the fire on social media.
Ranucci, 42, of Mount Pleasant, described reading the news and immediately sobbing.
"Not St. Andrew's," she cried. "Not my St. Andrew's."
Out of instinct, she recalled, Ranucci looked up at her husband — a firefighter — saying, "Fix this!"
"We were so close (to the church) at that point, we came to see if there was anything we could do," Ranucci said.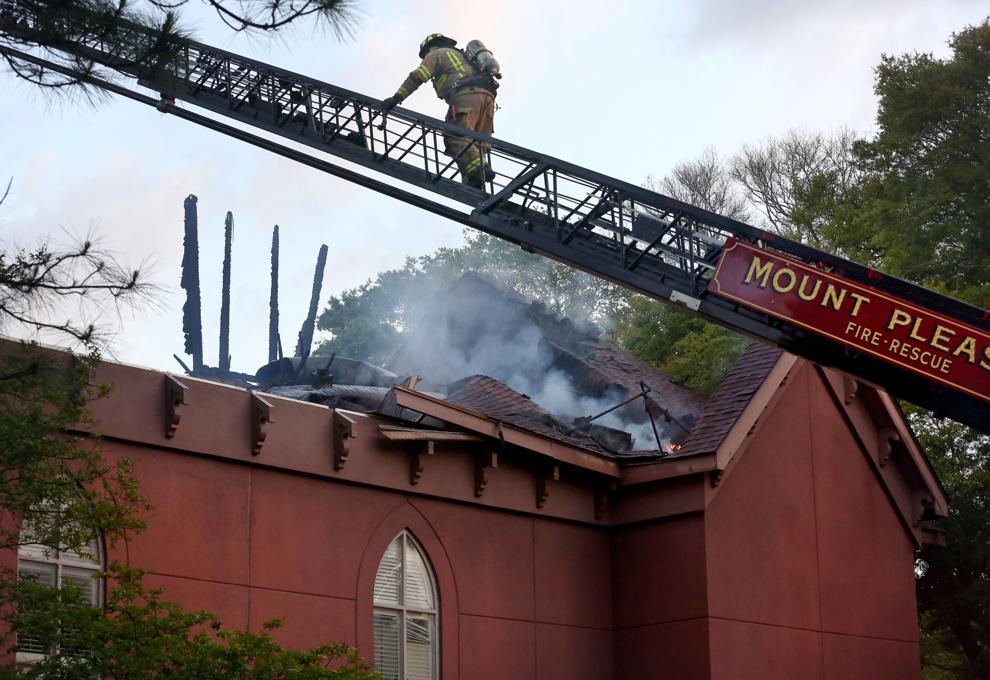 Services were canceled, and parishioners were encouraged to attend the church's other campuses in downtown Charleston and North Charleston.
"There are a lot of tears. A lot of tears," Wood said. "You tell yourself that it's a building, but a lot of people came to faith here. Marriages, baptisms, funerals."
St. Andrew's has been especially popular with the town's many young families. About 2,000 members attend its Mount Pleasant campus, which also runs a preschool.
The preschool will remain closed while church leaders and firefighters assess the damage, the spokesman said, warning that it is substantial.
"It's never good when you get a call from the rector at 4:30 a.m.," Shore said.
St. Andrew's, one of the area's largest houses of worship, had recently launched a building campaign called Imagine 2040 to address its growth. The church was one of the first in the area to introduce a contemporary worship style and has seen its membership boom since.
Back then, it was associated with The Episcopal Church. However, St. Andrew's Church split from the national body after ongoing disputes over scriptural interpretations and administrative controls. After, Wood was consecrated in 2012 as the first bishop of the Diocese of the Carolinas within the Anglican Church in North America, although he also still leads St. Andrew's.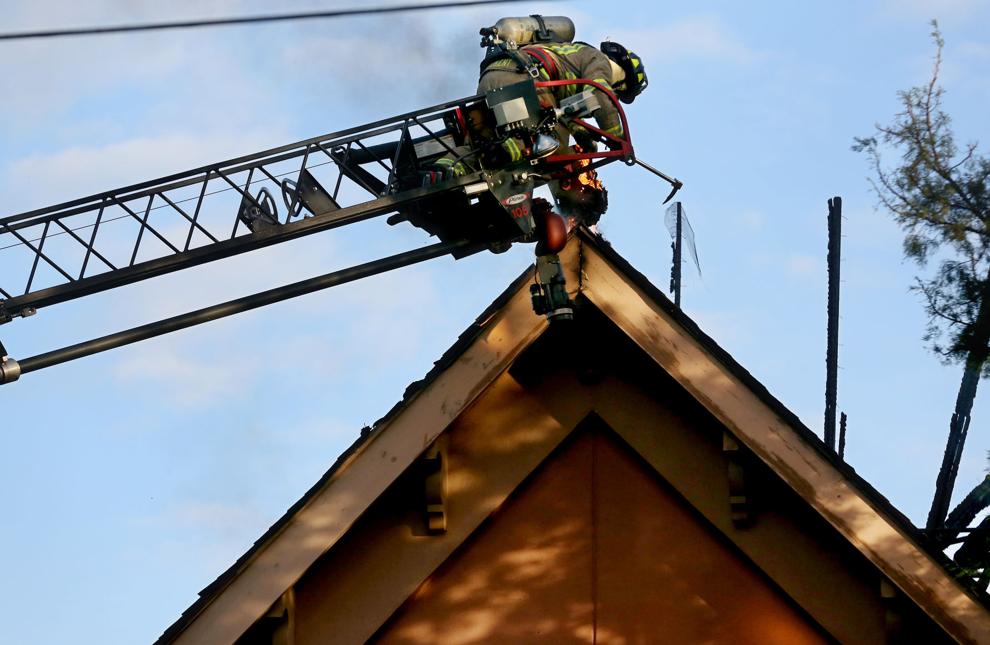 Today, the church's services range from a more contemplative traditional style to others filled with lively families worshiping with guitars and drums.
Wood remained anxious Sunday morning to get inside the building. A waterfall flowed down the steps outside what had been his office.
As parishioners looked upon what used to be their place of worship Sunday, many wondered aloud about the fate of the large oak cross that towers above the interior of the ministry center.
By late morning, a photo taken by someone who had been inside the building had begun to circulate among members of the church.
There, amid charred remnants of the building and caved-in roof, stood the cross.