Residents of fast-growing northern Mount Pleasant have been cursing the traffic on S.C. Highway 41 for years, but now Charleston County is being asked to scrap a $132 million road plan offering the most relief. 
The not-in-my-backyard backlash began after the county published multiple options for the road as part of a federal project review and concluded the greatest traffic relief would come from running a five-lane path down the highway and through the edge of the Park West and Dunes West subdivisions.
That plan was good news for the historic African-American Phillips Community, which straddles Highway 41 and didn't want to see the two-lane road that runs through the community nearly tripled in size. But many residents of Park West and Dunes West were horrified.
A change.org petition urging the county to eliminate the proposal, known as "Alternative 7," attracted more than 700 signatures. There also was a paper petition circulated in Park West and Dunes West that got about 600 signatures, according to one of the organizers.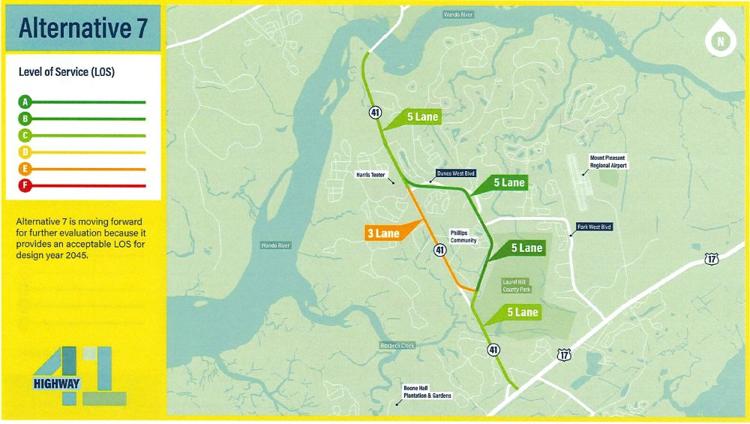 Every option proposed by county road planners, except for the option of doing nothing, involves widening parts of Highway 41. Traffic projections say that simply five-laning the highway from U.S. Highway 17 to the Wando River would provide less traffic relief than winding around Phillips.
Currently, much of the traffic is going to and from Park West and Dunes West.
Neither the residents of the subdivisions nor those who live along 41 in Phillips want to see the roads closest to their homes widened. Mount Pleasant Town Council this week decided to support the subdivision residents. The council can influence the project but does not have full authority over it.
"This is not Park West versus Phillips Community or Dunes West versus Phillips Community," Town Council member Bob Brimmer, a Park West resident, said Tuesday.
A handful of Phillips residents pleaded with the council to rethink its position. 
Jacky Jackson, who owns a home along the portion of Highway 41 in Phillips, told the council she thought the best of three alternatives was the one which moved 41 traffic through Park West and Dunes West.
"We have already sacrificed, so why should we have to sacrifice again?" she asked the council.
Phillips residents fear losing property that's been in some families since the 1800s, and say a five-lane road would split their community.
Shannon Hellwig, a resident of a subdivision in the Park West area, said her family moved there in August because of the quality of life it promised. Of the options proposed for Highway 41 improvements, she said the "no build" do-nothing option would be her choice. 
"I think for them to project traffic patterns for 2045 is a bit much," Hellwig said, adding that she wouldn't let her 11-year-old daughter ride her bicycle to school if the road in her area was expanded to five lanes.
Highway 41 Project Manager Cal Oyer said more than 1,000 comments were submitted to the project's website, hwy41sc.com, which is open through Saturday.
Oyer said planners had to take into account Phillips' designation as a "traditional cultural property" when they present their suggestions to the Army Corps of Engineers for approval. He said comments they receive might lead them to come up with other alternative solutions.
Phillips resident and community leader Richard Habersham suggested at the council meeting that the community's residents should be part of the process to find a solution. 
"Do y'all know the people in Phillips? Do you know the history?" Habersham said. Every time the town tries to fix the traffic issues, "y'all make the problem of 41 worse," he said.
Mayor Will Haynie said the council's unanimous vote was informed by the fact that "Alternative 7" stretched into its jurisdiction. Phillips is not incorporated into the town of Mount Pleasant, so voting against an expansion in the community would hold less sway.
"That doesn't mean we don't care about it, because I don't want to see it five-laned either," Haynie said. 

According to the county's road planners, the option for Highway 41 that avoids five-laning the road through the Phillips Community or the subdivisions would leave 41 traffic with a failing grade in 2045, and Dunes West Boulevard and Bessemer Road would have a "D" rating.
As the debate continues, subdivisions of northern Mount Pleasant continue to grow, including some within Park West and Dunes West.
David Slade contributed to this report.