Power outages began to ripple across northeastern South Carolina as winds and rain from Hurricane Florence swept into the state Friday, and the lights weren't expected to come back on for days. 
The state's utilities had reported more than 100,000 power outages by about 5 p.m., mostly around Myrtle Beach and areas just inland. That number inched up through the day, and it was expected to keep growing.
Horry County, which is just south of the area where the storm made landfall in North Carolina, took the strongest hit. It accounted for two-thirds of the outages. Santee Cooper, a state-owned utility that serves the area, said three of its transmission lines in the area had shorted out, causing many of the outages nearby.
To complicate things further, state officials started to grow worried that rivers might spill over their banks and could cut off access to the Grand Strand. Santee Cooper said it had crews based in Myrtle Beach already, but it was eyeing the floodwaters.
"We will be watching this situation, but if navigation around the area is significantly curtailed, that would slow down our recovery efforts," Santee Cooper spokeswoman Mollie Gore said.
Problems were starting to crop up in inland areas, too. As the day went on, outages crept through the Pee Dee. They started in Dillon County, where every other home and business was without power, and they inched toward Darlington and Florence.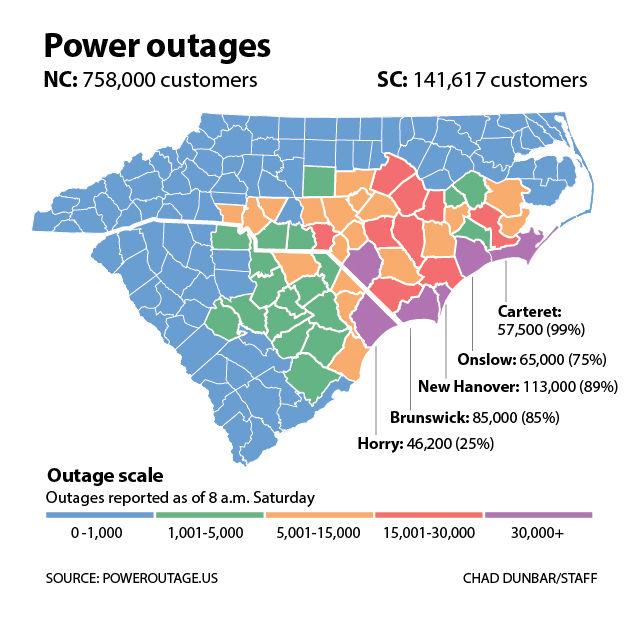 The state's utilities have warned that Florence, which was downgraded to a tropical storm Friday afternoon, could bring widespread outages as it slowly pushes inland. South Carolina is forecast to take a deluge of rain that could loosen the soil and steady force winds that could topple trees.
By comparison, Hurricane Matthew knocked out power for 400,000 electricity users in South Carolina two years ago, and Irma took out nearly 275,000 last year.
Florence's path will make the work of repairing power lines take longer than usual. Utilities say they can't put crews in bucket trucks to start fixing lines until the winds fall below tropical storm force. Winds that strong are expected to linger in South Carolina for a day or two, meaning work won't be able to begin until later in the weekend.
Santee Cooper, for one, said it managed to fix some outages before the winds arrived, but by late afternoon, it said it had to stop repair work.
South Carolina Electric & Gas said the length of the power outages might end up more similar to an ice storm than a hurricane since crews won't be able to get started for a few days.
The extent of the outages is widely expected to grow as the hurricane marches through the state. SCE&G, for instance, reported only a handful of issues Friday, but officials at the utility, which sells electricity from Columbia to Charleston, say they expect more significant outages.
The damage was far more widespread in North Carolina: Utilities there reported that more than 600,000 homes and businesses didn't have power on Friday afternoon.