Money, property and drugs: Do controversial civil asset forfeiture laws need reform in South Carolina?
Roger Roberts had close to $7,500 in his pockets when a Richland County sheriff's deputy pulled him over along a Columbia road in August 2012.
The deputy thought the black Nissan Maxima that Roberts was driving matched the description of a car involved in the shoplifting of a blouse from an X-rated shop on Two Notch Road. A search turned up a small amount of marijuana and crack cocaine in a passenger's purse.
The drugs gave deputies grounds to confiscate Roberts' cash on the presumption that it was tied to illegal narcotics activity — even though nothing was found on Roberts himself. The cash, Roberts said, was the money he'd been saving to buy a used car that day.
Roberts gets a monthly disability payment related to his Army service. He had been saving a portion of his checks for months to buy a better vehicle. It would take him another month after the stop to convince the authorities of this, and finally get his confiscated cash back.
"It was humiliating," Roberts, now 61, told The Post and Courier. "I'm always leery now, driving."
Roberts' money was seized in what's known as a civil asset forfeiture. Police can seize a person's cash and other possessions without a criminal conviction — or even a criminal charge — under South Carolina law.
In such a case, the burden of proof is not on the police but on the person whose cash was seized, often forcing them to hire a lawyer and go to court to prove their money or property was obtained legally. 
Forfeitures across the state amount to millions of dollars every year. Most of that money goes into the budgets of local law enforcement agencies. But with scant record-keeping and little oversight, no one can say for sure just how much money is involved. The system also makes it nearly impossible for the public to see how these laws are being applied across the state or spot signs of potential abuse.
A conservative estimate, based on the modest share of money police agencies are required to turn over to the state for every seizure over $1,000, indicates local police and county sheriffs hauled in more than $6.7 million through forfeitures in the last full budget year. That figure leaves out scores of smaller forfeitures that add up to big money over time.
Law enforcement agencies say the ability to seize cash, cars and other belongings from suspected drug dealers provides a powerful tool for fighting the narcotics trade. They argue that confiscating these illicit proceeds puts a financial dent in the dealers' ability to operate while boosting law enforcement resources to go after drug peddlers. 
Mike Cochran, chief deputy with the Berkeley County Sheriff's Office, pointed to a 2016 case in which deputies seized a diesel pickup truck, $900 and three guns from a Texas man they caught "running guns and meth." The truck sold in an online auction for nearly $35,000. The Sheriff's Office kept most of that money, which Cochran said was "used to buy things that are not in the budget."
Critics, including defense attorneys and civil liberty advocates, contend that forfeiture laws give police far too much discretion and a built-in profit motive, with too little oversight and accountability. This, they maintain, leads to questionable seizures that are little more than cash-grabs to pad budgets.
"The way the law is written, it's open season on law enforcement seizing things," said David Aylor, a Charleston-based criminal defense attorney. 
Lawmakers from Columbia, Myrtle Beach and the Lowcountry, from both political parties, have introduced bills in the Legislature to restrict or eliminate civil asset forfeitures under South Carolina law, and to make it harder for local police to seize property by using federal forfeiture laws. The proposals so far have gained little traction, though they are set for further consideration during the 2018 legislative session.
Cashing in
The Post and Courier reviewed hundreds of forfeiture cases from around South Carolina and found many examples of seized money that appeared clearly drug-related. Consider a 2016 Mount Pleasant seizure that followed an undercover sting operation involving the sale of 50 pounds of marijuana. Town police seized more than $100,000 and two handguns, and when no one contested the seizure, a judge approved the forfeiture.
It's not unusual for police to find large stashes of cash on suspected dealers or their couriers, sometimes squirreled away in hidden compartments in cars. Police agencies will scoop up that money with few questions asked if no one admits the money is theirs or fights for its return.
North Charleston has a case like that pending now, in which police investigating alleged drug dealing behind a motel seized $118,487 found in secret compartments of a parked car. A man who was in the car — who was charged with possession with intent to distribute cocaine — claimed there was no cash in the car, even after the police found it.
"It's really overwhelming, the amount of guilt in these cases," said Francie Austin, deputy city attorney for North Charleston who prosecutes the city's forfeiture cases. That's why, she said, most forfeitures are not contested but rather are consented to, in writing, by those whose property was seized.
But the same state law that allows such seizures can also enable police to seize all the cash a person is carrying if they're caught with, say, a small amount of marijuana or if someone else in the same vehicle is carrying drugs. The latter situation is how Roberts, the Army veteran from Columbia, temporarily lost his cash five years ago.
That traffic stop resulted in drug charges against Roberts' passenger whose purse was searched. She and her husband also were charged in connection with the shoplifting incident that prompted the stop, according to an incident report. Roberts wasn't charged in either crime. In fact, he has no criminal record in South Carolina, according to the State Law Enforcement Division. 
Roberts challenged the seizure, saying his only misstep was agreeing to drive some friends to a mall, not knowing that they had drugs in their possession.
"I do not do drugs, I'm attending law school and will graduate in December 2012," he wrote in a letter to an investigator at the time. "I'm not a drug dealer, that money that was taken from me is my own money that I receive every month from the Army. I'm a disabled vet." 
Roberts showed detectives that he received $3,191 each month in disability payments. And a check with the Limestone College Registrar's Office revealed that Roberts indeed was studying criminal justice at the time, though he never graduated. 
Sheriff's officials returned the cash to Roberts one month and 10 days after investigators determined it wasn't linked to illegal activity.
"During this traffic stop, there was drugs located in the vehicle but again, it was determined to not be connected to Mr. Roberts after a thorough investigation," the Richland County Sheriff's Department recently said in a written statement to The Post and Courier.
Defense attorneys said stories such as Roberts' are hardly a rare occurrence, and that it's common for law enforcement officers to seize wads of cash from people caught with minuscule amounts of drugs. 
"The ones I've had, they have all been bartenders or someone who just cashed a paycheck, and bought a recreational amount of weed," said Charleston lawyer Dan Boles. "The money just happened to be in their glove compartment or pocket."
"Bartenders, they can't prove where the cash came from because it's all cash tips," he said.
From piracy to drug possession
In the United States, civil asset forfeiture is traced to the nation's first Congress, which created maritime laws that called for seizing ships and cargo for the evasion of customs duties, piracy or illegal slave-trading. In the 20th century, these laws were expanded during Prohibition to go after illicit liquor dealers, by seizing vehicles used to transport black market alcohol, for example.
The 1980s saw a dramatic expansion of the laws that gave rise to forfeiture practices that exist today. When President Ronald Reagan's administration revived President Richard Nixon's War on Drugs, Congress changed the law to allow money seized under federal forfeiture rules to go back to the law enforcement agencies making the busts, through the Department of Justice Asset Forfeiture Fund and the equitable sharing program.
States followed suit, and South Carolina's civil asset forfeiture law, which dates to 1962, was amended repeatedly in the 1980s. State law allows police agencies to keep the first $1,000 of a seizure. After that, the state gets 5 percent, the prosecutor's office gets 20 percent and the police or sheriff's department keeps the rest.
Reform advocates say the rule changes created a profit incentive to make seizures and led to over-reaching by law enforcement. Just like the prison population, which increased five-fold during the War on Drugs, the amount of seized assets skyrocketed, with the Justice Department's Asset Forfeiture Fund taking in more than $4.5 billion in 2014.
Some states, including North Carolina, New Mexico and Missouri, require a criminal conviction before police can seize cash or possessions. South Carolina doesn't have that restriction. Money can be seized even in the absence of an arrest.
What's more, the apparent owner is not considered a defendant in a civil asset seizure. Instead, the property itself is on trial, which results in cases with names like Mount Pleasant Police Department v. Nine Hundred One and 07/100 Dollars U.S. Currency.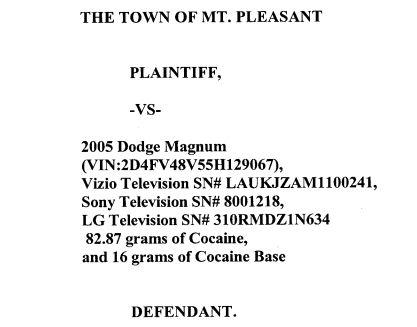 For reform advocates, civil forfeitures are the opposite of how the U.S. justice system should work — your possessions are presumed guilty and you have to prove innocence. 
"It's an uphill battle and it can be very confusing to the people involved," said Charleston attorney Aylor. "They (can) end up taking everything — from the TV your grandmother gave you two years ago to the tips your girlfriend received working at a restaurant the night before."
Lt. El Rey Isgett, supervisor for the Charleston County Sheriff's Office's narcotics unit, said such concerns are overblown. Authorities do not simply swoop in and plunder, he said; there is due process for innocent people to get their money and property back.
"Just because we seize something doesn't absolutely maintain it's going to be forfeited," he said. "The person who we seize the items from has the right to go before a judge and explain or tell them why — 'Hey, I just got paid, I had a couple thousand dollars in my pocket, here's my paystub.' "
But Aylor said the system is set up to favor law enforcement. The average person doesn't keep receipts for items they purchased multiple years ago. And people may have to navigate a challenging two-part path — one criminal and the other civil — in the same case, he said.
Challenging a seizure in a civil proceeding can mean opening one's self up for questioning, with the potential for answers to be used against you in the criminal case, said David Michel, a Mount Pleasant lawyer who has handled forfeiture cases as a municipal judge, prosecutor and defense attorney.
That may be one reason why the majority of suspects consent to surrendering their seized goods rather than waging a battle in civil court. 
"If you've got a client who is looking at jail time, you're not going to fight for the money," Michel said. "The exposure to questioning is the main thing."
In a criminal case, the legal outcome is black or white, guilty or not guilty. In a civil asset forfeiture, there can be lots of grey areas, and it's not unusual for police to essentially haggle over money that, ostensibly, is related to drug-dealing. Even in a case that's weak, authorities will try to claim some cut of the seized money before handing it back, defense attorneys said.
"I got the money back every time, but I had to compromise," said Tommy Goldstein, a North Charleston lawyer who has represented clients in forfeiture cases elsewhere in the state. "Some, I got 50 percent back; some, I got 80 or 90 percent back."
Fellow lawyer Boles of Charleston said it can cost more money in the end to challenge a seizure than people stand to get back. To make fighting a forfeiture worth the cost of hiring a lawyer, he said, "it's got to be thousands and thousands of dollars."
What report?
Trying to figure out how local law enforcement agencies are applying forfeiture laws can be a challenge in itself, despite legal requirements that they make this information available to the public. 
State law requires that each "law enforcement agency shall prepare for dissemination to the public upon request a report providing" information about civil forfeitures, including descriptions of seized assets and amounts of money seized, along with the amounts and types of drugs involved. The Post and Courier requested such information from about a dozen police agencies and not one had prepared such a report.
Some agencies, including Charleston and Greenville police, quickly gathered the required data after receiving Freedom of Information Act requests from the newspaper. Others, however, balked and complained about the time and expense involved in providing the information they were supposed to have on hand for public review. 
The Beaufort County Sheriff's Office, for example, wanted to charge the newspaper about $170 to cover the cost of an officer gathering civil forfeiture information. The newspaper refused.
Similarly, the Summerville Police Department initially said "the associated fees with this request will be exorbitant." When reminded of the state law mandating such a report, the town's lawyer got involved, and some of the required information was provided.
"My reading of the statute is that upon request, which you have made, the information will be made available," said Summerville's attorney, G.W. Parker. 
Summerville eventually turned over a three-page report showing that police seized $274,312 in cash from 2012 through 2016 in civil forfeitures, plus three vehicles and a 60-inch flat screen television. The agency did not mention any drugs involved, or the outcome of contested cases.
Other police agencies provided more detailed information, such as a 181-page report from North Charleston, but even then it was difficult to say how seized money was used because some police agencies reported payments to vendors but not what was purchased.
Austin, the North Charleston attorney who prosecutes that city's cases, said police there generally won't seize money if it's less than $500 because it's not worth the time and cost to file the court paperwork. With non-cash assets it can get more complicated, but most items seized will eventually end up sold by auction.
"Drug dealers will have houses or apartments and no one will actually live there — they are just buy houses — so the officers may decide everything is drug-related," Austin said. "But I don't want (to seize) a blender."
Still, she added, "I think we took a folding chair one time."
The items most commonly listed in seizure cases are ones that can easily be sold and turned into money, mostly vehicles and television sets.
One Charleston County Sheriff's Office seizure case included, among a long list of items: a brown sofa and love seat, and a single golf club. They were eventually sold at auction through govdeals.com.
There can be big money involved in drug dealing, but it's not apparent in the vehicles police are seizing. Many are decade-old used cars, and it's common for seized vehicles to have bank liens for loans, which means the police would only end up with what's left after the loan debts are paid off.
Still, in more than half of the 26 civil asset forfeitures by the Goose Creek Police Department last year, police seized a car, truck or motorcycle.
The Myrtle Beach Police Department listed a total of $281,769 cash awarded from 2012 to 2016. Myrtle Beach police also reported seizing eight vehicles during that time, ranging from a 1994 Cadillac DeVille to a 2008 Dodge Charger.
Charleston police generally won't seize anything below $300 because it's not worth the time and paperwork involved, Police Chief Greg Mullen said. Cars tied to drug crimes are auctioned off if the title is clear and liens aren't excessive. But officers almost never take furniture or home entertainment items because they are difficult to connect to drug activity. Such seizures also can reinforce bad perceptions of police and undermine efforts to build trust with the community, he said.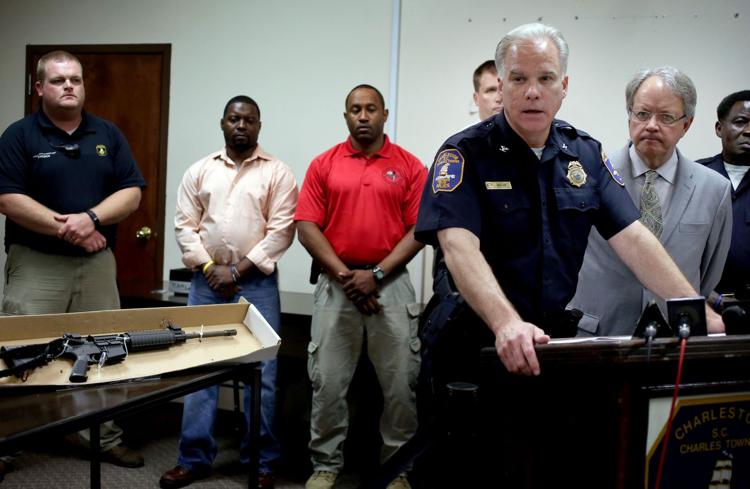 Lt. Andre Jenkins, who runs the Charleston Police Department's narcotics unit, agreed, saying he urges officers to use common sense and consider the impact seizures can have. He recalled a recent case in which police found 3 ounces of marijuana in the West Ashley home of a suspected drug dealer. Officers could have seized televisions and other electronics from the home but chose not to, mindful of the impression that would leave on the rest of the family who lived there and had done nothing wrong, he said.
"Backing up to someone's home and taking all their furniture is not what we are about," Mullen said. "It's a bad scenario all the way around."
Reform efforts
The Institute for Justice, a national nonprofit legal foundation headquartered in Washington, D.C., ranks civil asset forfeiture laws for all 50 states as part of its "Policing for Profit" project.
In all, seven states are ranked at least at a B-level: New Mexico, North Carolina, Missouri, Maryland, Maine, Wisconsin and Indiana. Most states fared far worse with 35, including South Carolina, earning no better than a D-plus. Eight states got between a C-plus and C-minus. Washington, D.C., earned a B-plus.
The highest-ranked states and the District of Columbia had one factor in common: Their laws prohibit law enforcement agencies from keeping cash or property that's forfeited. The money instead goes to each state's general fund or schools. Some of the best-ranked states also have some protection for so-called "innocent, third-party owners."
New Mexico earned the highest score on the institute's report card after its legislature passed a bill in 2015 that put in place a key set of reforms. Among other things, the state now requires a criminal conviction before cash or property is confiscated and law enforcement must submit annual forfeiture reports. Money from seizures goes straight to the state's general fund and property owners not tied to the crimes in question are protected from losing their assets.
After two years, however, residents, legislators and law enforcement in the Land of Enchantment are still adjusting to the changes. Capt. Brice Current of the San Juan County Sheriff's Office in New Mexico said "it's been an absolute mess."
Current said the law was passed with no infrastructure for processing seized goods. This has made it harder to seize items and determine whether they should be auctioned off or destroyed, leading to gridlock at evidence facilities across the state, he said, likening the experience to being forced to be a hoarder.
Undeterred by such tales, lawmakers in Columbia are mulling at least three legislative proposals to rein in civil asset forfeitures in South Carolina. The measures have bipartisan sponsorship and backing from both conservative and liberal interest groups.
One bill that seeks to eliminate civil asset forfeiture entirely is co-sponsored by Horry County Republican Rep. Alan Clemmons, a lawyer and three-time delegate to the Republican National Convention, and Richland County Democrat Todd Rutherford, a lawyer who in the 1990s worked as an assistant solicitor and special prosecutor of narcotic and drug cases.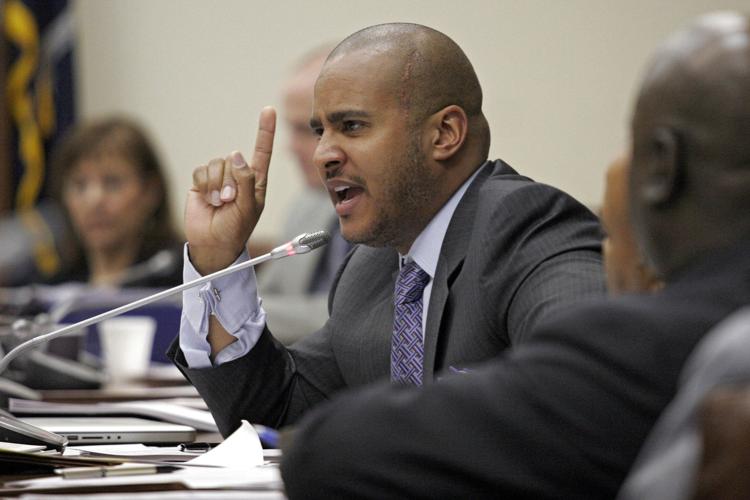 Forfeitures would only be allowed under state law in certain criminal cases, upon conviction, under the Clemmons/Rutherford bill (H. 3918). And local law enforcement agencies would be prohibited from having the federal government adopt a forfeiture case "with the sole intention to circumvent state forfeiture law."
"It is absurd that, under the guise of law enforcement, they are stealing from citizens," said Rutherford, who has defended clients in multiple forfeiture cases in Richland County. 
State Sen. Tom Davis, R-Beaufort, has also introduced reform legislation, arguing that the current law allows police to seize property "that may have even the barest connection with committing a crime." His bill calls for a higher standard of proof, and a requirement preventing seized property from being sold unless a criminal conviction is won.
The issue offers a rare instance where political conservatives and moderates are finding some common ground. The conservative American Legislative Exchange Council — a source of many legislative ideas among Republican lawmakers — has been pushing hard for civil asset forfeiture reform, as has the decidedly more liberal American Civil Liberties Union. 
"It's strange bedfellows that get together on this kind of government over-reach," said Susan Dunn, legal director for the American Civil Liberties Union in South Carolina. But, she added, "having bipartisan support doesn't necessarily mean you have enough support."
Horry County Police Department Chief Joe Hill said he understands the concerns over due process and he supports efforts to improve transparency and accountability. In fact, his department soon plans to begin publishing a yearly report that will include forfeiture data. But he disputes the notion that forfeitures should be eliminated. 
"That money has been put to good use to forward the mission of keeping the community safe," Hill said. "We don't have officers out there trying to win contests on how much money they seize from citizens."
Charleston County Sheriff Al Cannon agreed, saying that law enforcement needs to be brought into the discussion if reforms are being proposed.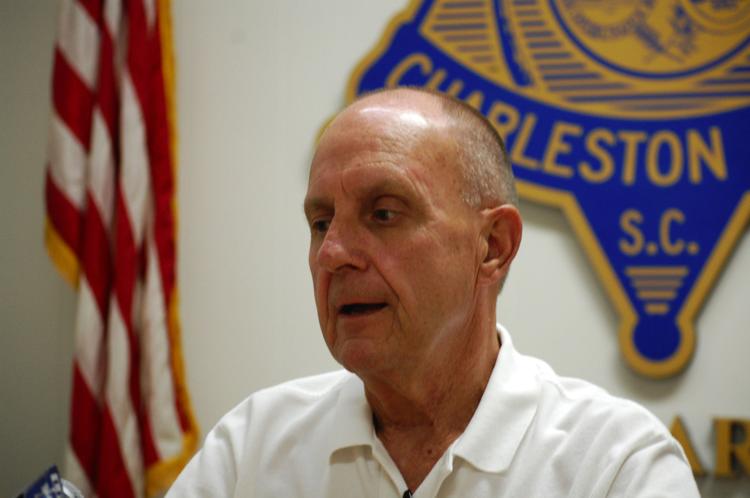 "There are hundreds of things every day in what police officers do that the public trusts us and needs to trust us to do," he said. "If you start questioning those, sooner or later you get to a point where people feel that you can't trust the police to do anything."