As Hurricane Florence closed in on North Carolina, data from six weather buoys off of Wilmington told forecasters what the rest of their instruments didn't.
The subtle variations in waves, water temperatures and wind were key clues in just how strong the winds and waves would be from the storm.
If Florence had headed toward Charleston on a similar path, the forecasters wouldn't have had those readings. Only one buoy sits offshore here — the Edisto Buoy.
That could make a critical difference in the accuracy of predicting everything from storm surge to just how far a storm's dangerous winds span.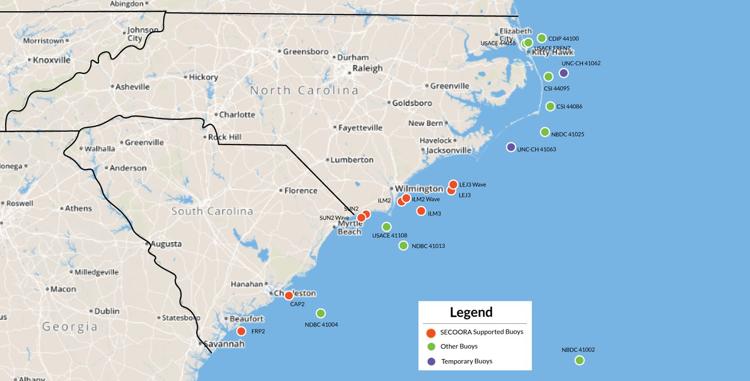 The absent buoys are the legacy of federal budget cuts in the recession years a decade ago and a failure to follow through on funding an ambitious project. At least two buoys off South Carolina never were replaced and likely have been scrapped for spare parts for other buoys.
In fact, counting "nearshore" buoys along the coast itself, North Carolina has 17. South Carolina has three.
"Absolutely, yes. It's a serious handicap," Charleston-meteorologist Shea Gibson, with the private company WeatherFlow, said of the lack of buoys.
"Certainly it means we have less information about what's going on off our coast," said Debra Hernandez, director of the Southeast Coastal Ocean Observing Regional Association, which operates 14 buoys off the Carolinas. "There are definitely gaps in both the buoys, the data they provide and our understanding of the coastal ocean."
That's a far cry from what was supposed to happen.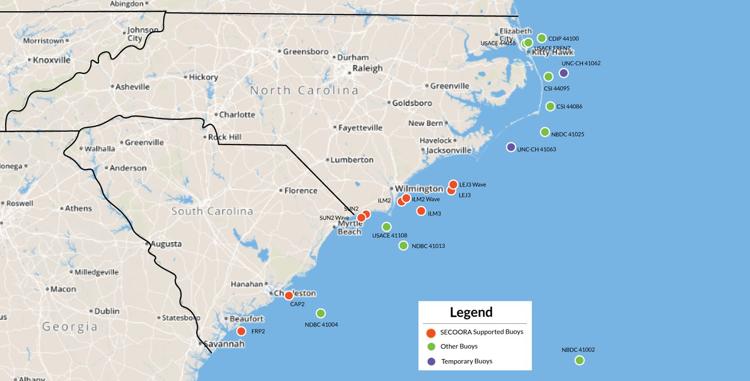 In 2003, a collaboration of federal and academic researchers launched the Integrated Ocean Observing System, a web of offshore buoys and platforms taking readings on conditions such as sea temperature, waves, currents and salinity.
It was hoped to be a hands-on tool to manage everything from fish stocks to forecasting rip currents, storm surge or tsunamis.
The real-time computer network ideally would feed data to and from instruments around the country and around the world, right down to the boater in his boat. The groundbreaking concept eventually could have made life easier for everyone who lives or works along any coast.
Six were put in place off South Carolina, including two along the North Carolina border. Money was never found to install any more.
Each of the remaining buoys costs about $37,000 per year to maintain. Replacing them would cost hundreds of thousands of dollars per buoy.
"Buoys are expensive and difficult to maintain," said Catherine Edwards, an associate professor at Skidaway Institute of Oceanography in Savannah, Ga. On top of equipment wearing out and salt corrosion, at least one of the buoys has been run over by a ship.
And they occasionally are vandalized — incidents that the NOAA National Data Buoy Center in 2010 estimated to have cost $5.4 million in the previous five years.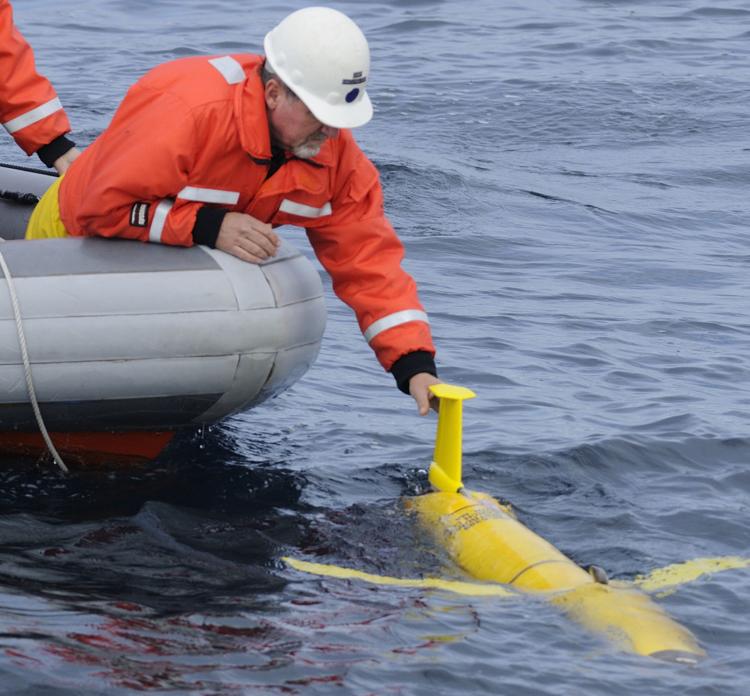 Oddly enough, the data for Florence was supported by two torpedo-like, remotely operated submarines in an experiment to test how important a tool the "gliders" can be for reading hurricanes.
Off North Carolina, one of the subs picked up a sharp difference in warmer, fresher surface water and denser, saltier deep water that satellites, hurricane hunter aircraft and the buoys couldn't. That was fed into computer models predicting the storm.
"It made a big improvement (in the forecasting). This is the sort of information that often gets lost in some of the models," Edwards said.
She deployed the sub that took readings along the Continental Shelf off South Carolina. 
The gliders, which cost from $160,000 to $250,000 and are hundreds of dollars per day to operate, aren't seen as an eventual replacement for the buoys. They are more of a complement, Edwards said. The more-mobile subs can cover more of the ocean, but the stable buoys can take readings in one spot over longer periods of time.
"They really work together well," she said.