Michael Slager's sentencing to mark end of still-contested courtroom battle in Walter Scott killing
Michael Slager's loved ones recently saw the former North Charleston policeman in jail, and they left with his clothes.
It might be one of the last times in years that Slager will see them beyond the walls of a federal prison.
How long it will take before he emerges a free man is a question expected to be revealed this week.
"I handed his personal belongings to his father," said his attorney, Andy Savage, "and I think that was a realization that it's coming. He's anxious to find out what his future is going to be."
A sentencing hearing that starts Monday in downtown Charleston should be the final courtroom chapter in the 2015 shooting of Walter Scott, a black motorist whose death sparked scrutiny of the North Charleston Police Department amid a nationwide inspection of police killings.
After his murder trial in state court prompted a hung jury a year ago, the 36-year-old Slager pleaded guilty this spring in federal court to violating Scott's civil rights by using excessive force.
The wide range of possible punishment has made the ultimate outcome impossible to predict.
A report prepared by a probation officer recommended to U.S. District Judge David Norton a prison term of between 10 and nearly 13 years. Prosecutors disagreed, pegging the suggested term at life, though numerous factors make that penalty unlikely.
Defense lawyers think Scott's conduct — grabbing the officer's Taser during a fight, they allege — contributed to Slager's initial decision to shoot, and that he deserves a lighter sentence than federal guidelines call for.
Slager's fate, though, rests squarely in Norton's hands, who by law can opt for as little as no prison time to as much as life.
To Scott family lawyer Justin Bamberg, a state representative, five to 10 years in prison would not be enough to punish Slager and deter other police officers from doing the same.
"Justice for Walter Scott isn't just Michael Slager going to jail," he said. "Other officers need to realize they can't do this. … That is what justice will look like."
Scott's older brother, Anthony, hopes to see Slager spend at least two decades in prison.
"This judge has an opportunity to set a precedent," Anthony Scott said, "to tell police officers that they aren't going to get away with murder."
'Unreasonable' force
Slager stopped Walter Scott's car on April 4, 2015, for a broken brake light.
Before Slager learned that he was wanted for not paying child support, the 50-year-old Scott jumped from the 1990 Mercedes-Benz and ran. Slager chased him.
What ensued remains hotly contested.
Slager's attempts to halt Scott with a Taser did not work.
But during a struggle on the ground, federal prosecutors said in recent court filings, Slager kept control of the Taser. As they rose to their feet, the patrolman threw down the device so he could pull out his pistol, they contend.
Scott wasn't being violent, they said; he just wanted to escape.
Eyewitness Feidin Santana's cellphone video showed Scott turning and running. Slager fired eight bullets, five of which hit their target.
To Slager's defense team, evidence shows that Scott, not the officer, was the last to have the Taser.
Slager made a decision to defend himself with his .45-caliber Glock, but he and his lawyers later acknowledged he should have stopped himself.
"Slager's use of force became disproportionate and unreasonable as Scott continued to flee," they said.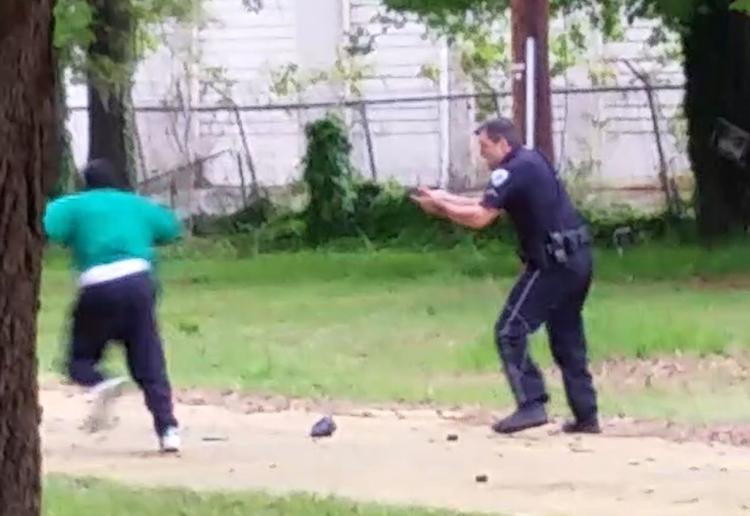 'Heat of passion'
This week, in a proceeding likely to last at least two days, the judge must decide whether Slager's underlying offense was voluntary manslaughter or murder. The difference could have substantial bearing on how long he stays in prison.
Slager argued at the state trial he had committed no crime at all. The officer said he fired legally in self-defense — not with malice, an element of murder, nor in the "heat of passion," a component of manslaughter.
Now, the attorneys are saying in federal court that Scott's provocation and Slager's fear are "hallmarks of the heat of passion that incited Slager."
A probation officer who prepared a sentencing recommendation agreed with the manslaughter finding. Her report suggested more than a decade in prison for Slager.
Slager is seeking less, though, through a motion asking Norton to consider the victim's role. If "at any time" Scott had obeyed Slager's orders to stop, the officer would not have shot him, the attorneys said.
"Slager's use of force," they said, "was ... rooted in Scott's misconduct."
They also pointed to thoughts expressed by jurors from the state trial. A defense filing included excerpts of letters from four of them.
"I believe that he absolutely feared for his own life," one juror wrote. "His actions were appropriate for the circumstances and his training as a police officer."
But prosecutors say it's murder.
"The defendant's conduct after the shooting demonstrates that he was not acting in fear or rage," they said in a filing. "The defendant maintained his composure. ... He was not confused, disoriented or enraged."
Slager picked up the Taser and dropped it near Scott's lifeless body, only to return it to his belt moments later. This attempt to fit the evidence to his self-defense story, the prosecutors contended, deserves a heightened sentence.
Slager, they added, has continued in court testimony to lie and has "conveniently" failed to remember crucial moments that would harm his defense.
"But for the existence of bystander cellphone video," the prosecutors said, "it is likely that the defendant would have succeeded in covering up his criminal conduct."
'A lot of politics'
Slager and his attorneys have long portrayed his prosecution as a politically motivated effort by the federal Department of Justice to make up for other officers who went unpunished after killing black suspects.
Such politics were apparent in recent defense filings that compared Slager's memory lapses with those of the South Carolina prosecutors' own boss, Attorney General Jeff Sessions, who struggled during congressional testimony to recall meetings in which President Donald Trump's campaign advisers discussed possible contact with Russians.
The point is, Slager's attorneys said, stress can affect recollection.
"According to Sessions, he was working in chaotic conditions created by the Trump campaign," they said. "This was undoubtedly stressful, though not as stressful as having shot a man to death."
Savage, the lead defense lawyer, said he used the argument because the prosecutors from the Civil Rights Division of Sessions' Justice Department appear to be fighting for legitimacy in the age of Trump, who some observers said has endorsed police brutality. Their latest opinions about Slager's possible prison term was another "mendacious attempt" to send him away forever, Savage said.
"This has been a case that was pushed by Washington after doing nothing with similar police conduct," the lawyer said. "There are a lot of politics in this."
In recent speeches across the country, Savage has discussed Slager's case at large conferences of law enforcement officers and an assembly of workers from Scottsdale, Ariz.-based Axon, which makes Tasers.
During the presentation, Slager speaks briefly through a video taken at the Charleston County jail after his guilty plea. The bearded Slager says he wouldn't be in the jail where has spent more than 16 months and he wouldn't have missed his son's birth if his stun gun had made proper contact with Scott that day.
But he also acknowledged a misstep in how he ultimately responded.
"I regret my actions," he said.
His mother, Karen Sharpe, said her son has prepared himself to spend time in federal prison. But she still hopes the public will learn the truth about what happened.
"He has a very strong faith, and he understands there is some consequence," she said. "He's going to do what's required of him."
Anthony Scott thinks other officers are being more careful as a result of high-profile killings like his brother's.
"Things have changed," he said. "But we need that to continue."
Reach Andrew Knapp at 843-937-5414. Follow him on Twitter @offlede.