After joining the crew's ranks just a month ago, she may be the most popular new addition to the Whitesville Fire Department in recent memory.
Meet Jennifer the K-9. The yellow lab is just shy of two years old and officially started in late April.
A single-purpose K-9 dog specializing in accelerant detection, she already has been brought to four scenes, her partner and handler, Whitesville Fire Lt. Jon Fehr said. Jennifer, who is the only K-9 in the Lowcountry trained to detect accelerants, was purchased by a grant awarded to the fire department by State Farm insurance.
"She is high-drive, high-energy, very loving and loves interacting with other people," Fehr said. "The dog works great with everyone at the department and gives it an overall better morale."
Fehr and Jennifer recently completed a 200-hour training and certification course in Maine with the State Police and the Maine Criminal Justice Department. The two spent a month there working to become certified and learning to work with one another.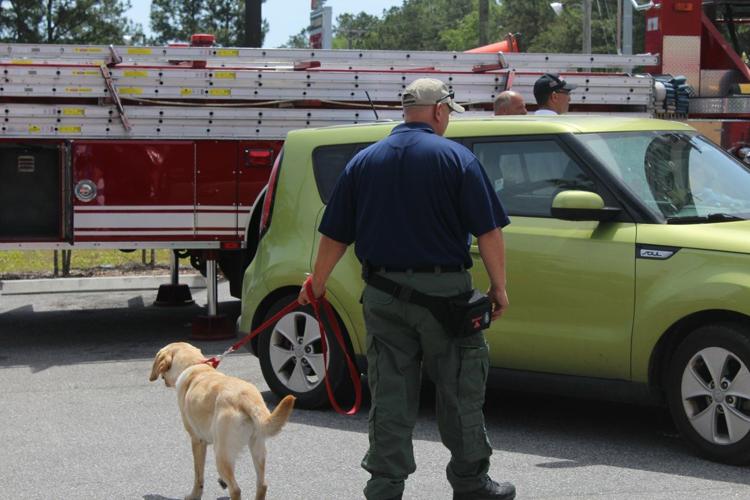 Single-purpose K-9s like Jennifer who specialize in accelerant detection can be key factors in determining if a fire was an act of arson.
"Jennifer (isn't) just an asset to our department, but the entire surrounding communities," said Whitesville Fire Department spokesman Colt Roy.
The biggest hurdle to overcome when acquiring a specialty K-9 like Jennifer is the price tag. "Police departments usually have funding set aside for that because that's a more commonplace service ... with fire departments, it's much less common" he said.
While Jennifer will be used mostly by the fire department, Lehr said she will be available to other South Carolina departments at no cost.
Jennifer and Lehr are a team both in and out of the firehouse: She lives with him full-time. "She brings that same character to work as well as at home," Lehr said.
The yellow lab lives at Lehr's Moncks Corner home with his family and two miniature schnauzers, Toby and Gretta.
"We're a team," he said. On any given scene, he added, "(I) try to stay positive because the dog can sense how we feel."
Fehr stressed that Jennifer's value extends beyond her well-trained nose. Because she is such a friendly and calming presence, he likes to have Jennifer interact as much as possible with individuals who appear distressed. 
Earlier this month, for example, Jennifer was brought to the scene of a house fire and hardly left the side of the woman whose house was destroyed.
"She put a smile on her face," Fehr said. "The dogs can sense when we have bad days, and ... they do what they can to please us."