Ben Navarro bounds onto the stage to a standing ovation, family dog Major Tom scampering at his feet.
Navarro, an energetic and youthful 55, is dressed in black shorts and black T-shirt, as if he had just come from the tennis court — which he had, to watch his daughter Emma, a nationally ranked junior player.
Speaking to employees of his Meeting Street Schools last summer, Navarro launches into a story about Emma, who at one point had struggled to meet the high expectations placed on her young tennis career.
"We had said things to her like, 'You are such a great athlete,' " Navarro told the audience. "Things like, 'You always win the matches you are supposed to win. You are so consistent, you always do well in the big tournaments.'
"Well, you tell me — if you are a 12-year-old walking out on the court, what do you have to gain? All you can do is disappoint. What do you have to lose? Everything."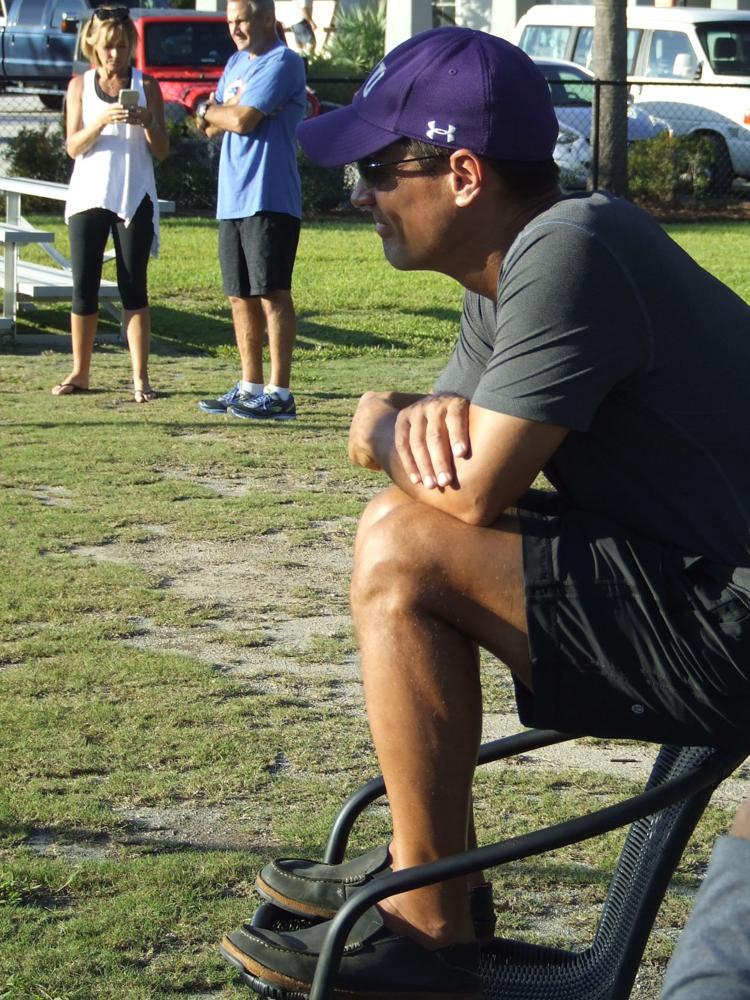 The lesson, according to Navarro: A "growth mindset" that says "you are not holding onto something; you are going and getting something … I came from nothing and nowhere, and I've got nothing to lose."
Navarro, who moved his Sherman Financial Group to Charleston in 2004, has put those words to work in his bid this year to buy the NFL's Carolina Panthers; in his recent purchase of the Volvo Car Open tennis tournament; and in his work with Meeting Street Schools, the nonprofit network of public/private partnership schools he founded in 2008.
With his influence in Charleston on the increase, the media-shy Navarro recently spoke to The Post and Courier in his first major interview, discussing his bid for the Panthers, his hopes for the Volvo Car Open, his work with Meeting Street Schools and his family's life in Charleston.
"When the Panthers thing came around, I became a bit more high profile," said Navarro. "And I get it. People have a right to know because the Panthers are a public entity that matters to a lot of people.
"That for me was the hardest part of the process, and it's not so much about being publicity shy. I don't believe in self-promotion, or that you do things in life because someone else will think more of you.
"I have to live up to my standards and the standards of my family. And if I do that, I think I'm doing OK."
Bid for the Panthers
It's difficult to avoid publicity when attempting to become an owner of an NFL team. There are only 32 of them, and owners include some of the country's richest men, with egos to match: Jerry Jones of the Cowboys, Robert Kraft of the Patriots, Dan Snyder of the Redskins.
Navarro's family background — his father, Frank, was a college football coach at Princeton University, among other schools, with a deep interest in business — played a role in his decision to bid for the Panthers when Jerry Richardson decided to sell the team. Richardson, a Wofford graduate who owned the Panthers for 23 years, put the franchise up for sale after he was linked to allegations of sexual harassment.
"I grew up on the sidelines," said Navarro, who was a lineman and wrestler at Princeton (N.J.) High School while his dad coached at the university. "I played football and there are many things I love about the sport. And the fact that the team was here in the Carolinas, I felt like it needed the right steward and I thought I could be that person.
"I thought it would be a pretty fun project, and I like new challenges."
Navarro said he worked "pretty intensely" on the bid for four or five months. At one point, Navarro reportedly reached out to former NFL great Peyton Manning about joining his ownership group. Eventually, the team was sold for $2.2 billion to David A. Tepper, a billionaire hedge fund owner.
The bid for the Panthers brought new scrutiny to Navarro's Sherman Financial Group, which he founded in 1997. The business describes itself as a "market leader in originating credit cards and purchasing and servicing distressed consumer debt," and employs more than 1,500 people in the U.S., Canada, Mexico and the United Kingdom.
The company was expected to earn more than $2 billion in revenue in 2016, according to its website. In 2014, Sherman Financial paid $175,000 and agreed to drop lawsuits seeking to recoup about 400 bad loans in a legal settlement with the state of New York. Most of Sherman Financial Group's revenue reportedly comes from Credit One Bank, a fast-rising issuer of credit cards that it owns.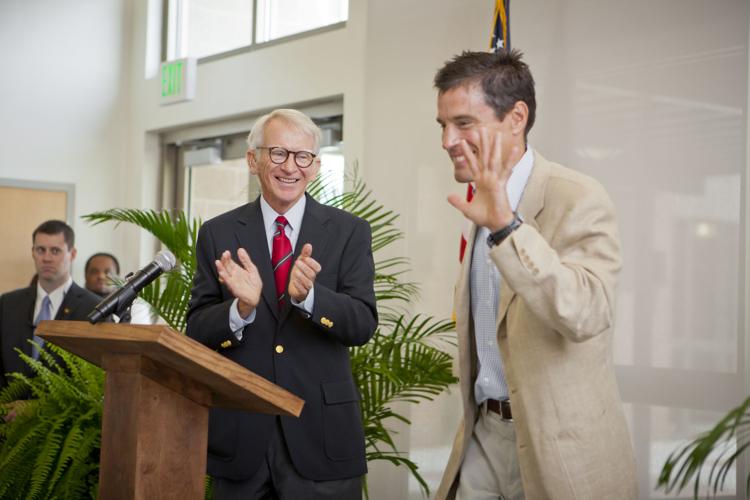 Navarro said he had no regrets about the bid to buy the Panthers.
"Any good business person will tell you that their career has been defined as much by the deals they didn't do as the deals they did do," he said. "And I had every opportunity to get that deal done. It just wasn't on terms that I could get comfortable with at the end.
"For me, it just came down to my resources and time going into one thing versus being able to have a much more diverse set of activities. That's a big, big, big commitment, and ultimately I think it ended up in the right hands. But I have absolutely no remorse and no ill will toward working on it. It was a really enjoyable experience."
Wall Street dream
Football was a big deal at the Navarro house when Ben was growing up. His father played offensive guard for a national championship team at Maryland and coached at four different schools. The family (Ben has six brothers and a sister) moved from Williamstown, Mass. (Williams College) to New York (Columbia University) to Crawfordsville, Ind. (Wabash College) to Princeton.
Frank Navarro was a coach of enough renown that famed painter Norman Rockwell chose him as the model for his painting "The Recruit." The 1966 painting depicts a coach, whistle hanging from his neck, with his arm around an imposing football player.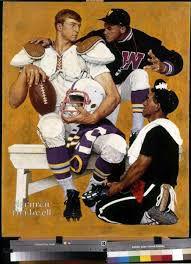 But there was more discussed around the family dinner table than football. Frank and his wife, Jill, ran the household with a firm hand that encouraged hard work with a focus on the business world.
"He talked a lot more about business and the people he admired than he did about football," said Ben Navarro, whose great-grandparents immigrated from Italy, entering the U.S. through Ellis Island. "And it was discipline combined with work ethic.
"He never came to one of my sporting events, on purpose, because he wanted the focus of the house to be on creating entrepreneurs and kids who could take advantage of what this amazing country has to offer."
That's one reason all eight Navarro kids paid their own way through college. At the University of Rhode Island, Navarro devised a way to make money selling advertising on discount VIP cards. He had 10,000 of them printed and distributed them to students.
The card helped pay for Navarro's final two years at Rhode Island and helped him land his first job, at Chemical Bank in New York. Inspired by an older brother, Navarro dreamed from age 13 of working in finance on Wall Street.
"I'd go visit my brother in the city," he said. "I didn't know exactly what I was seeing, but the energy was palpable. I thought it was awesome and a place I probably ought to be."
When an offer to join the training class at Chemical Bank at a salary of $25,000 a year arrived in the mailbox at his house in Westerly, R.I., Navarro was so happy he ran down the street and jumped off a dock into the ocean, fully clothed.
His Wall Street career was underway. He met his wife, Kelly, at Chemical Bank and eventually moved to Goldman Sachs in the heady days of the 1980s. Future Treasury Secretary Robert Rubin had an office across the floor; future U.S Sen. and New Jersey Gov. Jon Corzine was down the hall; current Treasury Secretary Steven Mnuchin sat right next to him.
"It was an amazing group of people," Navarro said. "And to have access to that and see how those folks thought about things, that was a really big deal for me."
Navarro put that experience to work in 1988 at Citicorp as co-head of mortgage sales and trading, becoming one of the top producers on Wall Street. In 1997, he decided to branch out on his own with Sherman Financial, named for the family dog, a golden Labrador named Sherman.
After 9/11, Navarro decided to move Sherman Financial out of New York. Kelly, a Virginia graduate and a banker herself, had been involved in the financing of Charleston Place, so they were familiar with the city.
The family moved to Charleston in 2004, bringing 18 other Sherman Financial families along. The Navarros eventually settled into a house on Broad Street, within biking distance of Sherman Financial's office on Meeting Street.
Miracle on Meeting Street
Former Charleston Mayor Joe Riley likes to walk downtown, his path sometimes taking him by Hazel Parker Playground on East Bay Street. Sometimes he'd see a family playing tennis on the court there.
It was Ben and Kelly and their four kids.
"Ben is so unpretentious in everything," said Riley. "I see him walking down the street or riding his bike, and he just looks like every working person."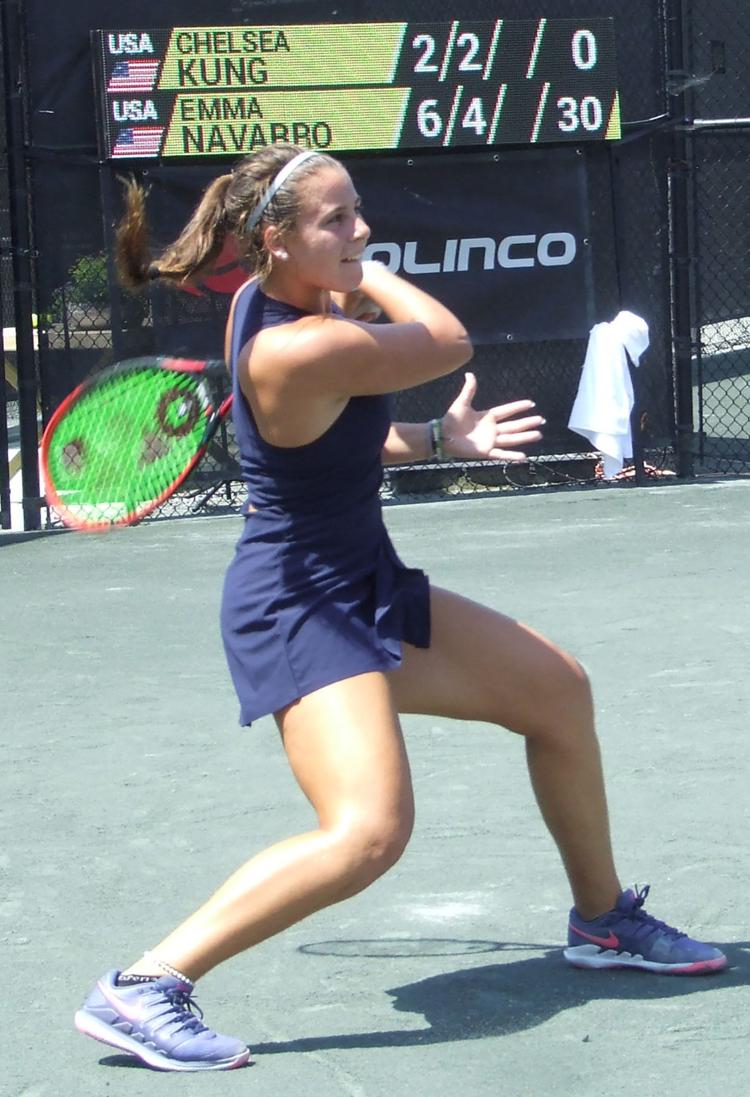 That might be true if every working person was into marathons and triathlons, miles-long bike rides to Sullivan's Island and Folly Beach, yoga sessions at Charleston Power Yoga, regular tennis matches and nightly walks. Navarro said he loves "epic physical challenges because they take you out of your comfort zone."
The offices at Sherman Financial, where Navarro is often dressed in shorts and loafers, are equipped with a fully stocked workout room and salad bar for employees. The family has season tickets to College of Charleston basketball games and can occasionally be seen at Citadel football games. Navarro's parents, both in their 80s, spend about three months of the year in Charleston.
"We love Charleston," Ben Navarro said. "It felt like home for us after only a week. It's an unbelievably great place to raise a family, and the people have been incredibly welcoming. And we feel like we've been able to find a role in the community that's meaningful."
One of those roles is with Meeting Street Schools, a private-public partnership founded by Navarro after the Charleston County School District reached out to him for help with failing schools. The nonprofit now includes Meeting Street Academy in downtown Charleston, and Meeting Street@Brentwood and Meeting Street@Burns in North Charleston. A fourth school, Meeting Street Academy-Spartanburg, opened in 2012 and became part of Spartanburg District 7 last year.
The schools could represent a new model of public education for low-income and minority students, with features such as two teachers per classroom, an extended school day and school year, and in-house therapists and social workers.
"A word I say a lot, and that I believe in so much, is 'opportunity'," Navarro said in discussing the schools. "That has driven a lot of my beliefs, and that's what this country is about. Everyone should have an opportunity; not a guarantee, but an opportunity — and a fair one — to be successful."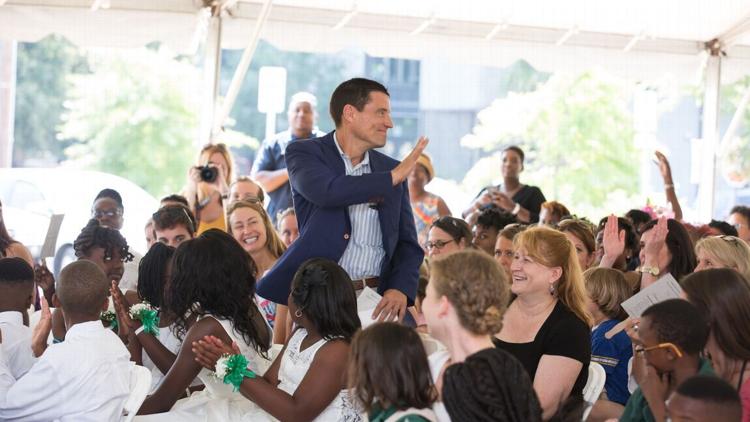 Some critics say the schools are a step toward privatization, or that they cannot be easily replicated. But rising test scores have persuaded many others, including NAACP President Dot Scott, an initial skeptic.
"It's a miracle on Meeting Street, that's what I call it," said Scott. "Ben proved me wrong, absolutely wrong … When I visited the school, I was blown away to see the makeup of the school. Where these kids come from, folks think they won't be successful because they haven't had the resources of kids who are privileged.
"But not only are these kids succeeding, they are sailing."
Navarro's purchase of the Volvo Car Open, as well the operations of the Family Circle Tennis Center and Volvo Car Stadium, widens his footprint in Charleston. A local owner for the venerable tournament, which has been in South Carolina for 46 years and on Daniel Island since 2001, is important, Riley said.
"When I read about it in the paper, I was thrilled," Riley said. "It's just a perfect fit for the tournament and for Ben."
Navarro, who also owns the Live to Play Tennis Club in Mount Pleasant, hopes to boost junior tennis in Charleston, as well as enhance the Volvo Car Open, the largest women-only pro tournament in North America. He also wants to bring more "world-class musical performances" to the stadium.
"I decided it made sense for somebody in the area to own it and to be a steward," Navarro said. "The timing was right when the opportunity came along. I'm excited for our junior programs, for combining them in a way that makes sense for (the Family Circle program) as well as ours at LTP. I also want to have a program for young aspiring pros who are coming up through the ranks.
"We are going to invest in terms of bringing top players in, and we are going to measure ourselves by the player and fan experience. We want to do more to engage the city and to create more of a festival atmosphere at the tournament."
Riley, for one, said Charleston is fortunate to have Navarro as one of its increasingly prominent citizens.
"He's very creative, always seeking excellence and is not a status quo guy," Riley said. "What we have in Ben is a great treasure."