With the flames extinguished, firefighters waded through the rubble at St. Andrew's Church on Sunday afternoon and, to the surprise of onlookers, retrieved dozens of Marc Chagall prints that had survived the blaze.
The internationally recognized Jewish artist's interpretations of the Bible — vibrant lithographs and black and white etchings — emerged from the remnants of the historic Mount Pleasant church largely intact, save for water stains and wrinkles.
The Chagall exhibit had been at the church since March.
Most of the 58 prints were displayed in St. Andrew's Kairos Gallery and in a hallway behind the large oak cross in the ministry center. All around it the majority of the large building had burned, smoldered, flooded and collapsed in the blaze early Sunday.
"They were hanging on the wall directly behind the cross," Sandra Bowden, the owner of the artwork, said of some of the prints. "They were under the cross and protected."
Investigators have not announced what caused the blaze. 
"ATF kept telling us 'Don't expect to find anything back there,' " said Dwight Huthwaite, worship arts director at St. Andrew's. "We were sure that everything was lost."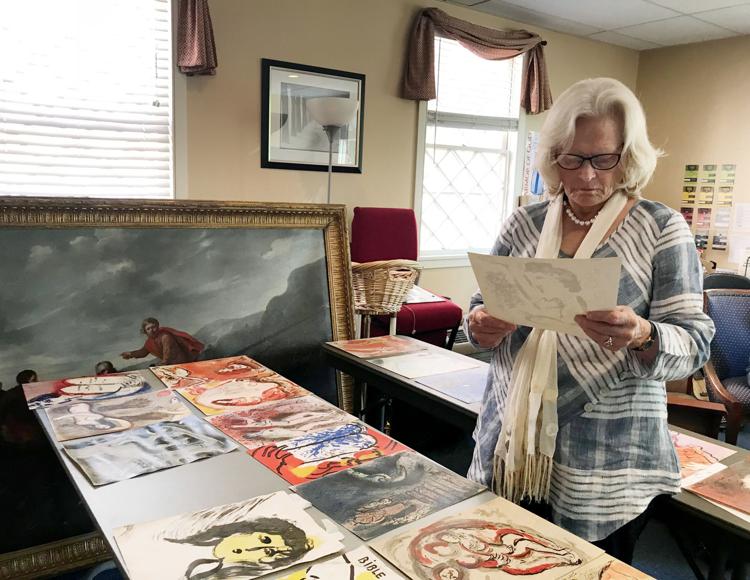 Bowden arrived at the church from her home on Hilton Head Island on Tuesday and examined the artwork. The collection is valued at $71,000.
Bowden, a Christian artist who acquired her first Chagall print in the 1980s, thinks 10 or 15 pieces will need to be replaced. She's already identified replacements in Houston and Sweden. 
"It's so miraculous that these things came out as good as they did," she said. 
Art conservator Marion Hunter assessed the artwork and agreed that the prints, protected by frames, are in relatively good shape.
At the church Tuesday, staff pulled another print from the destruction. The frame was charred and the print was wet and fragile, but not destroyed, Hunter said. 
Chagall was born in Belarus and lived in France until fleeing the Nazis during World War II. He found refuge in the United States and later returned to France. When he died in 1985, The New York Times hailed him as "one of modern art's giants."
Bowden called Chagall the "most important" Jewish artist whose work incorporates themes from the Bible. The Crucifixion is featured in some of his art, and two such pieces are included in Bowden's collection. 
St. Andrew's historic building, constructed in 1857, was spared by the fire. Behind it sits the remains of the ministry center. The rector Rt. Rev. Steve Wood walked through the damage Tuesday, pointing out the acrid smell of smoke, nail-laden debris and water that dripped down the walls. 
"It is just a mess. There's nothing else to say," he said in a Facebook Live video. 
Huthwaite said staff found a grand piano crushed and guitars waterlogged. He and others were stunned to see the Chagall pieces relatively unscathed.
"It was a bit emotional," he said.