While some cities have unemployment rates so low that businesses struggle to find workers, broad swaths of rural South Carolina have made little economic progress since the recession, according to a new report.
The result has been an enormous gulf between prosperous Palmetto State communities, led by Mount Pleasant in the Charleston metro area, and distressed communities scarred by unemployment, poverty and shrinking numbers of businesses.
The huge gaps between communities that strongly recovered from the Great Recession and those left behind extends nationwide, the bipartisan Economic Innovation Group found after studying economic indicators in all ZIP codes. In South Carolina, prosperous areas are clustered in and around large metropolitan areas — Charleston, Columbia, Greenville, Myrtle Beach — and along the coast.
Gregory Bamberg is pastor at Mt. Zion Baptist Church in Ruffin in Colleton County, which is one of the most distressed ZIP codes in the nation, according to the EIG study, ranking 26,086 out of 26,126. He also lives in Bamberg County, one of the most distressed counties on the state.
"I can't really say that Bamberg, where I live, is distressed," he said. "They just built a Burger King in Bamberg."
In Ruffin, where Bamberg has been pastor for five years, he said there are few businesses or stores.
Bamberg said people aren't sleeping on the streets in the county that shares his name, but aside from the new fast-food restaurant, the economy doesn't seem to be improving. When he's not ministering, Bamberg commutes to Aiken County for work as a security guard.
"A problem I see is that with young people, there is nothing that makes them want to stay," he said. "If they never leave, they end up working at jobs like Pizza Hut or McDonald's."
Rural South Carolina was dubbed "Forgotten South Carolina" in a 2013 Post and Courier series that examined the seemingly left-behind communities in the Palmetto State. The struggling schools along the Interstate 95 corridor also prompted an award-winning documentary, "Corridor of Shame."
"If you look at much of the South, which has more than half of the distressed communities nationwide, there is this sense of being stagnant when we are supposed to be having this robust recovery," said Steve Glickman, executive director and co-founder of EIG.
Glickman was a senior White House economic adviser under President Barack Obama, while EIG's other co-founder, John Lettieri, hails from the Greenville area and was an aide to former Nebraska Republican Sen. Chuck Hagel.
"We do know from research that your ZIP code as a child is a great predictor of your life outcomes," Lettieri said. "We have to be more aggressive about assuring that people have opportunities regardless of their ZIP code."
A plan to help
Stephen Skardon Jr. is executive director of the nonprofit Palmetto Project, which works on public-private partnership to help communities. He said South Carolina needs a regional approach to addressing problems such as a lack of jobs, health care or even grocery stores.
"South Carolina is mostly rural, and the rural communities are mostly poor," he said. "The lack of progress there gets covered up by the economic growth in the more prosperous counties."
Glickman and Lettieri said there is some hope for a bipartisan attempt to aid distressed communities. They point to, and support, the Investing in Opportunity Act co-sponsored in the U.S. Senate by Tim Scott, R-S.C., and Cory Booker, D-N.J., and in the House by Pat Tiberi, R-Ohio, and Ron Kind, D-Wisc.
The legislative proposal would encourage investment in distressed communities by creating tax incentives — a reduction and potential elimination of capital gains taxes if investment profits are reinvested in "opportunity zones."
"There are very few levers Washington can pull to make it easier for job development," Lettieri said. "The tax code is one of them."
He said distressed communities cross party lines and are found in both urban and rural areas. Within most large cities there are distressed areas as well as prosperous ones.
The legislation was referred to committees in both the House and Senate in February. 
About that Burger King
Funeral home co-owner Mark Smith lives and works in Mount Pleasant which has two ZIP codes that are both among South Carolina's most prosperous. He grew up in Bamberg, the son of a textile worker and a sheriff's deputy.
"It's very, very sad to see the number of colleagues I graduated high school with who never came back because there weren't job prospects for them in Bamberg County," Smith said. "Getting married and having to support a family, many have had to leave."
The hospital where Smith was born, which is connected to a nursing home where his grandmother resides, closed years ago. It was an important source of Bamberg-area jobs, he said. According to the EIG report, distressed counties face a host of health problems greater than in prosperous areas.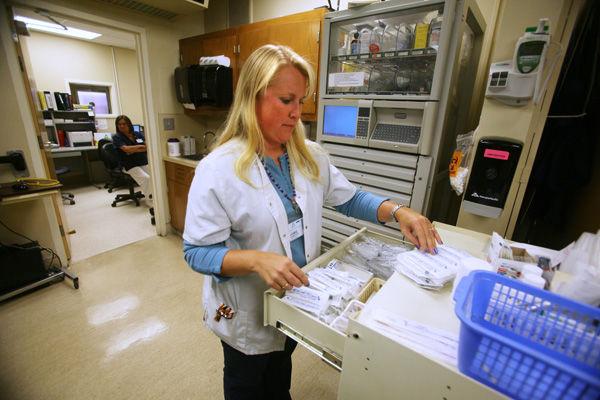 "There's a 5-year life expectancy gap between prosperous and distressed counties," Lettieri said. "Everything from obesity to diabetes to death by cancer," and higher rates of suicide and drug overdoses.
"What needs to take place in these areas is, jobs need to come in and get people involved," said Bamberg, the pastor.
Skardon, at the Palmetto Project, said he's hopeful that the nearly 4,000 jobs Volvo plans to create in Ridgeville, between Summerville and Orangeburg, will provide an economic boost to nearby rural areas.
"The I-95 corridor is full of people who want to work," he said.
The unemployment rate is nearly 7 percent in Bamberg, and about 2.5 percent in Mount Pleasant. The number of businesses and jobs in Mount Pleasant sharply increased from 2011 through 2015, according to the EIG study, which used Census Bureau estimates.
In Bamberg, the number of jobs and businesses declined by double-digits during those same years.
"As I've been keeping up with Bamberg news, they are about to cut the ribbon on a Burger King," Smith said. "It's good to see more restaurant options. But it would be nice to see some high-wage jobs."