Darnell Kleckley thought he had left his mistakes in the past.
The Goose Creek man was caught in 2015 trying to bring drugs into Lieber Correctional Institution in Dorchester County. He became one of 48 state employees who would be arrested over the next three years and accused of trying to smuggle contraband into the prisons where they worked.
Kleckey, 33, accepted the consequences. As he served a probationary sentence, he got a new job and started to move on.
With the end of his punishment in sight, Kleckley recently found himself in handcuffs again. But it wasn't for anything new.
Three days after a riot killed seven inmates last month at a Lee County prison, federal authorities sought and won indictments against Kleckley and 13 other former prison workers who had already been charged in state court in connection with contraband smuggling. Nine had completed their sentences.
Attorneys questioned whether authorities are misdirecting efforts to address the deadly riot by punishing former rank-and-file correctional officers and other workers a second time for the same misconduct. Most of the employees also have already confessed to crimes, leaving them with few options for fighting off new federal charges that could land them in prison for 25 years. Some said the state should have more aggressively pursued the original charges if hefty prison time were the goal.
"He had no idea this was coming," said Columbia lawyer Lowell Bernstein, who represented Kleckley during arraignment. "Now, out of the blue, he's been arrested on these federal charges. ... It's basically the same thing all over again."
Federal officials insist the deadly April 15 melee at Lee Correctional Institution did not directly motivate them to pursue the charges during an April 18 grand jury meeting, though U.S. Attorney Beth Drake acknowledged that it added urgency. Officials have blamed disputes over territory and contraband for sparking and illegal cellphones for worsening the deadliest American prison riot in a quarter century.
The indictments also send a message to workers in state and federal prison systems that the government is serious about addressing public employees "on the take," she said.
"Certainly, priority increased after the riots," Drake, South Carolina's top federal prosecutor, said in announcing the indictments a week after the grand jury delivered them. "But ... there's no cause and effect."
Government overreach?
Last year saw a spike in contraband and drug arrests of prison workers: 22, compared with 14 in 2016 and nine in 2015, S.C. Department of Corrections spokesman Jeff Taillon said.
In the same span, the department's police service has doubled to 16 investigators who probe such contraband discoveries, possibly explaining the increase in arrests, corrections Director Bryan Stirling said. He declined to say whether the federal authorities were expected to pursue indictments in future arrests by prison police.
But Stirling said raising pay to more than $35,000 annually for starting officers at maximum-security facilities could help stem the temptation among employees to bring in contraband for extra money. With testing of the technology expected in South Carolina, cellphone-jamming equipment also could render useless the devices that prisoners use to move money to smugglers, Stirling said.
"Anybody who brings contraband in, we treat it seriously," he said. "We want them charged criminally."
Federal prosecutors said they reviewed the arrests by prison authorities and picked the "most significant cases" for further charges.
But defense attorneys contended that the indictments mark an about-face to state officials' handling of the initial prosecutions.
The court records indicate that the state did not pursue hefty penalties, even though some of the charges could have carried lengthy prison time. Altogether, the 14 defendants in state court faced at least 41 charges, including bribery, drug violations, contraband smuggling and official misconduct, according to a Post and Courier review of the records. Eighteen resulted in guilty pleas, but at least 18 others were dropped, lessening the punishment they could face.
One of the defendants, 37-year-old Holly Mitchem, had successfully completed a pretrial diversion program after her contraband arrest as a food service worker at Tyger Correctional Institution in Spartanburg County. The charges were dropped and expunged from her criminal history.
"To do what they are doing is fundamentally unfair and represents the epitome of federal governmental overreach," said Columbia attorney Neal Truslow, who represented Mitchem during bail proceedings. "She believed that she had done everything that was required of her to put this matter to bed."
The former employees, including nine correctional officers, were intercepted with the contraband inside or outside a prison. The items ranged from hamburgers to cellphones to marijuana, Drake said.
Arrest affidavits showed the workers accepting payments wired to their banks; the largest sum was $3,700 for tobacco and a watch. The documents in only two cases listed a cellphone as the contraband, including one that went to a prisoner for $400.
Though the Corrections Department's policing arm mounted an extensive criminal inquiry into each case, prosecutors said the federal government added investigative "tools" that led to the new bribery and conspiracy charges. First Assistant U.S. Attorney Lance Crick declined to say exactly what tools prosecutors and FBI agents brought to the table.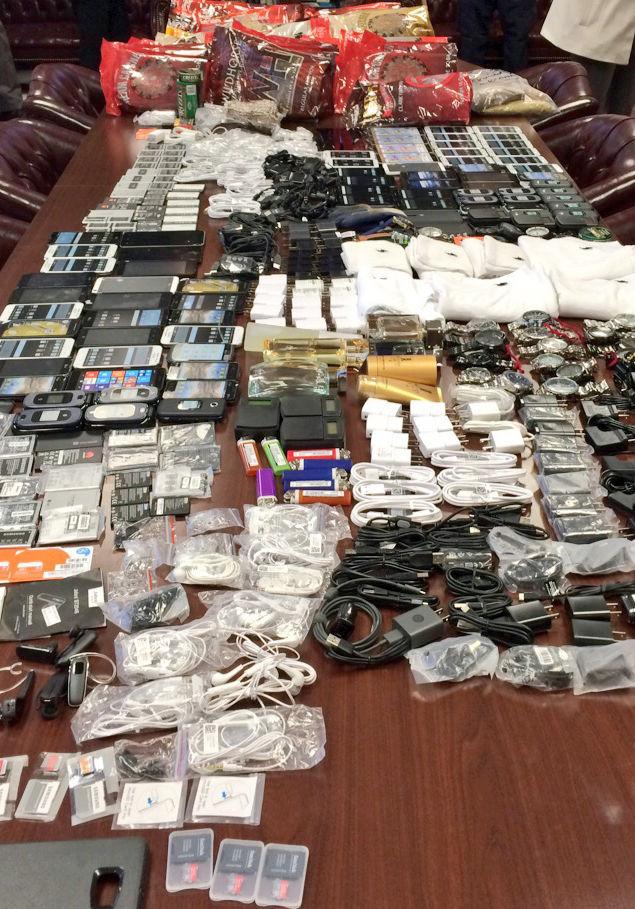 Questions linger
Federal authorities typically get involved when the result of a state case falls short of vindicating a "federal interest," Crick said. But he declined to discuss the outcomes of the 12 cases that have been resolved.
One of the former workers spent a month in jail; another spent two, the court records showed. Two were sentenced to time served: the few hours they had spent in a jail before posting bail. Five got only probation, which ranged from one to five years long. One person was fined $500. Two cases were eventually dropped altogether.
Many attorneys said their clients did not know they were targeted by a federal probe until their recent arrests.
"I do think the bringing of federal charges in these instances was at least somewhat influenced by the unfortunate Lee Correctional incident," said Joshua Koger of Columbia, who has represented one of the former officers.
Federal charges that arise in existing state cases have caught attorneys' criticism in the past.
McClellanville-area resident Timothy Taylor was serving probation for a robbery when investigators pressed him for clues on Brittanee Drexel's presumed abduction from Myrtle Beach in 2009. When he offered none, Taylor was charged with a federal robbery count. Because Taylor had already admitted in state court to a role in the heist and accepted probation as his sentence, defense attorneys said he had no choice but to plead guilty in the federal case and face up to 20 years in prison.
Lawyers and advocates have derided such dual prosecutions as unfair, though courts have allowed the practice.
There likely will be more arrests despite the threat of prison time for misbehaving prison workers.
While better pay for workers helps, Citadel criminal justice professor Brian Norris said prisons always will have problems with employees and outsiders bringing in contraband for cash.
After interviewing 150 prison administrators worldwide, Norris authored a book published earlier this year titled "Prison Bureaucracies in the United States, Mexico, India, and Honduras." Internationally, he said, governments have struggled to attract high-quality employees to stave off such problems.
"Prisons are made to keep people in, not keep the world out," he said. "That's why it's not realistic to keep it all out."