A disabled Vietnam veteran and disbarred lawyer who had boasted online about his rifle-shooting prowess was reported Thursday as the man suspected of shooting seven law enforcement officers near Florence, killing one of them.
Frederick Hopkins, 74, was taken into custody Wednesday, The Associated Press reported, after a shootout with sheriff's deputies and Florence police officers. The two-hour standoff punctuated the air of a quiet and groomed neighborhood with hundreds of gunshots. Hopkins was hospitalized.
When the disturbance settled, 52-year-old Sgt. Terrence Carraway, a 30-year veteran of the Florence Police Department, was dead. Six officers were hurt.
Five civilians also were injured in the shootout, an EMS official said. It was not clear how they were hurt.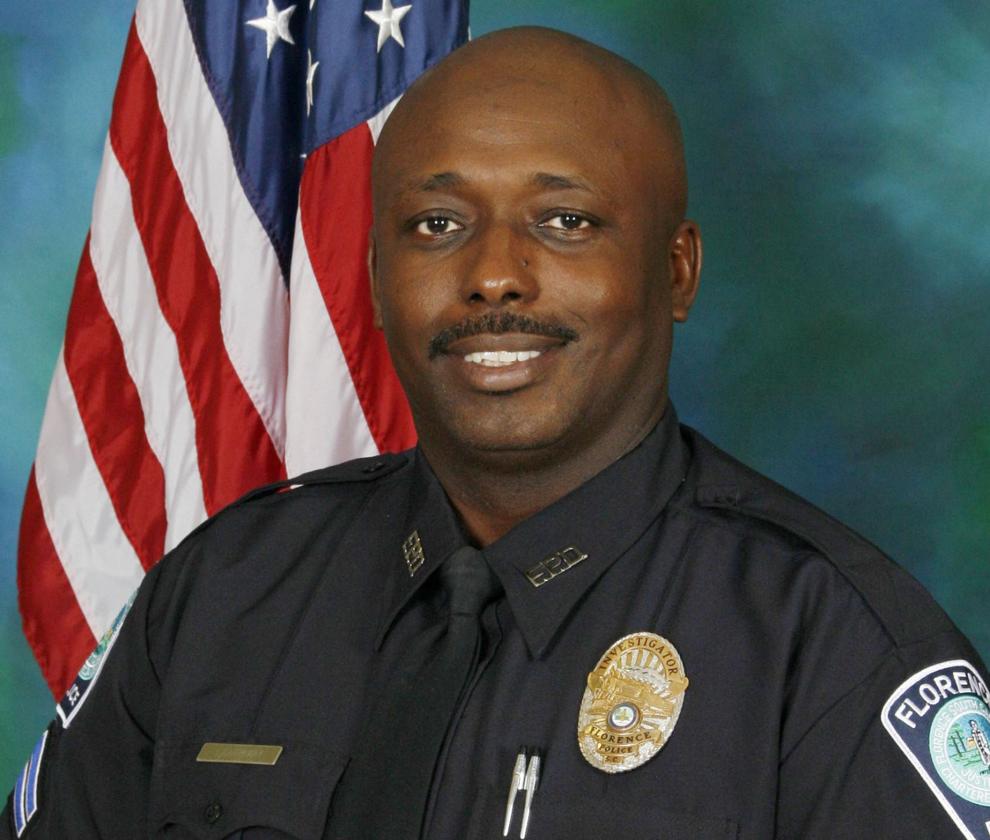 A Florence County sheriff's official confirmed Hopkins' identity to the AP, but authorities from the Richland County Sheriff's Office, which is leading an investigation into the deadly episode, refused Thursday to offer a more detailed explanation of the violence that unfolded a day earlier.
Carraway was among four officers from the Pee Dee city who were hit. Two had been released from a hospital by midday Thursday. The other was in stable condition, the city's mayor said.
Three sheriff's deputies also were wounded, but officials refused to discuss the women's conditions.
The shooting carried one of the highest casualty tolls for South Carolina law enforcement in recent memory. Gov. Henry McMaster ordered flags in the state to be flown at half-staff.
For Florence, a city of nearly 40,000 people that sits 100 miles northeast of Charleston, the first slaying of an officer in three decades rattled its small police force. Hundreds of police officers and community members turned out late Thursday at a downtown church for a vigil honoring the fallen sergeant. They set flowers, balloons and a teddy bear atop a police cruiser.
Police Chief Allen Heidler said Carraway was the "epitome of a community police officer" who started a summer camp for impoverished youth who might not otherwise have such opportunities.
"This was his life," Heidler said. "Serving Florence was his passion."
The Police Department saw an outpouring of support from across the country.
"Those cops put their badges on every single day, and they know what tragedy can await them," Heidler said. "But they're going to protect the public ... because that's what they do."
Trouble with the law
Hopkins is a former attorney who was disbarred from practicing law in the Palmetto State. He was married to a local divorce lawyer, Cheryl Turner-Hopkins.
Over the past 30 years he has had other encounters with law officers.
In 1984, Hopkins was jailed after he failed to pay back $18,000 in attorney fees alleged to have been wrongly collected from a client, court records showed. A promise to pay back the money freed him from jail, but the case prompted his disbarment.
In February 2014, Florence County sheriff's deputies charged him with disorderly conduct. In 2015, Hopkins was cited for letting an animal run at large. He was ticketed on the same offense later that year.
On his own social media pages, Hopkins described a happy life with 10 children who ranged in age from 3 to 40. He called his wife for the past 25 years his "true soulmate." One of his sons, Sean, is listed on Facebook and LinkedIn pages as a police officer.
But Hopkins had a tumultuous past, he indicated. On Facebook, he spoke of surviving "the ravages" of the Vietnam War. He was injured at some point during the fight, according to court records from a 2000 ruling on child support payments from a previous marriage.
His sole source of income, the court paperwork said, would become his disability checks of $1,127 monthly.
'Smell of gunpowder'
On one of his three Facebook pages, Hopkins referred to a proficiency with rifles.
For a 70th birthday celebration, the pages showed, he took his 12-year-old son to a shooting range for a marksmanship match. He used a Federal Ordnance M14 rifle that fired a 7.62×51mm NATO round — similar to the firepower he used in Vietnam, he wrote.
Others at the range sang "Happy Birthday" to him that day. "Gosh, it doesn't get any better," he said.
"I ... had a blast!" he wrote online. "I have been shooting competitively since 1984 and lovin' it. I just love the smell of gunpowder in the mornin'."
Over the past two years, local resident and UPS driver Casey Sellers delivered packages of ammunition to Hopkins' home on a fairly regular basis, he told The Post and Courier.
"At least once a month, I was delivering something like that to him," Sellers said. "I never thought anything of it. ... Every time I see him, he's always got that Vietnam veteran hat, so I figured he's still a military man."
It was about 4 p.m. Wednesday, authorities said, when sheriff's deputies tried to serve a search warrant at an Ashton Drive house in the Vintage Place subdivision, an unincorporated area outside the city limits. The Hopkins family's 6,500-square-foot home was last valued at more than $600,000, county property records showed.
A sheriff's official told WIS-TV that the investigators were looking into an allegation that a different man in the home had sexually assaulted a foster child who also had lived there.
On Wednesday, though, no foster children were living there, a state Department of Social Services spokeswoman told The Post and Courier.
When deputies showed up, they were confronted by a gunman who unleashed a hail of gunfire. They shot back.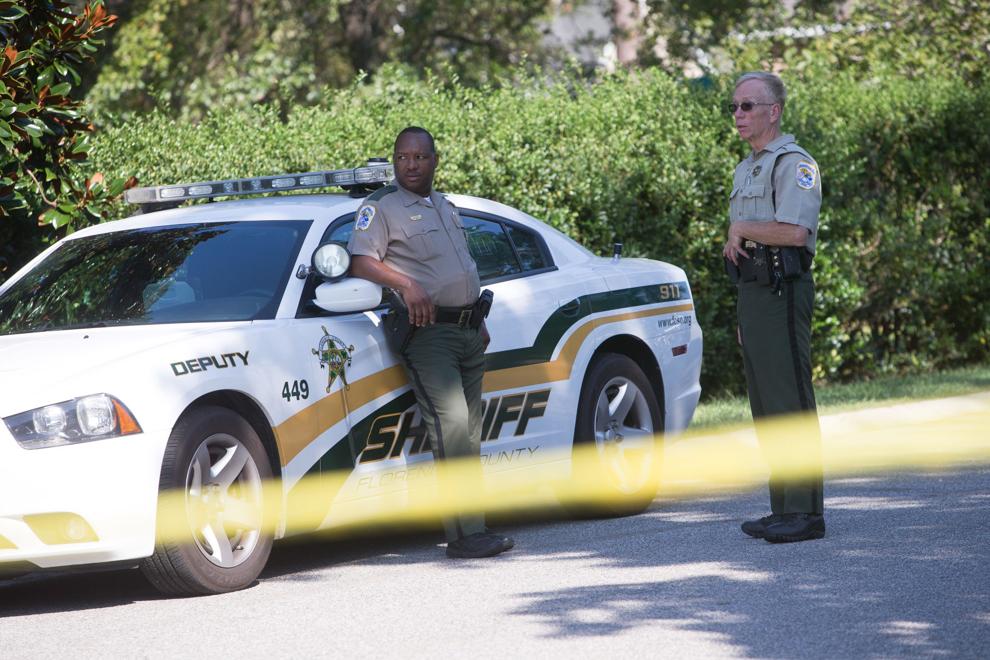 'Taking fire'
Florence officers, meanwhile, were patrolling their communities. They were leaving work. They were working off-duty jobs.
They heard the deputies' call for help.
Heidler, the police chief, was walking up the stairs at City Hall when he saw an officer leaving for the day.
"We exchanged some pleasantries," Heidler said, "and I told him to have a great night."
The officer heard the distress call and went to the scene. He and others likely didn't know how much firepower would greet them, Heidler said.
One officer was shot in a patrol car.
Carraway was hit outside.
The shooter barricaded himself inside with children, authorities said. With a clear view of the open space around the home, officials added, the gunman got a tactical advantage on the officers amassing outside.
At times, volleys of repeated gunshots rang out. A cellphone video showing a stately home in the community captured the cacophony.
As bullets rained down, Heidler estimated, the officers lay wounded for 30 minutes until they could be pulled to safety.
"But when an officer is taking fire, they're going to do everything they can to … save them, to rescue them, to protect them," he said.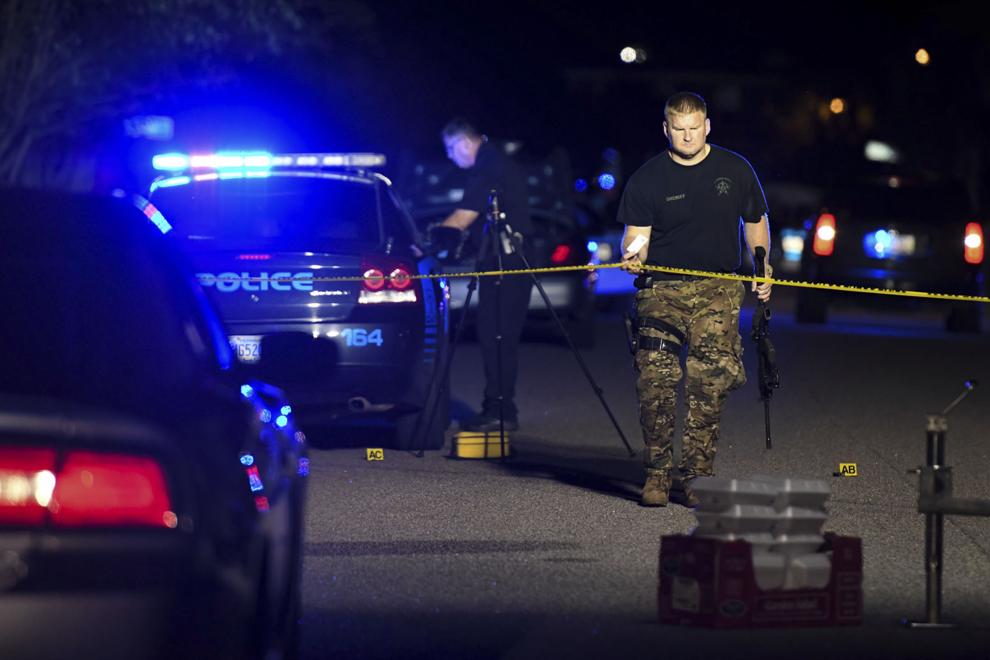 The authorities brought armored military-style vehicles to the site. Details of how the ordeal finally came to a close were unclear.
The wounded officers were taken from the line of fire to a nearby street, where paramedics tended to them, residents said.
Part of a ballistic vest was discarded on the pavement. It was soaked in blood.
Richland County Sheriff Leon Lott, whose agency lies an hour west of the crime scene, was asked to lead the probe. The State Law Enforcement Division typically investigates police shootings in South Carolina, though Lott is widely known for insisting that his investigators have the expertise and resources to conduct such inquires.
But Lott said little during a Thursday news conference to explain what had happened. Further information was expected Friday, he said.
"We're just asking for everyone to say a prayer," he said. "We need lots of prayers."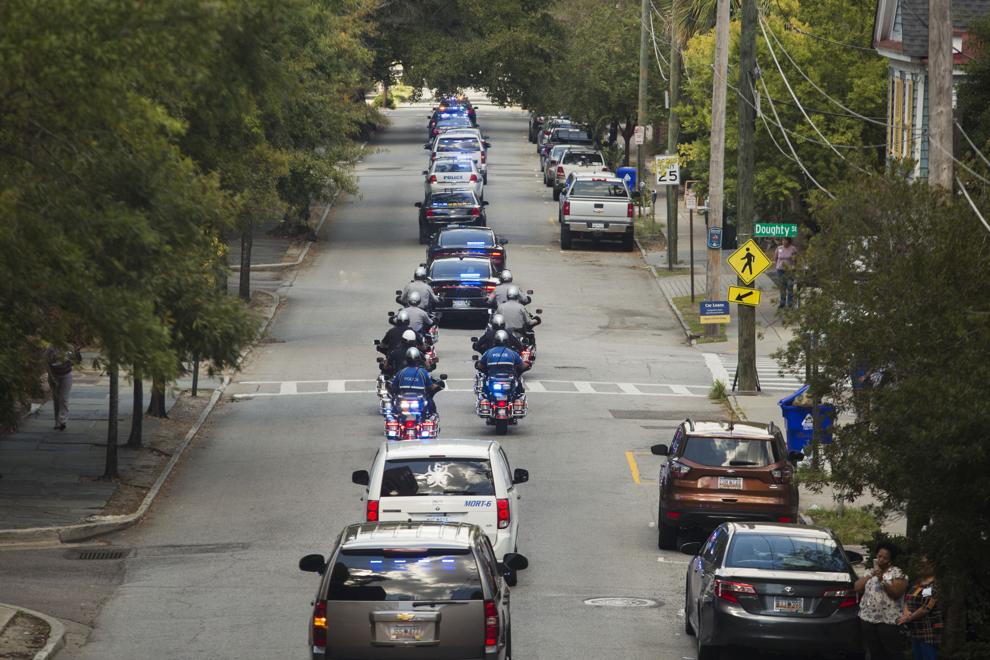 'Heartbreaking' revelation
Hours later, Hopkins' Facebook pages that had detailed his experience with weaponry were deleted.
Early Thursday, as the area mourned a loss that has rattled the law enforcement community nationwide, few residents of the community that saw so much violence a day earlier wandered out of their brick homes near a cordoned-off section of Ashton Drive. That's where authorities focused their investigation. One deputy told people on the street that 1,000 rounds had been fired there.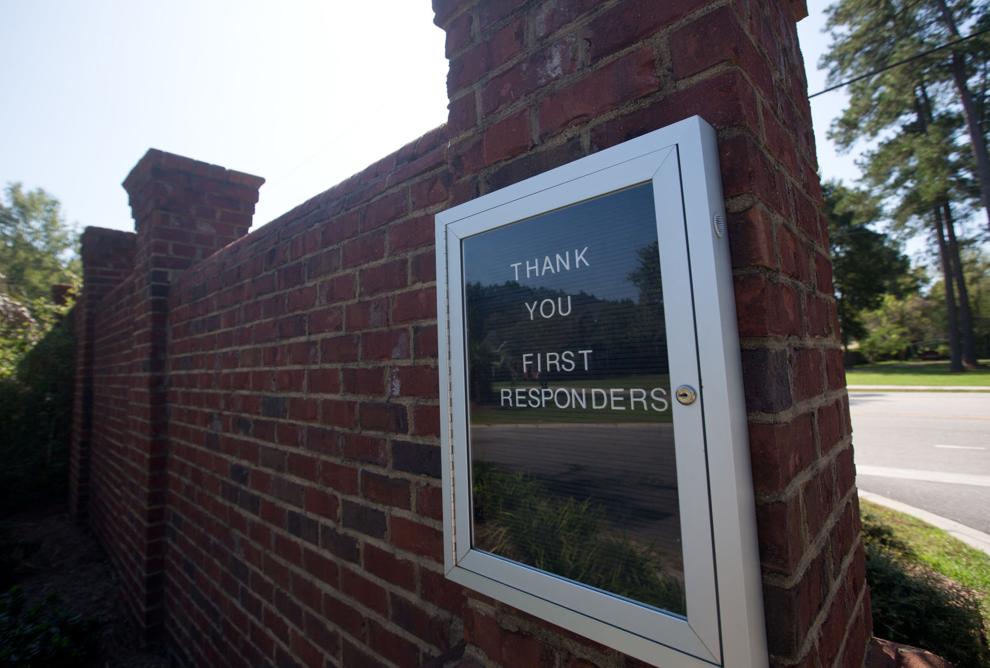 Artificial flowers sat in the grass near the neighborhood's entrance. They were blue and white.
A nearby sign thanked emergency personnel. A church marquee in downtown Florence said, "Praying for our first responders."
Byron Black, a 27-year-old resident of a community across the street, visited the scene after learning that Carraway, his former football coach, was the slain officer.
Black's memories of Carraway have faded since his days playing football as a 7-year-old, but he said the officer left an impression as a "community leader" and a mentor admired by many young people.
Black attended high school with two of the Hopkins children and remembers attending a party at the family's home as a teenager.
"It was heartbreaking," he said of the shooting. "You never expect this type of thing to happen, especially to people you know."
In Charleston, doctors at Medical University Hospital performed an autopsy on Carraway. Law enforcement officers assembled at the hospital campus Thursday and shut down Interstate 26 — the route back to the Florence area.
Police cars and motorcycles lined a street. Hospital staff members, students and others stood solemnly on the sidewalk as a parade of blue lights went by, and the fallen officer began the journey home.