HUGER — A Berkeley County sheriff's deputy shot and killed a man Tuesday during what authorities described as a tense gunfight involving numerous law enforcement officers and SWAT teams in a remote neighborhood within Francis Marion National Forest.
No officers were injured in the shootout, which Sheriff Duane Lewis said began when the man opened fire on a deputy who pulled over his vehicle Tuesday afternoon on Waterfowl Lane. The gravel road sits along Bates Pond and is east of S.C. Highway 41 in Huger.
The deputy returned fire and took cover behind his Ford Explorer, which was peppered with bullet holes in the ensuing shootout. Lewis said the deputy radioed for backup but remained trapped behind the SUV for about 30 minutes as the shooter was "constantly firing down on the deputy, trying to keep him pinned down."
The suspect, whose identity has not yet been released by the Coroner's Office, then shot at other deputies who converged on the scene to assist, Lewis said. Several of them fired their weapons.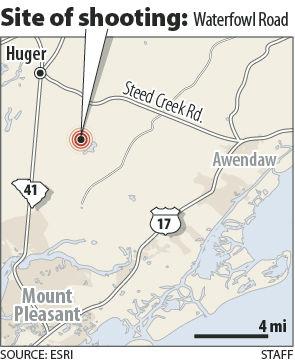 The standoff ended, Lewis said, after the man fired at deputies from underneath a shed, a spot he'd crawled to after moving between multiple areas during the shooting. That's when at least one Berkeley County deputy struck and killed the man, Lewis said.
The State Law Enforcement Division will investigate the shooting.
Lewis said the man shot at law enforcement officers with multiple weapons, including a shotgun, a rifle and handguns. The situation was "chaotic" for some time until authorities used a mine-resistant, ambush-protected vehicle to get close enough to negotiate with the man.
The man at one point told authorities he was going to surrender but then continued shooting.
"At some point during this shootout ... the suspect kept yelling at the deputy, 'I'm going to finish you off,' " Lewis told reporters during a news conference Tuesday evening.
The man had been staying with a friend in the neighborhood, where residents told authorities they had encounters with him about his speeding in recent months.
Tension apparently escalated Tuesday when a neighbor asked him to slow down on the street. Lewis said the resident reported that the man then brandished a weapon.
The deputy who responded to the complaint at about 3:20 p.m. spotted the man driving and pulled him over. That's when Lewis said the suspect "took cover" and fired the first shots.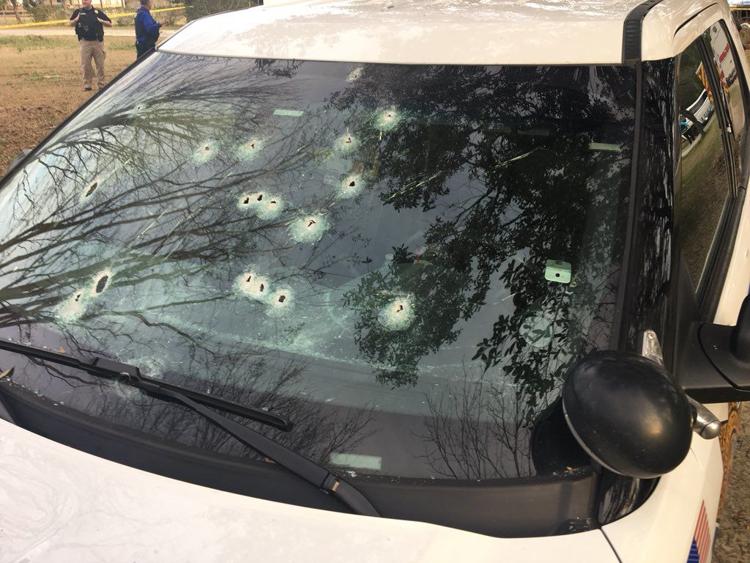 The man had weapons in his possession and "in and around his vehicle," Lewis said.
The friend who the man was staying with arrived on scene during the shooting and attempted to help officials negotiate with the man. Lewis said she is now cooperating with investigators. 
Lewis did not have further information about the man on Tuesday night.