Lucile MacLennan, a heralded native plant champion who spent much of the past century elbows deep in South Carolina soil, died on Nov. 29. She was 101 years old.
Widely beloved, MacLennan's passing comes mere months after she received South Carolina's highest civilian honor, the Order of the Palmetto. 
When state Sen. Chip Campsen, R-Isle of Palms, presented the award on behalf of Gov. Henry McMaster, he said in a statement, "At 101 years old Lucile MacLennan has one of the finest minds I have ever encountered. … She is astute in horticulture and theology, borne out of love for nature and the God who created it."
Throughout her life, the energetic MacLennan was constantly curious and eager to soak up knowledge like her beloved plants soaked up the sun. 
Ever game for uncharted terrain, geographically and otherwise, she frequently traveled with her husband of 32 years, the late Murdock MacKenzie MacLennan, who died in 1978. Making her first trip to Europe when she was 50, she toured all manner of European gardens, from English to Italian Renaissance. She also delved deep into archeology, at times bringing back architectural salvage to feature within her backyard flora.
A life force in her own right, at 92 she made a trip to Paris with her friend Harriet Reavis after reading an article in the Wall Street Journal about the church Saint-Etienne-du-Mont and determining she had to see it.
According to Reavis, MacLennan was knowledgeable in many areas. She worked diligently to keep up with current affairs, reading newspapers with a magnifying glass when her eyesight began failing. A voracious bibliophile, she had also once studied with the celebrated cultural leader Laura Bragg, director of Charleston Museum.
"She and I often tried to figure out what exactly qualified a book to be called well-written. And we loved to exchange new words that we came across with each other," Reavis said.
But it was MacLennan's devotion to God's green Earth that shaped her early days.
As a young girl growing up in Anderson, she was introduced to plants by her father, who shared both their botanical and common names.
She became immersed in the three gardens of her parents as well as her grandparents, who were farmers. 
"I planted my first marigold seeds, and I was hooked," she told The Post and Courier in 2020, and attributed her longevity to the time spent tending her treasured plants.
Moving to the Lowcountry in 1954, MacLennan became fascinated with its native plants. She later became a student of Mrs. F.H. Horlbeck, who taught her over a period of 10 years.
The pair would venture out almost every Wednesday, scouting around the Lowcountry's forests and swamps to collect and identify plant specimens along the lines of the native Sarracenia purpurea and the spikey white Clethra, ultimately collecting about 240. 
According to Reavis, MacLennan would describe herself as having "red clay in my blood and Spanish moss in my hair."
When the family settled into their home in the Crescent neighborhood over 50 years ago, she got to work creating a vast Lowcountry garden with an emphasis on native species.
At the same time, she was also said to be one of the few gardeners in Charleston who could pull off growing peonies.
It was a verdant wonderland encompassing both the formal and the wild, with a lush forest canopy, tucked-away gazebos and placards celebrating the virtues of the natural world, among them a quote by Dante: "Nature is the art of God."
For a devoted Bible scholar who was known to say "To God be the glory," her garden intertwined with her faith.
MacLennan taught Sunday School for 40 years and was a member of First Baptist Church in Charleston. She also had a deep interest in Prison Fellowship, the Christian nonprofit serving prisoners, former prisoners and their families, once bringing its founder Chuck Colson to Charleston to speak at First Baptist Church. 
According to Melissa Fuller, whose family was close to MacLennan, she would often pay to bring speakers to Charleston, with few knowing that she underwrote the costs.
"Mrs. MacLennan was always so generous," she said. 
MacLennan's own roots ran deep in the American soil, descended from a long line of Virginia, Georgia and South Carolina patriots, including an ancestor on the Mayflower.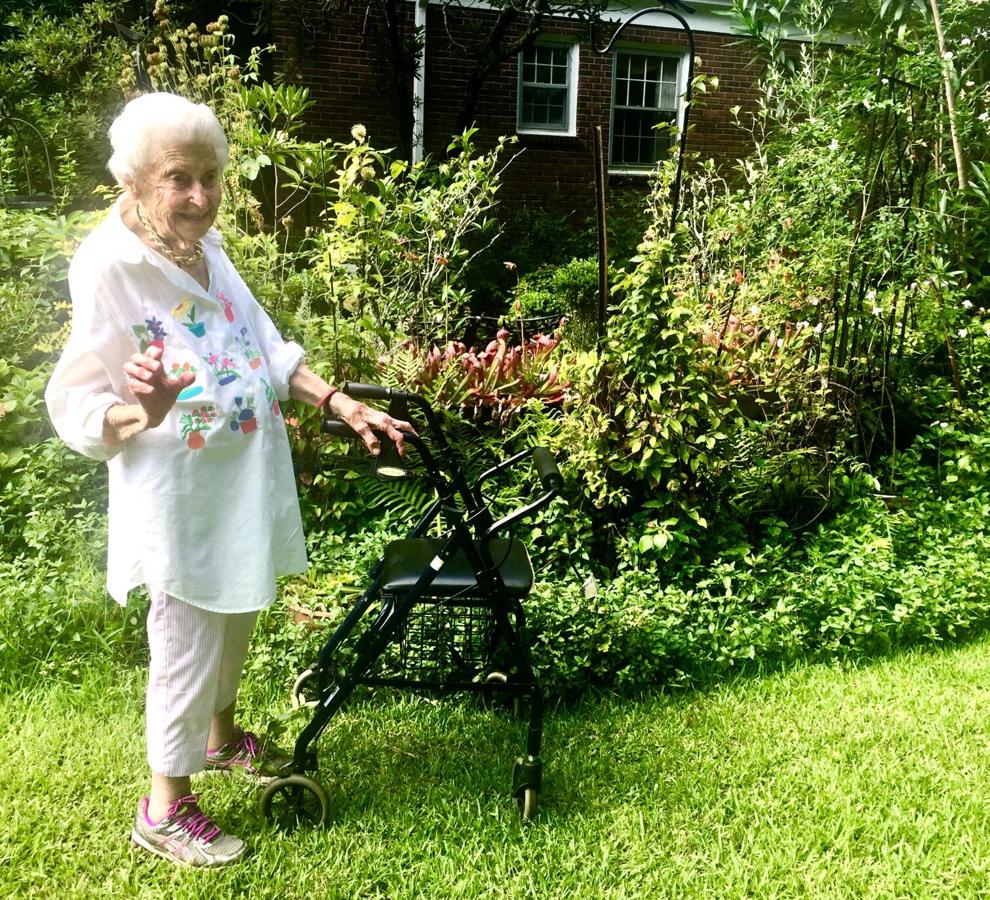 At the same time, she was known to embrace people of every background and age, encouraging friends to get to know one another. Inviting one and all from around the world to take a stroll through her wildflowers, she shared seedlings she grew in eggshells or bestow a starter Japanese red maple plant.
Her friend Patricia Hollon Byrd observed her genuine love for all people expressed in many ways in the time she knew her. "I had once stopped by her house only to see a line of people waiting at her back door to speak with her. I quickly learned that it was best to make an appointment."
Whether popping around or staying the night, guests were greeted by a gracious hostess, who at 101 was smartly decked out in crisp outfits, perhaps topped off with embroidered flowers.
She would urge all to wend through her mini woodland, readily rattling off a succession of Latin names. Then, she guided company to an alfresco courtyard fashioned at the end of her driveway to sit and sip her special iced tea made with fresh mint from her garden and talk about favorite authors.
"Perhaps her most endearing quality was to make each person she met feel special," said Reavis. "She was truly interested in every person she met, and that is why each new person soon became a friend."
At her 101st birthday gathering in July, MacLennan was surprised with the Order of the Palmetto. She was also a recipient of the 2010 Charleston Horticultural Society 1830 Award.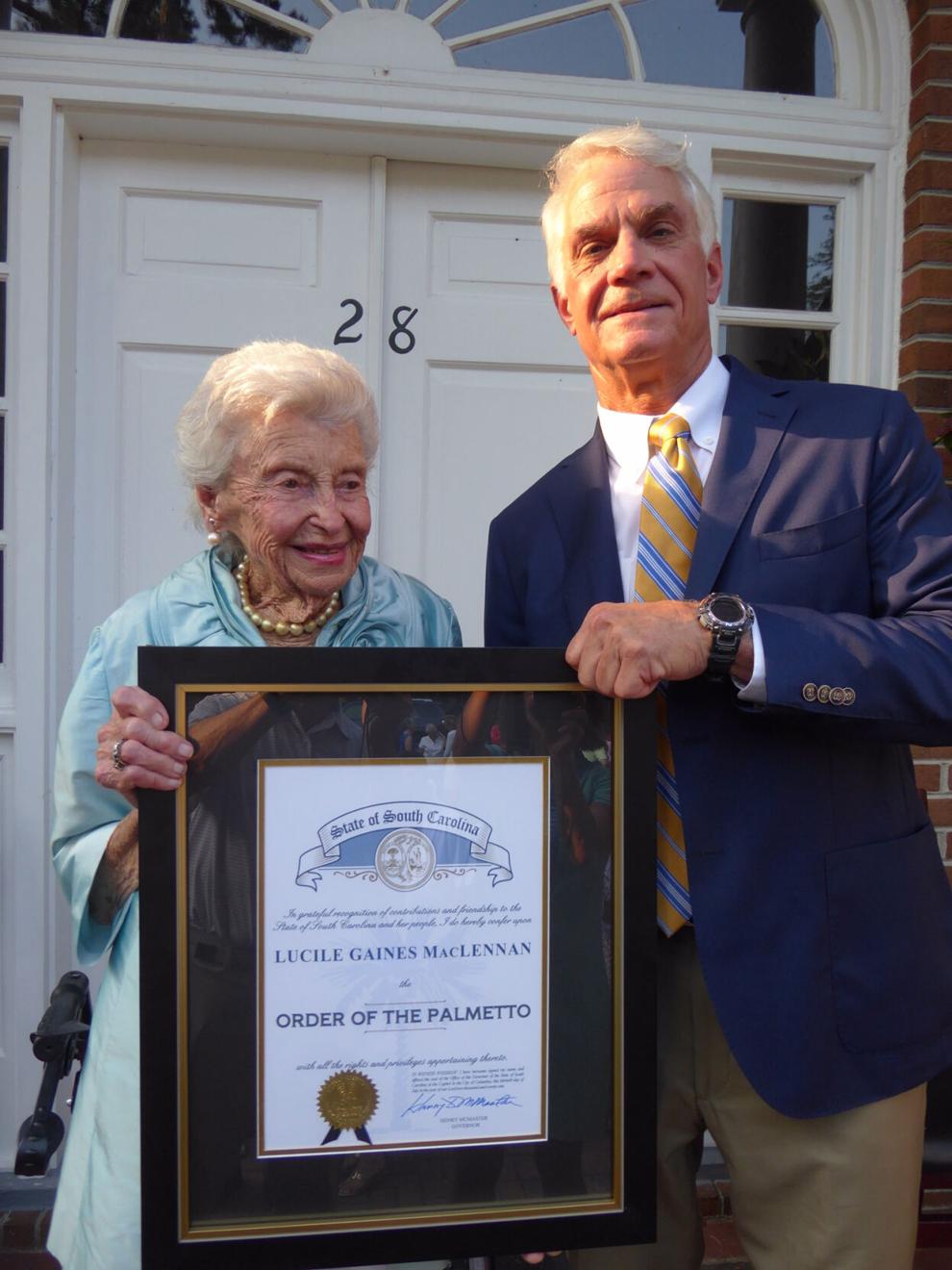 "There are just not that many people in this world like Lucile," said Reavis. "Those of us who call her friend are blessed because her influence on us has made us better people."
Lucile Talmadge Gaines MacLennan was born on July 30, 1920, to Thomas Rucker Gaines, M.D., and Lucile Talmadge Gaines.
A graduate of Agnes Scott College, she taught French and Spanish in Girls High School and Boys High School in Anderson. She served as president of the Charleston Association for the Blind; as a board member of the André Michaux Society; as president and member of the Century Club. She was also a member of numerous other organizations over the years, including The Garden Club of Charleston, serving since 1967, the Native Plant Society and the Charleston Horticultural Society.
She was predeceased by her parents; a sister, Gloria Klugh, of Anderson; and her husband.
She is survived by her son and daughter-in-law, Thomas Gaines MacLennan and Jane Gilliland MacLennan; daughter and son-in-law, Margaret MacLennan Barron and Thomas Willis Barron; 6 grandchildren; 10 great-grandchildren; and niece, Lucile Talmadge Klugh Pidgeon (Philip).
The family will receive visitors Dec. 1 at 1 p.m. in First Baptist Church in Charleston, 48 Meeting St. The celebration of her life will follow at 2 p.m. in the church. Arrangements by J. Henry Stuhr, Inc. Downtown Chapel.
In lieu of flowers, memorials can be made to First Baptist Church, Prison Fellowship, Water Mission and Trident Technical College.