North Charleston police brought on nine new officers around the start of the year, but don't expect them to be out patrolling the streets any time soon.
A backlog at South Carolina's lone law enforcement training academy has led to months-long delays before new recruits can get into the classes they need to become sworn officers. North Charleston's nine recruits are on hold until May, unable to perform the jobs they are being paid to do.
North Charleston Police Chief Reggie Burgess said the state desperately needs additional training options to get officers on the street sooner and ease the burden on the state Criminal Justice Academy in Columbia. He is pushing a plan to offer basic police training at Trident Technical College, a concept that could be replicated at other tech schools throughout South Carolina if successful.
Charleston Police Chief Luther Reynolds also sees a need for a regional basic training facility in the Charleston area. But he would prefer a police-run program with representatives from area agencies, an approach he contends would better orient recruits to their communities and needs here.
Both proposals have one thing in common: The state wants nothing to do with them.
Reynolds and North Charleston officials pitched their respective plans to top law enforcement officials in the state capital earlier this year and got a tepid response at best — "zero interest," in Reynolds' words. Academy officials are instead forging ahead with a new model that uses videotaped lessons to free up class space and get more recruits through the door.
Undeterred, Burgess and Reynolds continue to push their plans, hoping to convince state officials that a more aggressive approach is needed at a time when many police agencies are struggling to recruit and keep officers. North Charleston alone has 26 vacancies on a police force that should have 362 officers. The two chiefs stress that they aren't knocking the academy's offerings. It's just not enough, they argue.
"It's a model that needs to change," Reynolds said. "We're not in a bad place. I just think we can be in a much better place."
The concept of a Lowcountry police academy has come up before — several times, in fact. Most recently, then-Charleston Police Chief Greg Mullen floated a plan in 2008 to create a Charleston-area training facility that could eventually serve departments from Beaufort to Myrtle Beach.
Then, as now, the academy in Columbia was jammed to capacity and saddled with a long waiting list. But Mullen's plan got swatted down anyway by the academy's governing board, which is heavy with law enforcement leaders based in the Midlands.
Academy officials have long been protective of their turf, favoring a centralized facility that provides a uniform level of training to officers from departments both large and small. They worry that consistency will be lost if the system is fractured. The academy, perennially strapped for cash, also is leery of competition that might siphon off training funds, which Reynolds and Burgess insist they don't want to do.
Breaking the bottleneck
The central academy runs mainly on revenues from traffic ticket fines and fees, which have tumbled about 33 percent in the past decade, falling from about $9.2 million in 2008 to $6.2 million last year. Law enforcement leaders, including Charleston County Sheriff Al Cannon, have been pushing lawmakers to dump that model and dedicate a stable stream of money in the state budget to the academy's needs. Gov. Henry McMaster's executive budget calls for $9.7 million to be devoted to that cause, but it's anyone's guess whether the Legislature will go along with that plan. 
South Carolina is one of only a handful of states with a single training academy, a model that's remained unchanged for five decades despite a doubling of the state's population in that time. Georgia, North Carolina, and Florida all have multiple training sites, with the Tarheel State making use of both technical colleges and large police departments to handle basic training classes. Nationally, educational institutions such as two-year colleges operate nearly half of all law enforcement training academies, a 2016 Bureau of Justice study found.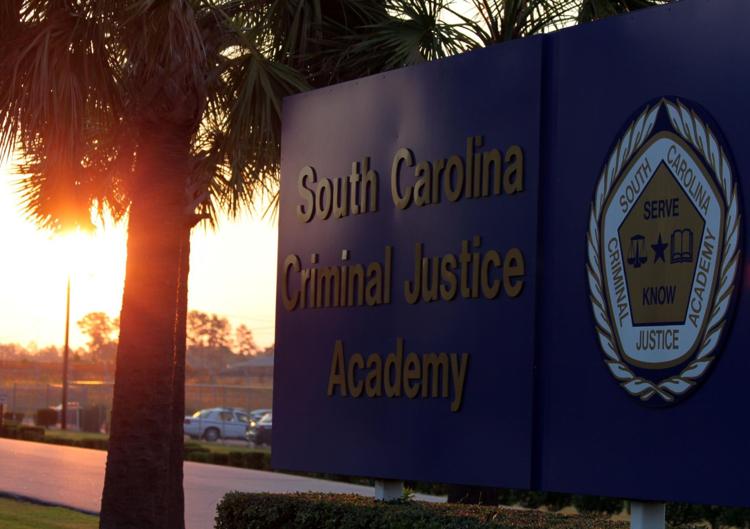 Academy officials insist their approach works best for South Carolina, though the 16 basic training classes they offer each year are consistently filled to capacity. Between 850 and 900 local and state law enforcement officers graduate annually, but that's not enough to keep up with the number of officers leaving the profession, Academy Director Jackie Swindler said.
During the 12-week sessions, which are provided at no cost to recruits or their departments, instructors teach aspiring officers the basics of handling evidence and firing guns, making traffic stops and writing reports. The academy also monitors certification for the state's 14,000 law enforcement officers — about 2,000 fewer than South Carolina had a decade ago.
The average wait time to enroll a police recruit into the academy exceeded three months in 2018. Some departments hire only certified officers to avoid the wait, a practice that for years has allowed cops with tarnished records to keep working in the field, even after being fired for misconduct. Other agencies, like Charleston, find tasks for uncertified recruits to do until class space opens. But their preference would be to get them on the street doing the jobs they are being paid to perform. 
Burgess argues that expanding training classes to the technical colleges will help reduce the academy's burden and free up classroom space in Columbia while still operating under the state's curriculum and oversight. The move would also qualify candidates for S.C. Lottery scholarship money and enable them to work toward a college degree. The new program could be up and running in a matter of months, and then rolled out to the state's 15 other technical colleges, he said.
"This is not something we just dreamed up," Burgess said. "It's already happening in other states, including our neighbors."
North Charleston Deputy Chief Greg Gomes said another advantage is that recruits would no longer have to spend 12 weeks in Columbia getting trained, a requirement that can scare off quality candidates with young children or family obligations. Though technical schools would require tuition, it might be cheaper in the long run for departments to cover that cost than to keep paid recruits sidelined for months awaiting an academy slot, he said.
Academy officials aren't convinced the technical colleges are set up to offer police training, but Trident Tech's president, Mary Thornley, has no such qualms. Her school already has a criminal justice program with police veterans on staff, and Trident's bread and butter is training students for a variety of careers, she said.
"We are in a position in every way, shape and form to be supportive of what our local police department hopes to do," she said.
Another approach
Charleston's Reynolds, who ran a police training program in Maryland's bustling Montgomery County, is convinced the Lowcountry has the talent and resources to create its own academy that can meet or exceed the offerings in Columbia. Charleston police already run a pre-academy program instructing recruits in everything from local ordinances to defensive tactics.
Reynolds said an expanded local program would better prepare recruits for the unique needs of their communities while building relationships with officers from neighboring agencies. That makes more sense, he said, than a one-size-fits-all approach designed to meet the needs of more than 300 law enforcement agencies around the state, each with different cultures and challenges. And he is convinced he can do it for less money as his agency already has trainers, as well as a shooting range, a driving course, and classroom space.
"We have the ability to do it, we want to do it and we can do it well," he said.
Mark Keel is chief of the State Law Enforcement Division and the longtime chair of the academy's governing board, the Law Enforcement Training Council. He said he believes Reynolds and Burgess are sincere in saying they don't aim to cut into the academy's funding. But he said he also knows that circumstances can change and city leaders down the road may well demand compensation if they are training their own.
That would hurt the academy's bottom line, Keel said, and undercut its mission to provide equal training to all. The majority of police agencies in the state have less than 25 officers and lack the resources to start a training academy like Charleston envisions. Paying to attend a technical college might also be beyond their means, making it even harder for small departments to recruit aspiring officers, he said.
The heads of South Carolina's police chiefs and sheriffs associations expressed similar concerns to The Post and Courier.
Still, the academy realizes the training backlog has been a problem for agencies, Keel and Swindler said. They hope to reduce that wait time through a new program that will allow recruits to get four weeks of instruction at their home departments watching videotaped lessons taught by academy instructors. This should free up classroom space at the academy, allowing for more sessions that can potentially graduate another 500 officers a year, Swindler said.
"This will allow us to address what we kept hearing about — the need for more capacity," Keel said, adding that the response has been overwhelmingly positive from agencies around the state.
Ryan Alphin, executive director of the S.C. Police Chiefs Association, said the new approach is a good compromise that will allow the academy to test the effectiveness of expanding basic training outside its main campus.
"I think we need to go into this with one foot forward and not go all the way into the deep end right away," he said.
Reynolds and Burgess aren't convinced the program will be enough, or that videotaped lessons will be an effective alternative to classroom instruction. Despite the state's survey, both chiefs say their proposals have also garnered solid interest from other police officials.
But one key figure who is not on board is Cannon, the Charleston County sheriff. He said he doesn't see the need to rush into a new approach, particularly when the region doesn't have agreement on a plan or a demonstrated history of working together on large training initiatives. He contends local officials would be better off working with the academy to get more money from the state budget. 
"I don't know why they think the academy should have all this confidence in us down here," Cannon said. "We went up there with ideas, and that's all we had. If I was sitting in the academy director's seat or on the training council, I would want more than that."
Still, Francie Austin, a North Charleston deputy city attorney, said her reading of state law indicates that the Law Enforcement Training Council has a duty to maximize training opportunities and, therefore, must consider approving outside programs that meet state standards. At the very least, she said, the council needs to consider and formally vote on the city's plan.
"We deserve to be heard and have a vote," she said.