Businesses and nonprofits shut down across South Carolina during the coronavirus pandemic. 
With food insecurity at an all-time high, turning off the lights simply wasn't an option for one local organization.
In 2020, the Lowcountry Food Bank stepped up to deliver more food and essentials than it had in any of its previous 37 years in operation; 39.7 million pounds to be exact, up 7.6 million from 2019. A separate scratch kitchen adds another 5,000 meals per week earmarked for children and seniors.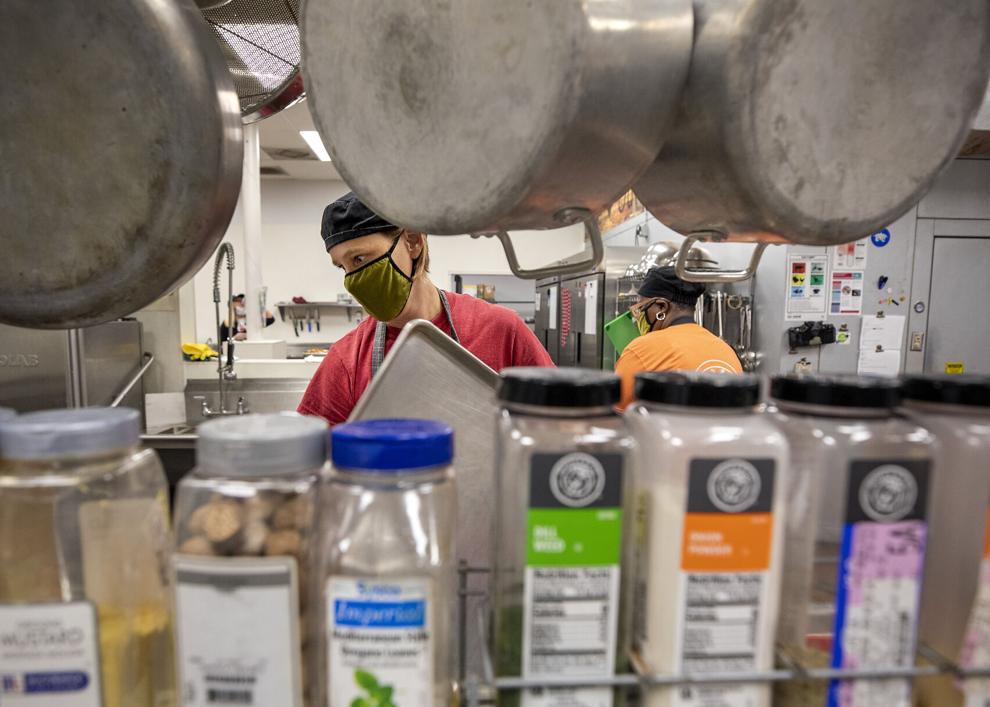 According to Lowcountry Food Bank chief development officer Brenda Shaw, the nonprofit is on track to deliver even more in 2021 through its more than 300 partner pantries. 
"Our community has been so supportive. I am concerned about donor fatigue, but we really do try to communicate with our supporters that the need is still great," Shaw said.
Part of the Feeding America national network, the Lowcountry Food Bank was established as a Charleston-area food trust in 1983. In 2008, the operation expanded to serve residents in 10 coastal S.C. counties with its three regional food centers in North Charleston, Yemassee and Myrtle Beach.
Each week, 15 trucks deliver food to partner organizations up and down the coast. 
In recent years, the Food Bank has increasingly emphasized fresh produce and nutrition at its Azalea Drive headquarters powered by 1,600 volunteers who gave the nonprofit more than 42,000 hours of their time in 2020. 
"We do store tours where we take people that need food assistance to the grocery store and actually teach them about nutrition," Jill Hirsekorn, the Food Bank's vice president of communications, said. 
In 2020, 36 percent of the food leaving the Food Bank was fresh produce, and Shaw anticipates that number will grow to 37 percent in 2021. 
"I think the biggest difference is that we had to change our model of distribution," Shaw said. "We really want to give the people we serve the ability to choose the food."
Cooks in the kitchen 
The Zucker Family Production Kitchen has been a cornerstone of the Lowcountry Food Bank's mission to serve healthier food since its 2010 opening inside the Food Bank's headquarters.
For the past five years, food works chef Emily Cookson has led a group of 40 volunteers (six to 10 on a daily basis) who make those 1,000 meals per day, five days a week. 
"For a while it was a teaching kitchen, so they worked more towards skill learning. It wasn't really about pumping out meals to the community," Cookson said. "We sort of changed directions, and the last few years we decided we wanted to be more of a production kitchen."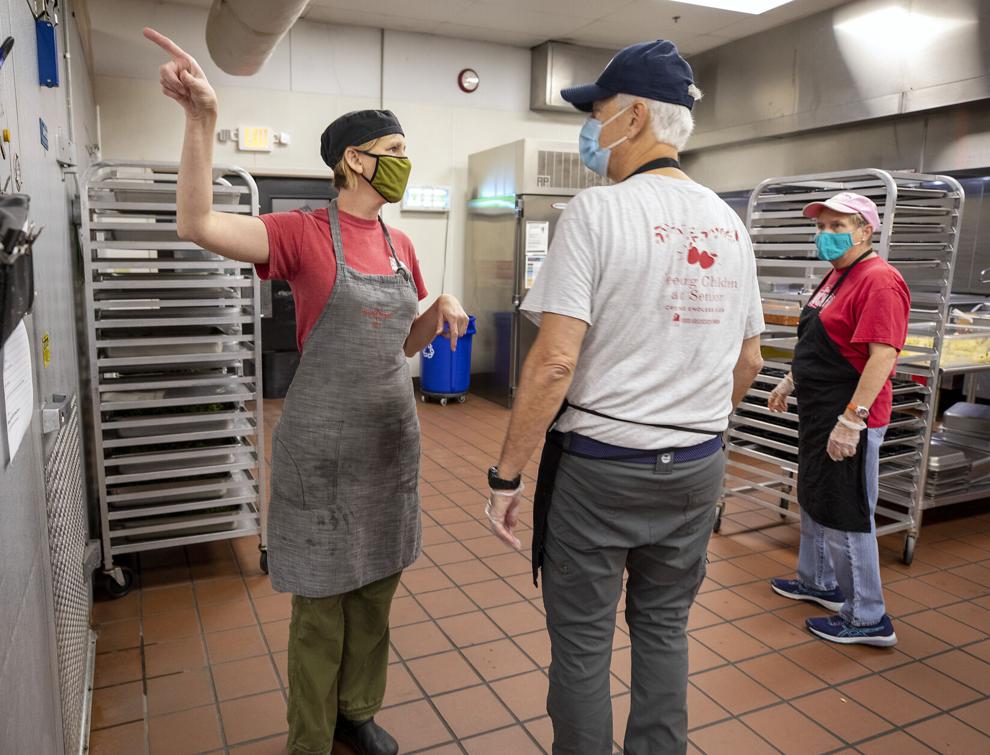 On Dec. 9, the production kitchen will celebrate its 2 millionth meal since its 2010 opening. According to Cookson, 1 million of those were delivered in the past four years. 
The kitchen mainly supplies hot meals for after-school programs, veterans and homebound adults in food bank's 10-county service area. The Production Kitchen distributes through Meals on Wheels partnerships like Cooper Meals on Wheels in Mount Pleasant.
About half go to kids' after-school and summer programs and half to seniors and homebound adults, Cookson said. 
"Since I've been here, the senior meal program has grown dramatically," she said. "Seniors definitely make a hard decision between feeding their grandchildren and getting their pets' medicine. Transportation is a big issue for a lot of our recipients." 
Healthy options are a must when serving kids and seniors, so Cookson, who gets a hand with daily duties from part-time associate Johnnie Gibson, takes this into account when developing her menu.
Cookson rotates meals monthly with about 30 options in her arsenal. Hawaiian chicken was on the menu during an Oct. 21 kitchen tour.
"We set our own (nutritional) guidelines," Cookson said. "We have two registered dietitians on staff, and then twice a year I have interns going through registered dietitian master classes." 
Any chef or home cook knows that cooking healthy food takes time. So how does Cookson and the crew do it? 
It starts with fresh produce, meat, cheese and spices procured from Sysco and US Foods. Cookson also credits the kitchen equipment with her team's production.
There's two tilt skillets that can hold 40 gallons of chili, also on the menu Oct. 21. The industrial-sized machine allows volunteers to remove excess grease from the meat. 
There's large stoves and a combination, or combi, oven that Cookson calls her "workhorse" due to its ability to move between pressure-less steam and convection heat. 
"It's amazing. This morning I steamed like 25 pounds of rice, I cooked 350 chicken breasts," Cookson said. "This thing is just constantly working in the morning. I'll steam 120 pounds of vegetables in the morning."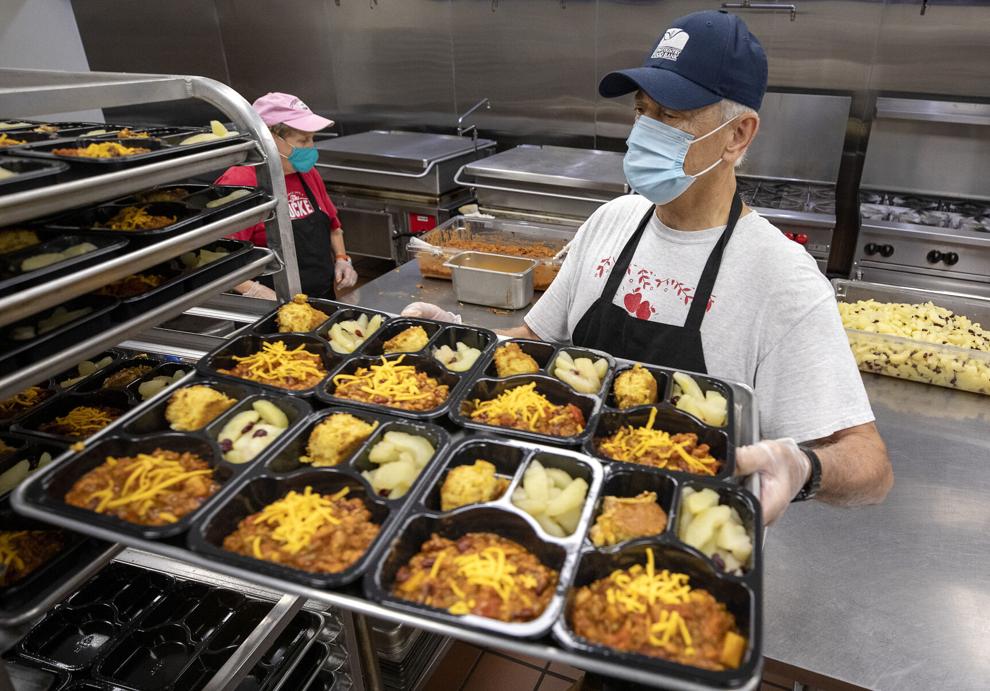 Meals exit the kitchen in a portioned lunch box. A machine seals a plastic lid with a label stating the date, where it was prepared and heating instructions. 
"It's like a self-contained meal," Cookson said. 
Cookson, a Charleston native, is a culinary-school-trained pastry chef who spent 16 years working in fine dining restaurants. The Lowcountry Food Bank's annual Chefs' Feast, set for Feb. 27, was her introduction to the nonprofit. 
This led to nearly seven years of volunteer work in the Food Bank's warehouse that culminated in a leadership role in the Production Kitchen. 
"It's always kind of weird working in fine dining. Food, it has a different meaning there," Cookson said. "It's gluttonous, it's over-the-top, it's celebratory. That's all important, but you kind of forget that people don't always have it." 
Cookson is in charge of day-to-day operations, but she's quick to credit Gibson and her long list of workers that includes longtime volunteers Betsy Walker, Rick and Barbara Simpson and Peter and Cathy Tobin.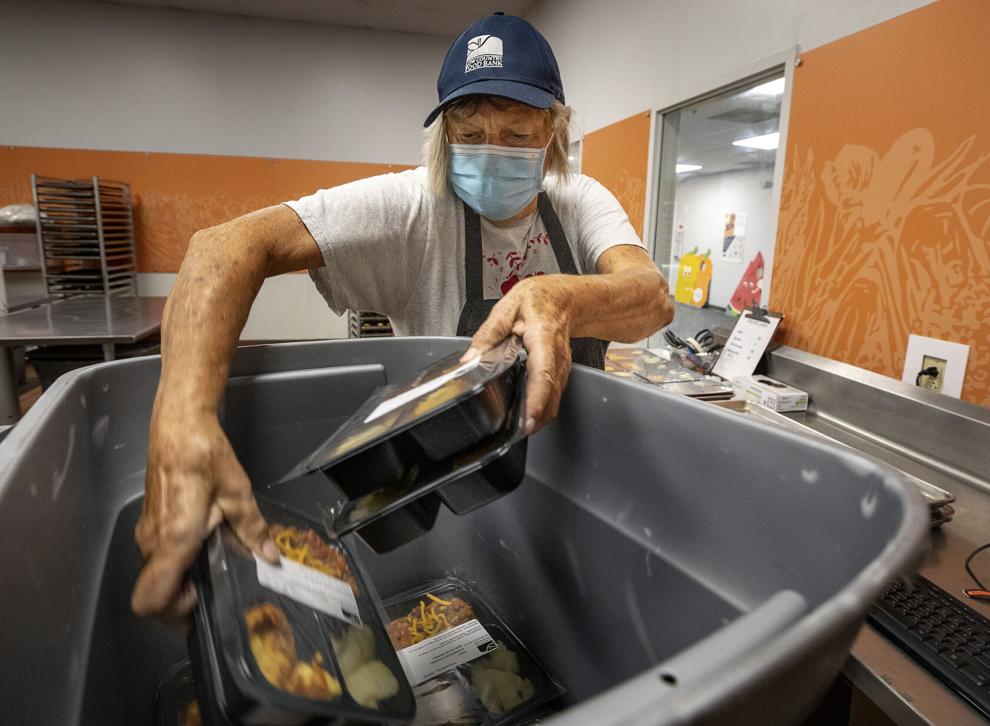 Give thanks and donations 
The Lowcountry Food Bank estimates 40 percent of the people who have walked in the door during the pandemic had never needed food assistance before. 
"Based on the April numbers we received from Feeding America, the percentage of food insecurity changed in April 2020 from 2019 (by) 11.1 percent, or 17,710 people," Shaw said.  
She recalled the 2008 economic recession when it took the Food Bank's network 10 years to return to 2007 food insecurity numbers. 
"Is it going to be another 10 years until we get back to 2019 numbers? We don't know," she said.
There's no better time to give thanks and donations to the Lowcountry Food Bank that continues to serve South Carolina. Virtual food drives that allow supporters to contribute from their homes are essential fundraisers for the nonprofit. 
The next virtual donation will take place on Giving Tuesday, Nov. 30. The Food Bank, which estimates that $1 donated creates six meals, will be celebrating with a $100,000 matching gift challenge with the goal of creating 1.2 million meals in just one day.