An assistant to 5th Circuit Solicitor Dan Johnson charged thousands of dollars on an office credit card for two trips last year to Hopkinsville, Ky. — one that involved a $1,020 orthodontist bill and another that coincided with her nephew's graduation, receipts and other records show.
The charges by communications director Nicole H. Holland raise fresh questions about spending practices in Johnson's office, which prosecutes criminal cases in Richland and Kershaw counties.
A previous Post and Courier review of documents, which were released by new watchdog group PAPR.org, found Johnson spent thousands on pricey meals and flew in his brother, known as DJ Phlava, from Arizona to spin tunes at office Christmas bashes.
After the newspaper's initial report, S.C. Attorney General Alan Wilson asked the State Law Enforcement Division to review whether the solicitor's spending warrants a deeper investigation. Johnson, a Democrat elected in 2010, has declined to discuss specifics about his office's spending, citing the SLED inquiry.
In another twist, the S.C. Ethics Commission said it would recuse itself from investigating Johnson because the commission's new director, Meghan Walker, used to work for him.
Walker, an assistant solicitor under Johnson from June 2011 until her hiring in January, said any ethics complaints against Johnson would be referred to the Attorney General. She declined to discuss Johnson's spending.
The Post and Courier also reviewed expenditures by Holland, which revealed other notable credit card charges. Johnson personally signed off on them, documents show.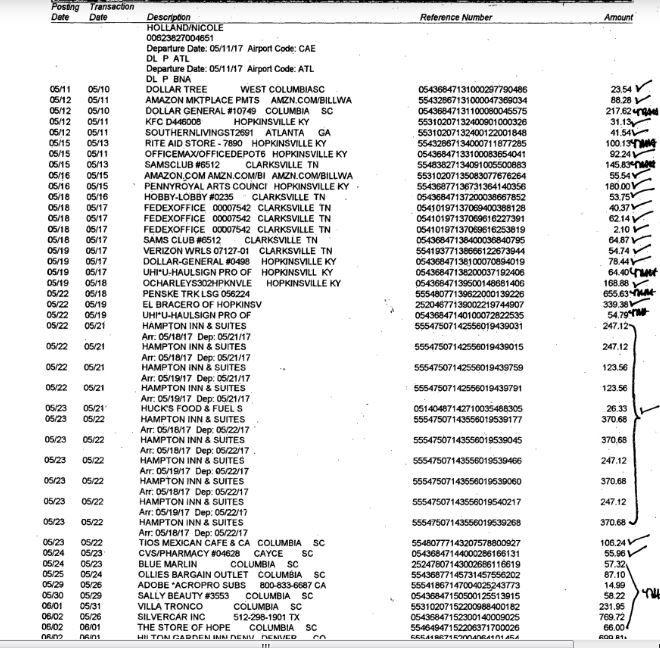 On March 1, 2017, Holland took a $321 Delta flight to Nashville, Tenn., according to a credit card statement. The next day, she charged $1,020 on the office's credit card to an orthodontist in Hopkinsville. Holland has family in Hopkinsville, where her sister had lived before her death from cancer in 2016.
In mid-May of last year, Holland took another flight to Nashville, charging $638 to the office's platinum business card. More than $2,700 was charged for 10 rooms at a Hampton Inn in Hopkinsville between May 18 and May 22. Written on the hotel's invoice were the words "Hotel rooms for conf. planning." There is no additional explanation about the purpose or nature of the expenses.
That weekend, however, an Instagram account under the name "nicolehholland" posted pictures of a celebration, noting that "Over 20 of us traveled to Hopkinsville, KY" for her nephew's graduation. Another post from the account, which has since been locked down, offers congratulations to her nephew.
Other charges in Hopkinsville and Clarksville, Tenn., that weekend include $339 from El Bracero (a restaurant) for what was described on a receipt as "Dinner for all Attendees." The credit card also was charged $655 for a truck rental and $53.75 from Hobby Lobby for "decorations."
The Post and Courier emailed Holland questions about the business purposes of these and other credit card charges and whether the county was ever reimbursed for them.
She answered that "given that the Attorney General has asked SLED to review the matter to determine if further inquiry is needed, it is appropriate for us to provide any further information to SLED at this time." She added that "we welcome the SLED review of our books and records and will cooperate fully with their office. Since this is now a pending matter, we will not comment beyond that."
PAPR.org obtained the spending records recently from Kershaw County using the state's Freedom of Information Act. Led by former journalists and attorneys, the group is working with Dick Harpootlian's law firm to file requests. Harpootlian is a former 5th Circuit Solicitor and ex-chairman of the state Democratic Party.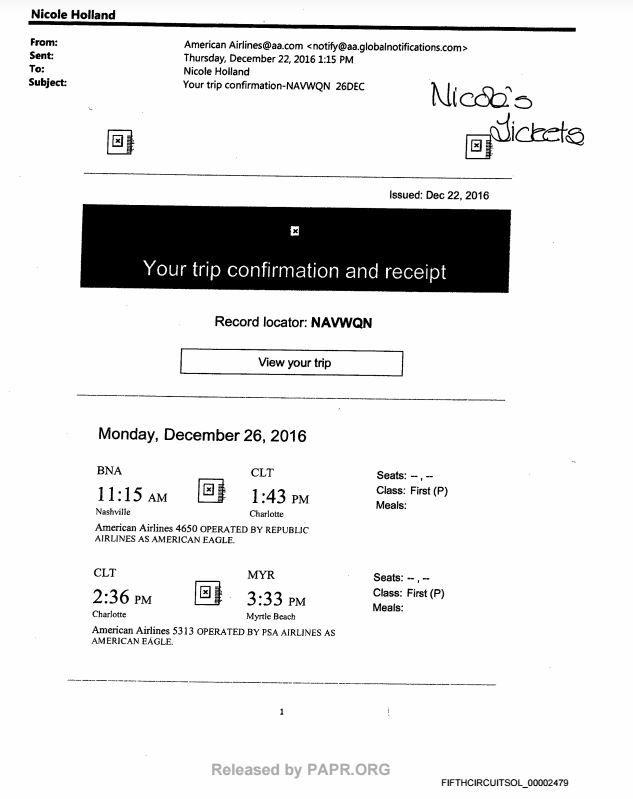 Holland also charged $1,592 in 2016 for first-class plane tickets from Nashville to Myrtle Beach on Dec. 26, the day of her sister's death. The credit card statement doesn't show passengers, but Holland charged two tickets for $796 apiece. A partial receipt doesn't include seat numbers, but under "Class" it states "First (P)."
It's unclear what business purpose Holland had in Nashville or Myrtle Beach. She didn't specify on a cover sheet of her invoices, labeling her charges only as "Expenses incurred by the Director of Communications for the Solicitor's Office." Her sister died in North Myrtle Beach, according to an obituary.
The Kershaw County records do not show whether the solicitor's office was reimbursed for these and other charges.
Invoices and other records obtained by PAPR.org also show the solicitor's office was charged for sponsorships and fundraisers involving Holland and her family members.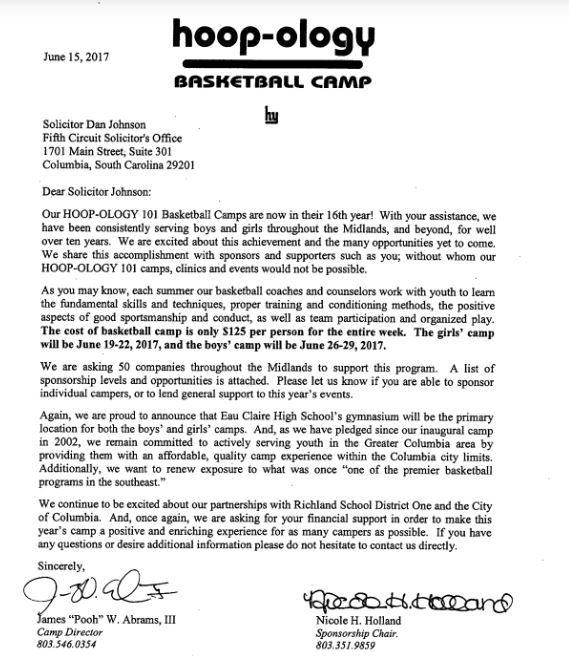 The office paid $1,250 in 2015 and $1,000 in 2017 to sponsor Hoop-ology, a Midlands basketball camp run by James "Pooh" Abrams, one of Holland's relatives. Holland herself is listed as a "sponsorship chair" in a June 15, 2017, letter soliciting donations. Abrams could not be reached for comment Tuesday.