It's a daily ordeal.
Young palmetto rose vendors show up on Market Street — Ground Zero for the city's tourism trade — and peddle their handmade souvenirs. Some visitors avoid the teenage sellers altogether, others relent and buy one or two of the traditional flowers made from palm fronds, and some say "no thanks" and try to move on.
But it's not always a simple encounter, according to merchants, law enforcement officers and city officials.
Sometimes the children don't take no for an answer and become too aggressive. Sometimes they resort to curses and threats. Tourists hustle away, glancing furtively over their shoulders. Merchants cringe, worried that the ruckus is scaring away customers.
The African American rose peddlers are as young as 6 or 7 and as old as perhaps 20. They are part of a long Charleston tradition, and they do add a certain dynamic Lowcountry charm to Market Street, some shop owners and city officials say.
But sometimes they get into trouble.
To sell palmetto roses in the streets, young vendors need to be credentialed by the city and adhere to the guidelines of a municipal program introduced in 2018. But the city's Youth Palmetto Art and Business Program, meant for youth 9-16 years old and administered by the Recreation Department, has not gone smoothly.
In July 2019, city officials shut down three of four vendor tables in the area because of ongoing altercations between credentialed participants and rogue sellers. And this year, the COVID-19 pandemic put it in limbo. It's the product of a city ordinance, so any change must be approved by City Council.
Some of the children don't bother with official protocol, preferring to operate unhindered by city rules. The advantages to going rogue are evident, admits Lt. James Byrne of the Charleston Police Department, who oversees law enforcement activities along Market Street and monitors the street vendors.
"If the overall objective is to make money, then clearly the non-program version of it is more lucrative," he said. What's more, unlicensed youth need no chaperone, don't spend time training, don't deal with municipal bureaucracy and aren't limited to a specific area in Waterfront Park.
If the youth catch sight of a police cruiser, they scatter, generally avoiding discipline, Byrne said.
That's what happened in June 2019, when the Rev. Rob Dewey of Lowcountry Community Chaplaincy intervened in a scuffle between peddlers and tourists. The street peddlers berated the tourists and a shop owner, Dewey said. The youth then boarded a nearby city bus, but when one of the visitors called 911, they jumped off, went around the corner onto Meeting Street and hopped on a different bus.
"It was a scary situation," Dewey said.
Last week, a local freelance journalist, Quintin Washington, reported he was attacked by two teenagers along Market Street who hurled rocks and punches after they overheard Washington ask a friend on the telephone why the kids weren't in school. The kids, 13 and 14 years old, were arrested on assault charges.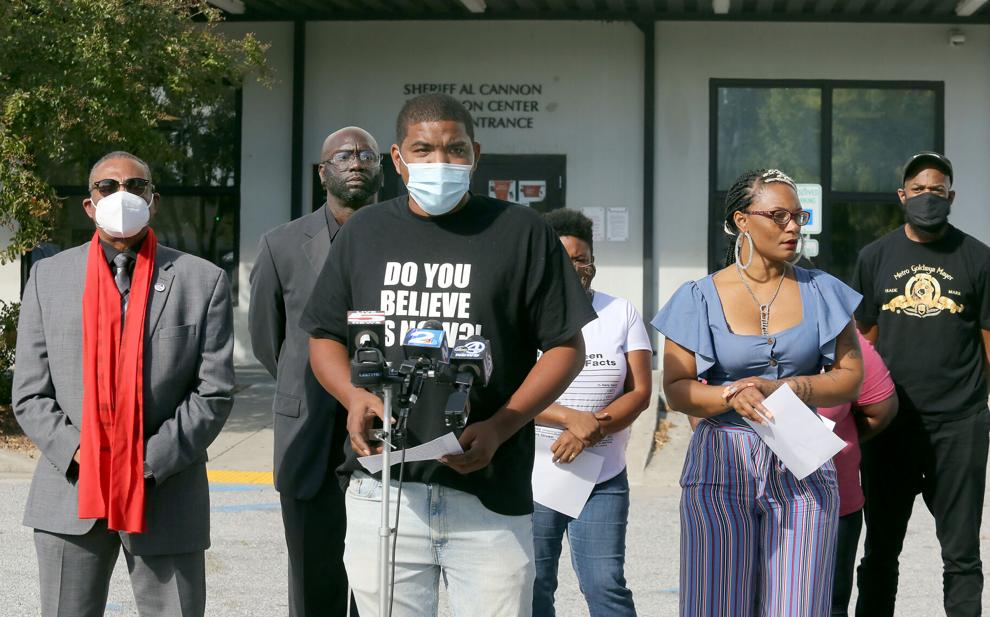 They had spent nearly a week in the Charleston County jail when, on Wednesday afternoon, civic leaders delivered a statement to the media promising to support the children and their families and provide ongoing educational and entrepreneurial mentorship.
"We are seeking the immediate release of these two young boys so that we can begin the journey to healing and to wholeness," said Sharea Washington of the Phoenix Project. "We have collectively decided to take on the responsibility of their mentorship, their growth and development."
On Thursday, a Family Court judge ordered the released of the two boys, according to attorney Mark Peper, who has provided assistance to their families.
'Negative vibe'
The program was a good idea, but it has caused unintended consequences, according to Pastor Thomas Dixon, a civic leader in Charleston's Black community. It fails to address the underlying problems that produce rogue sellers in the first place, he said. And the program contains within it disincentives that discourage some young people from signing up.
City officials meant well when they sought to address an ongoing problem by devising the Youth Palmetto Art program, but they sold the potential for constructive change short, Dixon said. A broader communitywide approach was needed.
"More could've been done incentivizing participation in the program through academic circles, in schools," he said. Offer comprehensive entrepreneurship training to young students, forge partnerships among institutions, and create a wider roadway with more entrance ramps, Dixon said.
"Kids over a certain age also should be given opportunities to run their own business," he added.
And perhaps before permitting a teenager to run a city kiosk, he should get a couple years of training and apprenticeship.
"We need holistic solutions," Dixon said. "We can't just have part of the problem addressed and not the entire thing. That's why we see the same thing happening over and over again."
Alicia King, the new manager of Market Street Sweets, said the young peddlers sometimes are fine, but too often are rude. They say they're raising money for their basketball team or some other cause, but aren't very convincing. King, who is Black, would be more forgiving if they were honest.
"Tell the truth," she said. "Don't scam people."
On one occasion, they stole the store's tip jar, she said.
Anna Mack, owner of the women's boutique Magnifique, said the problem was a lot worse when she opened the shop four years ago. Things have improved in the past two years, perhaps because of the city's efforts, she said.
Mack has seen 15 youths spill from a van and scatter. And she doesn't much like it when they congregate near the shop, causing potential patrons to turn away.
Magnifique sales associate Anna Campbell said it can be hard to resist a nicely made palmetto rose, which makes a great souvenir of Charleston. She just doesn't like how the children tend to corner and pressure people.
Bus driver Bianca Best, whose route includes Market Street, said the young peddlers do tend to holler a lot, and to intimidate passersby with their cursing. They get angry when tourists refuse to buy a rose, she said.
Best, who is Black, also has observed visitors new to the area jump to conclusions, she said. They give the children a wide berth perhaps because they assume that, since the peddlers are Black and a bit rowdy, they're up to no good. That results in a "negative vibe" that serves no one's interests.
'A balance issue'
Laurie Yarbrough, director of the city's Recreation Department, said the program has been refined over time. It began with roving peddlers wearing T-shirts and credentials, but some expressed concern, so the city identified several spots where tables and tents could be set up. After confrontations between authorized and unlicensed peddlers, the city limited the program participants to a single location.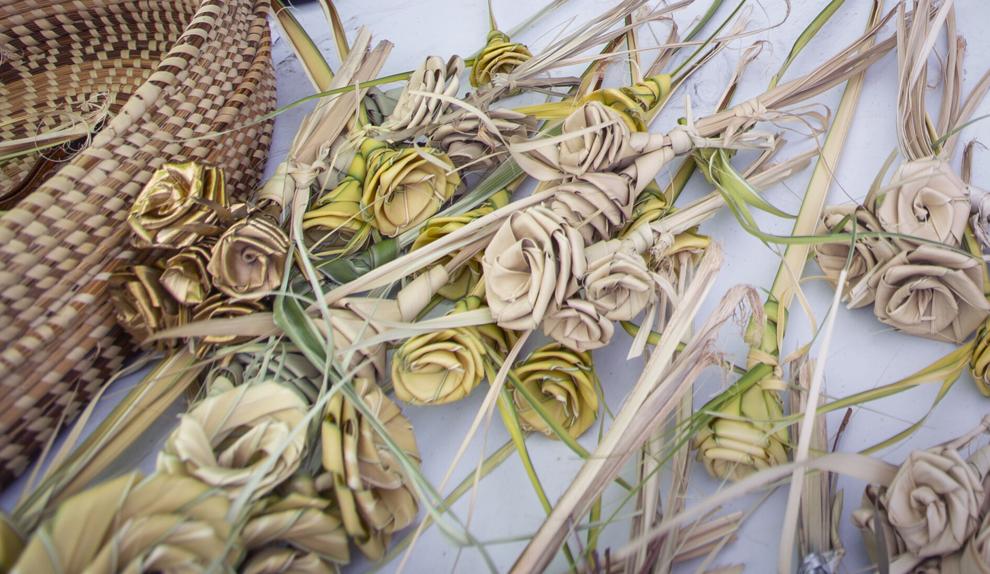 In 2019, the program issued permits to 35 children, Yarbrough said. This year, mostly because of the pandemic, no one has signed up since February.
Only the unlicensed sellers are left on Market Street.
She said, she hopes the no-fee program can ramp up again and serve as many children as possible. It certainly has its advantages: training, a free supply of palm fronds, options to sell in Waterfront Park or make roses in bulk at home to fill orders placed with the city by organizers of weddings and special events.
When school is in session, participants only are allowed to operate on weekends, Yarbrough said. A Recreation Department employee supervises.
"We look at these children as artisans," she said. "We would embrace the opportunity to broaden the program and partner with community organizations. I just think it's going to take a lot more folks coming together to make that happen."
Byrne said it's a struggle to achieve balance.
"As a police department, we respect that palmetto rose artistry," he said. "It is a culture phenomenon unique to the Lowcountry, to the Charleston area. The roots go back hundreds of years."
Police officers in no way want to diminish the importance of this art form or prevent people from making and selling roses, he said. The law enforcement objective is to mitigate the unwanted side effects: harassment and trespassing onto private property to steal tender palm fronds.
"We don't want to go out and spend law enforcement resources on policing artwork, but we will and do commit ourselves wholeheartedly to things like theft, and threats and assault," he said. "That's where we draw the line. That's when we do say it is a police matter."
In the Police Department's effort to strike a balance, it has strived to educate and deter before problems arise, Byrne said.
So, officers will ask the youths why they're not in school, contact school resource officers and parents, and reach out to community partners and mentors, he said. They try hard to avoid confrontation. They don't want the children running away and potentially endangering themselves and others among the traffic.
An old tradition
In the old days, the city's peddlers, selling food and wares, would sing and chant. The song was their brand, the creative phrases a personal flourish that announced what was available for purchase in the streets of Charleston: fresh fish, fresh fruit, handmade baskets or decorations for the home.
"The practice of vending palmetto roses is definitely part of a much older tradition of casual commerce in the streets of Charleston," Charleston County Public Library resident historian Nic Butler wrote in an email. "Similarly, the city's struggle to find the best methods of both regulating and encouraging that trade echoes similar conversations dating back to the founding of this city."
Butler thinks today's solutions ought to take into account the ancient nature of street vending.
"This sort of informal, ambulatory commerce has existed for millennia and has always been difficult to regulate," he observed. "Perhaps the youths involved in the palmetto rose program might feel empowered by learning about the long history of that sort of business in our community."
Bernard Powers, professor emeritus of African American history at the College of Charleston, said the lower part of the peninsula once was replete with open-air markets and street peddlers hawking a variety of products. Some of the vendors traveled downtown from outlying areas, announcing themselves with their distinctive song, he said.
"This becomes part of the soundscape of the city of Charleston," Powers said.
Street vendors haven't suddenly become a problem, he said.
"In the 1930s and 1940s, some in the city tried to get the flower ladies banned from the Four Corners of Law as a nuisance," he said. "Rather than banning (them), their activities were regulated. Many White aristocrats supported them as part of the city's charm."
The Black fisherman of the Mosquito Fleet sold their fresh catch of the day in the market or on the streets each afternoon. Merchants sold supplies from pushcarts. "Huckstering," as it was known, always was viewed with a degree of contempt in certain circles, which is why the term eventually became a pejorative. But today, the tradition continues in the form of food trucks, ice cream carts, sweetgrass basket sidewalk displays, pedicabs, boiled peanut stands and, of course, palmetto rose vendors.
Byrne said there's no simple solution when it comes to the rose sellers. The young entrepreneurs really can't be blamed for trying to make a buck. But the business community is understandably frustrated. City officials are hard pressed to improve a well-intended program. Nearby homeowners endure trespassers in search of rose materials. Law enforcement is caught between a rock and hard place.
"(Retailers would) be fine if we had cops on every corner every day," he said. "Unfortunately, that's not a realistic solution."
One officer is always assigned to Market Street each day, and Market management has a direct line to the police without the need to go through dispatch. Police officers neither want to arrest those who fail to get certified and break the law, nor do they want to permit a free-for-all, Byrne said.
So they do their best.
"This is not principally a law enforcement solution," he said. "Most of the root causes and motivations should be addressed by people who do not wear badges and guns. ... There's a lot of room for other hands to be in the kitchen here."