ANDREWS — South Carolina leaders announced plans on Aug. 3 to double the state's protected lands by 2050 in an effort to maintain the well-being of the economy and environment.
About 3 million acres of land are already protected in the state. But Sen. Chip Campsen said rapid land development in South Carolina has led to the loss of forests, farms, wildlife and recreational habitats.
So he has worked closely with business and conservation leaders to draft a bill that will be introduced in the upcoming legislative session outlining measures for land protection.
The Conservation and Antiquities Act not only sets a goal to double the total acreage of protected land by 2050, but it calls for a contribution of 25 cents for each $1.30 collected through the state deed recording fee to go to the South Carolina Conservation Bank Trust Fund.
A portion of sales tax revenue collected on the sale of outdoor recreational equipment would also be used to support deferred maintenance and management needs on public lands managed by the S.C. Department of Natural Resources, the S.C. Forestry Commission and S.C. State Parks.
Campsen said local people and governments will be the ones to decide which resources need to be protected. 
"We give them the tools to provide a funding mechanism to do the protection of the areas that they love and they want to preserve," Campsen said at the announcement ceremony at Cypress Preserve. 
The solutions intended by the act would safeguard drinking water, protect rural communities and economies and provide opportunities for state residents and visitors to access open spaces and waterways. 
"Without intentional action, we cannot guarantee these benefits for future generations," Campsen said.
The South Carolina Floodwater Commission has begun to act on recommendations to address the severe weather and flooding the state continues to experience each year.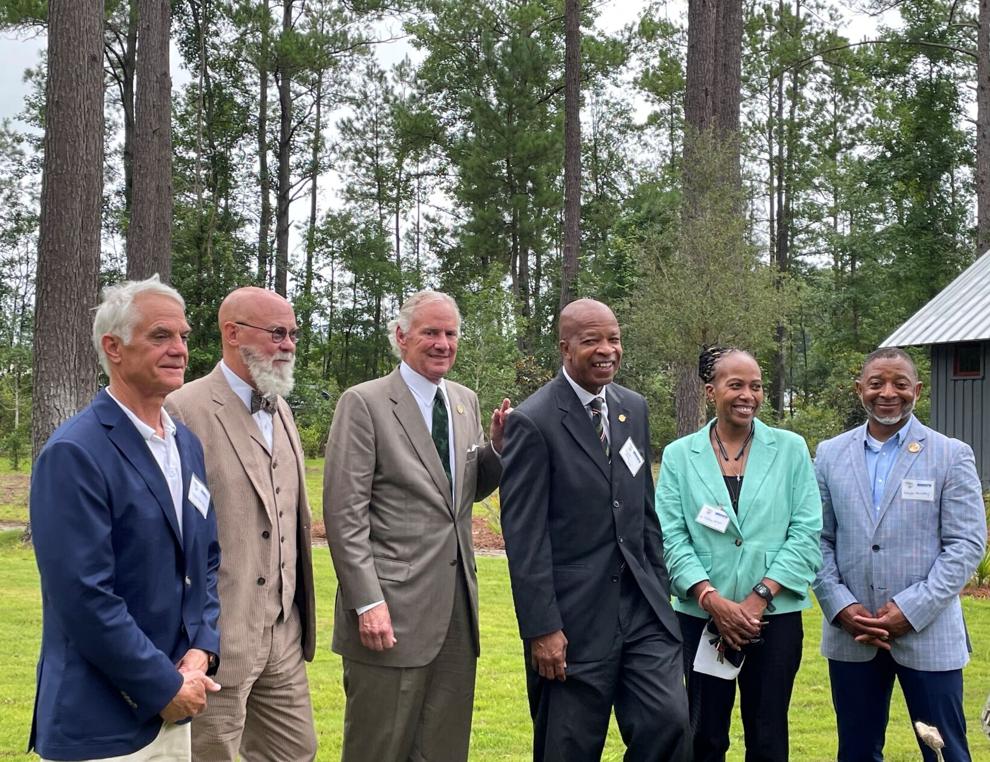 Just last year, a state Office of Resilience was established, and the first chief resilience officer was appointed and confirmed. Additionally, the Floodwater Commission organized S.C. Power Plant, which planted 3.4 million trees in one day in April. 
But the commission's chair, Tom Mullikin, said more must be done. He said the frequent flooding along the coast, rivers and low-lying areas of the state highlight the need for a statewide plan to accommodate and mitigate flooding impacts.
Mullikin said the additional lands protected through Campsen's proposal will provide a "firewall of natural support" from flooding and protect some of the most fragile and beautiful areas for generations. 
Campsen's proposal has gained support from Gov. Henry McMaster, government leaders in Williamsburg and Georgetown counties and conservation organizations in the state. 
McMaster, who attended the Aug. 3 event with Campsen and Mullikin, said part of South Carolina's culture is based on nature, and now is the time to preserve it and teach about it.
Since the start of the pandemic, more people have turned to outdoor activities. And because of this, McMaster said he thinks there is a greater appreciation now for parks, forests, rivers, mountains and beaches. 
"We need to do all we can to see that it is preserved and that the people have access," McMaster said. 
Campsen said there is a lot of support in the state Senate for conservation and his proposal.