Expensive housing is the new reality for the Charleston region.
While more luxury apartments are built in downtown Charleston, Mount Pleasant and North Charleston, rent prices across the metro area continue to climb. Often, people who work in the priciest areas can't afford to live there, so they either face long commutes or have to find jobs closer to home.
Worried about the trend reported by The Post and Courier last year, the thousands of members of the Charleston Area Justice Ministry voted to make affordable housing its primary advocacy issue in 2018. 
The local interfaith group has since put together a Housing Action Plan, which calls on the largest municipalities in the area to pool their resources to get more affordable housing off the ground.
While the proposal hasn't been formalized yet, CAJM plans to ask Mount Pleasant, Charleston County, North Charleston and Charleston to pay into a regional housing trust fund on an annual basis, totaling $15 million. The fund would help build, redevelop or preserve housing that low- and moderate-income residents can afford.
So far, the idea has been met with resistance from area leaders, who say they're already doing their part to address the issue. That's a sign that the proposal is going to have a hard time gaining traction, according to Michael Anderson with the Center For Community Change's Housing Trust Fund Project.
"The No. 1 factor as to whether or not a trust fund is established and funded at an impactful level is political will," he said. 
Things are even more complicated when multiple municipalities are involved, he said, but it's been done in other places like King County outside Seattle.
"I think what Charleston is doing is for sure a big lift, but heavier lifts have been achieved," Anderson said.
Mixed reviews
Council members from Charleston, North Charleston and Mount Pleasant have agreed to serve on a housing coalition with CAJM members, but they aren't all convinced that the trust fund is a feasible goal.
The mayors of those places seem even less likely to support it.
The group invited North Charleston Mayor Keith Summey to CAJM's summit about it in April, but he sent city staff in his place. The group hasn't been in touch with him since. He didn't respond to the newspaper's interview request.
Mount Pleasant Mayor Will Haynie has turned down CAJM's invitation to discuss the matter, saying he didn't think the idea was worth pursuing in Mount Pleasant.
Charleston Mayor John Tecklenburg ignored several requests to meet with the group over the past few months, but city spokesman Jack O'Toole said the mayor decided Tuesday to schedule the meeting. He said the mayor wouldn't talk to the newspaper about his position until after that meeting. 
Elected officials in North Charleston and Charleston have had strained relationships with CAJM for years, which could be why they're reluctant to get on board with the housing fund.
CAJM's annual Nehemiah Action Assembly is designed to challenge policymakers' positions in front of thousands of ministry members, and officials can only respond with "yes" or "no" answers, leaving little room for debate.
Critics have said the format was so confrontational, that it often built resentment rather than consensus on an issue. CAJM leaders this year said they recognized that perception, and the assembly about housing this year seemed to take a milder tone.
The concept of a housing trust fund isn't CAJM's idea. It was recommended in Berkeley-Charleston-Dorchester Housing Needs Assessment report in 2014 but was never carried out by participating governments.
CAJM members say they want the municipalities to do what they said they would four years ago, because the problem is only getting worse.
The typical price for a two-bedroom rental in June was $1,700, up $100 from a year ago, according to Zillow data.
A household would have to earn three times that, $5,100, for an apartment at that price to be considered affordable. Most dual-income households in the region earn less than that.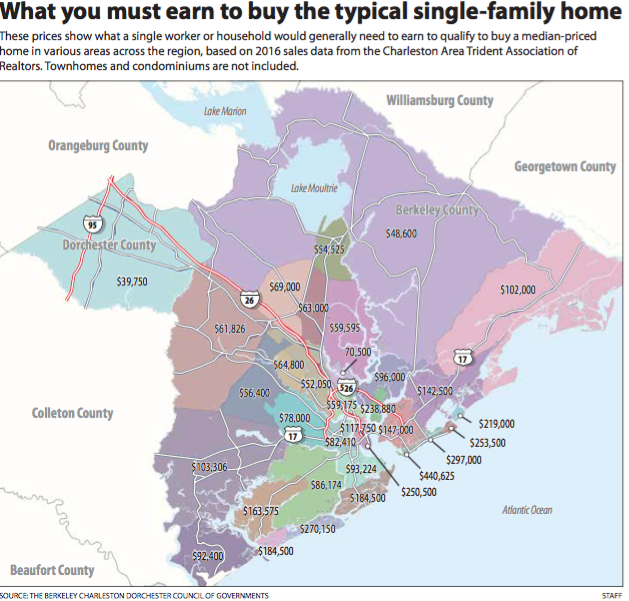 CAJM housing committee co-leader Claire Curtis, a member of Kahal Kadosh Beth Elohim, realizes the solution they're pitching is a big ask. 
"If this was easy, they would have already decided to do it years ago," she said.
Charleston and Mount Pleasant have some of the priciest and scarcest land in the region, so most new housing developments would probably go to North Charleston, where land is cheaper. 
Curtis said that would help even out the regional housing stock to bring back a true price range to the market. 
Mount Pleasant Councilwoman Guang Ming Whitley, who is serving on CAJM's housing coalition, said the town should at least consider the proposal. 
"Because the dirt in Mount Pleasant is so expensive, a regional housing solution is what's going to be necessary," she said.
But not everyone sees it that way. 
Regional solution?
Haynie said Mount Pleasant's workforce is being priced out of the town, which is why Town Council helped create a nonprofit to address the issue, with $50,000 in seed money. 
But he doesn't support dedicating the town's dollars to a regional fund because he suspects the housing would probably be built elsewhere.
"That doesn't solve our problem," he said.
Charleston City Councilman William Dudley Gregorie, who is serving on the CAJM housing coalition, said he's supportive of the idea, but he shares some of Haynie's concerns.
He said the city is already funding affordable housing in various ways. In November, city voters approved a $20 million bond to fund more affordable housing. A plan for how it will be used is expected to go to City Council on Tuesday.
The city also gave land on the East Side to the Charleston Housing Authority for a new 62-unit apartment complex with low-income units. 
Gregorie said he thinks the city can better control its resources for housing if the money stays in the city limits.
"If we take the dollars that we have dedicated to affordable housing and throw it into the trust fund for the development of affordable housing, then what do we do locally? Because we'd be using the same dollars," he said. 
Supporters of CAJM's plan disagree. They say the region needs tens of thousands of affordable units, and without major dedicated sources of revenue, all the municipalities will continue to fall short of what's needed. 
"We're regional enough that we shouldn't say that just because the housing may or may not be built on our side of the property lines, we shouldn't make it happen," said Bill Stanfield, founder of the Metanoia community development organization in North Charleston. "Our workforce and our citizens are crossing these boundaries every day to go to work."
The S.C. Community Loan Fund was originally established by the city of Charleston to function as a housing trust fund. 
But it couldn't sustain itself because it didn't have consistent revenue streams from any level of government, so it morphed into a different model to serve as a lender for local businesses and affordable housing projects across the state. Its annual capacity is about $10 million.
Michelle Mapp, executive director, said the region would still benefit from a housing trust fund.
"It's only going to work if there's a dedicated funding stream," she said.
With the federal government's housing funds shrinking every year, local initiatives — whatever form they take — might be the best hope for those struggling to afford a place to live.