Boat captain Andrew Wunderley of Charleston Waterkeeper, with his first mate and volunteer field investigator Mike Marcell, launched their boat from Charleston's City Marina to collect water samples at 15 recreational hotspots in the area.
Their goal was to test for fecal bacteria, as the group does once a week, and to report the data to state health officials.  
"We shouldn't have to be worried about our health when we jump off the dock or go out for a paddle," Wunderley said on the July 15 outing, explaining that Charleston is surrounded by water including creeks, rivers, harbor and the ocean. "We have to be able to enjoy these waterways without the fear of pollution," he said.
Rainfall is what drives water quality. The more it rains, the higher the bacteria levels are. All the polluted floodwaters and rainwater drain into the nearest creek or river without treatment, carrying with it dog waste, wildlife waste and septic tank and sewage overflows that contaminate the water.
Two cleanup efforts are underway, at Shem Creek and James Island Creek, under state mandates based on seven years of data. Both have shown higher levels of bacteria.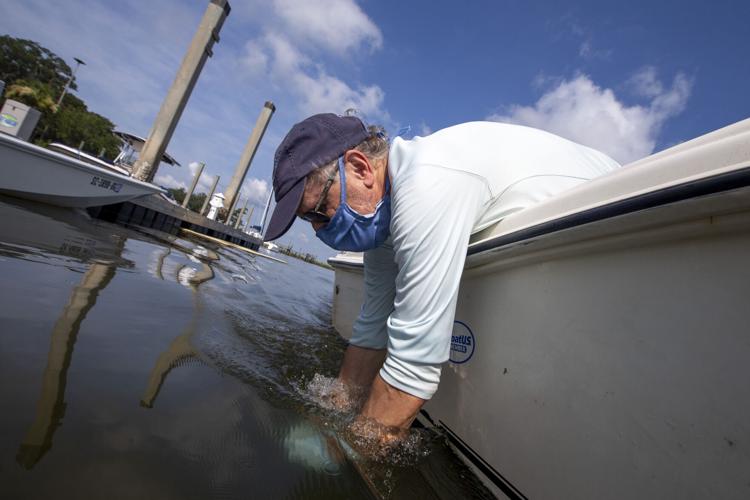 Wunderley and Marcell took on the open water sites in their boat while staff scientist Cheryl Carmack went to boat docks and beaches by land.
Marcell reached over the side of the boat with a glass jar along Hobcaw Creek and shouted, "That's some smooth sailing" to Wunderley, who controlled the boat. Marcell then placed the sample in a chilled cooler to be sent off later that day.
Along the way they collected trash and debris, including a Spinx cup, a harvest cheddar Sun Chips bag and a large piece of lumber with nails. "If we see it we have to get it," Wunderley said.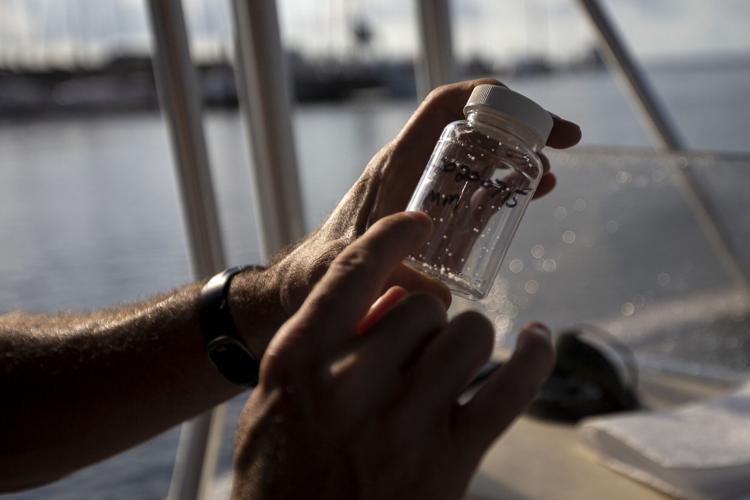 The Charleston Waterkeeper also has a volunteer citizen-scientist monitoring program called the Creek Watchers. Anyone can join. Volunteers are trained to collect water with a provided quality kit once a month at locations covering another dozen sites. The watchers report back ambient surface water quality data that includes temperature, acidity, salinity, dissolved oxygen and turbidity.
To learn more about the Creek Watcher program visit: http://charlestonwaterkeeper.org/what-we-do/programs/creekwatchers/ or email creekwatcher@charlestonwaterkeeper.org.