With floodplains covering about 70 percent of the Lowcountry's landscape, purchasing property here often comes with inherent flood risks.
The same is true in other coastal communities and even with inland cities such as Greenville and Columbia, which can see flash flooding when rivers overflow.
That's why people buying homes in flood zones have to buy flood insurance to take out a mortgage, and homeowners outside those zones often are encouraged to consider purchasing it.  
Still, it's difficult for home buyers to know exactly what they're getting into. Key details about a home's flood history often aren't included in property listings or disclosure reports, so consumers can't always make the most informed decisions about where to buy.
Most states, including South Carolina, require sellers to disclose existing flood damages or known flooding in the area, but not the property's detailed flood insurance history that would reveal exactly how risky and expensive it could be to live there.
Under the Privacy Act of 1974, the Federal Emergency Management Agency can't reveal a property's flood insurance claim history to anyone other than the homeowner, and the owner has to request it in writing. 
The law also applies to local governments that participate in the National Flood Insurance Program. Local authorities have to keep track of all the properties in the area that have filed multiple NFIP claims for repeated flood damages, called repetitive loss properties. But the Privacy Act prevents local governments from sharing the addresses with the public.  
So while the government knows where all the riskiest properties are, average people have no way to know, even if they're about to buy one.
The cost of not knowing
Right now, flood insurance information is as protected as an individual's health records or income taxes. 
That creates a whole web of complications for insurers and home buyers because the claims history is tied to the home, not to the homeowner, and claims filed since the NFIP was established can factor into the cost of the insurance premium.
Lisa Sharrard, an insurance agent and owner of U.S. Flood Solutions in Columbia, helps people lower their flood insurance costs. 
She said one of her clients, whom she couldn't name, bought a house in 2011 knowing it had been flooded, but he didn't have the claims history. He filed a flood damage claim in 2015 and another one in 2016, which triggered a huge increase in his flood insurance premium. 
That's because other claims had been filed in the past with a prior owner, and the recent damages put it into the "severe repetitive loss" designation. That happens when homes have been paid four separate claims of more than $5,000 each, or when two claim payments exceed the current value of the home.
To account for the higher risk, the annual flood insurance cost increases by 25 percent per year.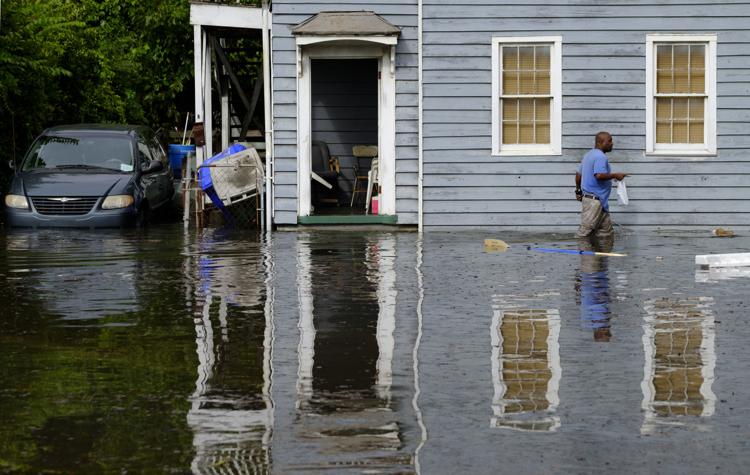 Hiding the flood insurance information from consumers can also lead them to buy a severe repetitive loss property without knowing it, and possibly without the means to afford it.
Ana Zimmerman purchased a house on Shoreham Drive in 2005, and she said she was not told it had flooded. In fact, it had flooded four times in the past, and it flooded three more times while she was living there. The homes in the Willow Walk neighborhood were built below the required elevation, which the city's Board of Adjustments and Appeals allowed when it issued a variance in 1987.  
Zimmerman moved out and purchased a new home on higher ground on James Island, but she still hasn't paid off the mortgage on her Shoreham property. The bank won't let her demolish it, and her flood insurance premium has climbed to $6,000 a year, she said. 
"I'm left with few options. I either sell it to somebody else and give them the problem, I come up with $80,000, or I walk away and ruin my credit," she said. "I refuse to give it to someone else."
She was one of three residents who recently sent a letter to FEMA, asking for an investigation of the city's compliance with floodplain development rules.
'We need a Floodfax'
Megan Weinreich of the Charleston Trident Association of Realtors said real estate agents don't benefit from an opaque system, either. 
"Realtors would always want a consumer to know exactly what property they're buying," she said.
CTAR is among many organizations of floodplain experts, consumer groups and environmentalists that say it's time for the Privacy Act to change, especially with new technology that would make it relatively easy for FEMA to create an online database so consumers could search a property's flood history.
The open data could be used on other sites, too, said Jenny Brennan of the Southern Environmental Law Center. 
"Apps like Zillow help homebuyers research price histories and make smarter purchase decisions without intruding on privacy," she said, "so why can't those same buyers know the flooding history of a home?"
It could lead to a user-friendly website such as Carfax, where consumers can research a vehicle's damage history, Sharrard said.
"We need a Floodfax," she said.
Weinreich said publicizing homes' flood histories wouldn't necessarily make them unsellable. People with enough resources could see them as investment opportunities and spend the money to elevate them.
"You could lower your own risk if you have the resources. But your everyday consumer doesn't have that ability," she said.
There's some momentum in Congress to make this information more accessible. The 21st Century Flood Reform Bill passed by the U.S. House of Representatives in November would reauthorize the National Flood Insurance Program for five years, and it includes two provisions that would require a seller or landlord to disclose flood insurance claim history to buyers or renters.
The Senate hasn't brought the bill to the floor. 
Meanwhile, the need for transparency seems to be growing in South Carolina. 
Since 1996, South Carolina property owners have filed 9,856 flood insurance claims, and 66 percent of them were filed in 2015 and 2016, the two most recent years available, according to FEMA. The numbers for 2017 ultimately could be high, too, since Tropical Storm Irma packed a punch last fall.
More homes also seem to be reaching the "repetitive loss" threshold, meaning the property has filed at least two claims totaling $1,000 within a 10-year period. 
The city of Charleston alone now has 754 repetitive loss properties, tallied after Tropical Storm Irma.
That's more than double the number Charleston County reported for all municipalities in the county combined a year ago. 
Last fall, FEMA awarded the city of Charleston Hazard Mitigation Grant money to buy out 48 severe repetitive loss properties in West Ashley. After multiple requests to FEMA and the city, the S.C. Emergency Management Division released the addresses Wednesday. Where the hundreds of other flood-prone properties are remains hidden from the public.