GASTON COUNTY, N.C. — Nothing remains of the hilltop home that once stood at the end of this gravel road in western North Carolina. The house burned to the ground months ago.
Children's bikes and firewood piles litter the yards of a half-dozen ranch homes down the hill that are next in line to be erased from the landscape. The company that will soon own them will allow local fire departments to burn them in training exercises. It is only interested in what lies beneath.
A hint of that prize sits a few steps into the forest, where craggy outcrops stand in the shade of tall loblolly pines. Look closely and you'll see the rocks are marked with sparkling pinstripes of pale green.
Those pinstripes are evidence of lithium, a lightweight element used to power electric vehicle batteries. And that green is gold to Piedmont Lithium, the company planning to tunnel 500 feet into the earth here to mine the lucrative mineral.
Lithium is expected to fuel America's transition away from gasoline-burning automobiles. In the process, that harvest could generate $3.9 billion for this rural community in five years, according to Piedmont, which penned an agreement with EV giant Tesla in January.
Along a certain stretch — where North Carolina, South Carolina and Georgia meet — lithium is quickly becoming king: It pushes up through the ground, oozes through recyclers' shredding machines and will soon travel through the backwoods on aging rail lines. New mines — as many as three separate operations by 2030 — are only part of the story. Welcome to the Lithium Belt.
Just three hours away in Covington, Ga., the nation's largest lithium-ion battery recycling plant just opened. EV startup Rivian is building a massive auto manufacturing site in the next county over. Closer to home, in Berkeley County, lithium is driving South Carolina's own record-breaking business announcement: a super-site for battery recycling that promises to be 10 times larger than the Georgia plant. Together, those investments total $9 billion.
The brightest stars of this lithium economy have a gravitational pull. They draw in others, such as Volkswagen-backed Scout Motors. Scout is planning a $2 billion EV plant for Richland County, further boosting the Southeast's reputation as a manufacturing powerhouse that will deliver U.S. energy independence.
It's a heady time for the region, as politicians and business executives revel in the gigantic sums of money pouring in. But some citizens and environmentalists worry that America's clean car future won't be very clean for local waterways and farmlands. Those areas are on the brink of being transformed into expansive mining and manufacturing sites that have the potential to forever change the communities around them.
All the same, a new $7,500 tax credit is stoking consumer appetites to adopt EVs. The credit was restructured in April specifically to help America and its trade allies out-compete China in the global lithium trade war, according to the Biden administration.
Lithium is driving today's energy transition just as fossil fuels drove the industrial revolution. And some stand to profit handsomely as a result.
The price of lithium has jumped an astounding 500 percent overall in the past two years. Southern lawmakers use those prices to justify state subsidies that further attract battery-related companies and EV auto makers: North Carolina has pledged about $2 billion, South Carolina has pledged $1.56 billion and Georgia leads the nation with more than $3.62 billion promised.
These states are banking on a big payoff from lithium, despite having some of the lowest rates of electric vehicle ownership in the nation. South Carolina, for example, ranks 28th in the nation for EVs on the road, with fewer than .10 percent of its cars running on electricity. 
With so much at stake, who will benefit from America's great energy transition and who will pay the price?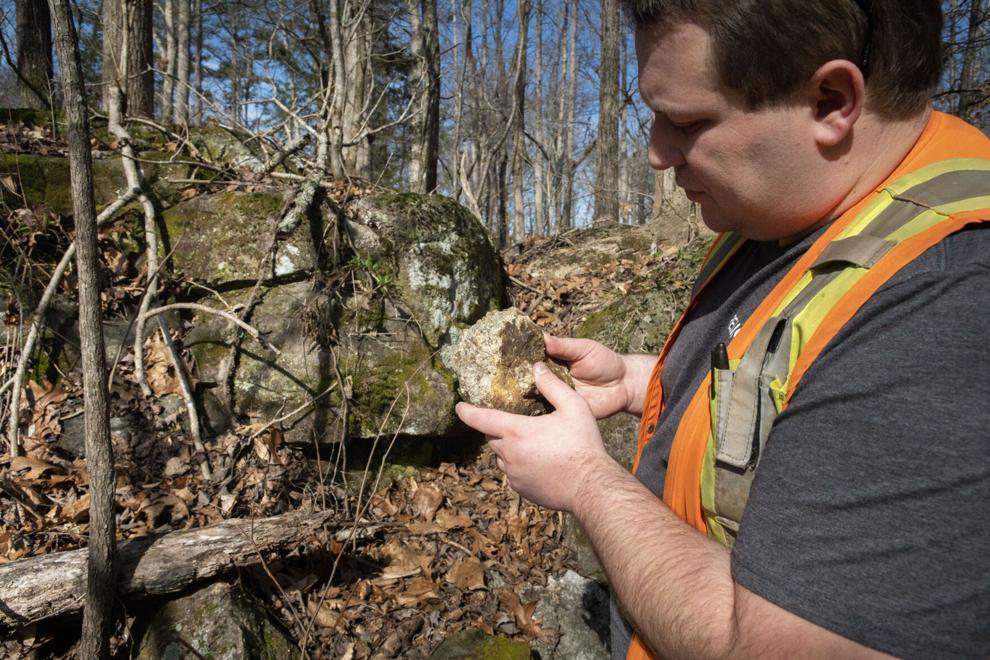 Mining for green gold
Lithium is a chemical element with a formation story that starts here 600 million years ago. Volcanic islands drifted from the other side of the world and got squeezed in the vice of colliding prehistoric mega-continents. The unique magma-hot temperatures from those collisions crystallized lithium in high concentration, with some crystals as big as telephone poles.
Today, it can be found in Gaston County, N.C., behind backyard swing sets and beneath soybean fields.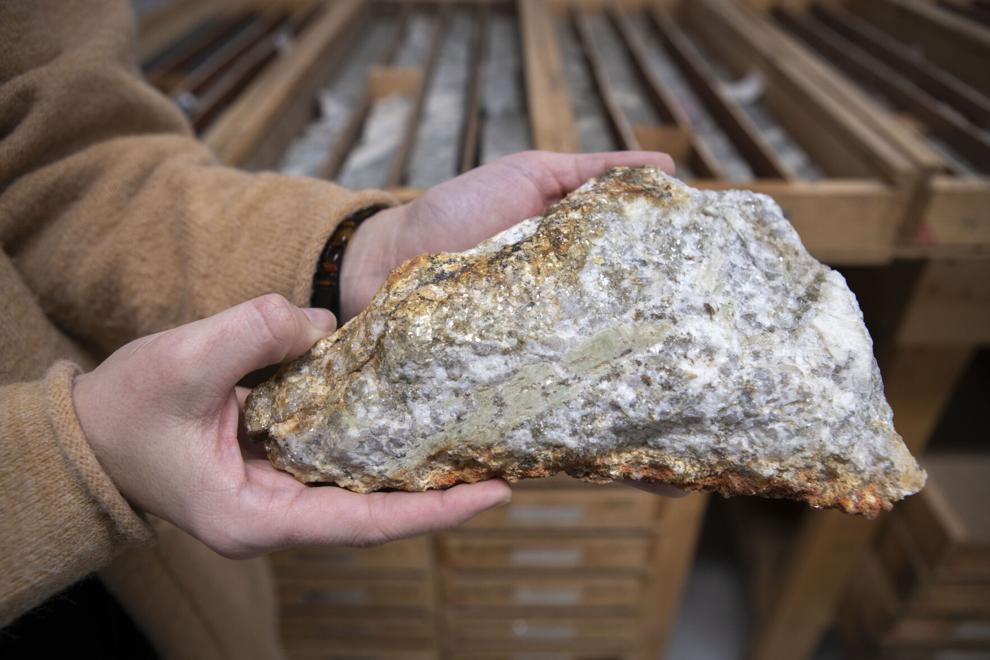 Mike Mason, a geologist for Piedmont Lithium, picked up a mottled rock the size of a human skull after walking just a few paces into the woods from where the burned house once stood. Smaller striped rocks lay at his feet. A single strip of mint-colored rock, called spodumene, twinkled as the geologist held it up to the midday sun.
"Look, it even shimmers," Mason said.
Lithium is exotic and light. In other words, it's rare to find lithium in its crystal form, with its signature green color and high elemental concentrations. In most other parts of the world, lithium is mined from groundwater, where it exists in far less concentrated amounts. Extracting lithium from water requires evaporation from the sun, resulting in a white powder that has gained it the name "white gold."
The green lithium found here is more highly concentrated, and the area's laws are already set up to favor miners.
So Piedmont Lithium is not wasting a second to get at it.
When cracked, crushed and processed, spodumene turns into lithium hydroxide, which has been mined in this region since World War II. Famous among geologists but bearing a most unglamorous name, the Carolina Tin-Spodumene Belt stretches across the South Carolina and North Carolina border.
The mining of rock-based lithium directly fed the Manhattan project, making the first nuclear bomb possible. Mixing it with metal alloys helped the American military out-fire the Nazis. Later, lithium was used for medicines to treat bipolar disorder.
But as global demand for lithium slumped in the 1980s, North Carolina's lithium mines shut down.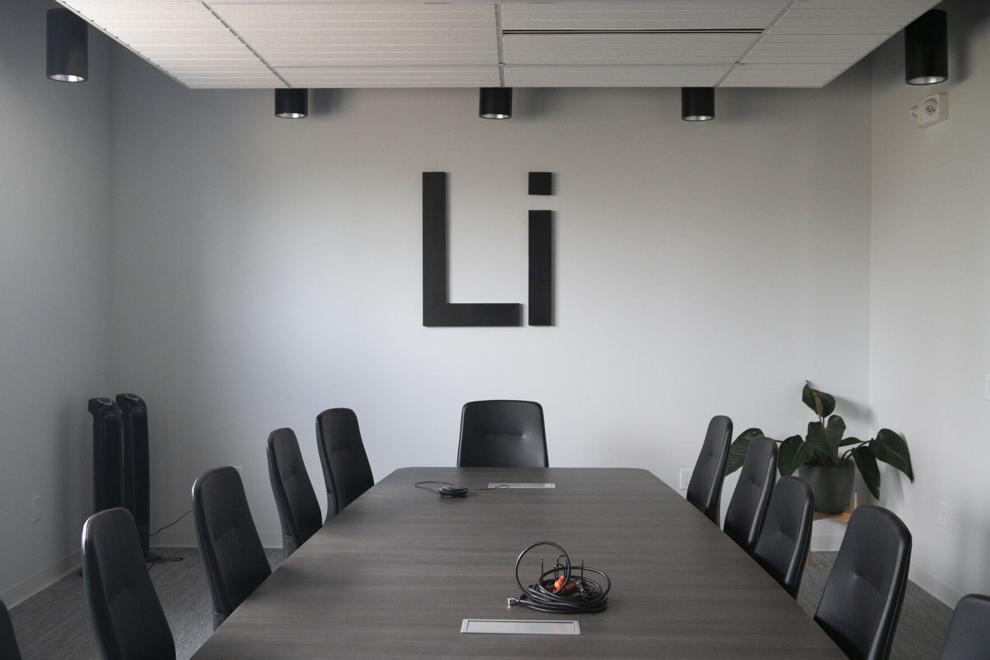 U.S. Sen. Thom Tillis, a North Carolina Republican, wants to see new mining pits dug and operating 24/7 in this community less than an hour from Charlotte. Tillis lives 25 minutes from Piedmont Lithium's new headquarters in Belmont, N.C., which is emblazoned with "Li" on its wrought-iron balcony and boardroom walls. That's scientific shorthand for the chemical element lithium, which many might recognize from the periodic tables adorning their middle school science classes.
Two framed articles from The New York Times decorate the hallways of Piedmont's headquarters. The articles applaud the company and herald the promise of North American-sourced lithium, making EVs affordable to all and helping the Biden administration reach its climate goals.
At an open house here in August, Tillis hoisted a large mottled rock with telltale green stripes. He held it like the trophy it literally was: a spodumene rock attached to a mahogany wooden base with a brass plate that commemorated the day.
"We need lithium," Tillis said, describing his recent travels to other lithium-producing countries like Chile. "And it seems a little bit disingenuous to say to them, 'We want you to mine it … but we don't want to.' "
Currently, America only produces 17,000 metric tons of lithium hydroxide per year, all of it from one mine in a remote corner of Nevada where the population density is six people per square mile. Australia leads the world in lithium production, with Chile a close second. The countries also mine lithium in far-flung desolate areas, making some of the mines visible from space.
"Piedmont Lithium claims it can increase America's supply to 60,000 metric tons of lithium per year, if it gets its Carolina mine and Tennessee processing facility approved." From a bird's-eye view, the mine's footprint will meld with the busy patchwork of an urban-rural boundary, where each square mile houses over 100 people.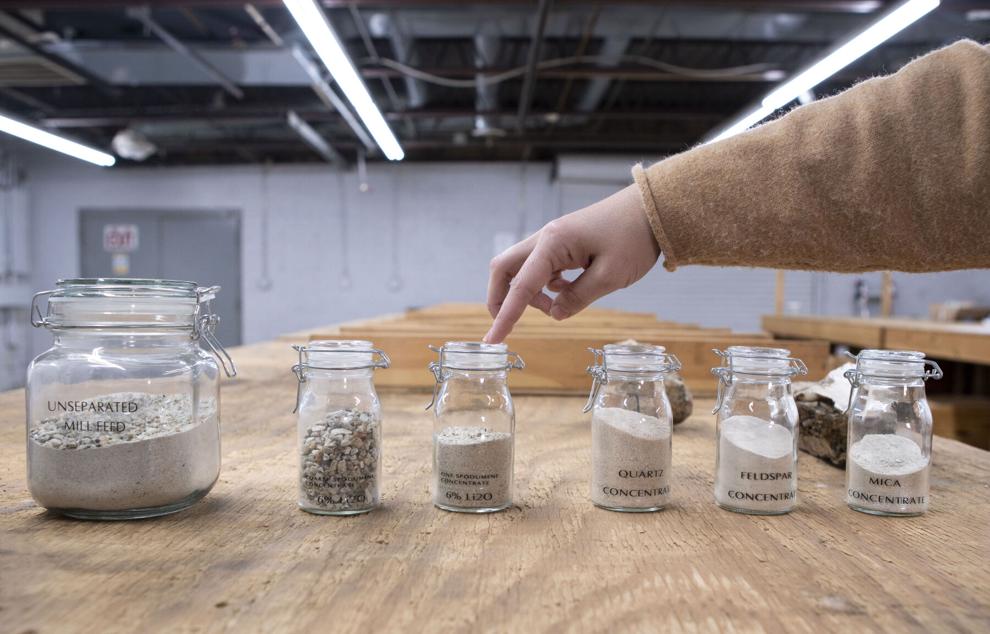 Mining the homeland matters because the government's $7,500 EV tax credit has a catch.
Buried in the massive Inflation Reduction Act — the largest climate law in U.S. history — is a provision that all tax credit-eligible EVs must have 40 percent of their battery minerals — like lithium, nickel and graphite — sourced from the United States or one of its trade partners. Recycled lithium qualifies, if it's recycled in North America.
Tillis said his ultimate goal in supporting new "responsible mining" is to take the lithium crown from China, which holds the world's largest reserves and is vying to be the third-largest supplier by 2026. That, he argues, would undercut the United States' economic and military dominance in the world.
Tillis sees a new, lithium-powered economy in the region as key to America's future. And that future is beginning to materialize. Backed by $1 trillion in federal green stimulus money and multiple state incentives, battery makers, recyclers and electric car makers are flocking to the Carolinas and Georgia to set up shop next to small towns.
For Austin Devaney, vice president of operations at Piedmont Lithium, the beauty of the Lithium Belt is building a circular EV economy: "Imagine … everything within 500 miles of each other."
Devaney's new orange electric Ford Mustang was plugged into one of the company's charging ports one afternoon last winter. He explained that the 8 kilograms of lithium in his car battery wouldn't leak out or float away as exhaust. It could take him 100,000 miles or more, and then be recycled, maybe at a site just down the interstate.
Dust and tainted water 
That future worries Sandra Foster. For her, lithium is part of painful memories that date to when she was 6 years old.
Her school, Tryon Elementary School, was 2 miles from the now-closed Hallman-Beam lithium mine in Gaston County's Bessemer City. She remembers feeling frequent blasts and seeing a thin coat of rock dust waft in through the window. It coated the desks, like pollen in the spring.
That went on for years before the old mines closed. The county filled some of them with water, transforming them to placid lakes.
But that idyllic scene belies the danger below from water that is unsafe to drink. Foster gives her four cats and two dogs bottled water every day. For Foster and her neighbors, it has been this way for over a decade, long before Piedmont Lithium moved in.
State officials have not yet ruled out a connection between elevated levels of cancer-causing arsenic in the area's water and a long-closed lithium mine. But government help to address these toxins has been slow to come.
Foster's well has arsenic levels nearly twice what is deemed safe by the state's health department, a plight shared by many well-dependent residents in Gaston and nearby Lincoln County.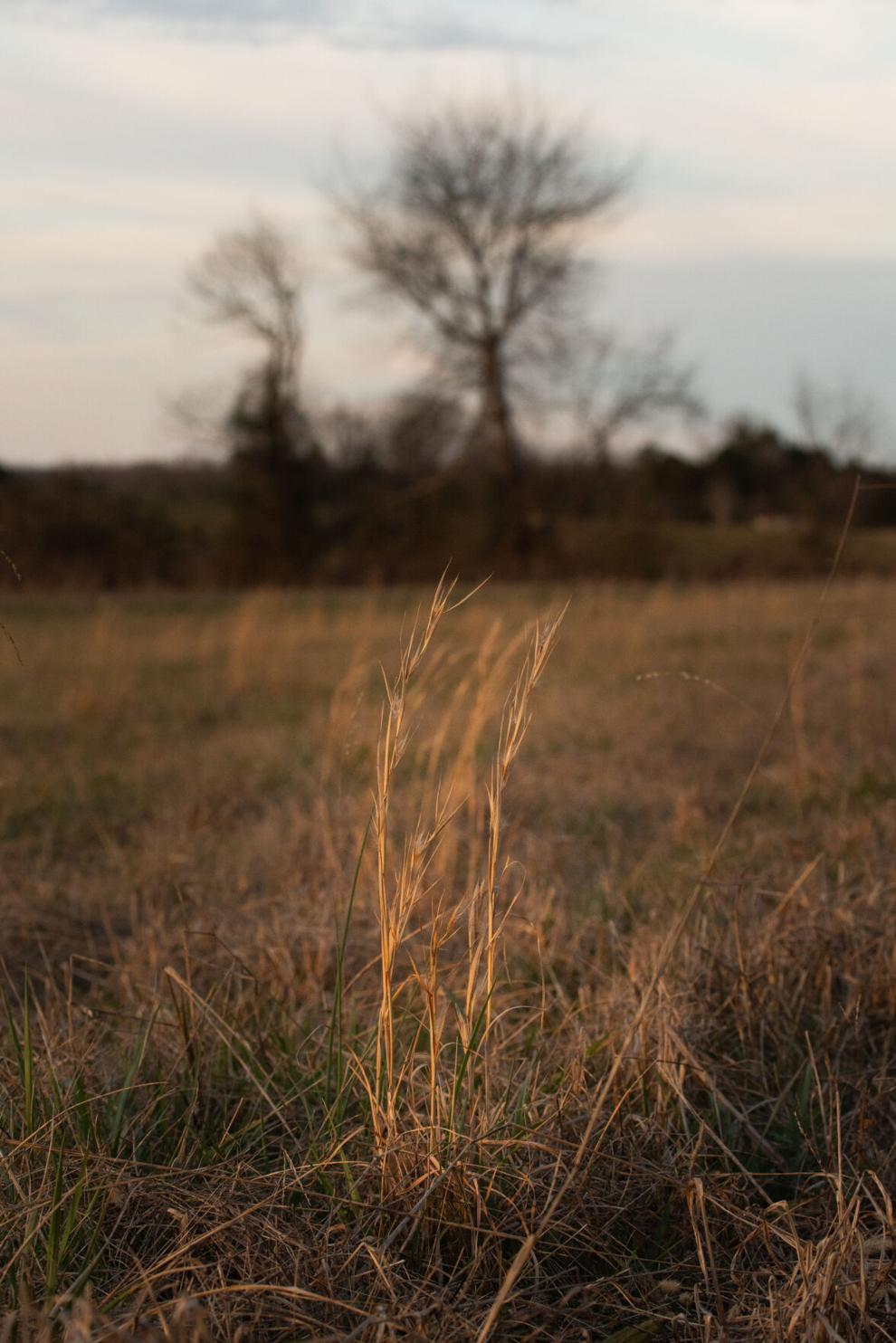 Arsenic naturally occurs in local rock deposits, but it can also be a toxic byproduct of lithium mining. Reopening the county to such mining, Foster argues, threatens to make the neighborhood water issues worse. 
"Yes, there is a likelihood of that," Samantha Dye, the county's public health administrator, said when asked about Foster's prediction that the new lithium mine might further elevate arsenic levels in area wells.
Foster first learned of Piedmont Lithium's mining plans when a representative knocked on her door. She told him her concerns about the water. A year passed. When a package from Piedmont Lithium arrived, she thought it was a water test kit. Instead, it contained a box of cookies and glossy pamphlets about mining. She tossed them in the trash.
A few months later, she heard about the company's open house and showed up.
As Tillis was holding up his rock trophy, Foster stood on the stoop of a building directly next to headquarters. She held a sign that read "Gaston County Pit Mine" with a red slash through it.
Foster said someone in a suit introduced himself as a county police officer and said she couldn't enter. He told her he recognized her from Facebook. And he encouraged her to leave.
Erin Sanders, a spokeswoman for Piedmont Lithium said the event was invitation-only due to space constraints, but they weren't aware of anyone who asked to enter being turned away. 
The company hasn't hosted any open-house events since, but she said Piedmont officials have met one-on-one with neighbors to address concerns. 
Concerns ignored?
Piedmont Lithium's mining permit application — which is pending — pledges to provide drinking water to any resident whose well is impacted, either by leaching or running dry.
Without a municipal water supply, the mine will likely draw millions of gallons from the same water table that feeds Foster's wells and nearby creeks. One bubbles right behind Foster's house, meets with another small creek and flows into the South Fork River. That eventually feeds the Catawba River, known as one of America's most endangered waterways. Four open pit mines will encircle the place where those two originating creeks meet.
Piedmont Lithium has been tight-lipped about discussing potential negative impacts to the rivers and environment. That has publicly frustrated local county commissioners, who penalized the company with a 60-day moratorium in 2021.
When asked about their lack of transparency on anticipated environmental impacts, Sanders, the spokeswoman from Piedmont Lithium, said: "We long ago recognized that the company had not done a great job of communicating about our potential plans for the project. Over the last two years, we have worked diligently and openly with the County staff as our project plans have evolved both to inform them and seek their guidance as we have developed and refined our plans for Carolina Lithium." The company recently opened a community engagement office on Main Street in Cherryville, N.C.
The company prefers to make its case that the mine will bring 428 high-paying jobs to a rural region, ones that offer $20,000 more than the county's average income. But local machine shop owner Brian Harper said the region is 45 minutes from Charlotte and already has thriving businesses, like his own.
Harper has deep concerns about the blasts from mining — at least one or two going off each day — just beyond his property line. He fears they will impact the finely-tuned machines that make precise metal cuts inside a giant barn on his property around the clock: "This is my livelihood."
Harper's eight employees do highly skilled manufacturing work, building custom gears for factory machines that make Dart's red Solo cups and Nestlé's chocolates. Stine Gears has operated in Gaston County since the 1960s, run by Harper's father and, now, him.
Harper said Piedmont Lithium refused to compensate him $250,000 to move his business away from the blasting area to another location in the county.
Fed up, Harper started speaking up at County Council meetings, driving hours to attend state mining meetings and talking to reporters. After Harper's story of being denied compensation was first reported by the Huffington Post, Piedmont Lithium's CEO publicly questioned his claims. (The Post and Courier reviewed emails that supported Harper's statements that his request for $250,000 compensation from Piedmont had been denied.)
"A man with a machine shop who needs a quarter-million dollars, do you think we're going to let him stand in the way? If he needs a quarter-million dollars, we'll find him a quarter-million dollars," Phillips told the Huffington Post in an article from May 2022. "That's the world's easiest answer. But we want to really understand it. We're actually not convinced it's true that anything we do will have any impact on what he's doing."
One year later, Harper has not received compensation from Piedmont Lithium. There are also two pending lawsuits against the company, brought by its own shareholders, alleging that Piedmont made false statements about the mine's "strong local government support."
Resident Warren Snowden helped start an opposition group to the mine in Gaston County. He said the group now has almost 800 members. Snowden's family owns a farm adjacent to the mine. And in February, Snowden viewed the county commissioners' growing frustration as something that might impede the mine plans entirely, though Piedmont Lithium remained bullish.
"Everything is moving really quickly … and they're telling everyone, like, 'Get the hell out of the way,' " Snowden said.
About 200 miles away in Georgia, similar tensions are brewing with another group of worried neighbors feeling pushed aside on the front lines of the lithium race.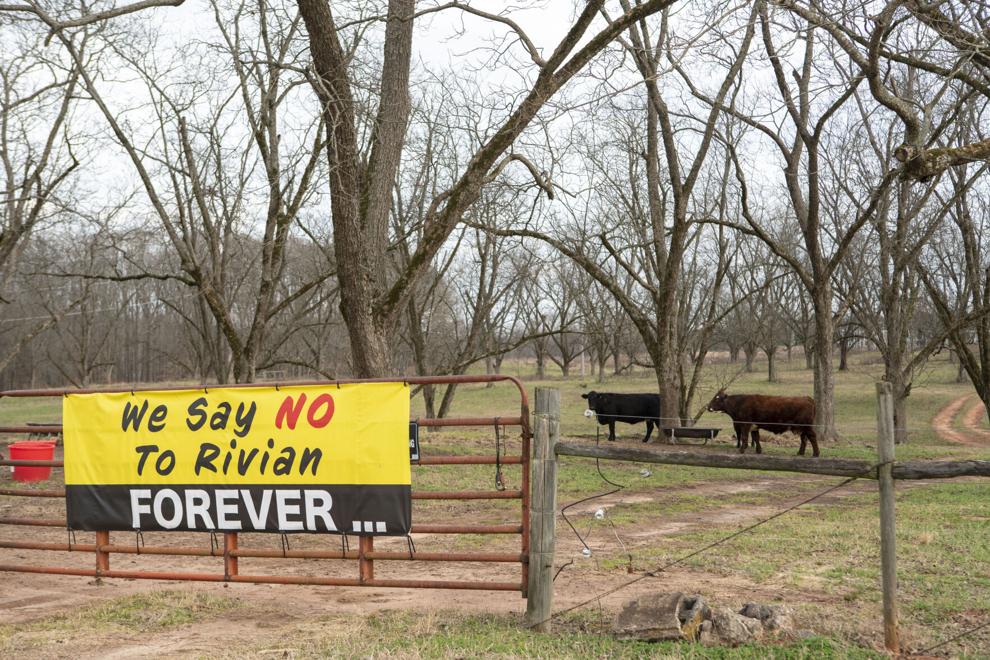 Lithium goes luxury
Clay-colored dust plumes rose as 10 bulldozers graded and flattened rolling farmland in the community of Rutledge, Ga., an old railroad city of 871 people about 50 miles east of Atlanta.
Across the road this day in February, Eddie Clay viewed the construction from his one-story ranch. Two cows chewed cud nearby. Mud gummed up his pool and well water filters, he said. His ice cubes froze brown. A 12-foot sign with big block letters stood in his front yard, facing the dust clouds drifting just across Townsville Road: WE OPPOSE RIVIAN ASSEMBLY PLANT.
Rivian Automotive is a California-based EV startup. They make sleek pickup trucks and SUVs that fetch $75,000. And now they're expanding to the Southeast, into a second flagship factory that will manufacture Rivian's new R2 model, a luxury SUV. Rivian's earliest plans showed them also making batteries on-site — some of the largest, heaviest batteries on the market.
When Rivian's economic development partnership with the state of Georgia was announced in 2021, optimism ran high. So did the numbers: a $1.5 billion incentive package for a $5 billion factory run by an electric vehicle startup valued at $18.1 billion.
Few people were happier than Maurice Carter, a resident of nearby Covington. In his retirement, he helped to found Sustainable Newton, a group that rallies community support for local green projects, such as getting EV charging stations installed behind the courthouse.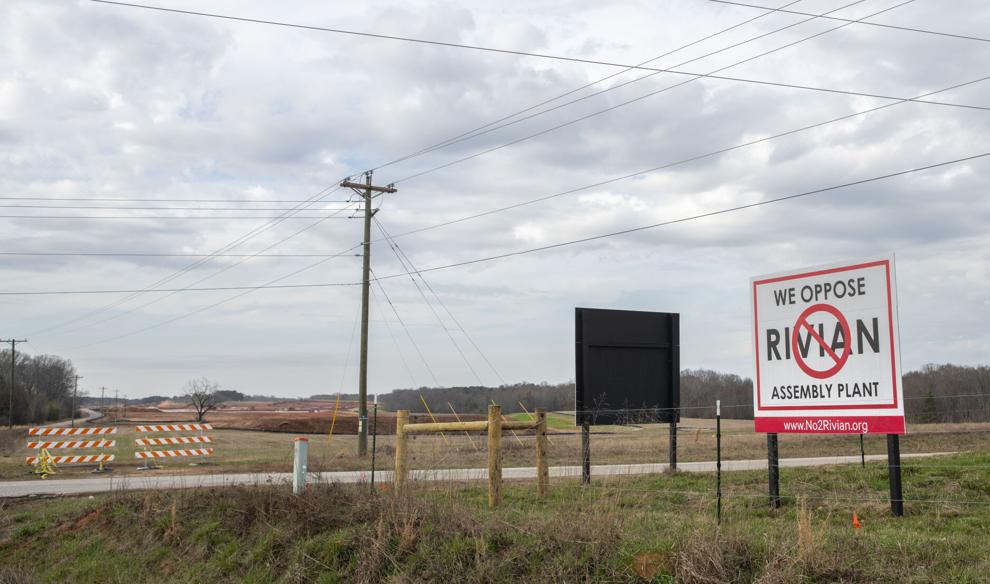 "I remember thinking 'I can help our economic development folks pitch Rivian positively for the community," said Carter, who considers himself a YIMBY, an acronym for "yes in my backyard."
At the time, he was paying attention to national green groups, like the Nature Conservancy, who had partnered with Rivian on a campaign for environmentally responsible off-roading.
"But, very quickly, it boiled into a lot of controversy," Carter said.
The Nature Conservancy reportedly walked back its support of Rivian, taking a neutral stance on the Georgia site. Carter then read a 2021 report about lithium mining by another large green group, the Sierra Club, that seemed muddled and even self-contradictory.
"(The) report about lithium was about as tortured as you can get," said Carter. "Tying themselves all up in knots, supporting green energy but clearly uncomfortable with mining and batteries … basically how I feel right now talking to you."
The Nature Conservancy declined to comment on its stance on the Georgia factory.
Carter welcomes nearby development if it serves the greater environmental good. So he pressed on in publicly advocating for Rivian's presence. And then his friends got upset.
Citizens noted that the planned Rivian site sat on farmland zoned for agriculture, not industry. Only the county commission could approve a rezoning move, which would require additional assessments and time.
The state of Georgia, in a remarkable move to push the subsidized development through, bought the property directly and claimed immunity from local zoning laws under the guise of "public use," the same authority used to build schools and hospitals.
Environmental oversight was no longer in local hands. Relations between Rivian, the state and the local community started fraying.
In 2022, the Newton County Economic Development office asked Carter to write a letter of support for the Rivian plant. It was clear to Carter that the eight-person board of the environmental nonprofit he had helped to start would not agree to sign the letter. Some had lost trust in the Rivian-state partnership. Carter ended up signing it himself — as a citizen."
"I fear being wrong about Rivian," said Carter, shifting uncomfortably at the kitchen table of the tidy home he shares with his wife, the former Covington town mayor.
Just days earlier, Carter had seen on LinkedIn that one of the Rivian employees he had worked with on community engagement had been let go. Rivian had just laid off 6 percent of its global staff.
So big, so fast
Rivian Automotive is an EV startup, just like Scout Motors in South Carolina. In many ways, Piedmont Lithium is a startup, too. And there are growing concerns that these fledgling operations lack the cash or investor confidence to fulfill their billion-dollar promises. Opponents fear they will leave abandoned sites — half built or half dug — with local communities stuck holding the bill.
Its contract with Georgia gave Rivian until April 30 to walk away from the state's $1.5 billion subsidy without penalty. It didn't. Two days later, the company hired someone to run the Georgia plant. But challenges remain.
Rivian has lost 93 percent of its stock value since the company went public in late 2021. According to a Bloomberg report, this plummet reflects a loss of investor confidence, too. The company's CEO, R.J. Scaringe, told The Atlanta Journal-Constitution that the company had no future without the Georgia factory: "This must work."
Throughout April, land graders were still moving and dust clouds still wafting from the site near Rutledge that Rivian plans to build on. An anonymous watchdog YouTuber chronicles the progress with drone videos.
In a video posted May 5, the rolling green hills, still technically zoned for agriculture and not industry, were almost completely gone. Two of the manure ponds from an old chicken facility on the site had been breached, with their potentially toxic contents threatening nearby Hunnicutt Creek.
"We're aware of it," said Derrick Williams, a manager for Georgia's Environmental Protection Division. "We're looking into possible violations."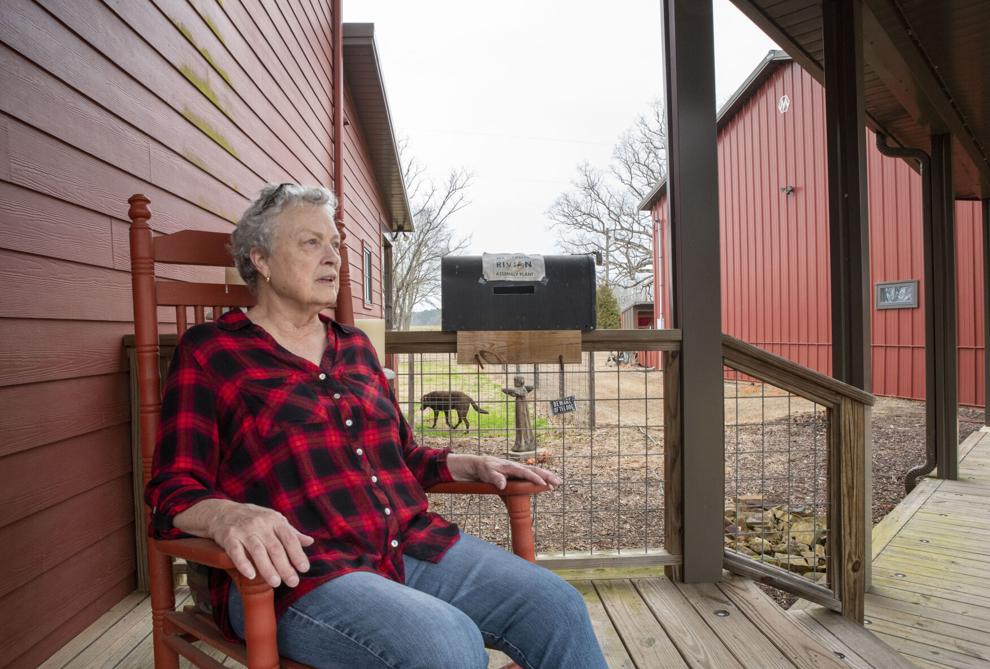 JoEllen Artz is the local resident who first tipped them off.
"That's what happens when you destroy farmland at this scale," said Artz. She lives within a mile of the Rivian site and has been testing her local creek's E. coli levels.
She and other residents in the surrounding Walton and Morgan counties fear the speed and secrecy of the state-subsidized electric vehicle development are overshadowing their concerns about water and the environment. There are three ongoing lawsuits brought by a local opposition group concerned with the Rivian factory. It will turn almost 2,000 acres of farmland into buildings and concrete, lowering the region's natural filtration capacity for a place known to be a groundwater recharge area. A Rivian-hired hydrologist said at an August 2022 regional meeting that "we aren't there yet" in regards to finalizing a plan to ensure water quality for local residents.
Local residents feel sidelined. Like Piedmont Lithium, Rivian has hosted "community open houses" that proved to be tightly controlled, invitation-only events. Artz, who has been a vocal opponent, said she was not granted entry into one of Rivian's events that Carter, the Rivian-supporting environmentalist, was allowed to attend. 
"Peebles Squire, a Rivian spokesman, said the company is continuing to build relationships and get feedback on its plans from across the region: "We are listening to community members from numerous municipalities, economic and social groups, and industries, so that we can be the best future neighbor possible."
Rivian referenced at least 12 "engagements" it has participated in since March in places across the state, from universities to car shows. None of these have been open-invitation events accessible to their next-door neighbors, the ones voicing concerns over local water resources.
A much different scene is playing out just 10 miles away from the courthouse where Rivian is battling local residents. In nearby Covington, Ga., a small Boston-based company has received a much warmer reception as it embarks upon a major lithium project of its own.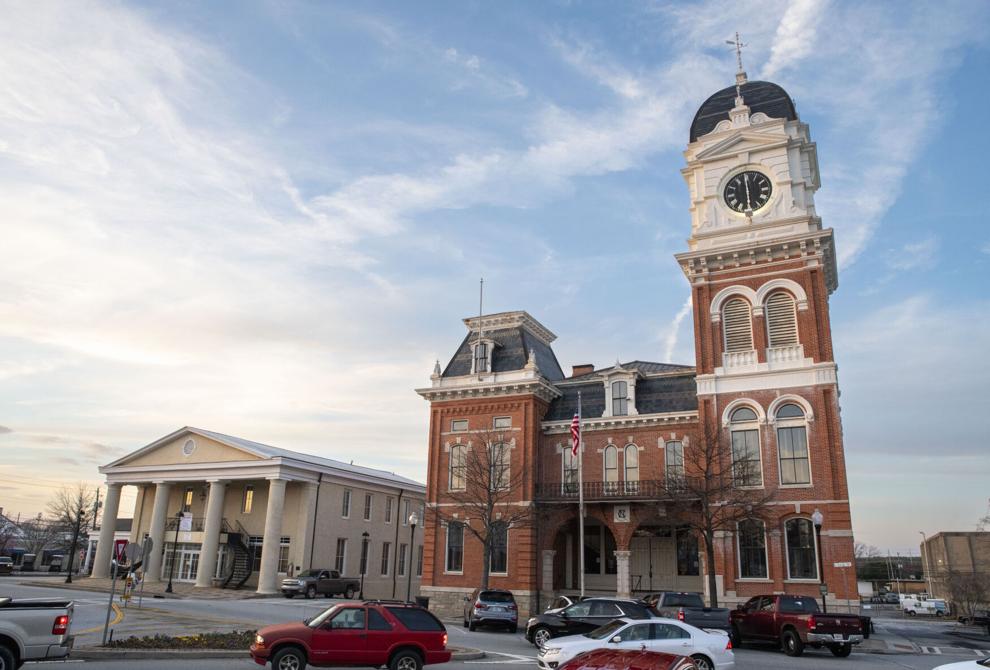 Lithium, with a smaller footprint
The Ascend Elements plant in Covington is currently the largest lithium-ion battery plant in North America. It's located in a former chemical-processing plant in this small city, better known for a quaint Southern downtown that is popular with filmmakers.
In early February, the operations staff was still preparing for the grand opening of the plant, which is big enough to house two Home Depots. There was no landscaping or fresh mulch at the plant's entrance. The office wasn't yet painted.
All of that, plus a cheery blue-and-silver balloon arch, would come six weeks later when the company officially opened at full capacity.
Company spokesman Tom Frey beamed as he drove a golf cart down a long-cracked driveway wearing a hard hat. He's proud that his company has avoided stirring up local drama and has kept the focus squarely on recycling batteries and their plastic casings.
"And, look, we've even recycled this old plant," he said.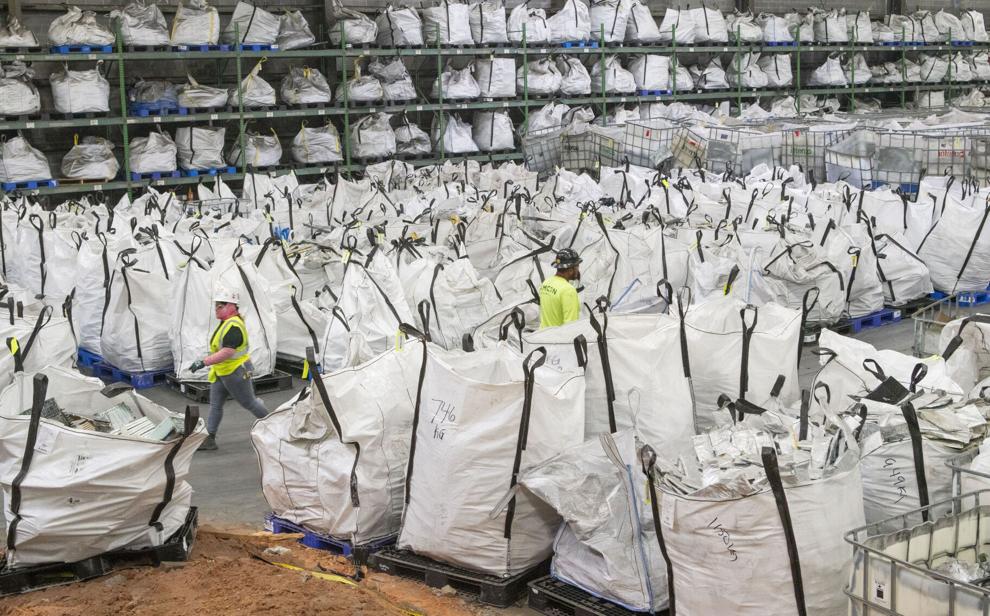 Inside, a thin layer of black dust coated everything in this space where consumer batteries were ripped and shredded from old plastic casings. Staff in masks busied themselves cleaning. The dust lifted off the top of large bags, some the size of a hockey goal. The bags were labeled in large black letters "BM," short for black mass — a mixture of cathode materials containing lithium and other battery ingredients. Other bags were labeled with the names of metals, like lithium, that has been extracted from old scrap.
A nearby rail line is expected to carry these bags to companies like SK, a Korean-owned battery manufacturer near the South Carolina and Georgia border. There, it will be further processed into full batteries. From SK, the batteries will most likely travel by rail to auto factories across the Southeast, including the Palmetto State, where batteries will soon be bolted into the frames of Hyundais, Volvos and BMWs. And then, eventually, those end-of-life batteries from the car makers could go right back to Ascend Elements for recycling. 
And experts say this recycled battery material works just as well as lithium extracted from a mine.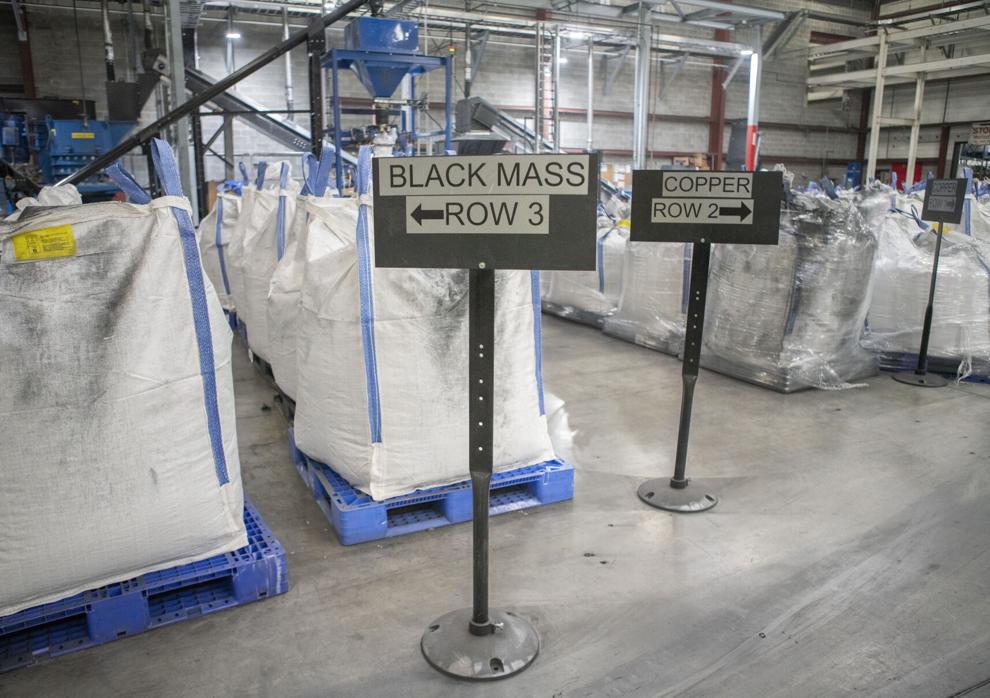 "Recycling of these materials is actually better than mining," said Jeffrey Spangenberger, a materials recycling expert at Argonne National Laboratory, a federally-funded research facility. "We just don't have enough batteries ready to be recycled … yet."
That is expected to change as more electric vehicles hit the road, and the industry is gearing up for recycling to play a major part in the equation.
Ascend Elements is counting on that, as is Nevada-based Redwood Materials, which announced plans in December to build a recycling plant on 607 acres in Berkeley County. About a 45-minute drive from Charleston, the plant will be housed on utility Santee Cooper's Camp Hall Commerce Park off of Interstate 26 in Ridgeville.
At a cost of $3.5 billion, the factory will be the most expensive economic development project in South Carolina's history. It's expected to have as much economic impact as adding another town to this fast-growing county.
For the moment, the property looks like nondescript timberlands, with tree cutters felling tall pines within view of the interstate. Once cleared, it will become a site that produces enough lithium battery cathode materials to power a million EVs each year.
The Ridgeville plant will dwarf Ascend Elements' operation, eventually employing 1,500 workers. By comparison, the Ascend plant in Covington has fewer than 100 employees.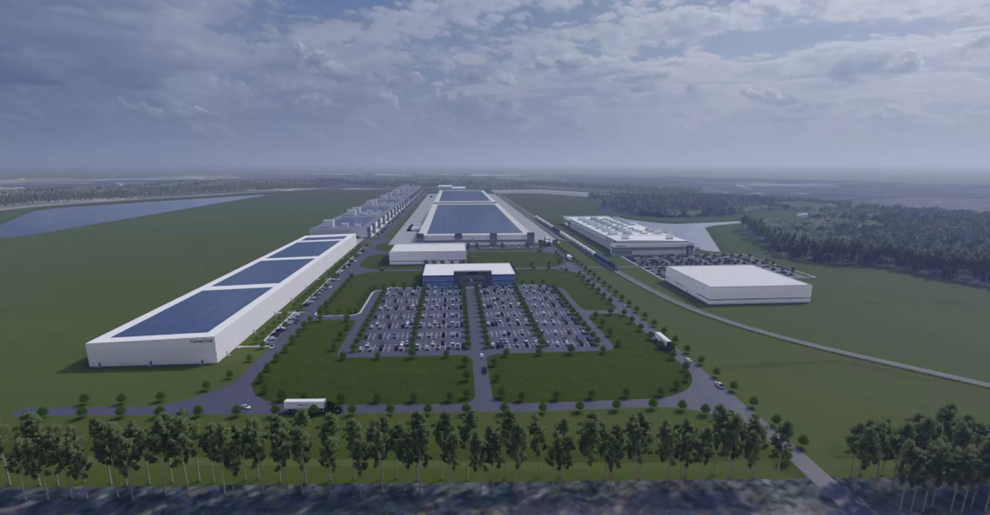 Redwood Materials received about $300 million in tax and other incentives to locate in South Carolina's Lowcountry. State officials contend the plant will be well worth the investment, bringing high-paying jobs and millions in revenue to the same region where Volvo Cars plans to produce the automaker's first all-electric SUV. Industry analysts predict this will attract even more interest from the EV industry.
"This is transformative," Gov. Henry McMaster said earlier this year, "and it's going to open the door to the future of innovation and imagination in South Carolina and I'll promise you our people are ready."
But making this production chain work will require transporting old lithium batteries and other raw materials across interstates and over old rural rail lines. And some experts are worried that state and local officials aren't thinking nearly enough about the potential dangers of doing so.
Danger on the rails?
On Feb. 3, flames and plumes of black smoke poured from rail tracks after 11 train cars carrying hazardous materials derailed in East Palestine, Ohio. Though several hundred miles away, residents along the Lithium Belt like JoEllen Artz took note. And worried.
Ascend Elements, Redwood and Rivian all have expressed interest in transporting battery materials or manufactured batteries by rail, though specifics of those plans are still evolving. For Rivian, proximity to Georgia's freight rail system was a key attraction. What would happen, residents wondered, if a derailment happened along these routes with combustible battery materials on board?
Industry executives such as Mike O'Kronley, CEO of Ascend Elements, are quick to dampen such concerns.
"Rail is still the safest, most efficient way to transport lithium and other materials," he said.
But Ofodike Ezekoye, a battery fire expert and professor of mechanical engineering at University of Texas Austin, said derailments can ignite battery fires, and old lithium ion batteries — the kind used by Ascend Elements and Redwood for recycling — pose a real risk if that happens.
A fiery 2017 freight train explosion near Houston was traced to old lithium batteries on board. It sent highly toxic gas into the air and into downtown areas. Windows reportedly broke a quarter mile away.
Transportation safety is essential, Ezekoye said. If companies don't get it right, he said, "this could potentially … be the Achilles' heel in this whole battery space."
The Redwood recycling plant has yet to break ground in Berkeley County. But the company has already warned South Carolina lawmakers not to restrict how it can transport old EV battery material with other manufacturers and move old lithium batteries along the supply chain. 
Redwood released a report implying that recyclers and manufacturers could responsibly and safely police themselves, since "any proposals or actions that add extra costs to the EV battery value chain will put … the United States at a competitive disadvantage during this critical period of transition toward clean energy."
This narrative is getting repeated by others in the EV industry: Permitting needs to move faster and transportation networks must grow bigger. The implication is that the processes put in place to protect local communities could be relaxed, or perhaps scrutinized, as things progress, to better serve the global community's energy ambitions.
And the pressure is on. The EV tax credit's sourcing requirement for American lithium doubles in 2026 — from 40 to 80 percent.
Tom Lyon, a business professor at the University of Michigan, said this high-pressure, high-dollar climate poses a real risk of poor decision-making by clean energy businesses operating in this arena. These green businesses "need to be doubly-conscientious" to show they are worthy of their host communities' trust.
And local officials need to be watching out, as well, Lyon said. But are they?
'We're a sacrifice community'
In 2020, Warren Snowden worked with neighbors to make yard signs opposing open-pit lithium mines near his family's farm in Gaston County, N.C. He invited journalists from NPR and the Financial Times to tour his family's property — a barley, corn and timber farm that shares 8,000 feet of its border with the proposed mine.
Snowden said the national exposure brought him condemnation from people who accused him of standing in the way of progress and a better environment. But Snowden considers himself an environmentalist. He's even in the green business; his family's tree farm has sold carbon credits to eco-conscious corporations, like Microsoft, to offset their greenhouse gas emissions. They've won conservation awards.
"It's a heartbreaking thing when someone says 'I'm not for America or I'm not for the environment,' " Snowden said.
He had hoped the two sides might find an equitable solution. But on this morning in May, he felt less optimistic than he had been in months.
He had just read that the open-pit mines that Piedmont Lithium planned to dig to 500 feet — roughly the height of the Washington Monument — were now being proposed at even deeper depths.
"We continue to be portrayed as NIMBYs," Snowden said, referring to the acronym for "not in my backyard." "We're a sacrifice community."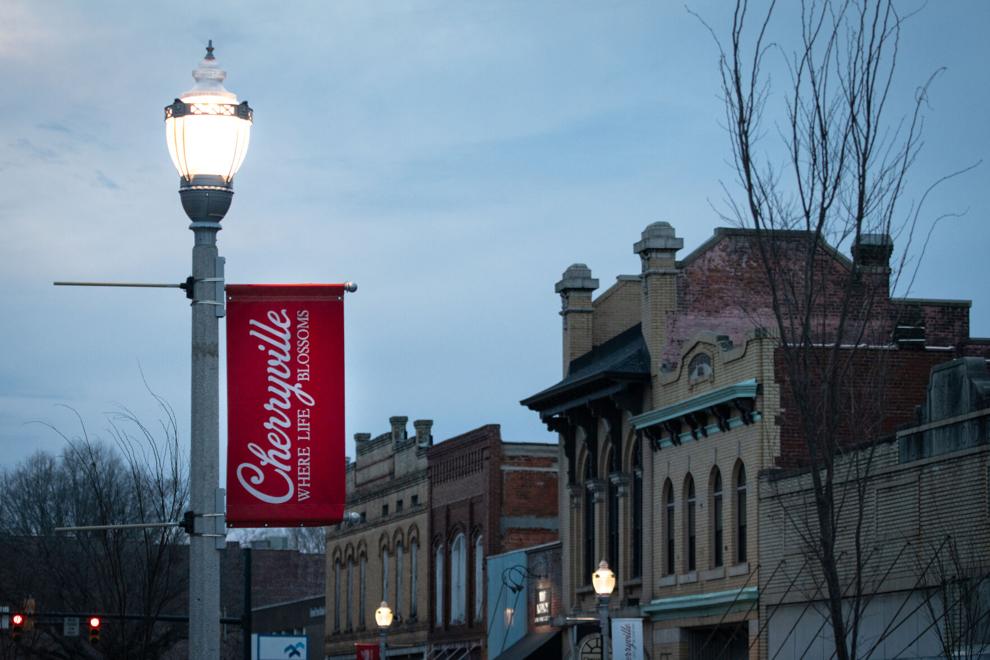 He and other opponents were nervous about an upcoming meeting. The small city of Cherryville had jurisdiction over 137 acres of land that Piedmont Lithium wanted to develop. The city didn't have the direct power to influence mining activities, like the county and state. But by relinquishing its zoning rights on that land to the county, the city would make it much easier for the company to secure its long-sought mining permissions.
On May 8, the Cherryville City Council met in a cramped, windowless room. It was packed, with a large overflow room next door, equally crowded. People — nearly 100, by one estimate — could be heard cheering and chanting against the mine.
Local resident Dan Setzer, wearing a turquoise fly-fishing shirt and dark-rimmed glasses, spoke at the lectern, noting that there wasn't a single person in the building who was in favor of the city helping Piedmont Lithium get its permit in this way.
That wasn't exactly true.
City Council approved the measure, turning over its zoning rights to the county and getting Piedmont Lithium one step closer to its mining permit. The five-person vote was unanimous.