Life at SC's lakes Marion and Moultrie is peaceful — unless Santee Cooper folds
Lakes Moultrie and Marion together bring about $415 million worth of tourism to the five counties surrounding them. Locally owned motels, bait and tackle shops, campgrounds, gas stations and fishing charters flourish because of the lakes, which were dug in the early 1940s by hydroelectric power company Santee Cooper. 
Now, that history is casting a cloud over the lakes' future.
In light of the failed nuclear reactor fiasco, Santee Cooper is in hot water financially, and there are concerns that a sale of the company could create a worst-case scenario in which the lakes are either not maintained or drained.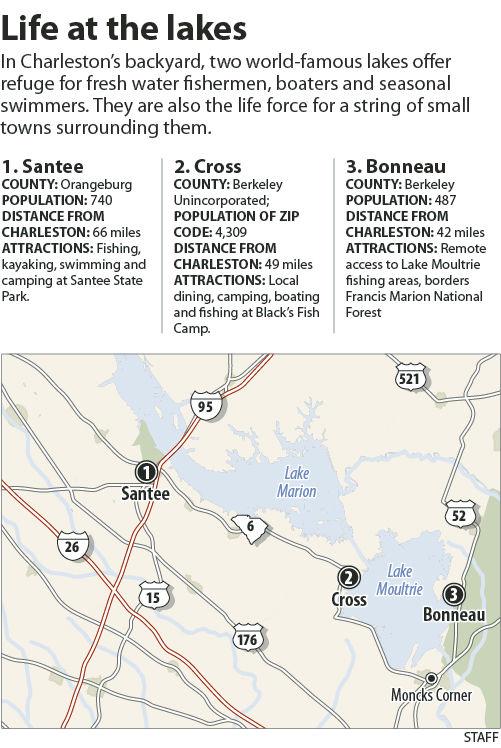 While Gov. Henry McMaster has discussed selling part of the electric company, he has pledged his support for maintaining the lakes. 
"They are worth their weight in gold," he has said.
For the thousands of new people moving to the Charleston area each year from the Midwest and Northeast, Blacks Fish Camp owner Kevin Davis said he hoped the transplants would discover the lakes — and that the larger Lowcountry would feel it has a stake in the lakes' future.  
"These are the 'Great Lakes' of South Carolina," he said. "I love that smell, and the laid back feeling of the lakes ... the lakey feeling. The 'lake life,' if you will." 
'God's creation'
On a recent cool and sunny Friday morning, Ronnie Swinton stood on a large rock at the edge of Lake Moultrie wearing black jeans and a camo-print flannel button down.
The catfish should be biting this morning, he said, pointing at the calm ripple-less water in front of him.
The 55-year-old is a bit of an expert. This quiet stretch of Lake Moultrie, accessible only by a quarter-mile hike from the road, was his aunt's favorite fishing spot. More than 80 years ago, his grandmother lost her home when Santee Cooper used $31 million in federal money to carve out the wooded rural communities to create the lakes. 
In February 1942, Santee Cooper generated its first electricity. Santee Cooper still owns and operates the lake-based power plants, but they account for only a small portion of the electricity it generates.
Residents like Swinton's grandmother relocated to towns established along the outskirts of the lakes. Local economies based on fishing and tourism flourished. 
Santee Cooper hasn't cut its spending to maintain the 180,000-acre lake systems, but to Swinton, signs of financial dire straits are evident. 
The Bonneau resident has fished Lake Moultrie for more than 50 years, and he said he has noticed lake maintenance go downhill. Abundant trash, overgrown grass and lily pad-covered dikes annoy him and other locals, he said. 
"They don't take care of nothing," Swinton said. 
In 2010, the utility hiked rates on lease renewals for properties in its lakeside subdivisions. The Barnes family saw an increase in their annual rate from $125 to $4,000. According to its website, Santee Cooper does not have any lots available for lease today, but it does have several lots up for sale. 
Santee Cooper currently has a debt of $7.9 billion. Roughly half — $4 billion — was spent on two unfinished nuclear reactors in Fairfield County, a project that Santee Cooper and South Carolina Electric & Gas jointly abandoned last year. The utility is in the process of negotiating with the federal government on a 30-year license renewal. 
But back-and-forth talks continue over the Atlantic sturgeon, an endangered prehistoric fish that resides in the lakes. The fish has faced difficulty reproducing in recent years and federal regulators have designated South Carolina's rivers as a critical habitat for the fish. The cost of building fish passages for the sturgeon and eels has been estimated at about $180 million.
If federal regulators allow other state agencies to take over management of the lakes, the $180 million cost — and the $11 million annual cost to maintain the lakes — would be shouldered by taxpayers.
Davis, the fish camp owner, said he appreciates that the areas around the lakes have remained relatively rural in spite of these challenges. Cross, where his business is located, is still an unincorporated community within Berkeley County. 
"This is one of the last truly wild places so far from the interstates," he said. "It's important to have rural places in South Carolina ... to enjoy God's creation without all the hustle and bustle." 
What the feds will require is unknown, and state legislators face no immediate deadline to make a decision. They have, however, considered selling the utility. Whoever takes over the lakes could not pick and choose what parts of them to maintain, Santee Cooper Senior Vice President Pam Williams recently told lawmakers. 
The new owner could opt to surrender the federal operating license for the hydroelectric power stations, a move that could trigger an order from regulators to remove the dams and dikes that created the lakes nearly 80 years ago — considered a worst-case-scenario for the lakes and those who enjoy them. 
Could the lakes be drained? 
Standing at the foot of the lake, Swinton was setting a hook in a worm. He scoffed at the idea that a new owner would consider draining the lakes over an $11 million cost.
"You can't drain it," he said. "It's just going to be a big hole in the ground. If someone wanted to drain the lake, that's somebody who don't know what they're talking about."
About 45 minutes away in Santee, a popular town on the southern edge of Lake Marion, Deborah Mazyck felt a tug on her fishing line. 
"Another?" her husband asked. 
"Yep!" she said, as she reeled in yet another blue gill. She unhooked the fish and plopped it into a cooler with several others. The Mazycks have been married for 28 years. About once a week, they drive 45 minutes from their Orangeburg home to this spot in Santee. They like the taste of freshwater fish more than the pickings in the brackish rivers flowing toward Charleston. More than anything, fishing is therapy, they said. 
"You come here and get rid of all your troubles." Mazyck said. "It's just so relaxing. Any troubles you got, you just come to the water." 
Robert Mazyck agreed. Not only should a new owner continue to maintain the lakes, but that group should also encourage urban parents and schools to bring children up for lake retreats, he said. 
"This is the side of nature kids need to see," he said. "Not concrete and cars."
'Way more chill'
For locals, the financial impact of losing the lakes would be huge; the lakes bring $415 million worth of tourism to the five counties surrounding the lakes, employing 3,750 people, according to Santee Cooper. Those counties include Berkeley, Calhoun, Clarendon, Orangeburg and Sumter.
"If the lakes weren't there, nobody would have lake houses or fish camps," state Sen. Brad Hutto, D-Orangeburg, has said. "Nobody would even be there."
That is certainly true for Davis, owner of Blacks Camp in Cross, an unincorporated community that sits on the western edge of Lake Moultrie.
Davis' business provides camping, hot meals, fish cleaning and fishing charters for tourists. He has served fishermen from as far as Japan and Africa, who want to get a taste of what the Southeast's No. 1 fishing spot looks like. 
"Lake Moultrie is one of the greatest lakes there is," Davis said. 
Catfish, crappie, blue gill and striped bass are among the most frequently caught fish. A 58-pound channel catfish caught here holds the world record.
"If they did take down these dikes, dams and spillways, it would have a huge financial impact," Davis said. "A 500-mile radius would be affected." 
And all sorts of people would notice, including people like Emily Young.
Inside the Santee State Park, Young recently pulled a bright orange kayak from the top of her white minivan as her daughter Megan, 7, jumped up and down in excitement.
The Summerville family typically vacations at the beach, but a recent trip to Edisto was more of a headache than it was worth. Young, a mother of four, got stung by a jellyfish. 
"This is way more chill, especially with the kids," she said. "It's a different feel. It's woodsy, it's shaded, it's more calm. You can feel like you're getting away from the city, but it's a getaway that's close." 
Reach Hannah Alani at 843-937-5428. Follow her on Twitter @HannahAlani.