A rubber tire isn't just rubber. It's a blend of petroleum derivatives, anti-aging agents, steel and natural rubber – some 200 ingredients that keep you rolling. Tire companies are studying other potential compounds, including rubber from Russian dandelions. All this chemistry can lead to unintended reactions. If, for instance, you cut up tires and store pieces near nylon fibers, the mixture can burst into flames.
If firefighters don't bring a tire fire under control, you end up with something that mimics a volcanic eruption. Noxious black smoke fills the air; temperatures hit 2,000 degrees; oil bleeds off like lava. Pound for pound, tires burn more efficiently than coal. A tire fire in Great Britain burned for 15 years.
Americans generate about one scrap tire per person every year, and millions end up in tire piles. One of these piles is in southern Berkeley County, between Goose Creek and Moncks Corner. It's on the road to a county nature preserve. A fence separates it from a new subdivision. Calling it a pile doesn't do it justice. It has perhaps 600,000 tires, though no one knows for sure. They form a dark wave around a large warehouse, which also is crammed with tires. The site is abandoned and heavily vandalized. There have been two fires.
The company responsible for this hazard is Viva Recycling, though it had some help. State development officials arranged nearly $16 million in tax exempt bonds to get the company moving. (Viva has defaulted on the payments). Taxpayers also footed a $400,000 loan for another Viva venture. (That loan is now mostly unpaid). Meanwhile, the company generated another pile in Anderson. Residents say it's home to mosquito swarms and meth users.
South Carolina could end up paying millions more to clean up Viva's messes. But Viva's story isn't just about tire dumps. It's about how a new industry rose from the ashes of failure, how it found ways to make new things from old tires — how this dramatically reduced the considerable dangers and impacts of used tires.
Yet it's also about how South Carolina still fails to protect people from tire piles despite the growing dangers of West Nile and other mosquito-borne viruses. It's about how ambition and mismanagement can cause a company to come apart like an old retread — and how its executives can openly flout rules and force others to clean up their scraps.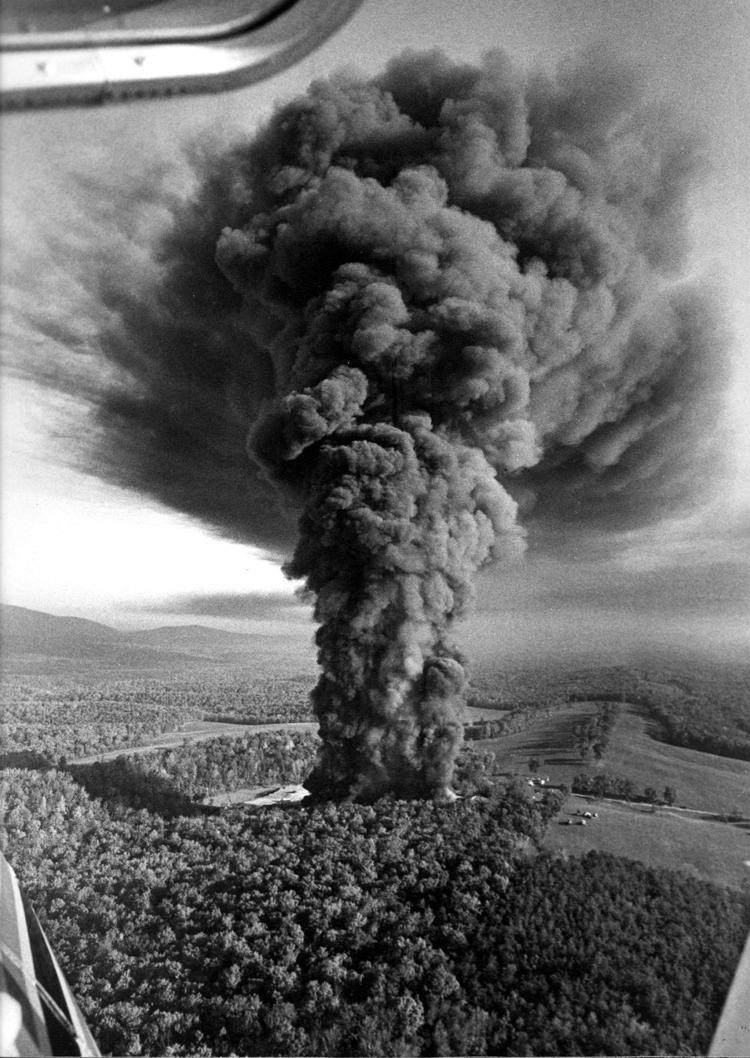 Mount Firestone on fire
In 1983, an arsonist torched tires in a massive dump in Mountain Falls, Va. The pile had an estimated 7 million tires. Firefighters doused it with water and foam. They built fire breaks through a flaming forest of discarded rubber. Nothing stopped it. A plume rose a mile high. Smoke spread across four states. More than 800,000 gallons of oily waste from melting tires poured from the flames into a nearby river. News reports at the time called it "Virginia's answer to Mount St. Helens." The fire burned for nine months.
Just after firefighters in Virginia finally declared it dead, another tire fire broke out 2,800 miles away in Everett, Wash., likely started by partying teens. That pile had 4 million tires. Locals called it Mount Firestone, and it too burned for months. The smoke blocked out the sun. Soot fell like black snow.
The economic effects of these fires lingered. State and federal governments spent two decades and $23 million just to clean up the 1983 fire in Virginia. They spent millions more on Mount Firestone. Yet, though costly, these fires helped ignite a new industry.
State after state passed laws banning tires from landfills. They fined people who stored them in their yards. They charged customers waste fees when they bought new tires.
Here, we pay a $2 disposal fee every time we buy a tire, and these fees add up. Last year, the S.C. Department of Revenue collected more than $4.3 million in tire fees. About half of this money typically goes back to retailers that send scrap tires to recyclers. The rest goes to the state's 46 counties and the Department of Health and Environmental Control. By law, DHEC keeps its money in a dedicated fund. The fund's balance now is about $4 million.
These fees and regulations unleashed a new generation of scrap-tire entrepreneurs. These budding tire moguls found ways to sell lightly used tires overseas; they shredded heavily worn tires and sold chunks to landfills to keep dust down; they sold smaller bits to power plants as fuel. Add color, and you could use the stuff as mulch. Turn the rubber into dust, and you could mix it with asphalt to make roads quieter.
Finding new uses was a matter of imagination and funding, and an entrepreneur named Marty Sergi was in the thick of this increasingly lucrative field.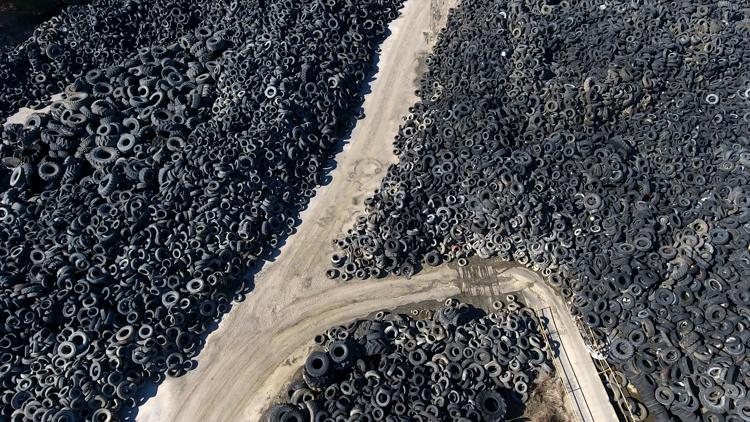 Rubber barons
Sergi is from New Jersey and has a fondness for wheat beers and classic rock. Those who know and worked with him say he's charming and a good salesman.
In the mid-1980s, with the Virginia and Washington state fires still in the news, Sergi left his accounting job at Ernst & Young for a company called KTI Inc., a move that would vault him to the top of an industry turning waste into gold.
That decade, KTI had established itself as a major player in the waste-to-energy field, especially in the Northeast. In 1989, KTI's facilities burned 80 percent of Maine's garbage. But with Sergi as director and chief financial officer, KTI branched out.
The company built a power plant in Florida that burned waste wood. It bought a business that turned old newspapers into building insulation. It pioneered a new technology that froze rubber with liquid nitrogen and shattered the rubber into what it called "crumbs." These crumbs could then be used in running tracks and sports fields.
By the late-1990s, KTI had 100 rubber recycling and incineration plants in more than 20 states. It handled 10 million tons of municipal solid waste, trash equivalent to the weight of 100 aircraft carriers. It boasted heavy hitters on its board, including Wilbur Ross, now President Trump's commerce secretary.
Then, in 1999, a New England company called Cassella Waste Systems merged with KTI, though not without controversy. KTI shareholders filed a class-action lawsuit alleging that Sergi and Ross Pirasteh, another KTI executive, misled investors. Those cases were eventually settled out of court, and the merger went through. Cassella spun off its tire recycling unit, and Sergi and Pirasteh left Cassella to form a new company, Recovery Technology Group, or RTG, to focus on tires.
Their timing was good, largely because of a different kind of failure, one that took the lives of more than 270 people.
A business unravels
In the late-1990s, certain Bridgestone-Firestone tires began splitting apart at high speeds. Ford equipped their new Explorers with the tires, and some of these SUVs were involved in deadly rollovers.
As the number of rollovers grew, Firestone said the SUVs had design defects, while Ford blamed the tires. Lawsuits were filed. Bridgestone-Firestone workers testified that they were forced to inspect 100 tires per hour. Bridgestone eventually paid $240 million to Ford to settle the matter. But that still left an enormous number of newly scrapped tires — some 20 million had been recalled. Enter Marty Sergi and his new company RTG, which landed a deal to get rid of more than 8 million of them.
"Every single one of them — none of them went to landfills and none of them burned," Sergi said in a recent interview. "Those were the rules of the road."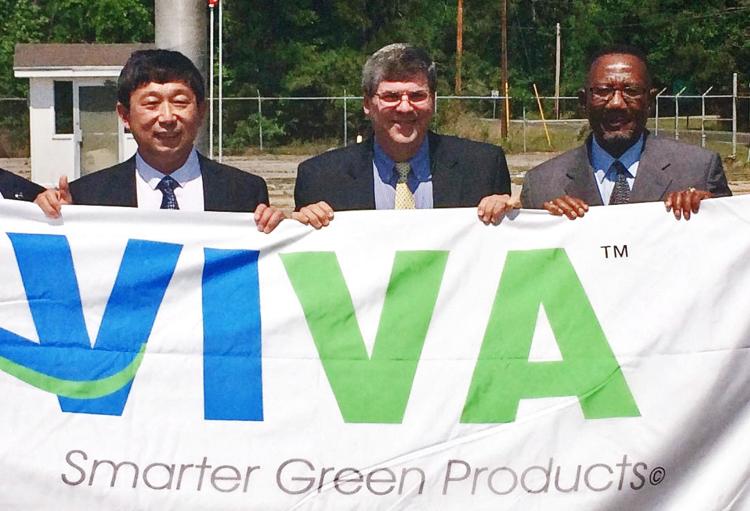 This early push led to even more growth. New York and other states dangled grants and credits. In 2001, RTG bought the Santee River Rubber plant off Cypress Gardens Road south of Moncks Corner. As part of that deal, it planned to import scrap tires from Puerto Rico to South Carolina. Ted Bernhardt, manager of RTG's East Coast region operations, said at the time: "We felt there was room for one leader, so we've quietly become that leader."
Sports teams, colleges and high schools were important customers. Sergi said the company sold recycled rubber to 13 professional sports and about 200 college teams for use in artificial turf fields. By 2004, RTG reportedly was the largest tire recycling company in North America.
Sergi's fortunes also rose. He acquired the Mall at the Galaxy, a shopping mall in New Jersey. He opened a spa. His former employer Ernst & Young in 2006 named him New Jersey's emerging business entrepreneur of the year.
And then RTG unraveled like those old Firestone tires.
In 2007, a fire broke out at its plant in Arizona. A column of black smoke rose as high as a Himalayan mountain. Emergency officials warned people to stay indoors. The fire burned for a week.
Nick Bruno, who worked for Sergi at the time, traveled to Arizona shortly after the fire. He said it likely started when piles of tire scraps came into contact with nylon. The metals in the tires oxidize with other materials and catch fire. "I've seen it happen in a dumpster before in Canada."
After the fire, creditors went unpaid. Vendors and customers filed lawsuits. In 2010 and 2011, Sergi's companies filed for bankruptcy under Chapter 7, meaning that the companies would be liquidated. The company left behind $21 million in debts.
And, with the failure of these businesses still smoldering, Sergi focused on South Carolina.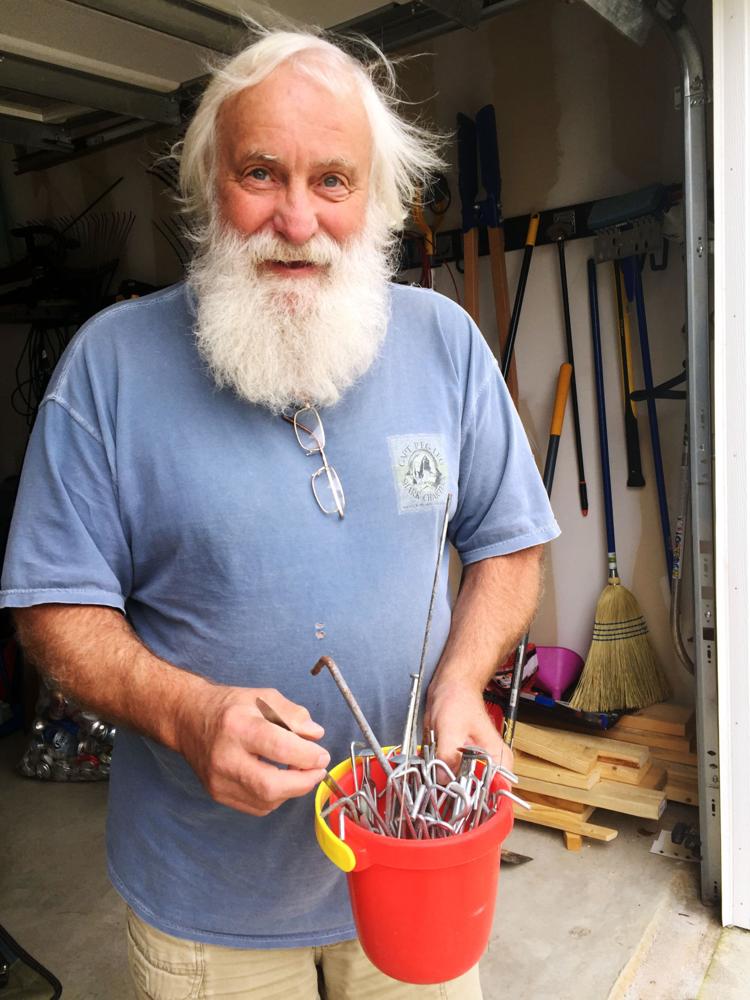 Piles and piles
The mosquitoes are vicious by the Viva Recycling plant off Cypress Gardens Road — big bloodsuckers that dive bomb exposed flesh. They make it difficult to stay outside, and that's where Howard Hogue likes to do his string art — in his garage, door open, making miniature boats with strings for sails.
Hogue's house is next to the plant in a new subdivision. He's a retired shop teacher from Maryland and a recycler himself. Some days, he goes to the Isle of Palms to pick up plastic trash. Because of his thick white beard, people call him the Beach Santa. "My rule is to make a place better than it was before." Conditions by his house, however, have only grown worse.
Over the years, tires piled up next door like a black ocean swell. Mosquitoes came in waves, too. "It's terrible," he said. "They can be nasty. Why did this happen? I don't know. But they need to haul those tires away."
Things started going downhill in 2014 and 2015, said Bruno, the former Viva executive.
Bruno had worked with Sergi for years in Oklahoma. He'd watched Sergi preside over KTI's bankruptcies, so he said he was leery when Sergi called and said, "I'm in South Carolina." But Sergi is a persuasive pitchman, he said. "And, I thought he'd learned from his mistakes." So Bruno moved from Oklahoma to South Carolina in early 2014. Both Bruno and Sergi said things went well at first. 
"We were the darlings of the state," Sergi said.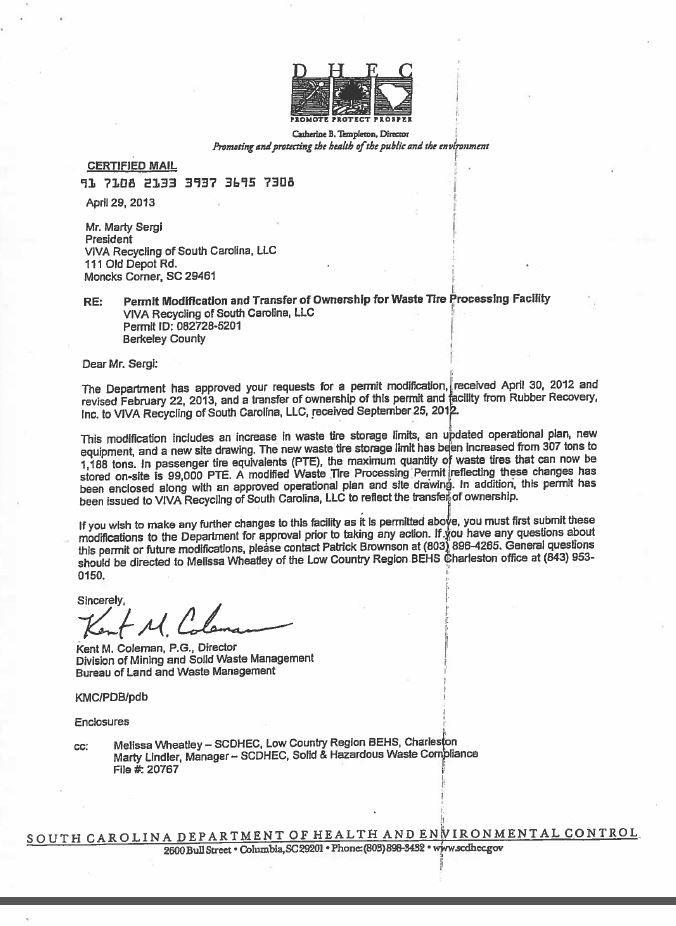 In 2012, the state had issued $16 million in tax-exempt bonds to help Viva buy the Moncks Corner plant. The next year, DHEC loosened the company's permit, green-lighting the storage of up to 99,000 tires on its grounds. By 2014, the plant ran 24 hours a day, seven days a week and employed 80 people. Viva also acquired tire recycling plants near Anderson and Jacksonville, Fla.
On the surface, Viva's prospects looked solid. Below, there were cracks. Inspectors from DHEC visited in August 2014, and what they found was startling. Tires were everywhere, as if scattered at random: tires inside the warehouse, tires blocking exits, in fire lanes, in ditches, in standing water — tens of thousands more than its 99,000-tire permit. On Oct. 22, 2014, DHEC notified the company that it had violated its permit.
Sergi hired a lawyer and challenged DHEC's findings. But Bruno took a less confrontational approach. He wrote two long letters to DHEC in 2015 explaining what happened. The company had found it difficult to find and train good workers, he wrote. "Most did not like the work, some left shortly after hire for better jobs." The ones that remained "were not up to the task." Machine operators ran foreign objects through the plant's shredders, wrecking the equipment. "A tire pile began to accumulate."
In an interview, Bruno said he'd grown more and more frustrated. "The cheapest way to make the most money is to bring tires in and don't do anything with them. From being in the industry, I know that if you're allowed to have 50,000 tires, you'll have 50,000 tires on site. If you're allowed to have 200,000, you have 200,000. And nothing good happens to a tire when it's in the sun. It rots. It breeds pests." He's seen spiders and wasp nests hidden in tires, along with kittens and snakes — even a cockatiel and live chickens. 
As the tire piles grew, Bruno said he found it harder to shake loose money for maintenance. "In December 2014, the facility experienced its second fire, due entirely to operator error and lack of supervision," Bruno wrote DHEC. "We decided we had to make some changes."
Viva stopped shredding tires in Moncks Corner to focus on equipment repairs. As a result, Bruno wrote, Viva diverted "as many tires as we could" to Anderson.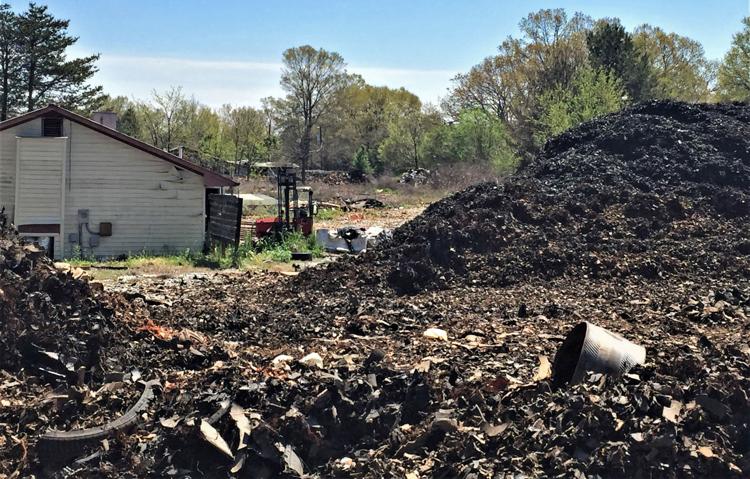 A mess in the Upstate 
In August 2014, about the same time DHEC inspectors discovered the mess in Moncks Corner, state development officials, including then-Gov. Nikki Haley, pumped up the launch of Viva's facility in Anderson. "It's always a great day when one of our existing companies chooses to expand and continues to find success within our borders," Haley said.
That success never happened.
"The first problem was the mosquitoes," said Ken Swilling, who lives by the Anderson plant. "They were eating us alive."
Kevin Scott, who runs a transmission shop by it, said bugs were so bad he couldn't walk outside. He said he burned citronella candles inside his shop at night so he could work.
Black dust from the plant's machines caked nearby roofs and cars. The gunk was so bad, Scott had to hire someone to detail his customers' cars. Irked by the bugs and fearing a fire, neighbors organized.
A fire could be catastrophic, they said. A major petroleum pipeline runs through the property. If that went up, effects would ripple across the South. Neighbors signed petitions, contacted state and federal criminal investigators. "They'd promised us a state-of-the-art facility, but there was nothing state-of-the-art about it," said Walt Lanier, head of the neighborhood community watch program.
The company's DHEC permit allowed only 4,000 tires. DHEC later estimated that within four months, the number of tires on the lot increased to 200,000. "Everyone should feel comfortable, we will recycle these tires," Marty Sergi told an Anderson television reporter in May 2016. At the time, the plant wasn't supposed to be accepting tires.
By chance, the camera crew captured a truck full of tires rolling in.
Trying to stop the tires
Month after month, inspectors found problems in Moncks Corner and Anderson.
Month after month, Viva appeared to do nothing about the inflow of tires.
By the end of 2015, DHEC estimated the Moncks Corner plant had at least 222,000 tires — 123,000 more than its permit allowed. In January 2016, DHEC's enforcement chief told Sergi the site carried "unacceptable risks."
Officials at DHEC documented Viva's problems in detail. But that didn't stop other local officials from pouring more money into the company.
Just four days before DHEC sent that January 2016 letter, the Berkeley-Charleston-Dorchester Council of Governments loaned $400,000 to Sergi's latest venture — money for another plant in St. Stephen.
By then, Sergi had teamed up with investors from China. They pitched a plan to use recycled rubber from Moncks Corner to make rubber pallets in St. Stephen. "It's amazing, but the economics for manufacturing in South Carolina are better than they are in China," Sergi said at the time. "The access to raw materials is so much better — that's the deciding factor."
Sergi's group seemed to have a good plan, said Ron Mitchum, executive director of the Berkeley-Charleston-Dorchester Council of Governments. "They showed an actual pallet." Mitchum said COG knew about Sergi's history of bankruptcies "to a limited degree. ... But I think people felt pretty good about it because of the technology."
The $400,000 COG loan came from a fund designed to generate jobs in rural areas, he said. St. Stephen, 40 miles north of Charleston's rising new buildings, had mostly been left behind in the region's boom. The new plant would go in an abandoned warehouse near St. Stephen's crossroads. Viva said it would hire 200 people.
Officials with COG knew the loan came with risks. In fact, the agency made loans only to businesses that fail to get bank funding, Mitchum said. "We don't want to compete with banks." Despite such risks, "we've had more successes than failures."
In May 2016, the state Department of Commerce announced the new Viva project.
"We anticipate great things from their new development," Commerce Secretary Bobby Hitt said.
"We couldn't be more excited," said Haley, soon to become U.S. ambassador to the United Nations.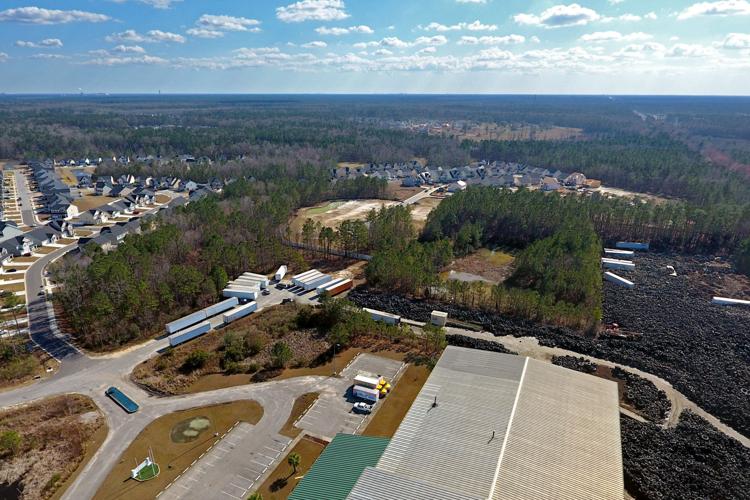 A big fine, a bigger mess
Ten months after the Commerce Department's announcement, the Chinese partners terminated Sergi, said John Liu, chief executive officer of the investors. His group kicked in $5 million but began to question why they didn't have anything to show for their money.
"We are still trying to trace where the money went," Liu said.
Sergi said he traveled to China to show off his project's pallet technology. "I can tell you that we went through all the testing and we brought the product to China to show them how to do it." Everyone hugged afterward, he recalled. Then, later, they fired him. "We're obviously not on speaking terms anymore."
Meanwhile, in 2016 and 2017, DHEC inspectors continued to monitor Viva's plant near Moncks Corner. "Amount of tires on site continues to increase," an inspector wrote in August 2016. In June 2017, a DHEC official tried to contact Sergi, finally reaching him by phone. In a hand-written note, she wrote, "He is in the Keys."
About 250 miles south of Moncks Corner, in Jacksonville, Fla., health officials also were concerned. They had ordered Viva to clear its tire pile in 2015, but a year later, at least 100,000 tires still littered that site. The emergence of the Zika virus added a sense of urgency.
Bruno said Florida regulators were more aggressive than their counterparts in South Carolina. Under pressure, the company shipped thousands of scrapped tires from Jacksonville to Moncks Corner, he said.
An easy solution
In 1985, the United States had about 2 billion scrap tires. Thanks to recycling programs, that number is about 75 million. Yet these remaining piles are still dangerous. A single tire can hold enough stagnant water to breed 10,000 mosquito larvae.
Today, Viva's sites in Anderson and Moncks Corner look like junkyards. Piles of rubber shreds litter the company's lot in Anderson. Vagrants regularly walk through the mounds, neighbors say. They've snapped photos of truck trailers dumping tires there at night. Conditions are worse in Moncks Corner. Tire piles rise like massive black dunes around the warehouse. 
DHEC has fined Viva $1.7 million for its plant in Moncks Corner. In February, the state agency obtained a court-ordered judgment against Viva and Sergi for the unpaid fine. In documents obtained by The Post and Courier, DHEC has acknowledged that Viva doesn't have the money to pay its penalties.
COG has filed a lawsuit against Sergi and Viva to recoup money from its loan. In December, a judge ordered Viva to pay that debt. So far, it hasn't. As part of the loan, Sergi's company put up various pieces of equipment and tools as collateral. But the Chinese investors allege in court documents that the equipment was theirs, and that they didn't authorize anyone to use them as collateral. Bruno, the former Viva worker, also has filed a lawsuit alleging that the company owes him back wages. 
All told, more than a dozen lawsuits have been filed against Viva and associated companies, mostly for unpaid work. At least one of those small-claims cases involves public money. Working with a state employment program, Viva owed $37,800 to a man hired to find better-qualified workers. The state Commerce Department paid its $15,120 share, but Viva never paid the balance.
Sergi said: "I dumped my last penny in that place."
Now, he added, he's working on a new plan to help investors acquire the Moncks Corner plant and "revitalize it." He declined to name the investors. "They have plenty of money to get rid of all the tires."
These piles didn't have to happen, said Bruno, the former Viva executive. When he worked in Oklahoma, he asked regulators to write strict permits requiring his facility to store tires in truck trailers, not the ground. That solved the mosquito and fire issues. And it gave recyclers an incentive to process tires quickly so as not to tie up a valuable truck trailer. "It worked perfectly in Oklahoma."
Meantime, in South Carolina, spring's cooler temperatures have gone and the mosquito season has shifted into full-itch. A roaring fire broke out Friday at a car crushing plant near Holly Hill, a different kind of recycling operation. Thirty fire departments responded. A mushroom cloud of dark smoke rose as if the area had been bombed.
In Anderson, neighbors fear that vagrants will start a fire that could affect the pipeline and devastate the neighborhood. In Moncks Corner, residents such as Hogue, the string artist who can see the tire plant from his driveway, have similar fears. "People should be held accountable."
Hogue remembers how a fire broke out again at the plant shortly after Hurricane Matthew drenched the area. Thieves apparently started the fire while trying to steal copper equipment. Fire departments in the area converged. They managed to keep the fire from consuming the tire piles, preventing a catastrophic blaze like the ones in Virginia and Washington state decades before.
Now, he and his neighbors wait and watch, nervously — for a fire, thieves, for neighborhood children to sneak in and get hurt.
Or, someone to clean up someone else's mess.