Do you have a bad habit of returning books late to the Charleston County Public Library? You're in luck.
The 16-branch library system stopped charging fees for overdue books on June 20, joining a national movement of libraries ditching the old policy.
However, patrons who had accrued late fees before June 20 will still have to pay those fees.
The library system will continue charging overdue fees for DVDs, CDs and other items, including telescopes, but may consider eliminating those fees at a later date, according to a library spokeswoman.
"Although there are no fines on print materials, the typical due dates still apply and we expect patrons will return the items in that time frame," Digital Content Coordinator Sam Tyson said in an email Tuesday.
"For items that are not returned within 42 days after (their) due date, the item is marked as lost and the patron will be billed for replacing the materials," he added.
The library will continue sending email notifications about books that are coming due or overdue.
The library did not make a formal announcement about the change, leaving some of its 151,000 patrons pleasantly surprised when they returned overdue books in recent weeks.
Library Director Nicolle Davies proposed the idea of eliminating all overdue fees at an August 2017 Library Board of Trustees meeting. She argued that outstanding fines can prevent some patrons from returning to the library, particularly low-income cardholders who can't afford to pay. 
"If you're a day or two late because life happens, why are we going to penalize? There's a degree of shaming that goes along with that," Davies said at the time.
Board Chair Andy Brack was convinced. While the change did not require board approval, the board passed a resolution in support of the idea in April.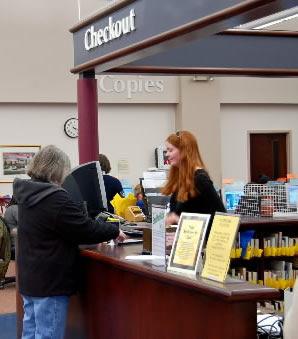 "We want it to be a place of lifelong learning, and having a $10 fine get in the way of somebody learning just doesn't make sense when we can address that in other ways," Brack said.
Charleston County might be the first library system in the state to abandon overdue book fines. It's not the first in the country, though. Library systems have eliminated late fees in major cities including Columbus, Ohio; Nashville, Tenn.; and Salt Lake City.
Under the old overdue-fee system, Charleston County Public Library documents indicate that 95 percent of overdue materials were returned within a week of their due dates. National research suggests that late fees might not be worth the hassle, though.
An April 2017 Library Journal report noted that the Milton Public Library in Vermont actually saw more cardholders returning books on time after eliminating overdue fees. The Dayton Metro Library in Ohio saw a similar phenomenon this year after eliminating overdue fees in January, according to the Dayton Daily News.
Overall, the Library Journal report found that overdue fines are still common in U.S. libraries. But librarians reported having to spend time on the clock counting and collecting fines, which typically account for a small portion of revenues.
In South Carolina, as libraries shrink their print collections and ramp up their investment in e-books, which are automatically returned on their due dates, revenue from overdue fines is expected to taper off.
The Charleston County Public Library received $279,548 in fines in 2017, which amounted to less than 1.7 percent of its $16.8 million total revenue, according to the library's latest financial report. The largest funding source was county taxes.