Interstate 26 had twice as many lanes for westbound traffic Tuesday afternoon, with evacuations under way for Hurricane Florence, but near Charleston, the highway carried only half the westbound cars and trucks seen on an average afternoon.
Official S.C. Department of Transportation traffic counts showed that 11,488 vehicles headed west on I-26, just above I-526, between noon and 4 p.m., using both the eastbound and westbound lanes. In the same period on an average day, that highway sees more than 25,000 westbound vehicles.
While traffic was lighter than average in the interstate in North Charleston, I-26 was carrying more westbound traffic than usual in the Harleyville area, where daily commuting traffic would have less influence on the numbers.
DOT Deputy Secretary for Engineering Leland Colvin said such "pinch" points, where a narrower stretch of highway cannot as easily handle increased volume, can be most clogged for evacuees. Over most of the day, he said, these stretches saw twice the normal traffic.
But with the lane reversals, he said, motorists stayed up to speed.
In the Myrtle Beach area, where all lanes on U.S. Highway 501 were used for northbound traffic during the afternoon, the number of vehicles on the roads was slightly less than on an average day.
Along the coast Tuesday, some people made hurried preparations to leave, while others went to the beach or spent time with children who were home because schools were closed.
Coastal South Carolina from Edisto Beach to North Carolina is under an evacuation order by Gov. Henry McMaster as the East Coast braces for Hurricane Florence, which forecasters said is on a path to make landfall in North Carolina early Friday.
Before leaving town, Fredrick Doctor filled up his pickup at a gas station at Rivers and McMillan avenues in North Charleston. He said he decided not to take any chances riding out large storms after Hurricane Hugo battered the coast in 1989.
He planned to go home to tie down his lawn furniture, put his lawnmower away and then drive to Columbia with his 90-year-old mother.
"I've been watching the weather," Doctor said. "I'm not worried about me, but I'm concerned about her."
Transportation officials closed eastbound Interstate 26 early Tuesday to prepare to reverse traffic. By 11 a.m., the eastbound lanes had been reversed from I-77 near Columbia to I-526 in Charleston.
Officials said during a press conference that the evacuation process was designed to end six hours before the arrival of tropical storm-force wind.
Authorities have also reversed traffic for U.S. Highway 501 out of Myrtle Beach.
Cathy Crowl, of Tennessee, had been vacationing in Myrtle Beach but rented a car and evacuated Tuesday morning, planning to catch a flight out of Charleston.
"We left early to get here and bide our time until our flight," she said, outside a gas station on East Bay Street in Charleston, where her group was trying to make an alternate plan. "We were just notified by Southwest (Airlines) that our flight was canceled."
"At least we have a rental car," Crowl said.
Southwest Airlines canceled all flights out of Charleston that were scheduled to depart later than 12:45 p.m. Tuesday. No other airlines had canceled flights from Charleston by mid-afternoon, but the airport announced that it may shut down by midnight Wednesday.
While some people rushed to leave the Lowcountry, others stocked up on bottled water, nonperishable food and sandbags to stick out the storm at home. Before Costco opened Tuesday morning, shoppers had lined up outside with grocery carts.
Jody and Adam Doane returned to the store Tuesday after finding that Costco had run out of bottled water the day before.
The couple recently bought a house in Hanahan and decided to weather the storm at home with their two cats.
"It's a big investment, and we want to look over it," Adam Doane said. "It's kind of important to stay and keep an eye on it."
They have charcoal, matches and batteries left over from preparations for Tropical Storm Irma and Hurricane Matthew. While shopping, they also bought wine because "you can only read so many books before you get bored," Doane said.
Schools and many businesses were closed Tuesday, and traffic was light on Charleston-area local roads. Many neighborhoods showed little evidence of people preparing for a storm, but Mount Pleasant and North Charleston distributed thousands of pre-filled sandbags, and quickly exhausted their supplies. Some gas stations had no fuel.
On low-lying Williams Street in Mount Pleasant, Antonio Giordano was expecting serious flooding, because Tropical Storm Irma in 2017 put 19 inches of water in his garage, and Hurricane Matthew flooded his property in 2016.
Giordano, a doctor at Medical University Hospital, said he was packed up and ready to go with his wife and two children, but the hospital was open and he had patients scheduled for chemotherapy on Thursday. His wife is also a doctor there.
"It's complicated," Giordano said.
Not far from his home, the public tennis courts in the Old Village were full of players, children were out playing, and a crew with leaf-blowers was finishing work on a freshly mowed lawn.
Across the marsh on Sullivan's Island, the lone gas station was out of gas, and a steady stream of cars was coming across the Ben Sawyer Bridge — a turning bridge that was famously knocked off its support during Hurricane Hugo, severing what was then the only road link to the island.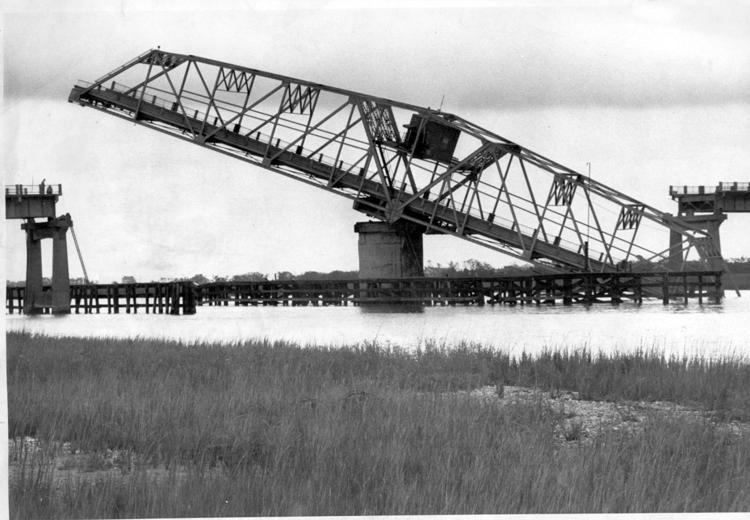 At Harris Teeter, the only large grocery store on Isle of Palms, resident Joe Ruff was loading up his golf cart with ice and other supplies in preparation for evacuating with his wife, Holly.
"We're going," he said. "Holly was here for Hurricane Hugo, by herself, because I was deployed."
Ruff said he planned to take a look at the latest forecast for Hurricane Florence, but expected to evacuate regardless of what it said.
In North Charleston, Wanda Spain planned to spend the day helping her college-student-son pack his things into a rental truck for a move back to Missouri. She and another son arrived at the Charleston airport Monday night around 10 p.m., just 14 hours before the scheduled evacuation of the area.
"I really don't know what to think," Spain told a reporter on her flight, before it touched down in Charleston. "I'm watching the predictions."