Notoriously flooding Beaufain Street and other downtown Charleston low spots get the test in the early evening for the next few days. King tides sweep in starting Wednesday.
Frank Newham is betting they stay dry. Newham, a senior engineering project manager with the city, is counting on a newly installed set of check valves to protect the trouble streets from serious flooding.
"If the valve on Beaufain works tonight, it'll keep Wentworth and Barre (streets) from flooding. Morrison Street already has seen 6½ feet tides, and that road was dry. The valves work," Newham said.
That would be a not-so-liquid refreshment for any number of residents, students and evening diners who have more than occasionally faced water above their knees.
The king tides arrive with the new moon at perigee, the point where the moon is closest to Earth and has its strongest pull on tidal waters. The tides will peak at or a little above 7 feet through the weekend. That means surf pushing into the dunes, engulfing tidal marshes — and forcing water back up downtown drainage pipes.
The evening tide Wednesday peaks at the tail end of the evening drive-home rush hour, at 8 p.m., then later each day. But tourist and traffic and foot traffic downtown will be busy.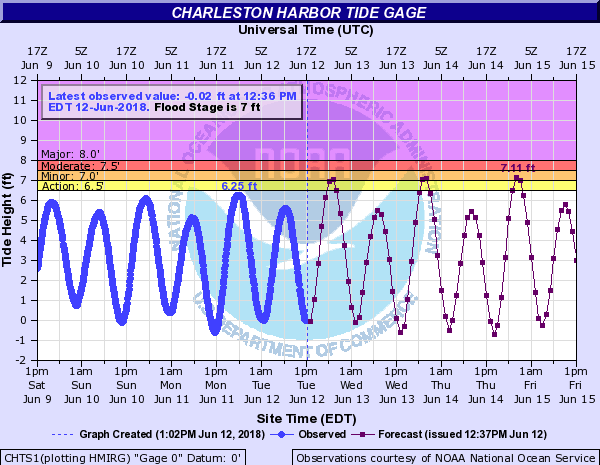 And it's summer now — thunderstorm weather. A heavy rain at the wrong time could bring more serious flooding, said meteorologist Peter Mohlin, with the National Weather Service office in Charleston.
Morning high tides will arrive more in the middle of rush hour but won't be nearly as high. They shouldn't reach 6 feet, Mohlin said.
The level called king tide, or astronomical high tide, is 6.6 feet or more, at least a foot above the usual tidal range. The higher the tide reaches, the more flooding and damage it does. Tides at 8 feet can undermine properties as well as exacerbate erosion.
Another active day of showers and thunderstorms is in the offing today. High tide at 7:40 will need to be watched closely for flooding concerns. Take a sec while things are quiet and make sure storm drains in your area are clear. This gives water a fighting chance to drain.

— Charleston Weather (@chswx) June 12, 2018
The city of Charleston recently spent almost $400,000 to address some of its most notorious spots for "sunny day" flooding with the valves.
These include the low-lying stretch of Morrison Drive just south of the Ravenel Bridge; the Wraggborough Homes neighborhood around the East Bay Street Post Office; and the intersection of Wentworth and Barre streets.
Meanwhile, state lawmakers meeting this month are expected to consider a law to allow accommodations, or tourist tax, to pay for projects to prevent flooding. 
A check valve is a special device inserted in a drainage pipe or culvert designed to stop high tides from pushing saltwater back through and onto the streets.
Earlier this year, the city installed 17 of the valves at assorted locations around Cannon Park and Colonial Lake downtown and West Ashley's South Windermere neighborhood.
A check valve doesn't help streets drain from a heavy rain. It can only keep high tide from entering the city. 
Tidal flooding is accelerating along the South Carolina coast, including Charleston, federal researchers say. The coast might flood nearly every day by the turn of the century almost 80 years from now.