Two men in a pickup truck in a Park Circle neighborhood. Another in broad daylight in the middle of the road. A fourth sitting at a table in his own kitchen. 
In just over 24 hours, each of these four people were shot and killed in North Charleston — the deadliest two-day stretch of gun violence in the city since 2006, when an episode of domestic violence killed five family members.
With the most recent killings, North Charleston has recorded 14 of the 37 homicides reported this year in the tri-county area, according to The Post and Courier homicide database. In 2017, North Charleston had surpassed this total by the end of May.
The weekend marked the first time since at least 2001, when the newspaper started tracking homicides, that the city has recorded three separate instances of deadly violence over a two-day period.
North Charleston Police Chief Reggie Burgess, who took leadership of the department at the start of the year, inherited the department after two of the worst years on record for the city in terms of violent crime. In the months following the first homicide on his watch, Burgess took to the streets holding signs saying, "Stop the Violence," inspiring others to march alongside him.
Under his watch violence appeared to slow, with 10 slayings during the first six months of the year. That number now stands at 14. 
On Monday, Burgess traveled to each of the three crime scenes — as far as 15 miles apart — to find and speak with family members of the victims and to assist detectives, spokesman Spencer Pryor said.
Burgess was unavailable for an interview, but he did share a statement in a video posted to the city's Facebook page.
Too many children are losing their fathers, and too many mothers are losing their sons, he said in the recording. He implored the city's residents to inform the police when they become aware of crime. 
"It's gotta stop," he said. "Be involved. Say something."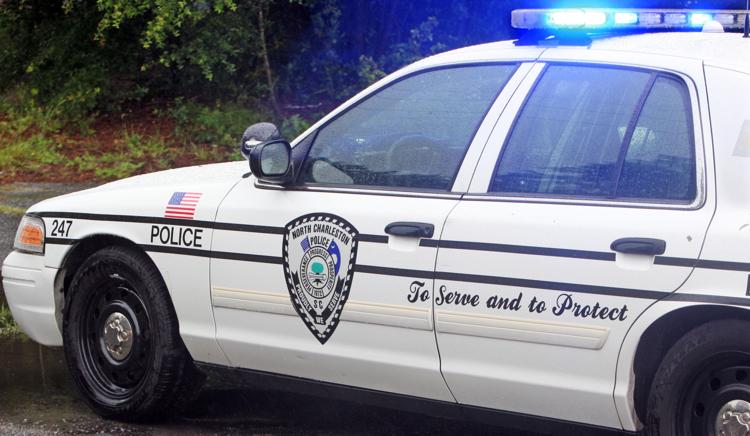 Eight hours, two homicides
At around 5 p.m. Saturday, North Charleston police officers responded to a report of shots fired near the Chicora-Cherokee neighborhood on Burton Lane.
The road is home to a few apartments but is bookended by noisy industrial areas, with the business-heavy Spruill Avenue on one side and the city's new fire station on the other.
When officers arrived, all they found were shell casings and a "small puddle of blood," an incident report showed.
A short while later, dispatch radioed in with more information. A man, Aldean Wright, 27, had been dropped off at Roper Hospital with gunshot wounds. The person who dropped him off screamed at hospital staff, "My homie got shot!" before he drove away, according to the report.
Hospital staff helped load Wright into a wheelchair and brought him into the hospital, where he died from his injuries. The circumstances surrounding the shooting were still not clear Monday evening and no arrests had been made public.
Eight hours later, officers responded to a second and unrelated call.
A group of men had broken into a middle-class suburban home on Salamander Road, 15 miles north of Burton Lane in a sleepy residential neighborhood off Otranto Road.
When police arrived, playing cards, poker chips and a black revolver were on the kitchen table, according to the report. Harold Hutzler, 54, lay on the floor behind the table, barely breathing.
Hutzler had been playing cards with several other people when two or three men wearing ski masks stormed into the house. They began fighting with the men at the card game. Hutzler was shot.
A roommate of Hutzler's placed the 911 call, a copy of which was obtained by the newspaper.
"Somebody came and tried to rob us, or did rob us," he said. "Harold's dead. Oh my God."
Police described the scene as "chaotic" in the aftermath of the shooting. An officer checked Hutzler's vitals, but he died soon afterward, police said. 
Hutzler owned and managed several properties in the North Charleston area, his friend and secretary Cricket Nance, 53, told the newspaper.
He was known by many as a humanitarian who offered people in need a place to sleep even when they couldn't afford it. On a recent visit to one of his units near the Charleston Farms neighborhood, just north of Park Circle, Hutzler met a homeless family with two young sons and a young daughter.
Nance, who was with Hutzler at the time, said he invited the family inside the vacant unit and offered them showers. He took the family for a meal at the nearby Bojangles restaurant, Nance said. 
"He tried to take care of the world," she said.
On Sunday, hours after the shooting, friends and family gathered at Hutzler's brown brick home. A makeshift vigil at the foot of Hutzler's back porch included white paper bags with candles, glass prayer candles and a bottle of Jameson Irish Whiskey.
"All of this was so unexpected," Nance said.
The deceased, Hutzler, had at least one gambling-related offense. In 2008 he was arrested by Charleston County deputies on a charge of illegal gambling.
'It makes you feel helpless'
As best as Thomalind Polite can remember, all was quiet in her Park Circle neighborhood late Sunday. Violence had broken out in her city earlier in the day but on the bustling Burton Lane to the south and in the residential area to the north.
Polite, her husband and two children settled into bed for the night. Then, outside her home on Mosstree Road, gunfire rang through the air.
Polite, 44, counted as many as eight shots. "Definitely not firecrackers," she remembered thinking to herself.
She and her husband peered outside their front door window but saw nothing out of the ordinary, she recalled.
"I've never heard so many gunshots in my life," Polite said. 
The Polites didn't know it yet, but two men had just been shot to death nearby in a pickup truck. The grey Ford F-150 took "extensive" gunshot damage, Pryor said. One of the men died on the scene, while the other died a short while later at Medical University Hospital.
Pryor said authorities believe the homicides took place during a drug transaction. A handgun and illegal substances, what kind police haven't specified, were found in the truck. Following the shooting, witnesses told police they saw two men fleeing the area where the pickup truck was shot, Pryor said.
No arrests had been announced as of Monday night.
After the authorities and neighbors cleared out and the crime scene tape was torn down, the Polites returned to bed — or tried to.
But less than seven hours later, when Thomalind's husband, Antwan, went to the front door to retrieve the morning paper, the unmistakable sound of gunfire rattled their home once again. 
This time, bullet holes tore through the family's front door. The enclosed porch suffered gunfire, too. Their car had bullet holes, too. 
The family's children, ages 12 and 16, hid in their bedrooms. 
Police have not indicated a motive for the Monday morning shooting or announced any arrests, but a red Sedan was seen speeding away from the area. 
"We've been here 19 years, and we've never experienced anything like this before," Thomalind Polite said later that day. "This is a very quiet neighborhood. People drive down the street and wave at you."
The mother pointed to the bullet hole in her home's red front door. 
"Our job is to protect (our children) and keep them safe," she said. "But when you have people who are reckless and endanger innocent lives, it makes you feel helpless."
She once enjoyed sitting on her front porch, she said. Now she'd rather not take any chances. 
Andrew Knapp contributed to this report.