Long before he became the bow tie-wearing diplomat who testified in Washington's impeachment saga, George P. Kent was a Charleston resident who spent his high school days learning world history at Porter-Gaud School.
It was the start of an education and career that would send him to Harvard and postings around the world, with stops in Poland, Uzbekistan and Thailand — places where he learned to speak six different languages.
He eventually became the State Department's go-to guy on most everything to do with Ukraine, landing him in the doorsteps of the biggest international scandal of the Trump presidency.
Those who knew him from his Porter-Gaud days (Class of 1985) say Kent's rise was no surprise.
"We all knew he was going to be a great success," said Charleston commercial Realtor Eddie Buxton, who was one of about 60 members of the Class of '85 with him. "He was intellectual, very smart. Definitely a gifted person."
Buxton remembers Kent as a long-distance runner and vaguely recalls him making a perfect 1600 score on his SAT test, twice.
It wasn't only his Porter-Gaud classmates who knew Kent was destined for big things. Martin Skelly, a local real estate investor, attended Harvard University with Kent.
"An incredible guy, a total patriot," he said.
Skelly said that with his Harvard education, Kent could have cashed in financially and done something much more lucrative outside of the federal government.
But the fact he dedicated his life to the State Department says something of him, Skelly said, in spending his career "trying to make this country better."
"And the world better," he added.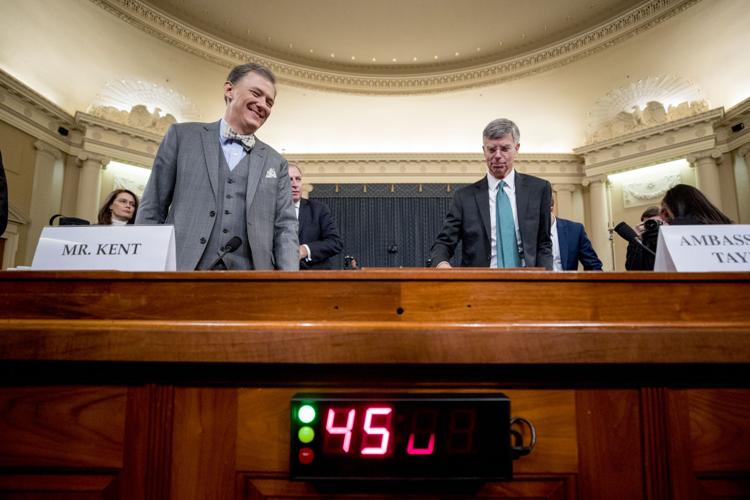 Kent, and fellow diplomat William Taylor, were the lead witnesses Wednesday in the first day of open testimony in the House's impeachment inquiry into President Donald Trump.
Kent's testimony stood out based on his response to Democrats on the House panel by testifying there was "no factual basis" to the storyline that Ukraine intervened in the 2016 elections.
He was also one of the early voices sounding alarms to the pressure campaign being conducted versus the Ukrainian diplomatic corps amid allegations Trump was tying the release of U.S. defense aid to securing an investigation into Joe Biden and his son Hunter.
Kent's deep interest in history came out during his Capitol Hill appearance when he made a comparison between the fledgling fight for American democracy in 1776, with what Ukraine was attempting to achieve with U.S. assistance.
"Our 18th-century independence would not have been secured without the choice of European officers: the French-born Lafayette and Rochambeau, the German-born von Steuben, and the Poles Pulaski and Kosciuszko," he said, "to come to the New World and fight for our cause of freedom, and the birth of a new country free from imperial dominion."
He has become somewhat of a celebrity since Wednesday, with national media making note of his penchant for bow ties and pocket squares.
It's been several years since Kent was back in the Charleston area. He did come back to Porter-Gaud for his 30th reunion in 2015. He brought along his wife, who media reports have noted is a woman of Crimea-Tartar ancestry.
He set some school records as an athlete at Porter-Gaud. He was 1985 state champ in the 800-meter run, the school said. His 2:02 in the 800 was a school record that stood until 2012.
Kent could not be reached because of State Department protocols, but in his opening statement Wednesday he mentioned his father's 30-year career in the Navy, which included serving in Charleston.